When Manchester City travel down to the southern coast of England to take on Southampton on Sunday, they're expected to win. They beat Bayern Munich midweek in the Champions League, and as defending English Premier League champions, they're one of perhaps five teams in Europe who are supposed to win every single domestic match (with Chelsea, Real Madrid, Barcelona, and Bayern being the others). For Man City's players, there are no excuses for losing when you're at a club that has spent an average of $375 million per trophy since the ruling family of Abu Dhabi took over in 2008. Man City makes the Yankees look cheap.
But for Southampton, this fixture figures to be a defining moment in their season. 12 games in, the Saints find themselves in second place in the EPL with 24 goals scored and only 6 allowed. They're killing it right now, scoring the same amount of goals as Man City and conceding two times less. Southampton is doing the damn business in style too:
That stunning 12 game start brings Southampton into unfamiliar territory. Actually, fuck that—Southampton might as well be characters in Interstellar. This is a team that was pure #struglife in the third division of English soccer when Man City's ruling family opened up the vault for their first summer of transfer spending. Their rise from the bottom of League One to second in the Premiership in six years is a minor miracle.
Sunday's match will be a litmus test of just how serious Southampton are at this stage. Southampton's expected starting lineup cost about $105 million in transfer fees to assemble. Man City has spent more than $170 million these past two summers alone. The outrageous difference between rich and poor EPL teams is why New England Patriots owner Robert Kraft said this about investing in one: "I would rather give that money to charity if I had it." (BURN.) That gap in wealth is also why preseason statistical forecasters believed that Southampton was 160 percent more likely to be relegation fodder than title contenders this season.
All the doubt just adds to the magic, doesn't it? Southampton, however, wouldn't deem any of their success this season "magical" or "lucky." Les Reed, Southampton's executive director of football, would probably point to their 8-2-2 record as a calculated product of method. There are no wizards at Southampton—just smart soccer people making enlightened soccer decisions.
It's easy to call Southampton smart while they sit in second place with a team that didn't cost anywhere near what a second placed Premiership team should. But as The Guardian uncovered over the summer, Southampton's process is progressive, falling in line with many of the basic principles of Soccernomics. 
Over the years, Matt Le Tissier, Gareth Bale, Theo Walcott, and Alex Oxlade-Chamberlain have all passed through the gates at St. Mary's. Southampton's been nurturing young British talent and selling them off for huge sums to the "big clubs" (with the aforementioned Le Tissier staying as a Saints lifer) at a successful rate. It's a basic system existing in international soccer's larger feudalist ecosystem, and one that was profiled in 2010 by the New York Times, but with Ajax Amsterdam serving as the world's shining example.
Last summer, however, is when Southampton used their reputation as a "feeder club" to strike back. Coming off of a surprising 8th place finish in their first year as Premiership club, richer teams swooped in and bought pretty much everyone who helped get them there. After a bit of posturing and hand-wringing, Liverpool came in and bought striker Rickie Lambert, centerback Dejan Lovren, and midfielder Adam Lallana for $77 million. An exodus had been started. Manchester United pried 19-year-old fullback Luke Shaw away for $42 million. Arsenal struck an incentive-laden deal for fullback Calum Chambers that could rise to $25 million.
Manager Mauricio Pochettino​, seeing "FIRE SALE" painted on his office walls in blood, hopped a cab to London to accept Tottenham's job offer. In what felt like one fell swoop, Southampton's best goal scorer, best passer, and three of their best four defenders had been sold. Veteran midfielder Morgan Schneiderlin, who signed to Southampton in 2008, summed up how everyone felt after those sales.
6 years of an amazing journey #saintsfc DESTROYED in 1 hour !!!

— Morgan Schneiderlin (@SchneiderlinMo4) July 29, 2014
And frankly, if it wasn't for outcry from pundits, fans, and Southampton's own dressing room, striker Jay Rodriguez and Schneiderlin would've been sold to Tottenham for $55 million. All in all, Southampton's garage sale brought in $165 million.
Let's investigate that sale on some Scandal Season 1 Olivia Pope-type shit. Go with your gut: If the likes of Lambert, Lovren, Lallana, Shaw, and Chambers feel like they're totally worth $165 million, please close your browser now and either A) Open up Football Manager and take your awful talent:dollar senses elsewhere or B) Apply for Brendan Rodgers' job. With those transfers, Southampton took advantage of a very basic point of Soccernomics: Sell any player when another club offers more than he's worth. To outsiders, the damage had been done, but internally, Southampton couldn't have been more pleased.
They fleeced the anxious big boys (Man United, Liverpool, and Arsenal were each under enormous pressure to spend big to keep up with Chelsea and Man City's oil money) into paying top dollar for players who had "proven EPL experience," but weren't necessarily star individual talents. They then took that $165 million and reinvested 60 percent of it into player transfers, with the remainder presumably going towards finishing up their brand-spanking-new $47 million training facility.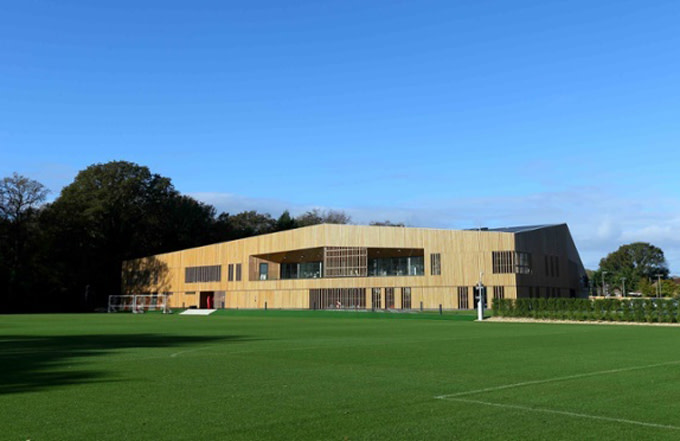 Like, look at this place. It looks like a modern barn for some new scientific breed of super soccer player. Or even a new building on Stanford's campus or something. Once it's completely finished, it'll have a "sports laboratory" and additional gyms, and the training pitch will be covered by an inflatable dome. There's a room called the "black box" where analysts pour over scouting reports, data, and game film to uncover potential transfer targets. Even the cafeteria resembles a newly renovated college dining hall instead of a mess hall for professional athletes.

And like universities who boast state-of-art campuses and contemporary dorms, Southampton is using their new building to recruit. To Southampton, why spend $47 million on one player when you can build something that'll create multiple $47 million players? Reed explained:
"One player has a shelf life. What happens when he goes? You have to buy another player. You're continually spending that kind of money and turning it over on importing players, where the investment here could be for the next 50 years. Instead of buying one player, we produce five players."
But to produce those five, you need to first convince talented prospects and promise bin players to sign with you. That's where Southampton's soccer spaceship barn-thing comes in. Summer signees Dustin Tadic and Graziano Pellè were given tours before they were convinced to sign, and younger players' parents don't leave without feeling good about where their kid is living and training. Southampton has the look and feel of a legit-ass club, as opposed to fuccbois like neighboring Portsmouth.
By the end of the summer, Southampton had reinvested a record $88 million in attackers Tadic and Pellè, striker Shane Long, midfielder Sadio Mane, and goalkeeper Fraser Forster​. They were also able to nab defenders Toby Alderweireld and Ryan Bertrand, two players who played in recent Champions League Finals for Atletico Madrid and Chelsea, respectively. To replace Pochettino​, Southampton brought in Dutch manager Ronald Koeman, a former Barcelona defender whose technique and play from the back allowed him to score a remarkable 239 goals during his career (That's really good). With that, the seeds were sown for something, but a second placed finish? Nah fam.
Southampton won't win the title or finish anywhere close to it, because Big Daddy History says so: In the Premier League era, no team has ever jumped from outside of a Top 3 finish to win the title the next year. Southampton's 8th place finish last season kills off all title hopes. Let's squash that bug right now. But what about a Champions League birth?
Sadly, not likely. They probably won't finish in the Top 4, even despite the overwhelming historical precedent, via StatsBomb: The last 25 teams with +10 goal difference after 12 games finished the season in the Top 4. Southampton are currently +18. You have to go back to Portsmouth in 2007-2008 to find a team who didn't.
So what's the problem? There are three major holes in Southampton's resume that'll see them slip from the top (all stats via StatsBomb):
They haven't beat anyone good. Their two losses were to Liverpool (pre-Sturridge injury) and Tottenham. These are the teams they've beaten: West Ham, Newcastle (pre-Alan Pardew turn-up), Swansea, QPR, Sunderland, Stoke, Hull, and Leicester City. All of those teams suck. This is a good team that has been allowed to dominate games against crap opposition, and in the two games where they weren't automatically given the majority of the ball, they fucking lost. That being said, many understand this to be a useful formula for any club looking to challenge at the top of the table: Slay the minnows, because matches against the Top 6 or 7 are a crapshoot. They can very well go on and lose to good teams while beating up on shit ones en route to a Top 4 finish, but realistically speaking, along the way you're going to have to beat someone.
They're scoring goals and preventing goals at unsustainable levels. [WARNING: Lots of nerdy stats.] Out of 120 team starts (the first 12 games) since the 2009 season, Southampton have conceded the least amount of shots and shots on target, and rank second in goals against. Essentially, this is the best team defensive start the Premiership has seen in the past five years.
On the other end of the pitch (using the same sample size), Southampton has converted shots to goals at the eighth highest rate since 2009. All of this culminates in their totally incredible ownership of a crucial stat: The difference between their goal conversion (14 percent) and their opponents' goal conversion (six percent) is eight percent, which is the second highest of all 120 teams. That's great, but only nine teams since 2009 have finished with deviation conversion percentages above five, and they're all named either Manchester United, Manchester City, or Liverpool (last year's iteration snuck in).
If you remove Southampton's 8-0 destruction of Sunderland in October, suddenly their goal conversion percentage drops by 4, and their average goals per game drops from 2 to 1.3. Their deviation conversion percentage also dips from 8 to 4, and everything feels right again. Southampton FC is not a historically significant Manchester team, and they don't have Luis Suarez, Daniel Sturridge, and Raheem Sterling up top. Dustin Tadic, Jay Rodriguez, and Graziano Pellè​ are nice, though. 
They lack the squad depth. All of those summer signings would've made for dope depth had they not sold everyone else. The EPL season is a marathon, not a sprint. Southampton have been fortunate with injuries thus far, and that will probably change. How Koeman and Southampton generate results in the face of adversity and injury will be an indicator of just how real they are.
At this point, though, they're real enough. But as Drake said, "You know it's real when you are who you think you are." Exactly. Over these next nine matches, Southampton have to play Man City, Chelsea, Arsenal (twice), and Manchester United (twice). Beat Man City on Sunday—a team that hasn't lost more than six Premiership matches per season since 2011—and those five matches against real-ass teams will have the players thinking that they belong.
Then again, Southampton trains their players to not fall victim to the emotional peaks and valleys of the Premiership marathon. It's almost Spurs-ian. "What's satisfying is that what we call the Southampton Way worked," says Reed. "Keep your focus, don't panic, you know you've got systems and processes in place. There's no knee-jerk reaction here. Stick to it. See it through."