The protests and demonstrations in the wake of Michael Brown's shooting have been visible all over St. Louis and the state of Missouri. And that continued at the Rams game last night inside of the Edward Jones Dome. There was plenty of excitement on the field during the San Francisco 49ers' 31-17, comeback victory over the Rams, but it looks like the real action took place in the stands and aisles, behind cheerleaders, across stadium screens, and anywhere else Ferguson protestors thought they could get their message on camera.
For some reason, though, Monday Night Football broadcaster ESPN elected not to show any of the banners or protestors in the stadium. Heck, they even ignored folks who were in front of the ESPN trailers right outside of the stadium.
Below are a collection of vines, tweets, and images that have to make you believe ESPN did everything in their power not to give Ferguson protestors a platform for expression. Rams fans get the big picture. Why don't you, ESPN?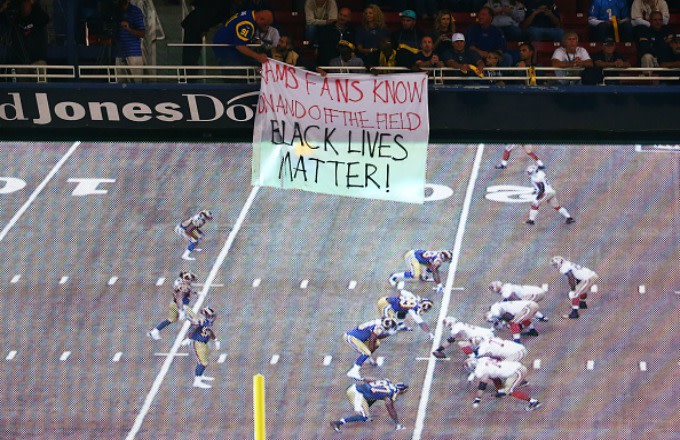 It looks like ESPN's choice hasn't gone unnoticed:
[via Kissing Suzy Kolber]