Wait a second! Isn't LeBron James a huge Dallas Cowboys fan? Just look at that picture of LeBron throwing around the pigskin at AT&T Stadium on Sept. 8, following the Cowboys' 36-31 win over the New York Giants on first game of the season. Heck, James even took a picture with 'Boys owner Jerry Jones during the game! Then, there are the tweets!
Yes sir!! TD Cowboys

— LeBron James (@KingJames) October 27, 2013
"@dallascowboys: Hey @KingJames your favorite team is in your hometown #CowboysHOF pic.twitter.com/b9N4WfdyIm"(love havin the "Boys" in town!!)

— LeBron James (@KingJames) August 4, 2013
So, why in the world did James rock a Kansas City Chiefs jersey after last night's Heat/Kings game? Check it out in the thumbs. Was Romo's latest choke job the last straw for LeBron? Or, now this is a long shot, judging from the fact that the uni has a No. 6 on it, is The King a fan of Chiefs kicker Ryan Succop? Yeah, we didn't think so either. Regardless, LeBron has some explaining to do.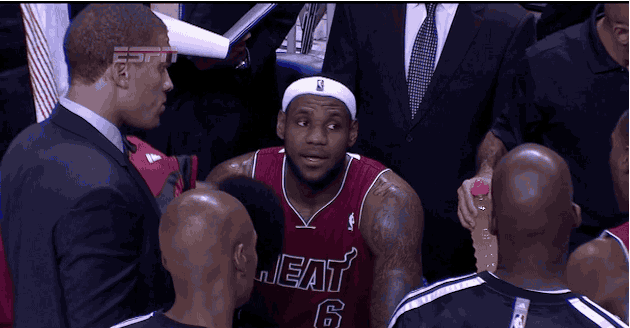 OK, OK. Go ahead and continue wearing whatever jersey you want. Jeez.   
RELATED: The Biggest Bandwagon Celebrity Sports Fans
[via Larry Brown Sports]