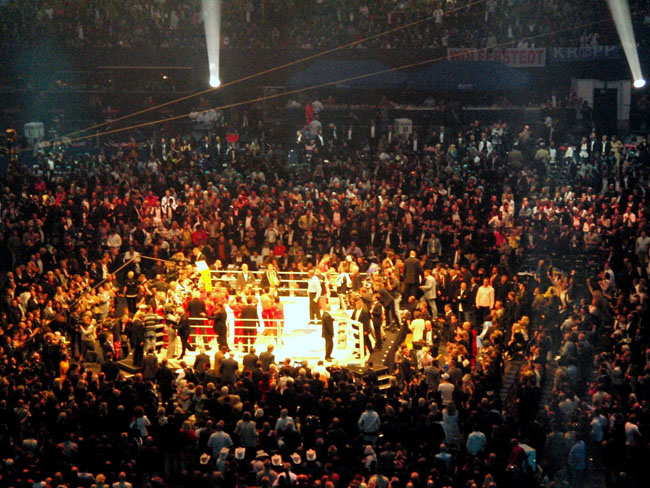 words // Zac Dubasik
When it comes to sports, sneaker companies typically have their logos plastered anywhere and everywhere, and partner with all of the top athletes. There are few exceptions to this rule, but a notable one comes in the way of combat sports.
There are probably a number of reasons for this, most notably the lack of traditional sneakers being worn in a fight. Then again, athletes who play cleated sports have had a long history with sneaker associations. But with the resurgence of boxing, and the popularity of MMA growing, it's become less rare to see top combat sports athletes with sneaker endorsements.
In honor of this weekends Floyd Mayweather, Jr. vs. "Canelo" Alvarez fight, we have a look at some of these top moments. Do you think the brands are missing out on an opportunity my not focusing more on these athletes? 
Rampage // Reebok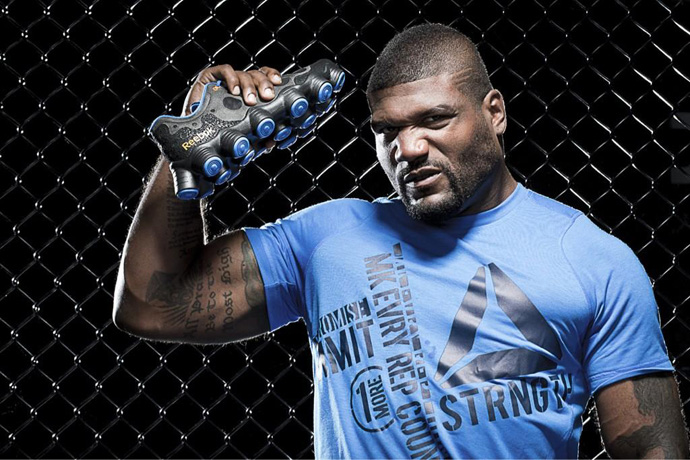 Quinton Rampage Jackson was once one of the most popular athletes in Pride, where he once beat the visiting Chuck Liddell via TKO. After Pride's demise, he'd go on to once again defeat Liddell in the UFC, this time for the Light Heavyweight Championship.
Not long after losing his title, Rampage would lead authorities on a hit-and-run car chase, in a truck with his likeness covering the entire side. It only seems right that Reebok then would tap him to endorse a sneaker called the "ATV."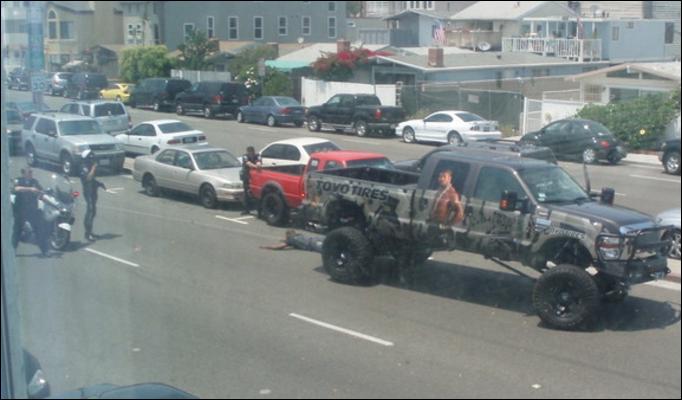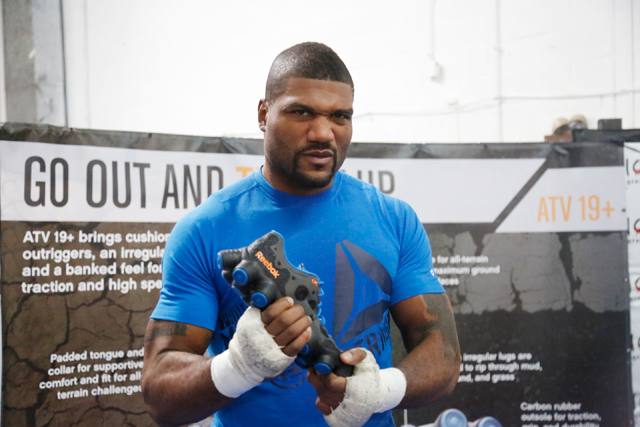 Junior Dos Santos // Nike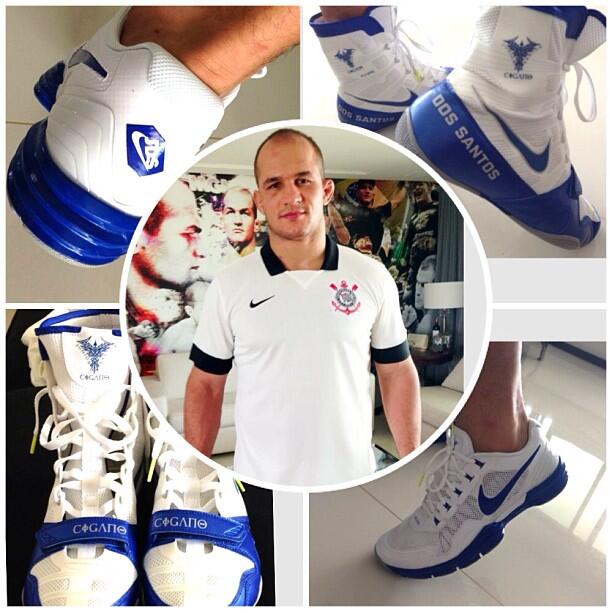 Just prior to his UFC 155 Heavyweight Title defense (and loss) against Cain Velasquez, JDS inked a deal with Nike – one he confirmed himself via Twitter. "I want to share my happiness with you guys because now I'm part of team #NIKE biggest sports brand in the world. It's an honor to me Thank God," he tweeted.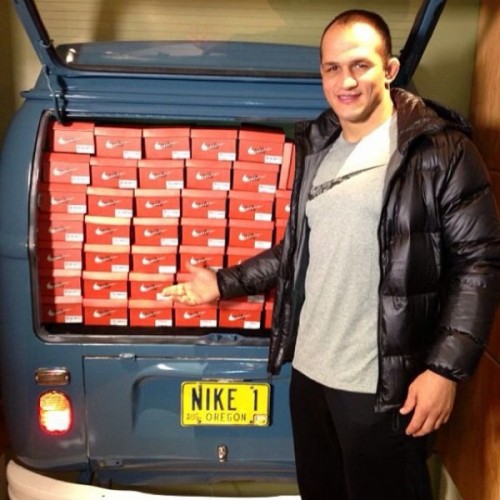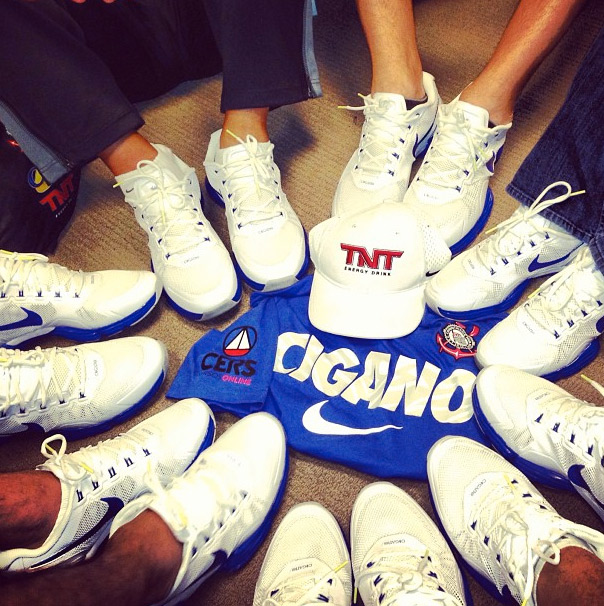 Georges St-Pierre // Under Armour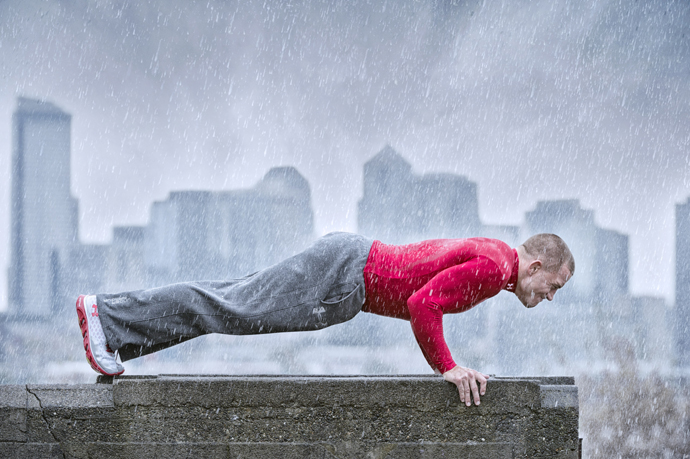 With only one loss since 2005, Georges St-Pierre has been dominant in the UFC Welterweight division. Sensing this reign, Under Armour was early to sign St-Pierre back in late-2009. The relationship has proven successful, with St-Pierre appearing in numerous print and video ads, and remaining undefeated since.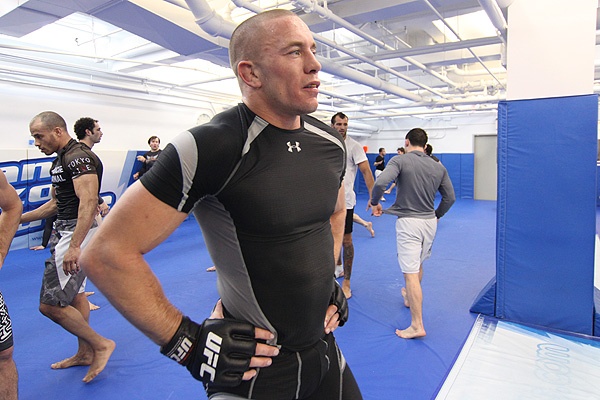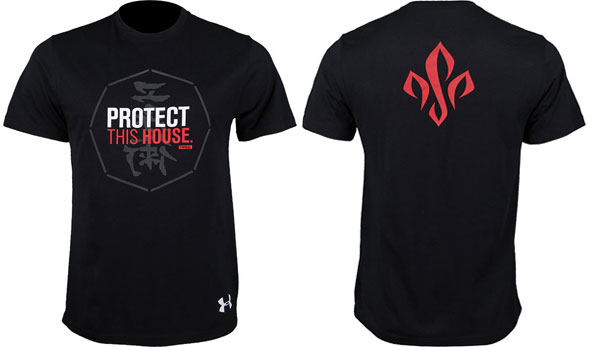 Fighters Are Sneakerheads Too // Danny Castillo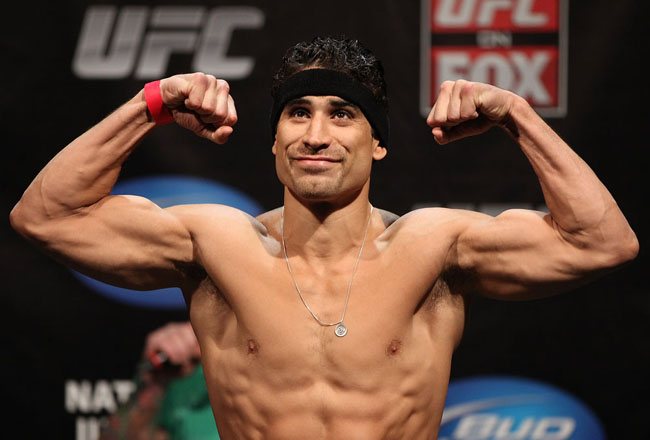 A lot of the entries on this list deal with fighters signing official deals with sneaker sponsors. But there are fighters out there who wear sneakers for the love too. The UFC's Danny Castillo, through his actions, has made a claim for the top sneakerhead in combat sports.
For his past few fights, we've seen him hit the weight-ins in sneakers like Cool Grey 11s, Year of the Rabbit 7s, Retro Foamposites Pros and Thunder 4s. Hopefully Nike will recognize his love, as well as his 5-1 record in his last six fights, and reward him with a contract of his own.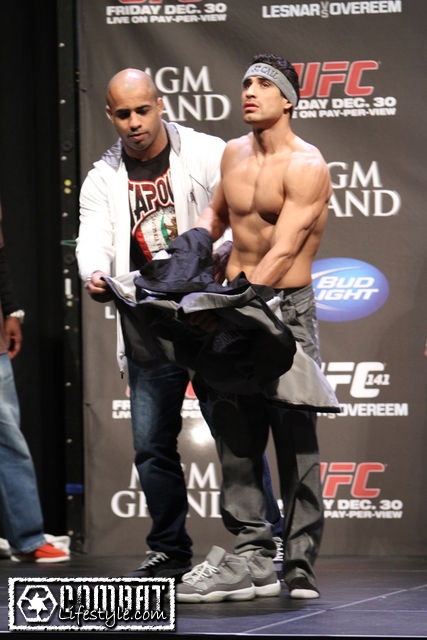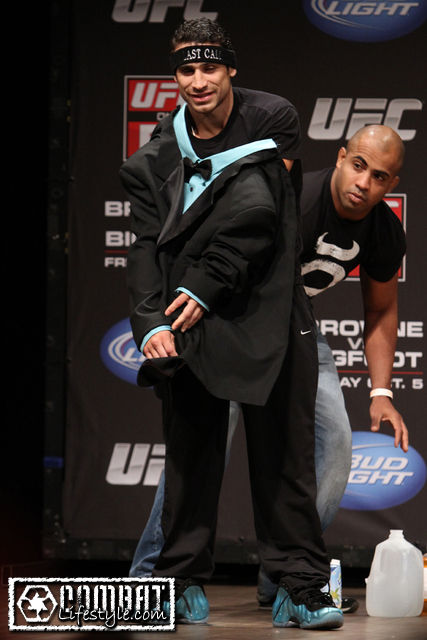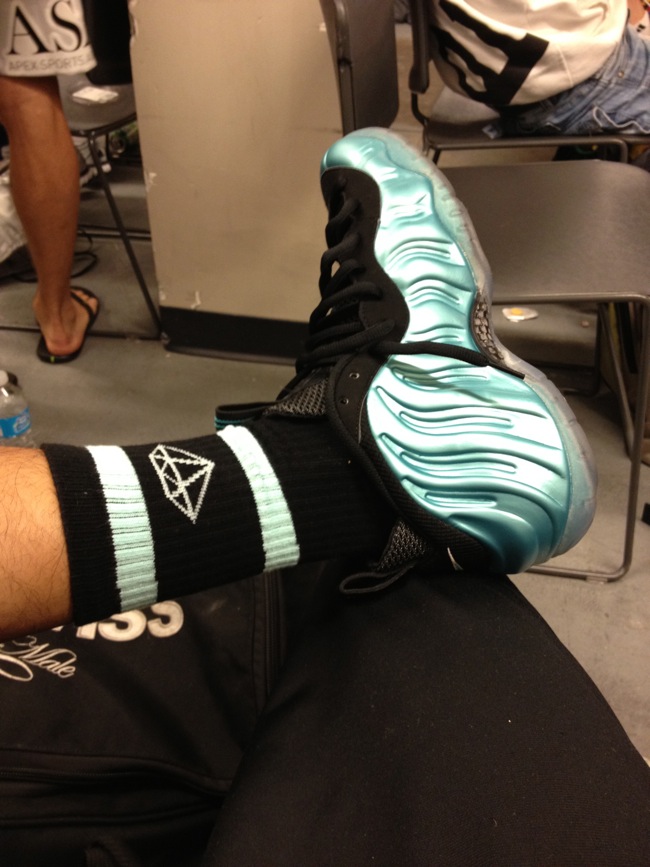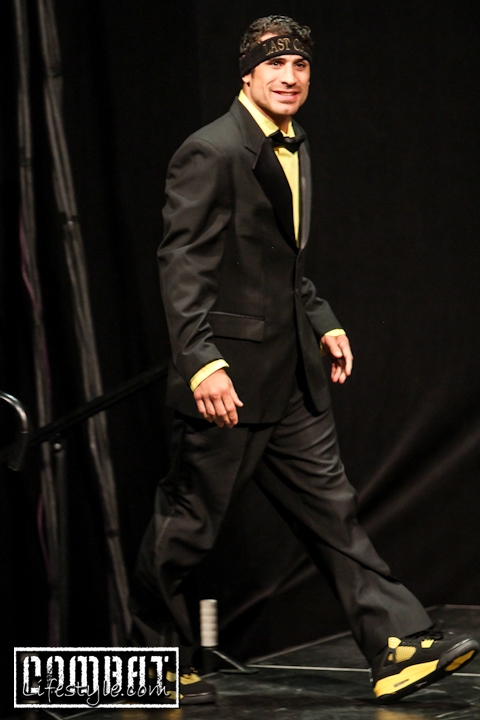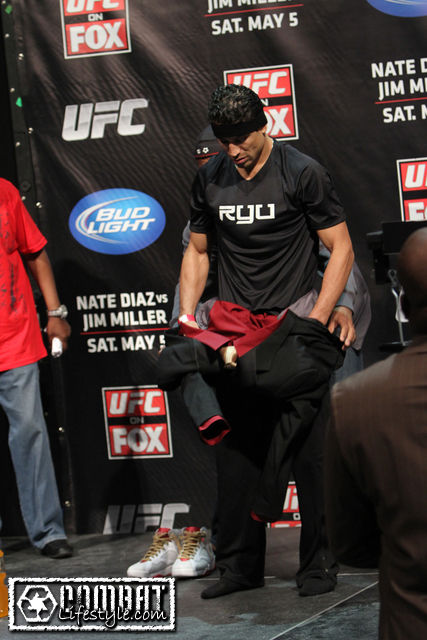 Andre Ward // Jordan Brand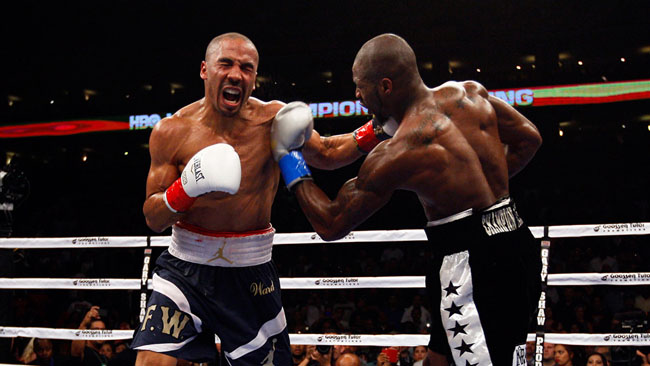 Andre Ward wasn't the first boxer signed to Jordan Brand, but the custom gear for his September 2012 fight against Chad Dawson was particularly memorable.
Ward's boots, jacket and shorts were all designed by Jordan Brand, and featured a clean black, white and gold color scheme. The boots featured almost an Air Jordan 11-type styling, with a white rand wrapping the lower portion of the shoe.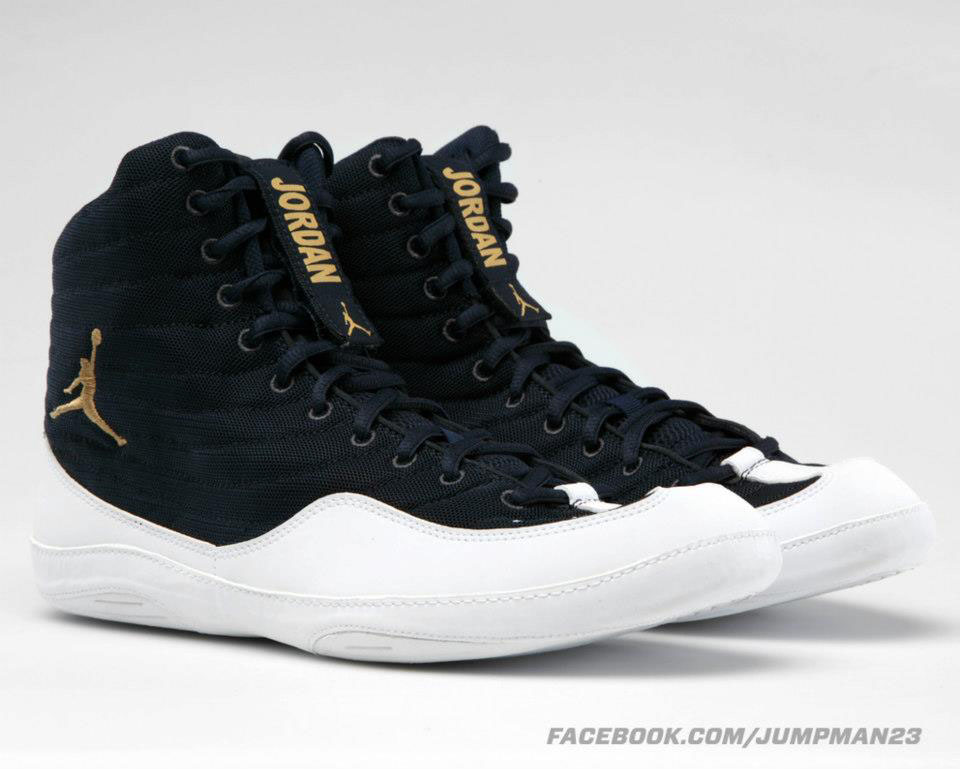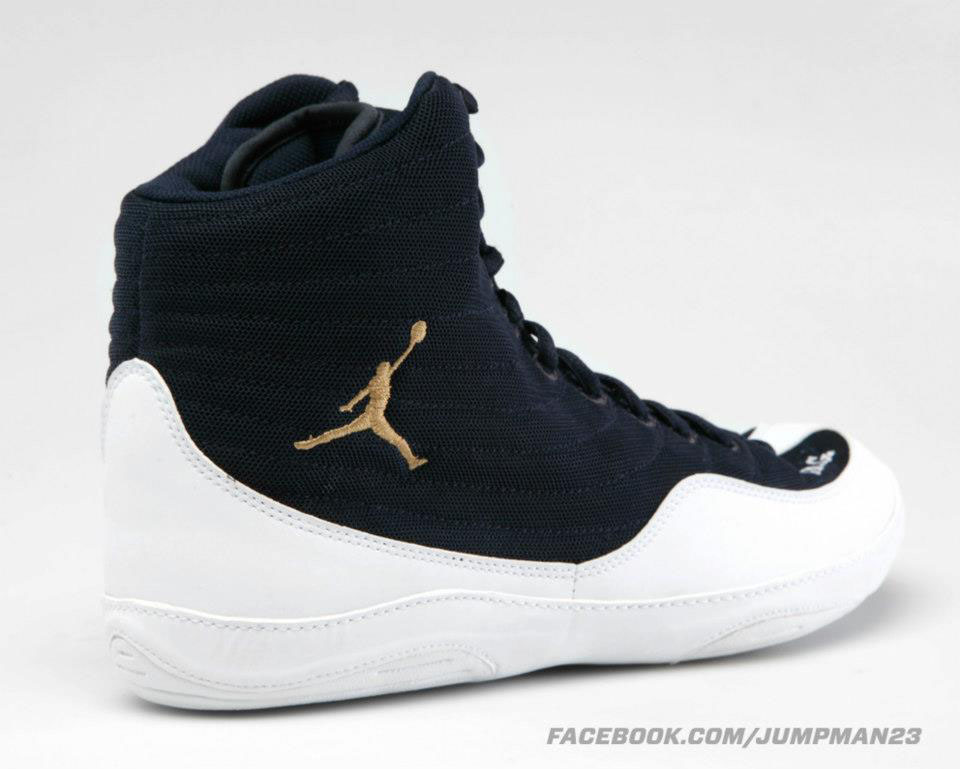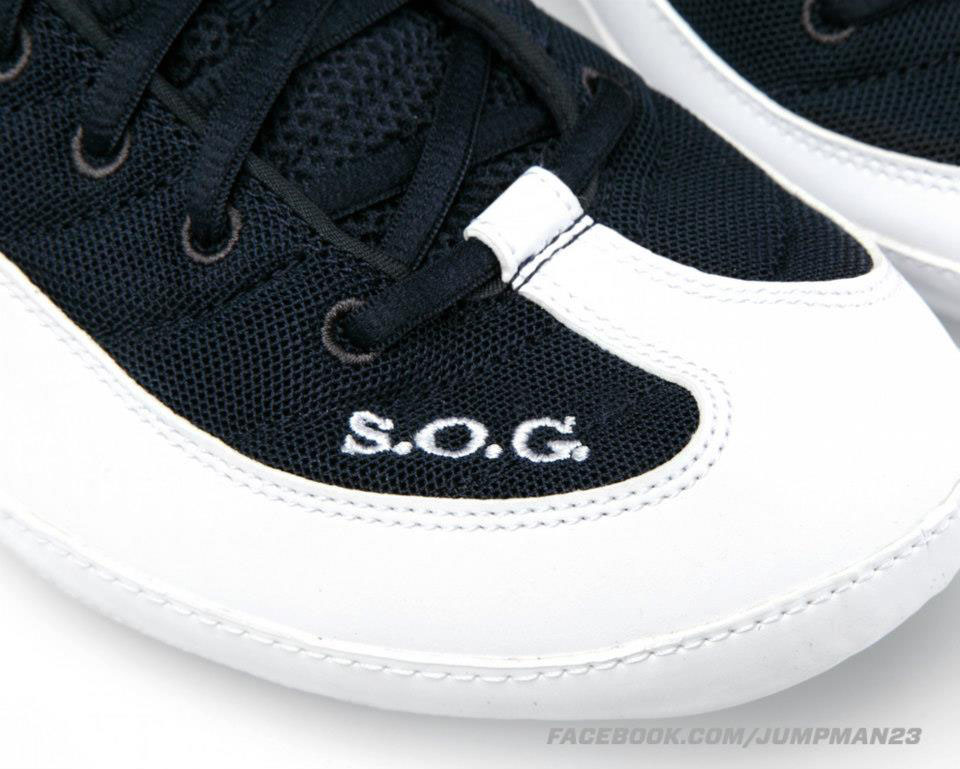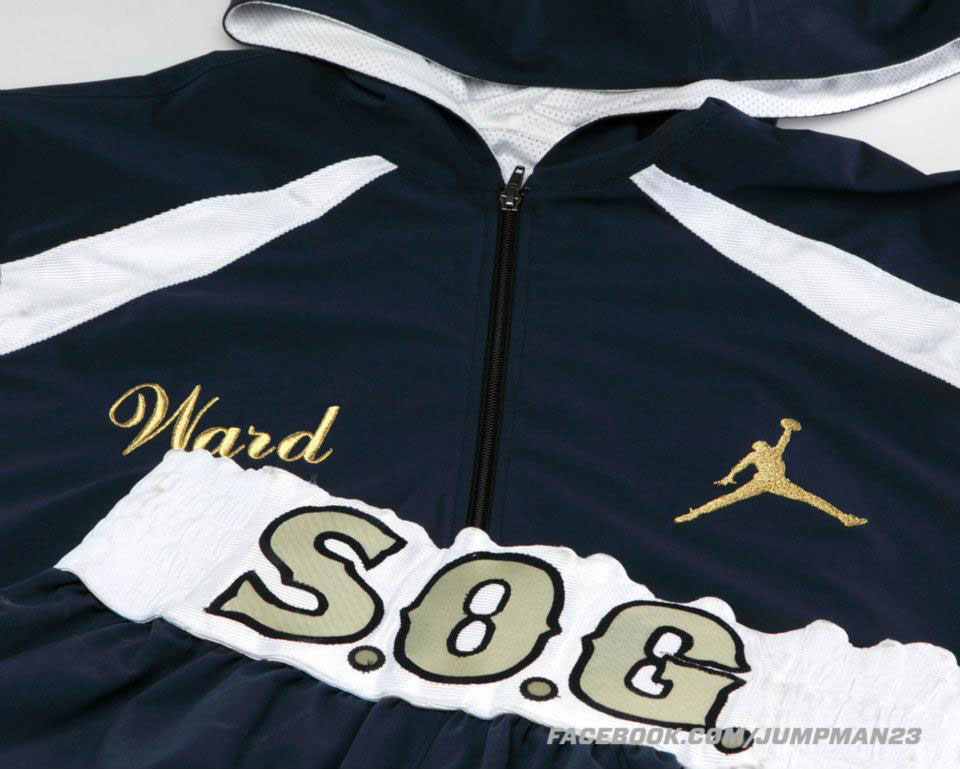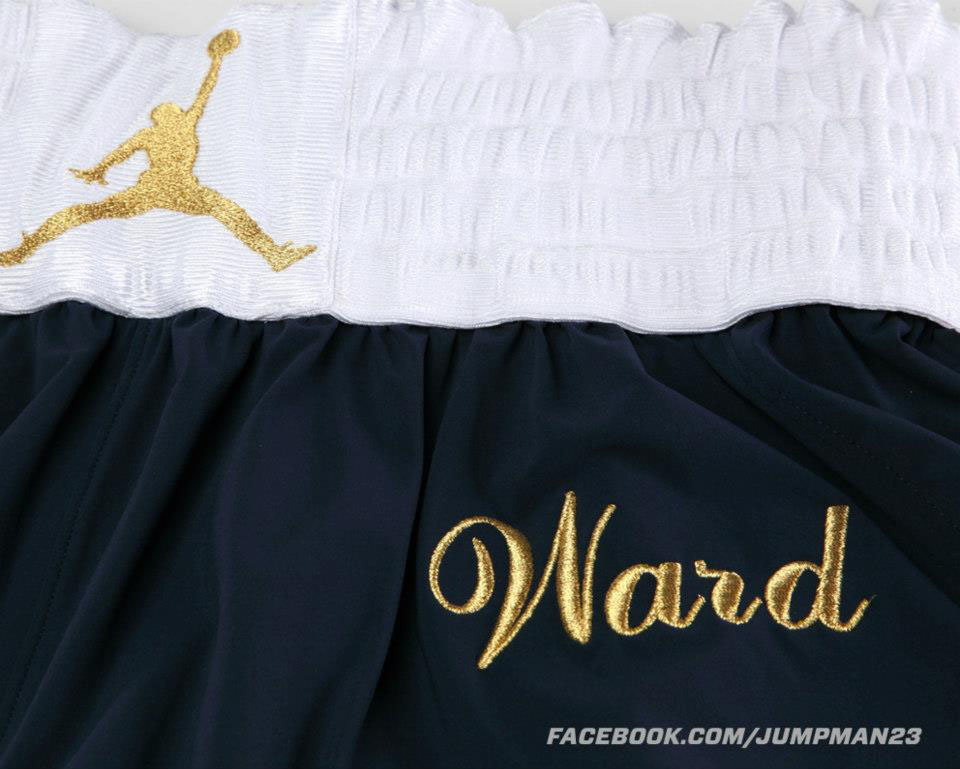 K-Swiss Tubes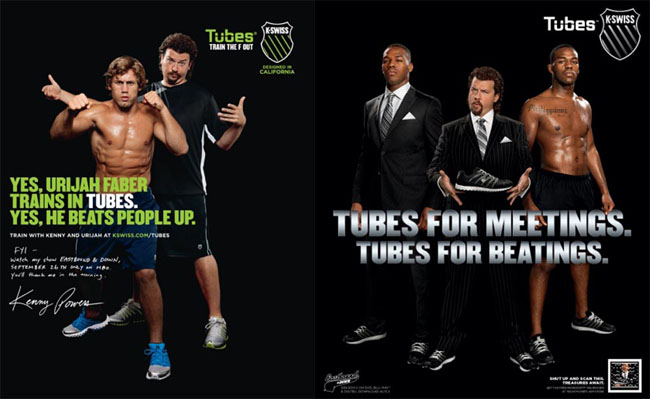 With the possible exception of their parkour line, K-Swiss hasn't had many particularly memorable shoes in the past decade or so. But whether or not you liked the Tubes sneaker, the ad campaign, which featured Danny McBride's Kenny Powers, is one worth remembering.
Among the spots were ones featuring Jon Jones and Urijah Faber being antagonized by Powers. The shoes may have never taken off among sneaker fans, but ads still provide laughs today. (Actually, the shoes probably do too.) Props to K-Swiss as well for being ahead of the curve on MMA endorsements.
Yoshihiro Akiyama // Nike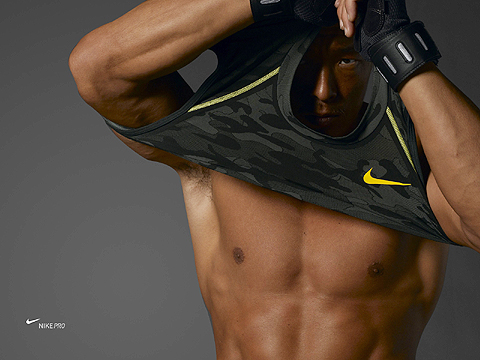 Yoshihiro Akiyama spent the majority of his career fighting in Japan, in promotions like Heroes and Dream. It wasn't until later in his career though when he joined the UFC, when he began endorsing Nike, which he celebrated with some custom footwear, featured below. He even made a brief appearance in a Nike commercial which also featured Kobe Bryant.
Yoshihiro Akiyama "Custom" Cortez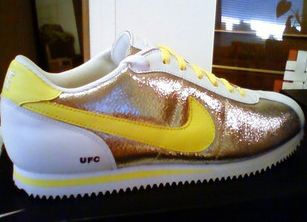 "Canelo" Alvarez // Under Armour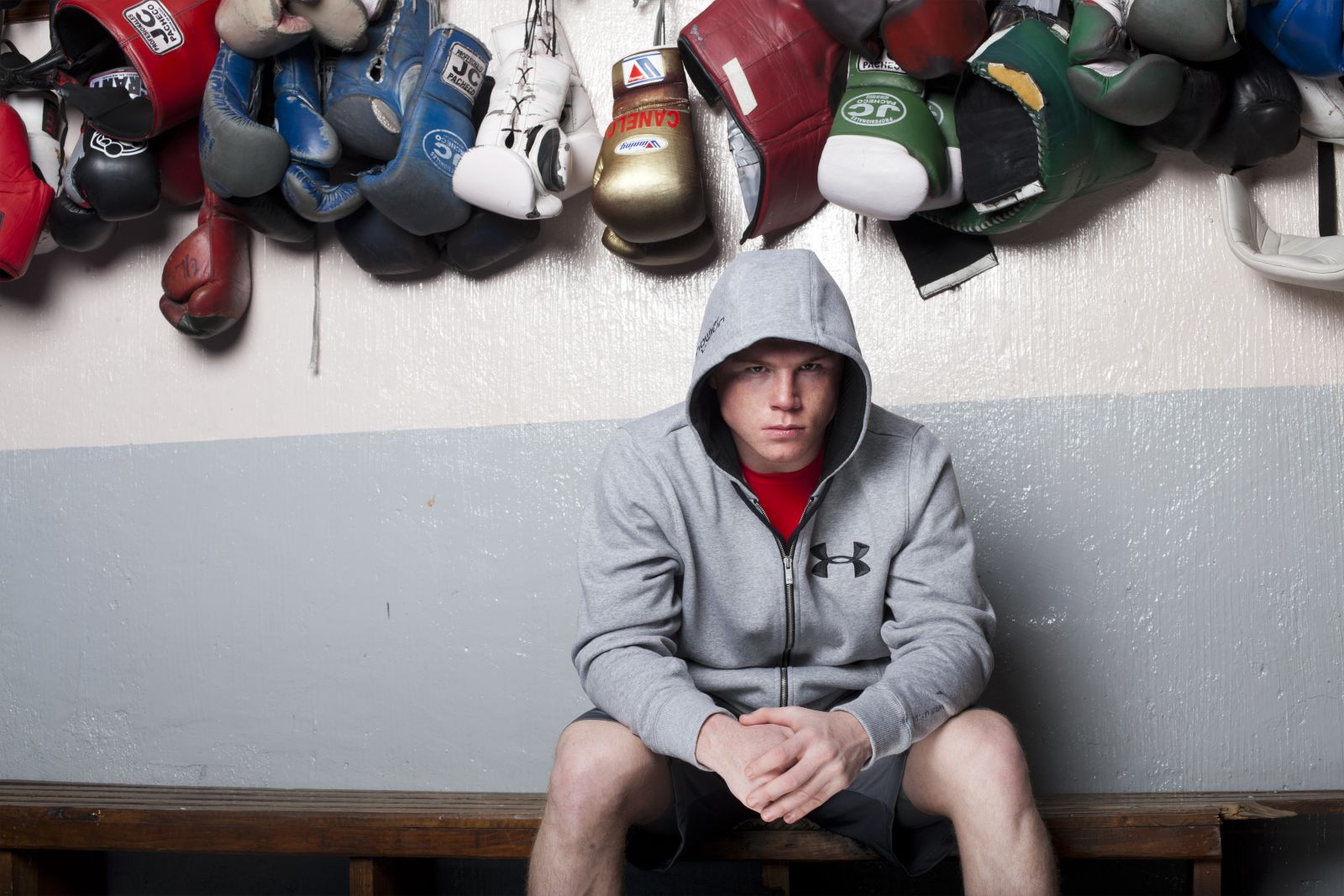 In March of 2012, Under Armour expended their roster of combat sports athletes with their signing of Saul "Canelo" Alvarez. The up-and-coming boxing star was undefeated at the time of the signing, which he remains today. And his fight this weekend with Floyd Mayweather Jr. will take his profile, for at least a night, to a level it's never been before.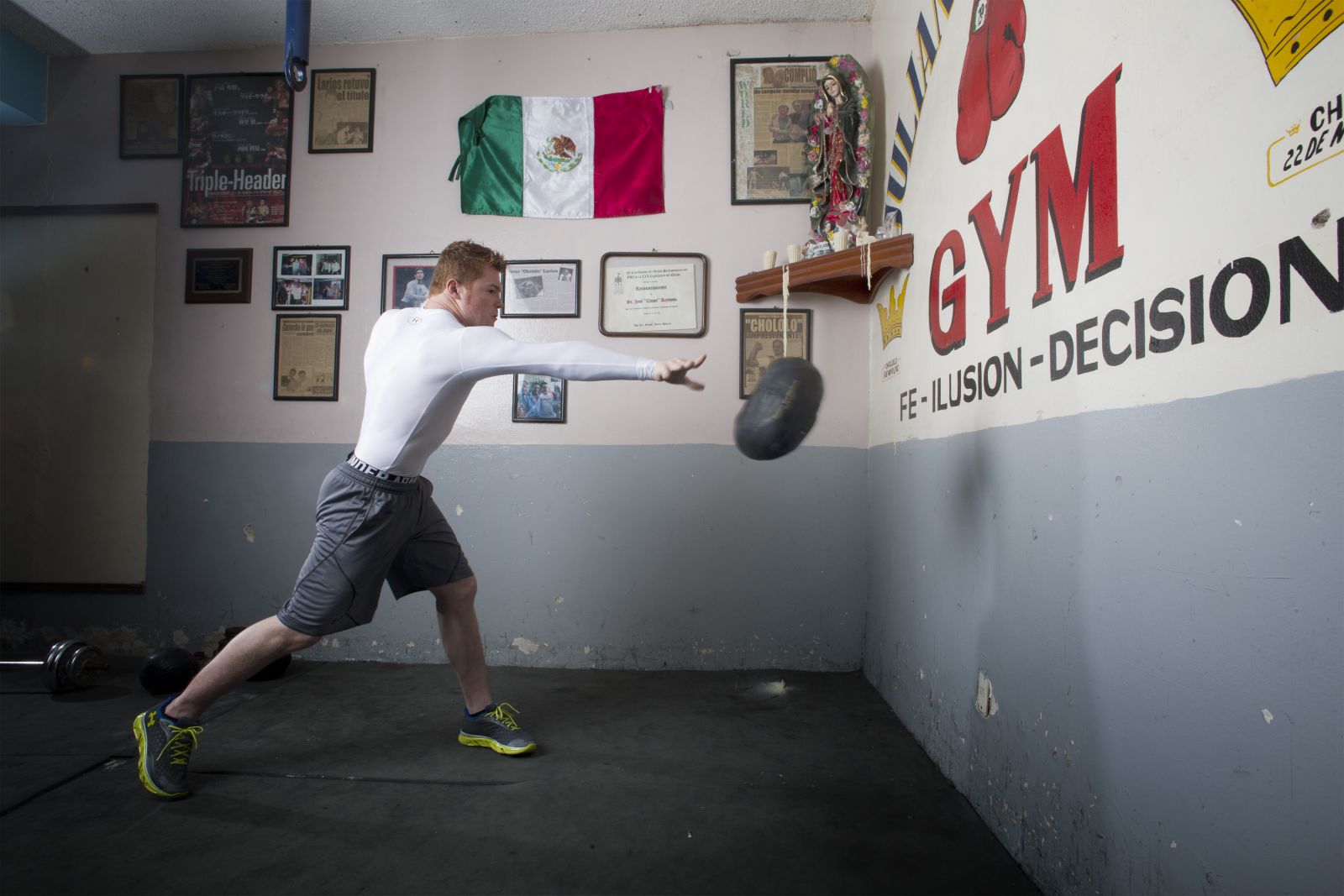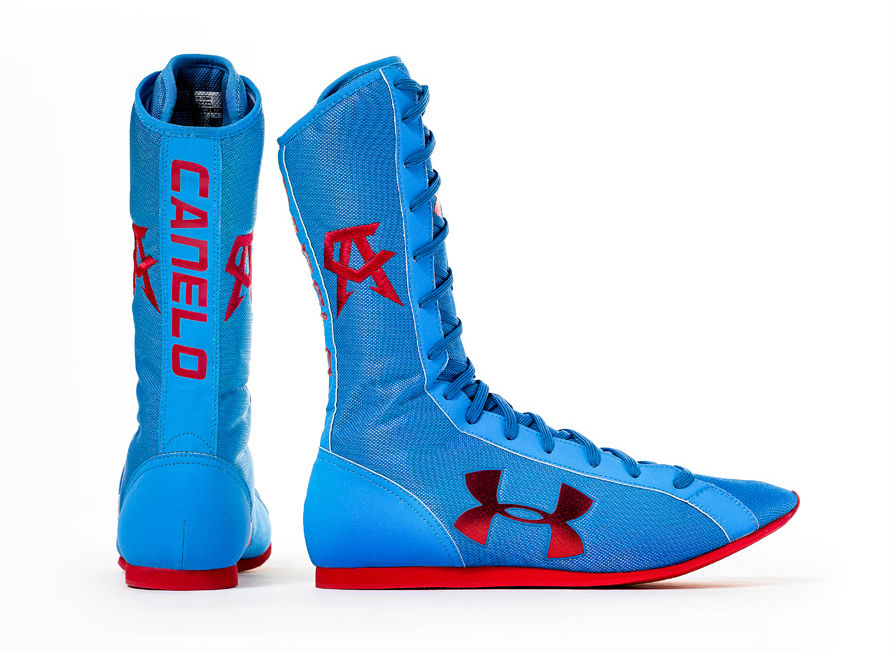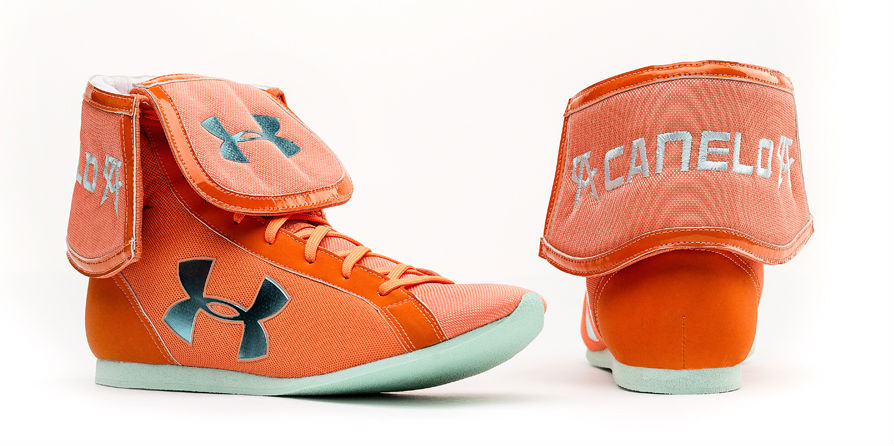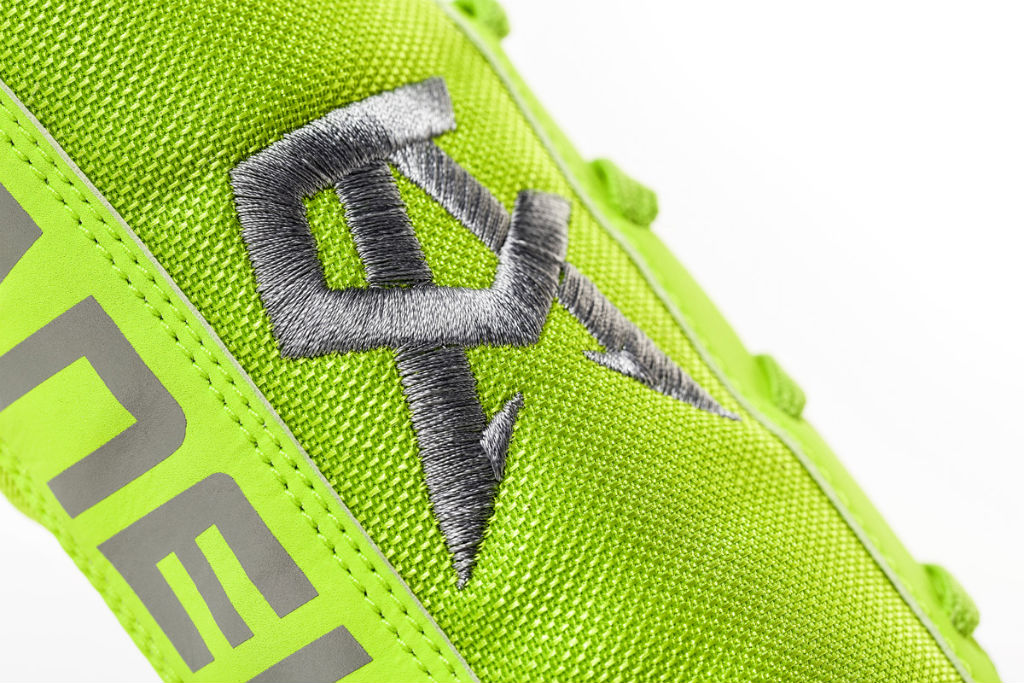 Floyd Mayweather // Reebok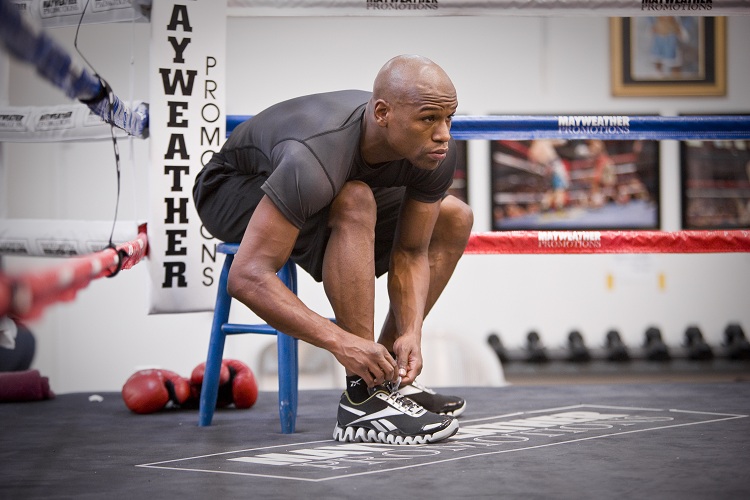 Floyd Mayweather, Jr. is, without a doubt, one of the biggest and most recognizable fighters in boxing history. Even without the polarizing personality, his 44-0 record alone would be enough to market him based off of. Despite all that marketing potential, his involvement with sneaker companies has been fairly minimal.
Floyd began wearing Reebok in 2009 for this fight against Juan Manual Marquez, and continues to in-ring through today. The company once claimed that the deal was limited to a 2009 TV spot, however Floyd has been seen often since wearing Reebok, including during their Zig push.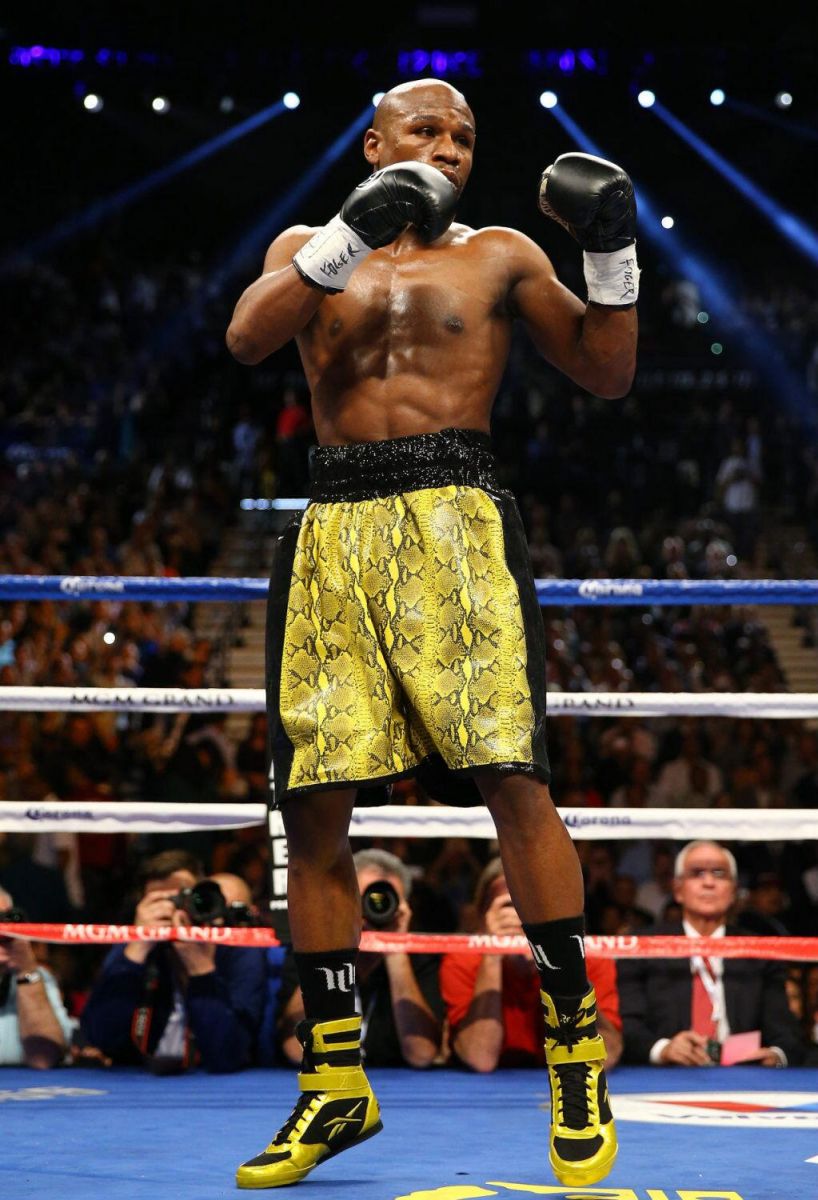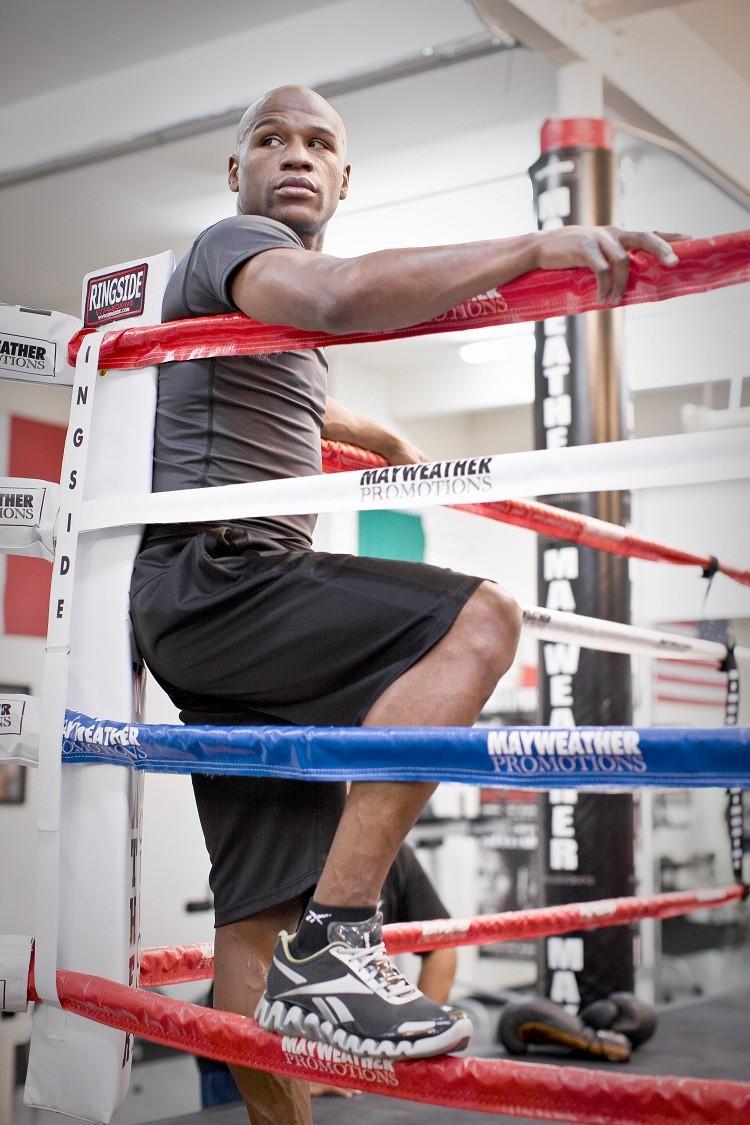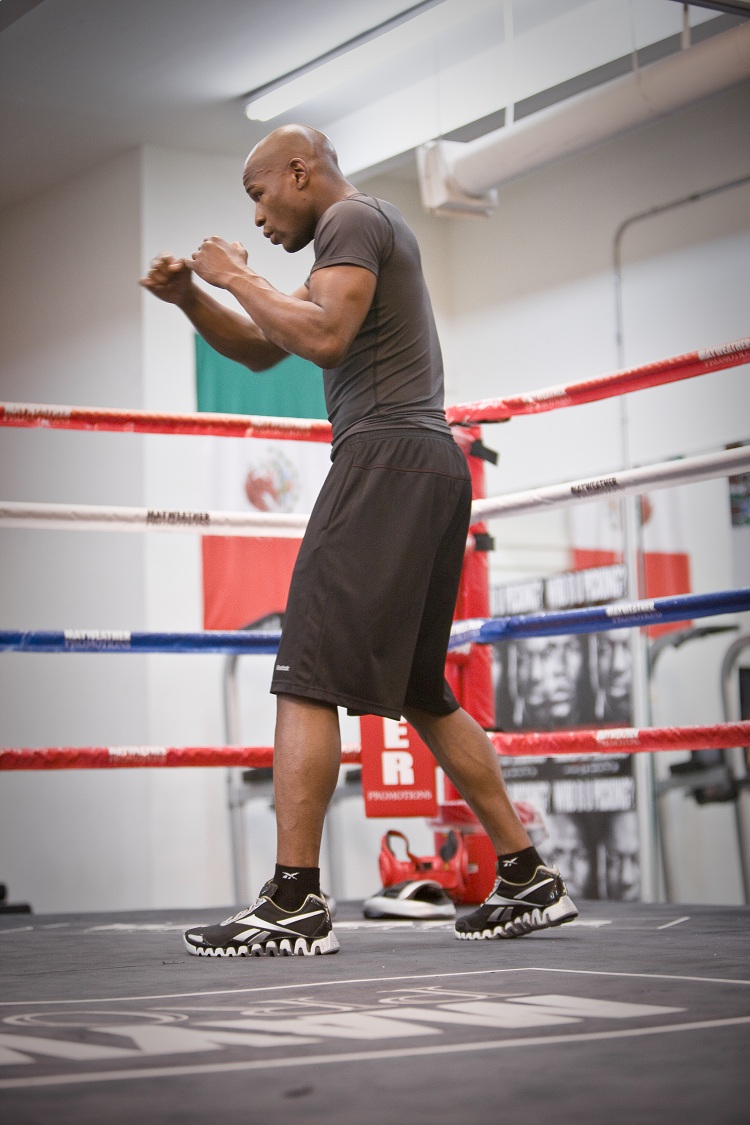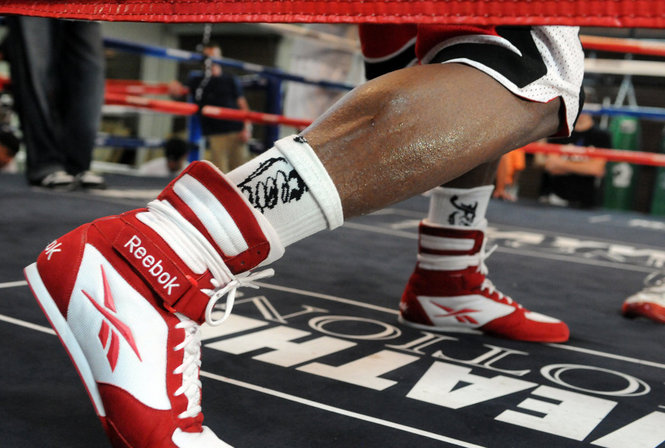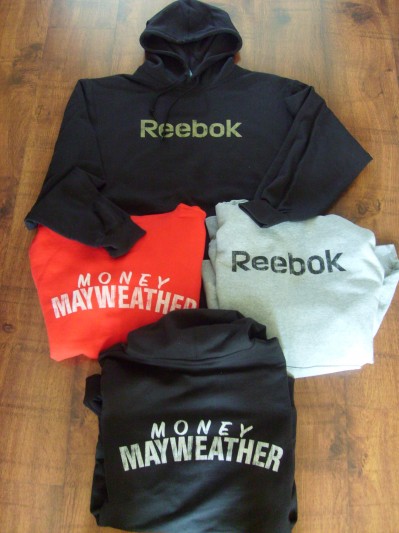 Caol Uno // Nike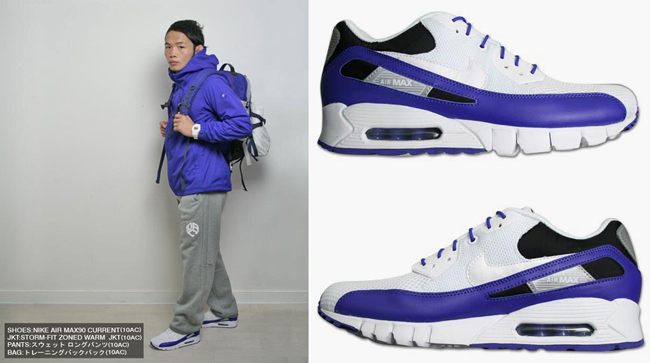 When it comes to MMA, Caol Uno's Nike partnership is probably the first such relationship to come from the sport. Uno began fighting professionally in the mid-'90s, and made his way to the UFC by the early 2000s.
It was his mid-to-late 2000s run though in the Hero's promotion when his 10AC line with Nike took off. Featuring both apparel and sneakers, we've yet to see another MMA fighter so prominently featured by a sneaker company.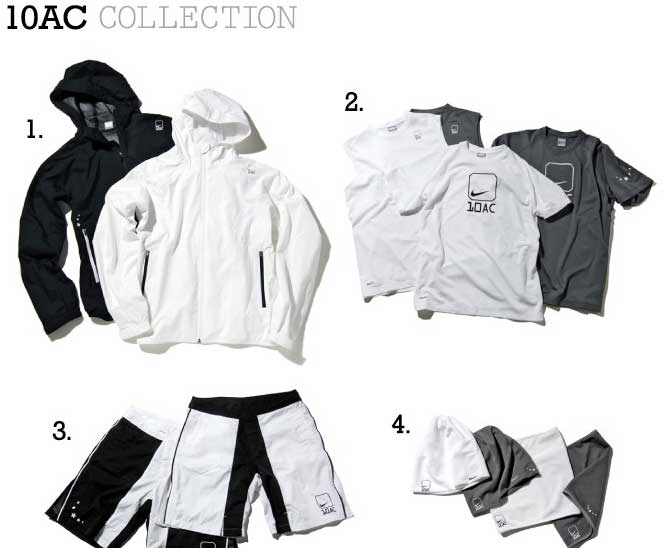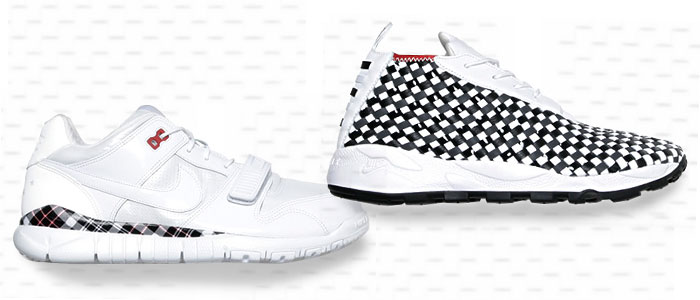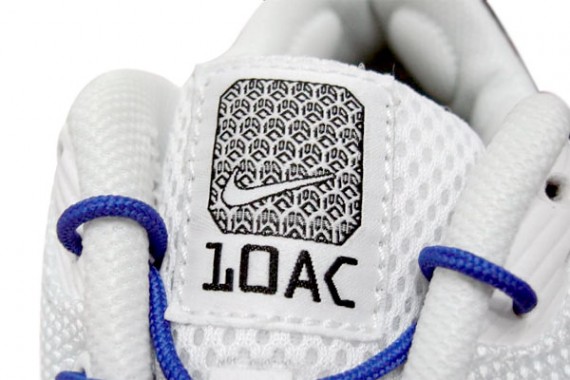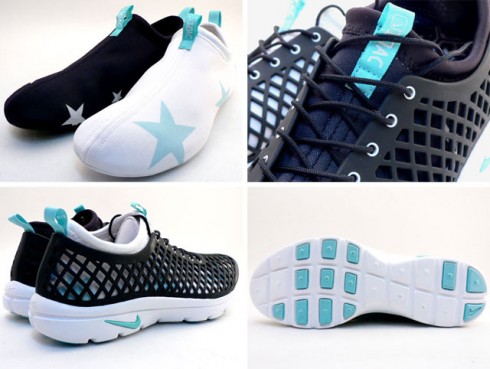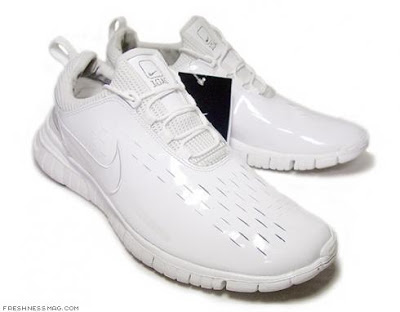 Jon Jones // Nike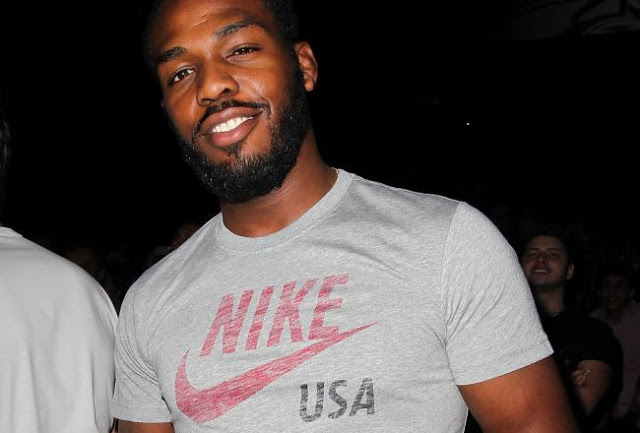 Jon Jones, a self-declared snitch, often likes to tout his religious faith in-cage. He also liked to speak about wanting to be one of the first fighters to get a deal with Nike. An upstanding citizen, on the heels of winning his first UFC Light Heavyweight Championship, Jones appeared to be on his way to making that deal happen, when roughly a year after winning his title, he totaled his car and received a DWI.
Despite that setback, Jones' in-cage work has been undeniable. He went on to secure that Nike endorsement in August of 2012. We've only seen one sneaker so far, but with his continuing in-cage success, it should only be a matter of time until we see more from the partnership. As one of the sport's biggest stars, just entering his prime, this will be a test of how far a relationship like this can be taken.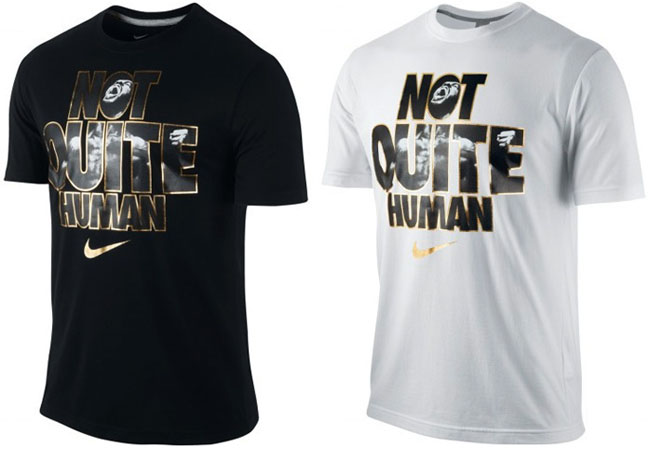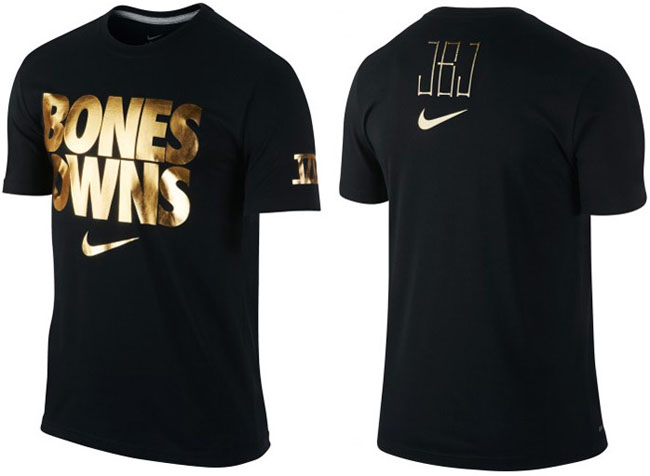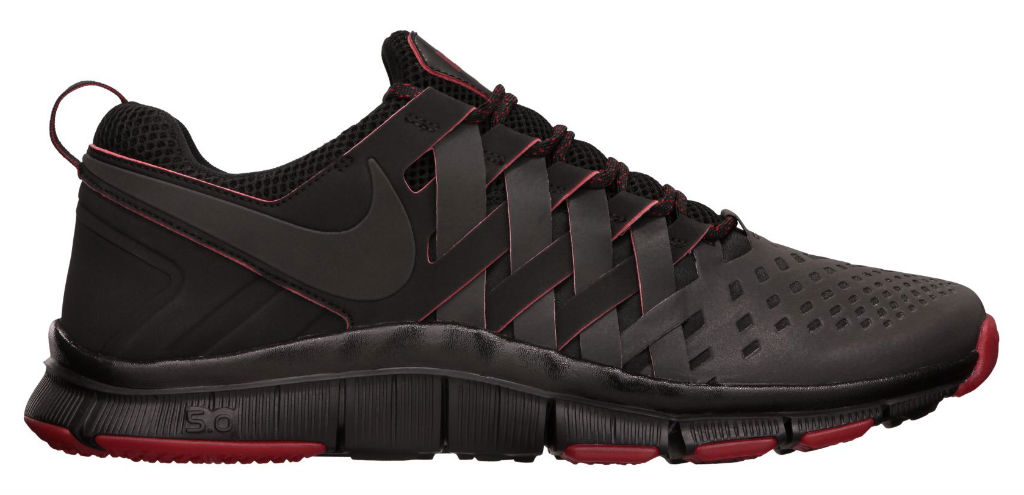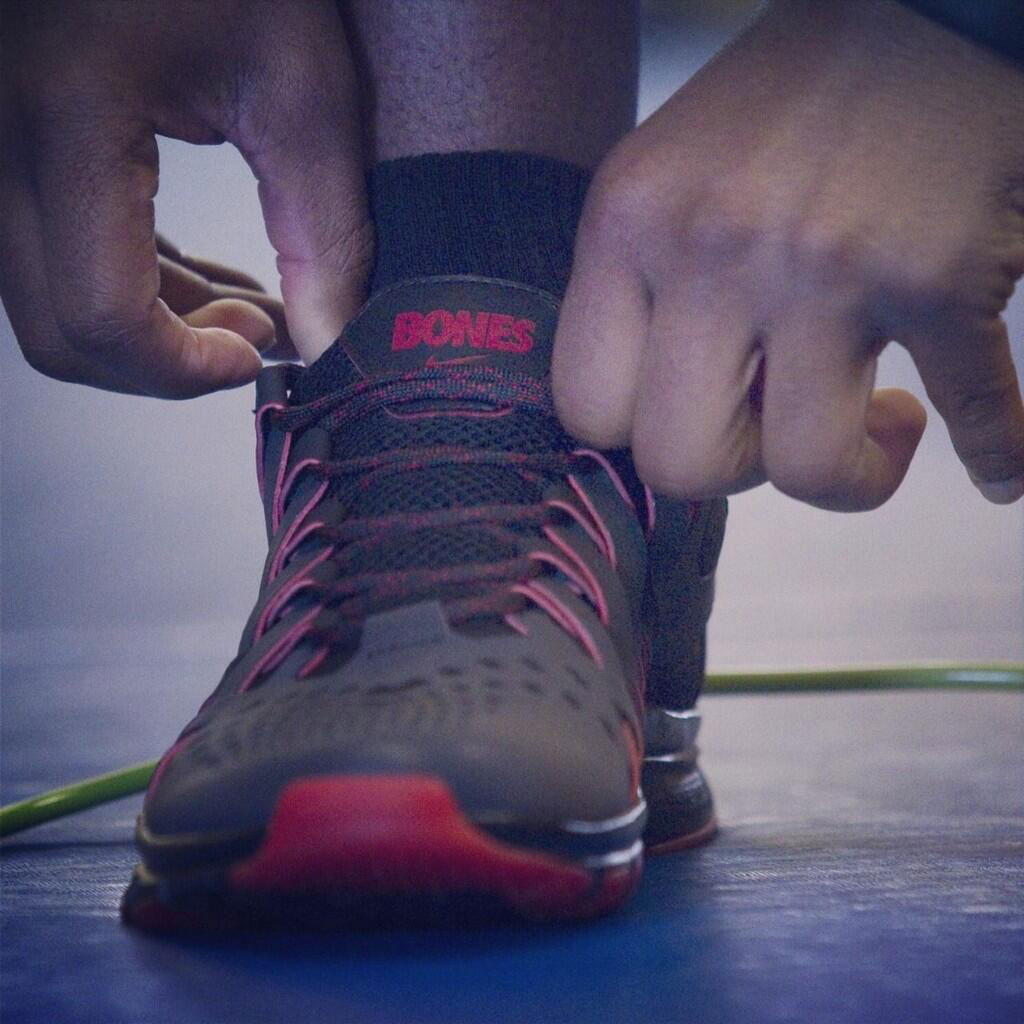 Anderson Silva // Nike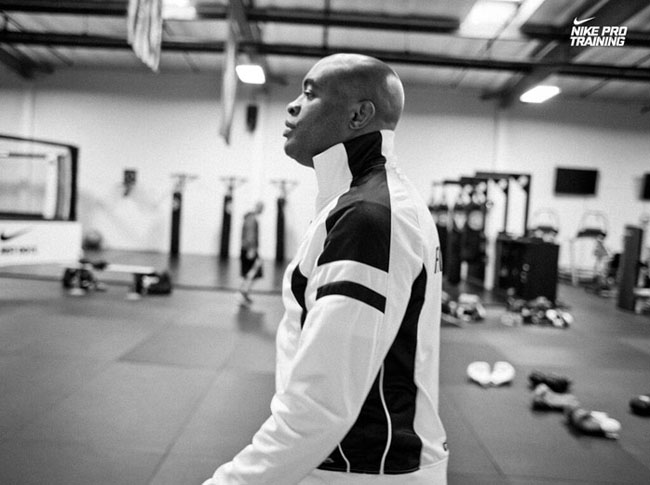 He may have recently lost his title, but few, if any, title reigns have ever matched Anderson Silva's in the UFC Middleweight decision. And while more visible in his native Brazil, his Nike signing shouldn't have come as a surprise based on his accomplishments in the sport.
Silva signed his deal back in 2011, and first officially wore the Swoosh for his UFC 134 fight against Yushin Okami in Brazil. It wasn't until July of 2013 though, following the loss of his title to Chris Weidman, that a shoe dedicated to the Spider was finally released.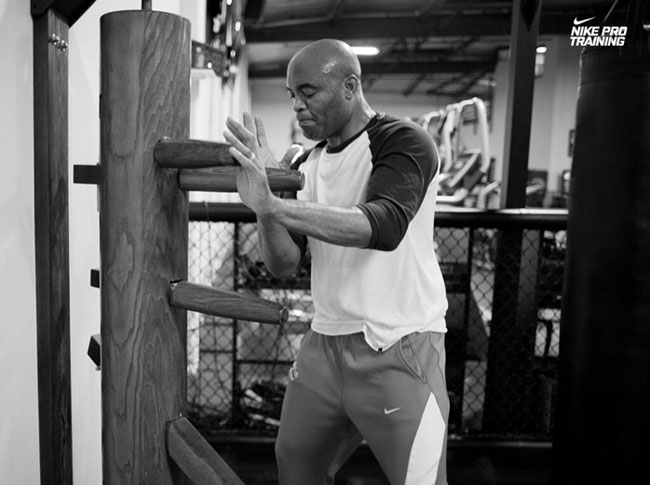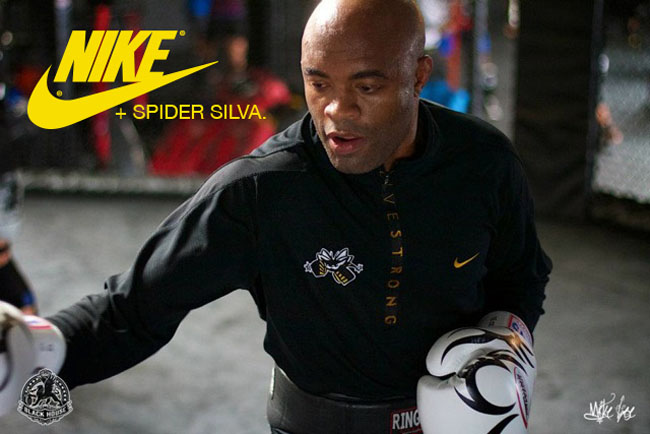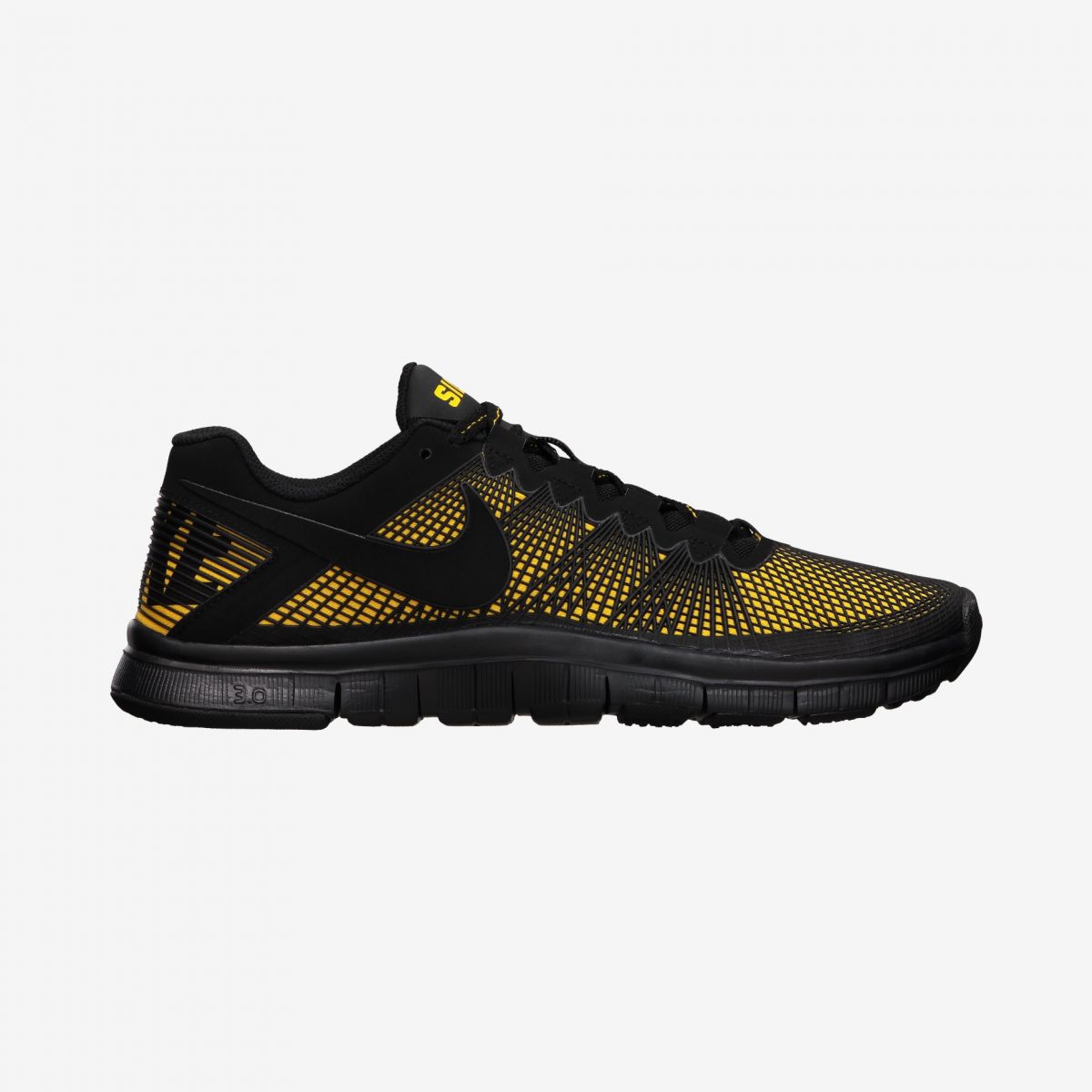 Roy Jones Jr. // Jordan Brand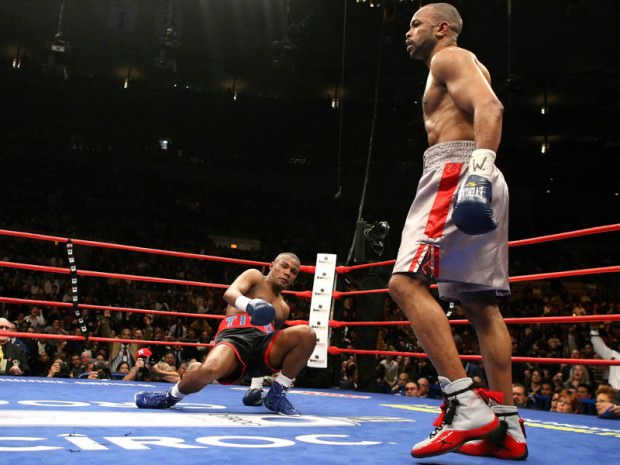 Roy Jones Jr.'s day at the top of the boxing world has long since passed, but he left an early mark for what could be possible in a combat sports endorsement deal. Jones was as dominant as he was charismatic, loosing only one match between 1989 and 2003.
At the peak of this reign, Jones probably could have been considered the Michael Jordan of boxing, as he was as entertaining as he was good. And while he never had his own sneaker, what made Jones' time at Jordan Brand unique as that his boxing boot was actually available at retail.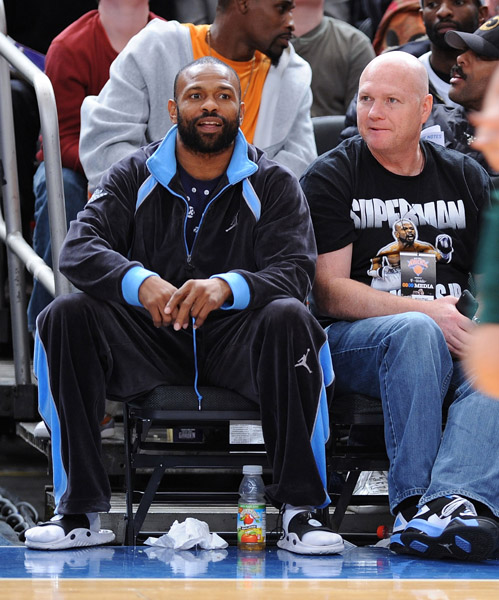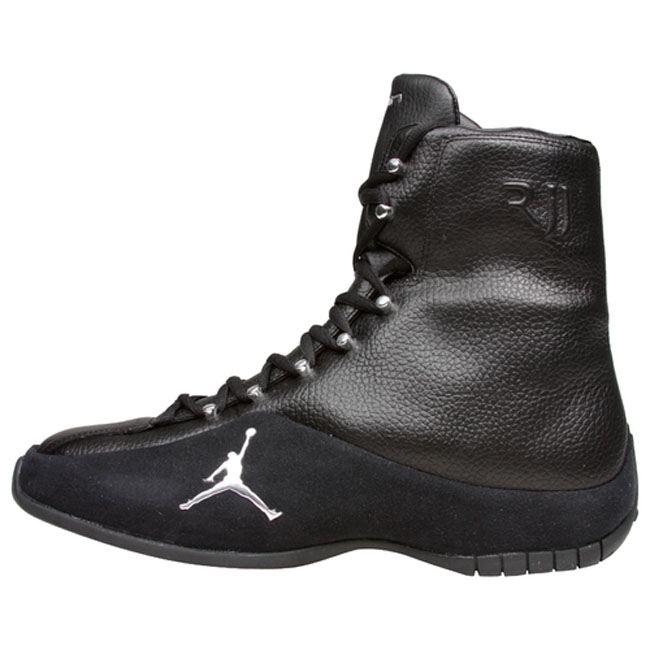 Muhammad Ali // adidas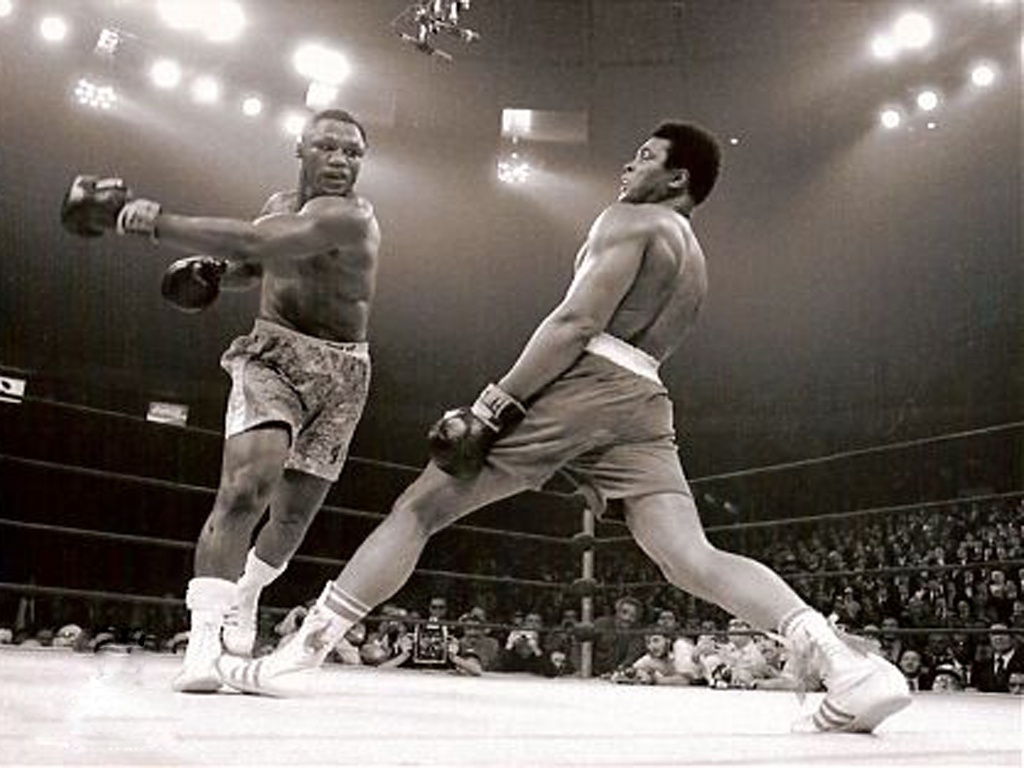 Calling Muhammad Ali a pioneer almost seems like you are underselling his credentials. While rightfully overshadowed by his contributions to sports and social issues, it could be argued that Ali's adidas partnership paved the way for modern combat sports athletes endorsement deals.
Ali wore adidas in the ring, and in more recent years, there have been collections honoring his time with the brand. Were endorsements back then, they way they are now, we can only imagine what could have been done around Ali.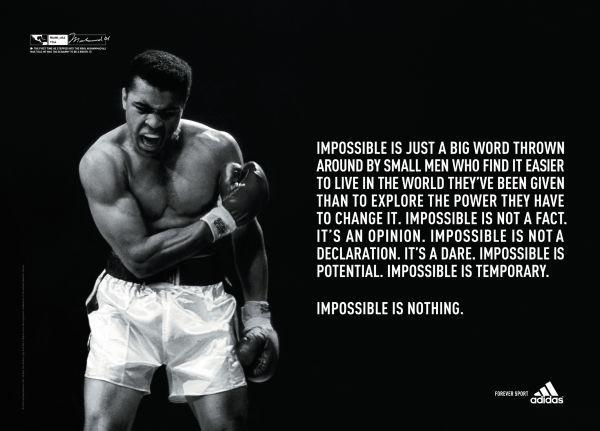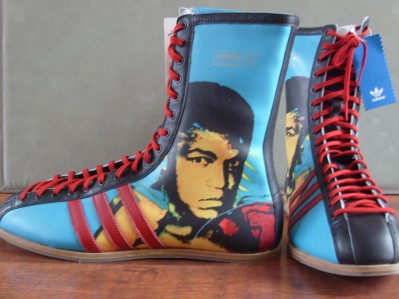 Manny Pacquiao // Nike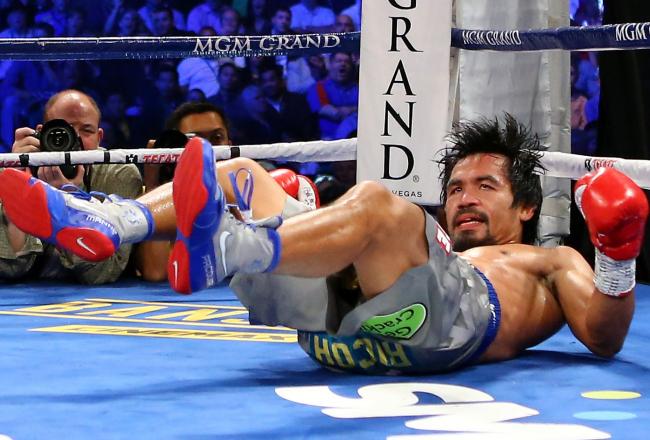 Manny Pacquiao may be homophobic, dodge PED testing, and have become a meme legend following his knockout loss to Juan Manuel Marquez, but there's also never been a combat sports star more heavily endorsed by a sneaker company. And Nike has stuck with him through the aforementioned issues.
From limited edition sneakers, to in-ring boots, we've never seen the volume of product endorsed by a combat sports fighter released in the U.S. Following two straight losses, we'll be on the lookout to see if his November 2013 bout vs. Brandon Rios is accompanied with as much gear as we've become accustomed to.