words & images // Zac Dubasik
"What is that?!" That was my reaction the first time I laid eyes on the Zoom Soldier V. And the element that drew that reaction was its unorthodox system of straps. After hearing the shoe's designer, Jason Petrie, talk about his top priorities for the latest LeBron shoe, that's probably the exact element of the shoe he was hoping for a reaction on. "The Soldier has really grown to have this notion of lockdown in the line, and that's something we're always looking to emphasize," he explains. "There's midfoot lockdown on the IV, and the III had forefoot and collar straps, so we've explored already a lot of different places that we could put a strap. We wanted lockdown to be a key focus again, and we wanted to try and do that in a more integrated manner that we hadn't done before."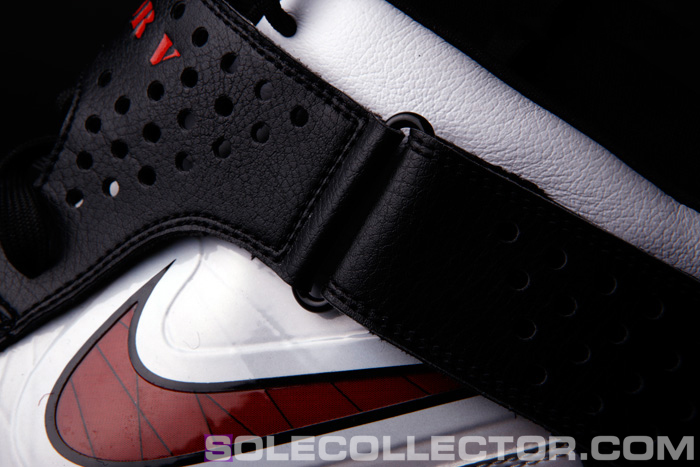 The way this system works is that the strap basically starts at the toe as a medial support overlay, travels up the midfoot where it's attached as an eyelet overlay, then separates as it reaches the top of the tongue. From here, it covers the front of the tongue, and wraps to both sides of the collar, where Velcro straps attach to both sides of the ankle, firmly locking the foot into place. The fact that the strap system works at all is an accomplishment in itself. Had the geometry and patterns been just a little bit off, the system could have been rendered a glorified lace cover. The design and development team crafted the system perfectly though. It offers rock-solid lockdown across the midfoot (which also keeps the heel in place), without compromising mobility. As a comparison, I found that the Soldier V actually has a better range of motion than the Zoom Soldier IV, which had a much more traditional midfoot strap. Credit to this has to be shared with the Soldier V's asymmetrical collar, which feels very low on the lateral side, but stable at the same time. We've seen other complex strap systems, such as the Air Jordan XIX's Tech Flex, become mere styling cues. And in an age where weight reduction means everything, there's simply no use for a strap as a lace cover anymore — it has to be functional.
We've established that the Soldier V will keep you locked down, but how about holding you over the footbed? It may not be as visually obvious as the shoe's strap system, but a Flywire panel is found on its lateral side. As you've come to expect with Flywire, this iteration offers light and stable upper support, with basically zero breathability. A few perforations would have been nice, but much more importantly, it will keep your foot from sliding off the footbed.
The upper of the Zoom Soldier V may look significantly different than the Soldier IV's, but if you haven't already noticed, the two shoes share a tooling. According to Petrie, that wasn't necessarily the original plan. "We had looked at doing a big 180 bag at one point, and it was always thought to be on Max Air," he begins. "It just came down to already really having a solid foundation with the Soldier IV, and it was testing and playing really well. … It's something we continuously play with, but we knew we still wanted Max in the heel and Zoom up front. That's the tried and true Soldier ride right now, and I wanted to stick in that zone."
There's an old saying that "absence makes the heart grow stronger." It basically means that the lack of something amplifies your appreciation for it. So, how does this age-old cliché relate to the Soldier V's cushioning? For the past few months, my weartesting has taken me away from Zoom Air. And from the moment I stepped into the Air Max Soldier V, I was reminded that when it comes to forefoot cushioning, there's simple no substitute. It's low, responsive, reliable, protective – basically, everything you could ask for. As for the Max bag found in the heel, it also offers the familiar impact protection fans of the technology have come to expect. The biggest drawback of this particular Max bag is the inherent lack of heel radius it leads to, resulting in less-than-perfect transition. Its transition is not actually bad, but it does have a bit more "slap" than I like. If the Soldier line does in fact continue to use this cushioning setup, I'd like to see the use of a heel bag more like the one found on the 8 PS, which features a heel geometry similar to that found in the full-length bag of the LeBron 8 and 8 V2.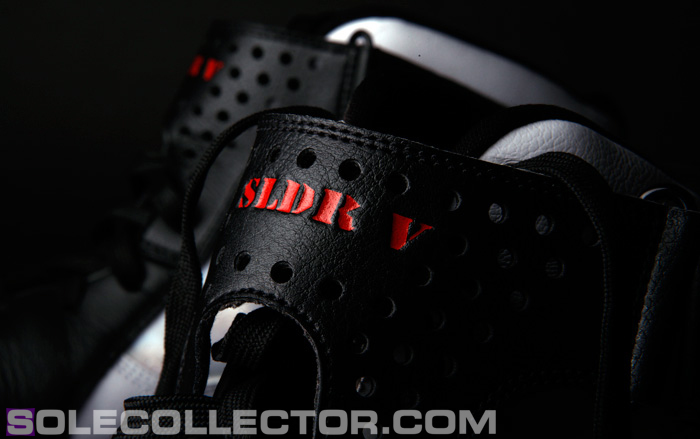 As good as the Soldier V's cushioning is, its traction more than holds its own in comparison. If you played in the Soldier IV, you already know that it's about as good as it gets. Lots of herringbone is pretty much never a bad thing when it comes to a rubber outsole. Just covering the outsole with herringbone isn't enough, like it once was. It's becoming almost standard now on most of the shoes with the very best traction to have herringbone wrap up the midsole on the medial forefoot, which it does here. I love small and interesting details on a shoe as much as anyone, but never at the expense of traction. So while it may not be the most aesthetically pleasing outsole to ever happen in basketball, I'll take this any day over a complex pattern that has me slipping.
It's not uncommon for a team shoe to offer less than ideal fit, based on the fact it has to be durable enough to last a season, and that so many different sizes of players will be wearing them. But thanks to the complex, yet functional, system of straps found here, I was able to get a fit rivaling shoes with a much sleeker last, with as much lockdown as I could possibly ask for. Combine that with durability, cushioning and traction, and you've got the definition of an outstanding team shoe. There're definitely lighter options out there, and the quickest of guards might want something with a bit less bulk, but for the majority of players, the Air Max Soldier V will be hard to beat as a team option at this price point.
best for: Players of all positions looking for a top notch team shoe with great traction and lockdown
colorway tested: White/Sport Red/Black
key tech: forefoot Zoom Air, heel Max Air, Flywire, dual-strap lockdown system
pros: cushioning; traction; lockdown; durability
cons: transition could be better, lack of breathability, heavier than many competitors
improvements: the use of a radiused Air Bag, like that found in the LeBron 8 PS, would improve transition; add perforations for better breathability
buying advice: The Zoom Soldier V offers pretty much everything you can ask for in a top-level team shoe: durability, sticky and reliable traction, protective and responsive cushioning, and outstanding fit and lockdown. It's not without its flaws, but as a complete package, the Zoom Soldier V is practically a benchmark of what a team shoe should be.