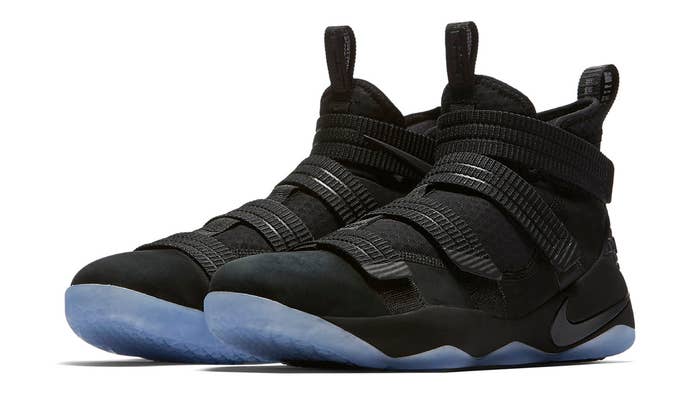 LeBron James' primary Nike signature line has seen performance ups and downs over the years, but his Soldier series has been a model of consistency (if not particularly exciting). The Soldier 10 brought a much-needed injection of enthusiasm into the line, both from a design standpoint and a historic one.
The Soldier 10 will probably be best remembered as the sneaker James wore while coming back from a 3-1 deficit to defeat the Golden State Warriors, bringing the Cavs their first championship. And how could it not be? But the fact of the matter is that it didn't really matter what shoe James made history ​in—it was bound to be significant because of the extroadinary circumstances around it.
But that almost downplays how important the Soldier 10 was as a sneaker. Very little was made of the fact that the model utilized a completely laceless design. It may not have been the first hoops shoe to experiment with the idea, but similar to how the Kobe 4 wasn't the first low-top hoops shoe, it is the one that introduced the concept to the masses and made it an acceptable design.
The Nike LeBron Soldier 11 is a natural evolution of its predecessor, with small tweaks rather than broad changes. Did that fine-tuning result in a better product though?
Hover over the dots below to find out.
Nike LeBron Soldier 11 - Fit Nike LeBron Soldier 11 - Ankle Support Nike LeBron Soldier 11 - Cushioning Nike LeBron Soldier 11 - Traction The LeBron Soldier 11 in many ways is "just" the LeBron Soldier 10.1. That's really not a bad thing though, as the Soldier 10 was a great shoe, and the 11 improves on almost every aspect of its design with very minimal compromise. At $130-140, it's not the most affordable option, but it's one of ​them—and a very good value for what you get. It may not have the fairy tale ending of the Soldier 10, but it's ultimately a more memorable performer.