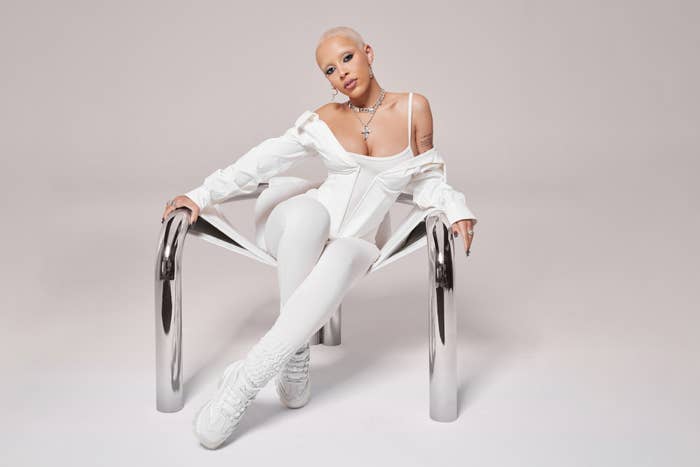 After putting her stamp on the music industry with multiple award-winning records, Doja Cat is now dipping her toe into the footwear space with a new Skechers collab.
"To design something inspired by the iconic sneaker my peers wore back in the day—Britney Spears and Christina Aguilera—I feel like I am a part of history," Doja Cat said about her new Skechers collab.
For the first collaborative sneaker project between Doja Cat and Skechers, the Grammy-winning musician has reimagined the footwear brand's D'Lites silhouette with the new Doja'Lite pictured below. The sneaker features a combination of materials and colors that were selected by Doja Cat herself including the snakeskin-inspired patent leather details and the translucent outsoles.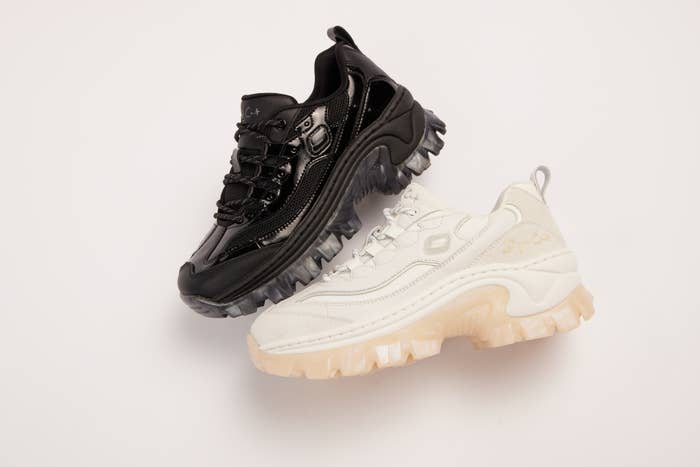 "The connection with Doja Cat happened in a very natural way that started when she performed on the main stage at Coachella wearing classic Skechers D'Lites sneakers in 2022," Michael Greenberg, the president of Skechers, said. "Conversations evolved from there and we learned she really loved our heritage Skechers styles, so there was a lot of synergy that led to us announcing her as the first Skechers Artist-in-Residence earlier this year. Doja Cat is a fashion icon and the perfect visionary to reimagine one of our most iconic Skechers styles in a way that is both unique and forward-thinking."
Deena Bahri, CMO at StockX, elaborated on what makes the collaboration a good fit for the platform: "Today's consumer continues to lean into the nostalgia trend and we couldn't be more excited to partner with Skechers—a brand with a rich history of conversation-driving collaborations—to help release a product that not only draws inspiration from the recently revived Y2K aesthetic, but also pulls at the heartstrings of those of us who grew up wearing the Skechers D'Lites of the early aughts."
The debut Doja Cat x Skechers Doja'Lite collection will officially launch on Sept. 28 at Skechers.com and at select Skechers stores for $125 each, but a pre-release of the project will take place on Sept. 21 exclusively at StockX. The early drop will feature two of the five colorways, including black and white.