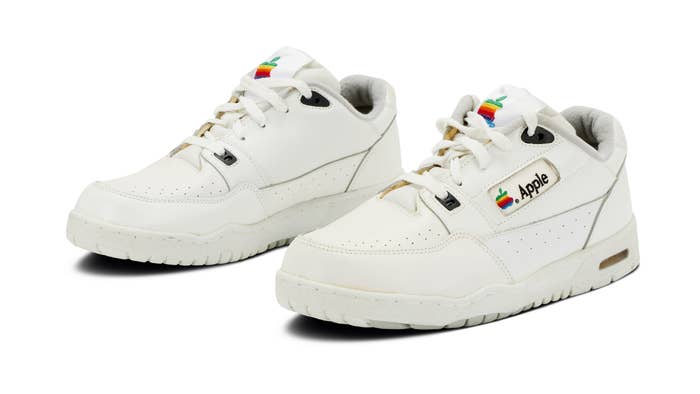 Every so often, the ultra-rare Apple Computer sneakers made specifically for employees at the tech company in the 1990s resurface on the auction block. These Apple Computer sneakers are once again up for grabs, but this time they aren't at auction and instead come with a hefty price tag.
Currently listed on Sotheby's is a size 10.5 version of the Apple Computer sneaker from the '90s for a whopping $50,000. The shoe was manufactured by Omega Sports and features a simple white-based leather construction on the upper with rainbow-colored "Apple" branding at the midfoot and embroidered on the tongue tags. The sneaker also has a cutout on the heel of the midsole that exposes the cushioning unit before a rubber outsole wraps up the design below.
The sought-after Apple Computer sneaker was last seen in the secondary marketplace in 2020 and sold for $10,000, which is considerably lower than the current asking price. Prior to that, a size 9.5 version of the shoe was available at auction in 2017 with bids starting at $15,000.
Readers who are interested in buying the Apple Computer sneakers can do so now at Sothebys.com for $50,000.