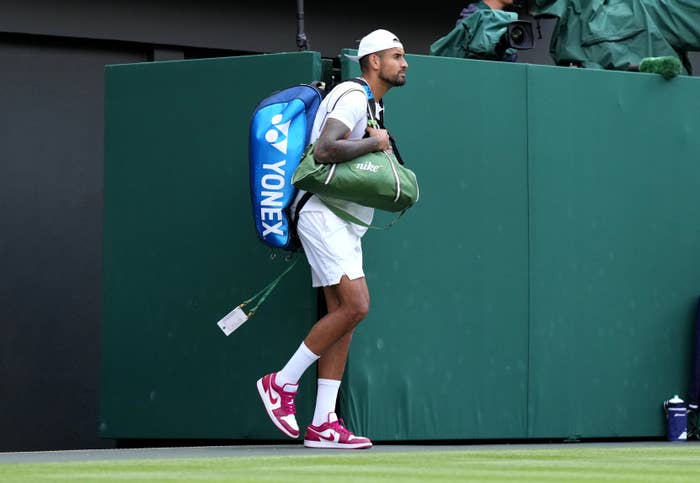 Nick Kyrgios sauntered his way across Wimbledon's grass and into his first-ever major semifinal. He's attracted plenty of attention along the way to the tournament's final round, which he'll advance to after Rafael Nadal pulled out of their match on Thursday due to an injury.
Kyrgios garnered attention during the tournament for everything from a between-the-legs service winner to picking up fines for spitting in the direction of a fan and saying obscenities during his fourth-round win over No. 4–seeded Stefanos Tsitsipas. (More troubling than the fines is the allegation of assault an ex-girlfriend has brought against him.) But it was the Wimbledon dress code–violating red Air Jordan 1 Lows and red Jordan cap he wore pre- and post-match that got world No. 40 Kyrgios changing his sneaker style. 
While first declaring in a post-match press conference that he wore them "because I do what I want to," he walked out for his quarterfinal matchup two days later uncharacteristically wearing his in-match white NikeCourt Air Zoom Vapor Pros. The red didn't make an appearance.
Kyrgios is the only top-flight ATP player known for walking onto the courtin different sneakers—generally a pair of Jordan 1s—than what he plays in. At Wimbledon, though, red Jordans, or any clothing or accessory with more than a trim of color, are banned, even for a walkout, a post-match, or an on-court press conference.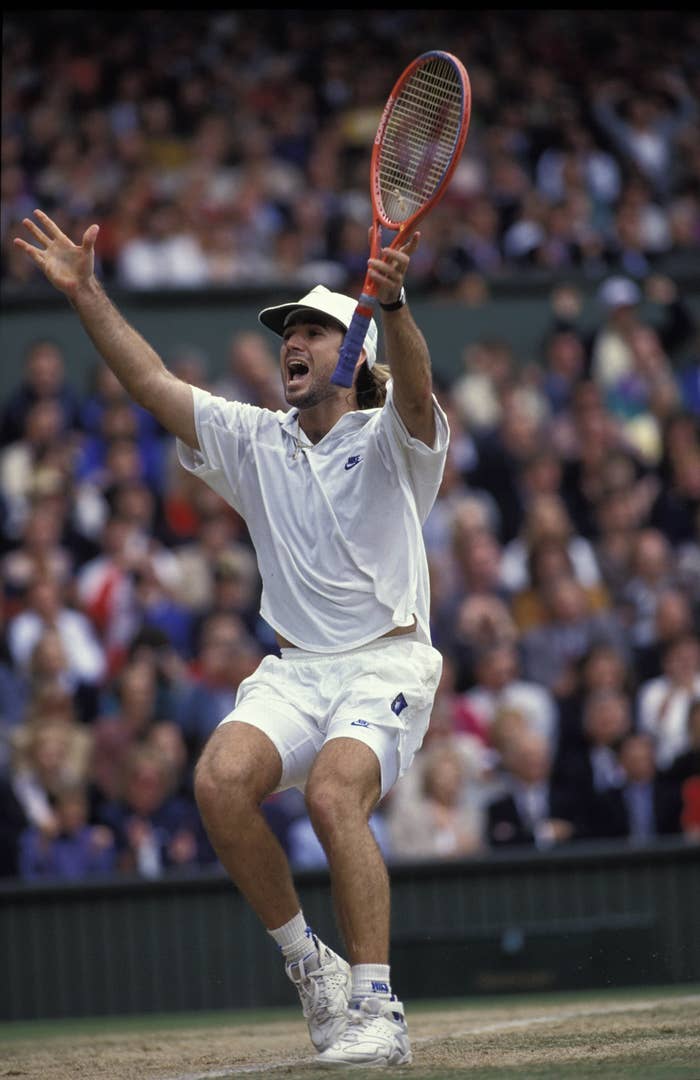 Kyrgios has long been fond of donning Jordans pre-match, lacing up his playing shoes at the bench before the on-court warm-up.
"It started when I was young," he said in 2019. "I had this superstition that I couldn't wear my tennis shoes before or after a match. I feel like you can kind of gauge someone's personality by the kicks they wear. That was a little bit of a sneak preview of what I was about before I started playing." 
That pesky dress code covers more areas than you'd think. The famous white dress rules at Wimbledon have gotten stricter over the years. Much stricter. And a long list of the sport's stars—Roger Federer, Serena Williams, Andre Agassi—have railed against it. 
When Wimbledon was first played in 1877, white was the only option and the tradition of white grew organically. In the Victorian era, white hid sweat and was seen as a sign of affluence. But former British player turned fashion designer Ted Tinling started incorporating color and lace into tennis dresses in the 1940s and the rule that players must play "predominantly in white" became an official rule in 1963. 
While tournaments around the world relaxed white dress codes—the U.S. Open welcomed color in 1972—Wimbledon doubled down. Agassi, famous for his Nike-encouraged anti-establishment persona, skipped Wimbledon for three tournaments from 1988 to 1990, in part because of his disagreement with the traditions and all-white rule
Nike designer Tinker Hatfield says working with Agassi led people to tell him he was crazy for what they were trying to do.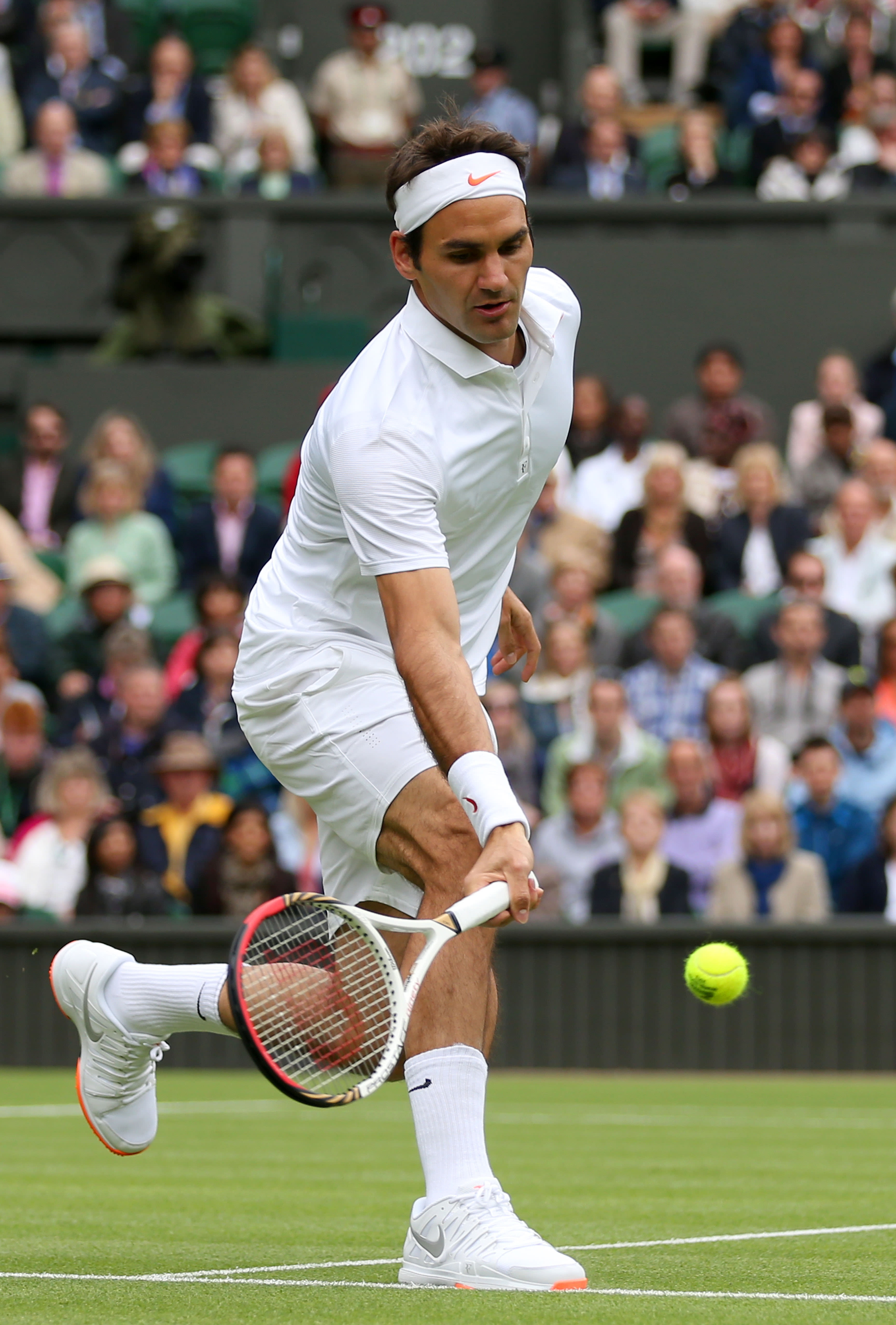 "I said, exactly, crazy like a fox," Hatfield says. "Our approach to tennis was to be a little anti-tennis."
Agassi did return to play 13 more Wimbledon tournaments, winning in 1992 in all-white apparel and a matching player-edition pair of all-white Air Tech Challenge Huaraches.
Wimbledon responded in 1995 with a tightening of the rule to dress "almost entirely in white." Off-white need not even apply. Then came more pushback. In 2010, Serena Williams wore a "strawberries and cream" dress with red shorts underneath. Roger Federer wore orange-soled Nike Vapor Tour 9s during the first round of the 2013 tournament before officials banned them for the remainder of the tournament and he was upset in the second round. 
The rules changed again following Federer's orange outburst. In 2014, accessories made the list and Wimbledon forced "almost entirely in white" for everything from underwear (no more brightly colored shorts under dresses for women, including the pink bra Venus Williams was required to change mid-match in 2017) to tracksuits and sweaters and footwear.
The rule expands to anything worn on courts at Wimbledon for practice or matches. There's been increasing disagreement from female players, who say that the rule makes having their periods during the tournament especially uncomfortable.
Federer, in 2014, called the rule "too strict." Those strict rules have met the anti-establishment, basketball-loving Kyrgios head-on during his 2022 Wimbledon run, even while he's drawing new eyeballs to the sport known to be mired in country club traditions. With $14,000 already in fines at Wimbledon 2022, Kyrgios easily leads the history of the sport in on-court fines, somewhere in the neighborhood of $800,000.
Typically at Wimbledon, when it comes to dress code violations, organizers give offenders a chance to right their wrong before they levy fines. It appears Kyrgios did so by not donning the Jordans or a red hat for the quarterfinals. Another offense, though, and Wimbledon officials will surely drop another fine bill on his stay in the tournament. With that in mind, when he walks out on Sunday for the chance to win his first Grand Slam, Kyrgios may follow Wimbledon's rules and leave the banned Jordans off Centre Court. But that doesn't mean he agrees with them.