words & interview // Nick DePaula
images_Keith Kunis
It's been quite an eventful past couple of years for young Tony Taylor Jr. of Portland, Oregon, as he battled through and overcame a kidney transplant in 2007 with the help of the Doernbecher Children's Hospital and with his mother by his side. Just a year later, Tony, an avid sneaker fan and Air Jordan collector, got the chance of a lifetime as he was selected to design his very own Air Jordan 1 retro High as part of Nike's 5th Annual Doernbecher Freestyle project.
Inspired by his triumph over kidney disease, Tony's design features a gradient fading patent leather upper, contrast stitching and of course the sharpest cue touching back to his nickname, Mr. Boober - the "I'M FRESH" tongue tag! To read all about the detailed backstory of his "Mr. Boober" Doernbecher 1's, be sure to check out last fall's feature HERE.
I recently had a chance to catch up with Tony and chat all about his experience working on his very own shoe with both Jason Mayden and Estelle Maranan from Jordan Brand. He still frequently keeps in touch with the two, and was excited as ever to see how deeply sought after his shoes were upon their release last November. As our discussion came to a close, the well-practiced Mr. Boober was up for one more autograph!
Nick DePaula: Leading up to the drop, how excited were you once it was finally getting close to the day your shoe was going to come out?
Mr. Boober: I was just happy that people were so excited about them. I was talking to people every day before they came out, and they were all asking me how many pairs were coming out and where they could buy them at, and people were telling me they would even miss school to get them if they had to. [laughs] I thought they turned out great.
So you went down to the Niketown here in Portland on the release day?
Yeah, I went to Niketown early before they opened and they had us sitting next to the designers that helped us and if people wanted us to sign them, we would, and we just got to talk to everyone that came in to get them.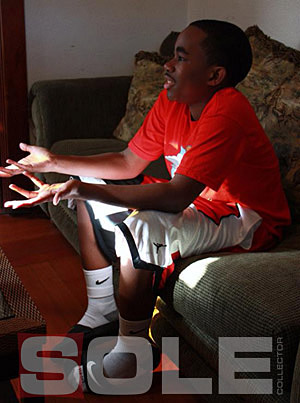 How many autographs did you sign?
A whole bunch of 'em. [laughs]
You get pretty good at it?
Yeah. [laughs]
How many relatives were asking you about them?
A lot of family members asked me how they could get them, and all I could tell them was, 'You shoulda' been there when they came out.' [laughs]
Did you follow the response once they came out?
All of my friends were real excited about them and everyone was always asking me how I got to do it and if I would be designing anymore. I have some friends that wear them every day to school.
Do you still talk to Jason Mayden and the people you worked with at Jordan Brand?
Yeah, I'm involved in another program that just started up, and so I get to meet with him every Wednesday. We just started [in early February] and we just met with a bunch of different Nike designers and all of the Nike staff that we'll be working with.
Oh cool, and Jason just designed the Air Jordan 2009, what'd you think of those?
I like them! They turned out real great.
Was there anything on your shoes you'd change?
I was really excited with how everything turned out, and I wouldn't change anything. I've been practicing drawing and taking art classes and I've been talking with Jason about how I can get better. He sends me shoe templates to work from to work on my shapes and to help me get better.
Did you follow at all how much they were selling for on eBay?
It was crazy. I saw one article about a guy in Chicago who had like twenty pairs on eBay and he had a whole bunch. He was selling them for a ton. On some websites, I was checking through all of the comments, and some people said, 'Oh, these are the best Jordans that ever came out!' That was great and it just made me excited and proud.
How many total pairs of shoes are you up to now?
Uh...a lot. [laughs]
It was around a hundred the last time I asked you.
Yeah, I think I'm up to 107.
What have you gotten recently or what just came out that you were really excited about?
I just got the 11/12 Pack and I love those.
Dang, I couldn't get them. [laughs]
That's too bad. [laughs] It was kind of snowing when they came out, and I went the night before to the Employee Store to wait for them. I saw a Nike designer in line too that I recognized, and it was just all employees from the headquarters that were in line. When I got there at midnight, the line was really long and I was in the back a bit, and one of the designers went in and told somebody that I was waiting, and then before I knew it the Manager there came outside and told me I wouldn't have to wait. [smiles] That was just a great feeling with how nice everyone has been to me and I really love that pack.
That's a great story! Do you have anyone you'd like to thank that you worked on this project with?
Yeah it was nice, and I'd just like to really thank Doernbecher for helping me and say thanks to Jason and Estelle for helping me with the project.
Tony's personal pair, signed by Tiger Woods and housed in a custom lasered wooden box from Nike!