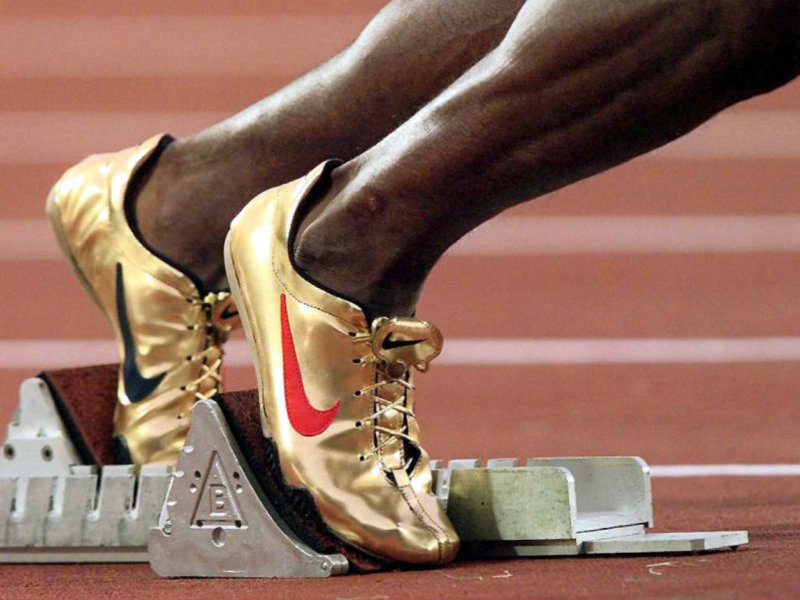 words // Zack Schlemmer
Everything came together at the 1996 Summer Olympics for Michael Johnson, who sprinted his way to legendary status in track and field, and athletics in general.  By the end of his events in 1996, Johnson held the world record in the 200m dash at 19.32 seconds and the Olympic record for the 400m with a time of 43.49 seconds. Both records have since been broken - the 400m world record broken by Johnson himself with a time of 43.18 seconds in 1999 - but what he accomplished in 1996 made him an international superstar.
Along with his gold medals came his famous golden shoes.  As sneaker collectors, most of us focus our attention on basketball shoes like the Air Jordan VII or Air More Uptempo when reminiscing about Olympic footwear, but the shoes that have gotten the most widespread attention, by far, from the Olympic Games are Michael Johnson's gold Nike track spikes. 
Johnson made a confident statement by donning the golden shoes in his quest for Olympic Gold, and his confidence was justified after crushing the competition as well as records.  He had the world talking about not just his feats on the track, but his feet on the track.  They made it onto the cover of TIME and I even recall a story on the local news in Indiana about a softball team that had jokingly spray painted their shoes gold, inspired by Michael Johnson.
Other than being gold, the shoes themselves were an achievement in design.  Weighing in around a mere 3.5 ounces each, they were the definition of minimalism in a shoe.  With a three piece upper (tongue and two sides), no outsole in the rearfoot, and a lightweight carbon graphite spike plate with ceramic aluminum spikes, the golden spikes were almost as light as they could possibly be.  Other sprinters were given the opportunity to wear similar spikes in 1996, but none wanted to wear something with as little support as Michael's.