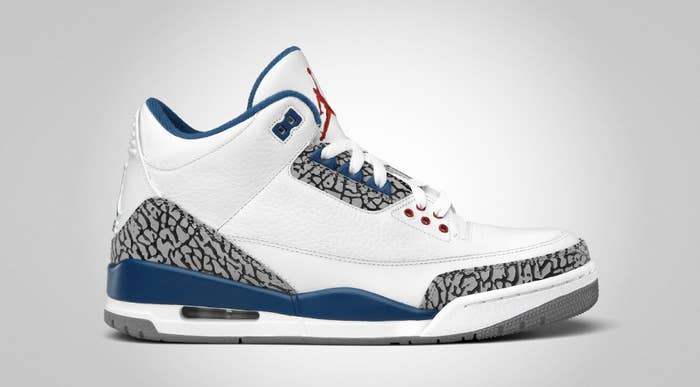 In the fall of 1988, I was a junior at Long Island's Smithtown High School East trying out for the school's volleyball team. I was already six feet tall, and could jump a little. Making the team didn't seem like a formality or anything, but I thought I had a good a shot as anyone. I had just one concern, which I brought up with the coach in his office before tryouts had even ended—would I be allowed to wear Air Jordan IIIs during games? This seemed important. I'd never owned a pair of Air Jordans before, and these were definitely going to be my first.
As it turned out, my concerns were unfounded. I didn't make the team, and I didn't get the Air Jordans either. Instead I wound up getting a pair of Air Jordan IIs that were being cleared out for $70—the IIIs would have to wait.
Fortunately, I wouldn't have to wait long. In 1994 and 1995, Nike famously re-issued Air Jordans 1 through III, essentially kicking off the concept of retro sneakers. I, a broke recent college grad at the time, made some tough decisions and bought one of each style—black/red IIIs, II highs, and black/cement IIIs—as soon as they became available. A few months later, some were still available for as little as $20. I didn't care. I had mine.



It would take a consistent moneymaker out of the lineup, but it would also make people rethink an incredible sneaker design that's come to be taken for granted.
Last night at an event introducing the "remastered" Air Jordan Retros for Spring '15, much was discussed, mostly about a return to a classic method of sneaker making that was almost lost in an era where most basketball sneakers aren't even made from leather anymore. But Jordan Brand VP of Footwear David Schecter made another announcement towards the end that nearly overshadowed everything else—the Air Jordan III would be going back in the vault, with no imminent return on the horizon. And seeing that the brand plans as much as two years out, it could be the shoe's 30th anniversary (2018) before we see it again.
On some level, this is incredibly disappointing. The III has long been a favorite of nearly every Jordan aficionado, and, as Tinker Hatfield's first Air Jordan, its significance to the entire line can't be understated. A fresh pair of Air Jordan IIIs is key to nearly every sneaker rotation. And long-awaited drops like a black/cement '88 or mocha re-up will have to be awaited for a bit longer. But in reality, this is probably something that needs to happen.
On one episode of Quickstrike, I proposed that Nike cease production of the iconic Air Force 1, at least for a year. I said this mostly to get a rise out of my Air Force 1 loving co-host, but I also thought it was an idea that made some sense. Yes, it would take a consistent moneymaker out of the lineup, but it would also make people rethink an incredible sneaker design that's come to be taken for granted. The Air Jordan III finds itself in a very similar position, albeit on a smaller scale. The other day I saw a link to a list of the 23 best Air Jordan III colorways. Twenty-three? When the Air Jordan III originally released in 1988, there were four. Which, at the time, seemed like plenty.
So here we are at the end (for now) and we didn't even know it. The last Air Jordan III for the foreseeable future will be the Sport Blue joints that just dropped, unless you count the Roger Federer Vapor 9 Tours, which make an interesting bookend to the white/cement IIIs that Michael Jordan debuted in the '88 Dunk Contest. Personally, my biggest regret is that we tweeted out the news as soon as we heard it—we should have collectively made a pact not to tell anyone until we went to Flight Club today and cleaned out the stock of '88s. Sneaker insider trading, if you will. If the prices go up, well, it'll be understandable.
When the III does return (and the more I think about it, the more likely Spring '18 seems right), it will be "remastered" like the rest of the Air Jordan retro line, and should be the closest to the original iteration. It promises to be worth the wait. In the meantime, you might want to stock up.
Russ Bengtson is a senior staff writer at Complex. He currently owns three pairs of Air Jordan IIIs. Follow him on Twitter here.