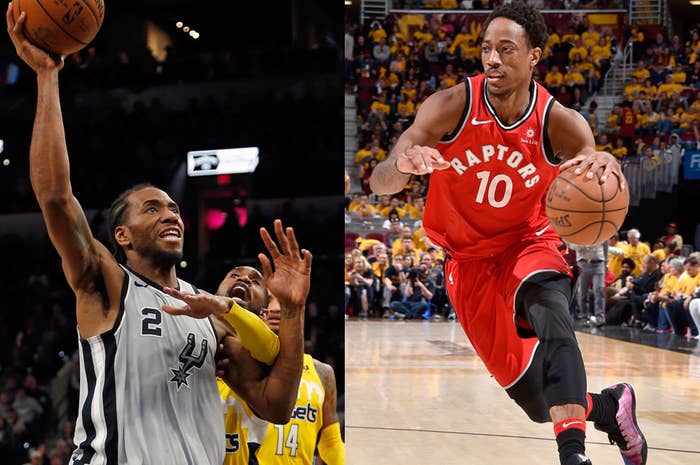 Kawhi Leonard's long-speculated fate could be decided as soon as today, with numerous reports indicating that the San Antonio Spurs have agreed to a deal with the Toronto Raptors that will send the star small forward up north.
Outlets including ESPN are reporting that Leonard will be sent to the Raptors for a package deal which includes DeMar DeRozan. But despite all of the attention surrounding the apparent trade, there's also talk that neither star is happy with the outcome.
League sources tell ESPN's Chris Haynes that Leonard has "no desire to play in Toronto," which could ultimately spell out a short stay as he's previously expressed desire to join the Los Angeles Lakers when he becomes a free agent next year.
As for DeRozan, he was a bit more public with his frustrations, taking to his Instagram story this morning to vent. "Be told one thing & the outcome another. Can't trust em. Ain't no loyalty in this game. Sell you out quick for a little bit of nothing," the Nike-sponsored guard wrote.
The trade could shake things up from a sneaker standpoint, too. With a fast-growing list of accolades, Leonard is arguably the most accomplished current Jordan Brand athlete—and there's no shortage of "Raptors" styles to choose from over there. Meanwhile, DeRozan has earned a reputation for carrying on the Black Mamba's legacy post-retirement by regularly rocking Nike's numerous Kobe offerings.