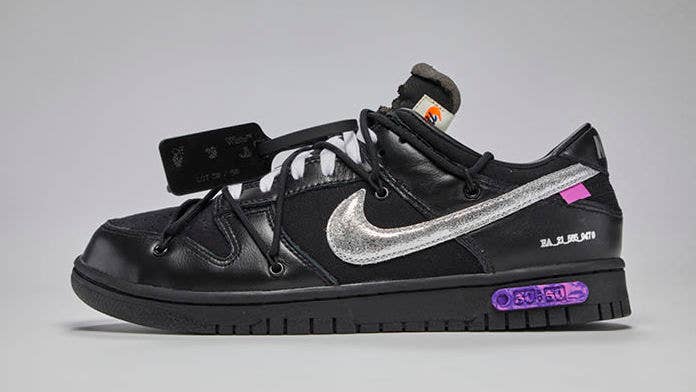 Virgil Abloh and Nike are up to something big with the Dunk model, but exactly how big remains to be seen. 
Reports surfaced over the weekend of an upcoming 20-sneaker Off-White x Nike Dunk collection that would serve as the rumored "The 20" collection. Abloh himself appeared to indirectly acknowledge that something was in fact on the way, saying he "couldn't pick this many bad colorways if I tried" in response to the leak. 
With "The 20" still up in the air, there's now talk of an even larger upcoming Off-White x Nike Dunk collection to the tune of 50 different styles. According to zsneakerheadz, the 50-sneaker range will be made up of mostly the same base colorway (Sail/Grey), with colors varying on the overlay laces, signature Off-White tag, and on a midsole badge that identifies the number out of 50. The final sneaker in the group, the "50 of 50," is said to be an all-black colorway with white laces (pictured below).
As of now, Abloh and Nike have yet to confirm the 50-sneaker collection, but we'll update you with developments. Take a look at what to expect below.
UPDATE (06/17): The rollout for the Off-White x Nike Dunk Low "Dear Summer" collection continues this week with the announcement of a release date. In a Nike News post breaking down the SNKRS app's Exclusive Access feature, it's revealed that the Off-White x Dunk Lows will be available via invitations beginning Monday, Aug. 9 with more access being sent out over multiple days. The post also mentions that the drop will be exclusive to SNKRS, although it's not yet clear if that means the initial launch or the entirety of the release. Check back soon for more details.
UPDATE (08/02): Today, Off-White has announced it will hold a raffle for Lot 1 and Lot 50 of its 50-shoe Dunk Low collection. To enter, fans must visit Off-White's Instagram between now and 6 p.m. today to submit their entry. Winners will be randomly chosen and contacted by Aug. 4. The launch details for the additional 48 pairs have not been announced.
UPDATE (08/04): In a SNKRS Live episode, Nike's Lucian Dickson confirmed details for the Off-White x Dunk Low rollout. All 50 Lot colorways will be distributed randomly via SNKRS Exclusive Access. Users who are granted Exclusive Access will not be able to choose the colorway, only their size, and will be sent the pairs at random.
Dickson added that watching episodes of SNKRS Live will not contribute to one's chances of receiving Exclusive Access. Instead, he hinted that "hardcore fans" of SNKRS and the Off-White brand would be more likely to receive the opportunity to purchase. 
In addition to the information revealed during today's episode, it was confirmed that more details will be shared via an official SNKRS communication in the coming days. 
The Off-White x Nike Dunk Lows will retail for $180 each. Exclusive Access for the sneakers will be sent out over a two-week period.