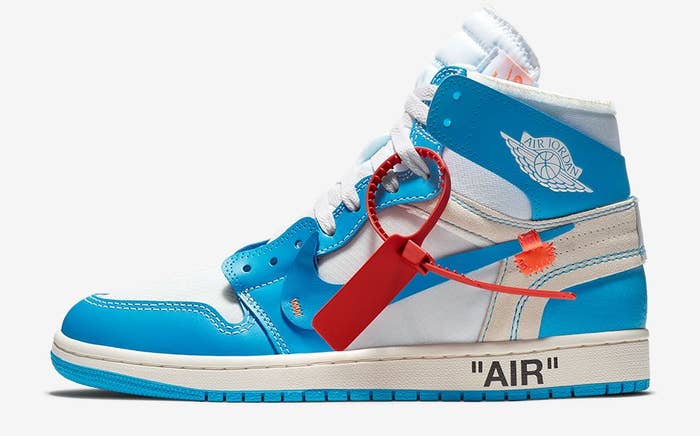 For serious sneakerheads, the packaging that houses their coveted kicks can often be nearly as cherished as the shoes themselves, and even more so when it's a special version like the windowed box that comes with (most) "UNC" Off-White x Air Jordan 1s. 
While horror stories of boxes damaged in transit are aggravatingly common, one Twitter user was met with something even more deflating: the wrong box altogether.
@BigJeezie recently tweeted his frustrations after getting lucky on the powder blue Virgil Abloh design only to find they'd been sent in a run-of-the-mill Jordan box. 
"When I opened the shipping box, at first sight of the gold Jumpman, I thought they were the incorrect sneakers," he tells Sole Collector. "I'm very grateful to even have the chance to own them, but feel shortchanged as a long-term customer. If these [were] something that was easily attainable and I could have another true retail pair, then that would be a different story. Buying these and owning these is an 'experience' in which, while grateful, I can't quite have as of now."
He's since reached out to Nike in hopes of a resolution and was told he'd hear back in five to seven days, but it's unlikely that the brand would have spare replacement boxes on-hand.
Following the surprise SNKRS release, a wider Off-White x Air Jordan 1 "UNC" date has not yet been confirmed, however the latest rumors have the shoes dropping on Saturday, June 9.
UPDATE (06/19): Just as the "UNC" Off-White x Air Jordan 1 gets its wide release, Nike has come through to solve BigJeezie's shoebox dilemma. According to his latest tweet, a Nike customer service rep from Oregon spent two weeks trying to track down the proper box, providing the customer with regular updates along the way.
BigJeezie's patience paid finally off, and he tells Sole Collector Nike made him feel like a valued customer.
"When I finally got home from work and switched them to the correct box. I opened up the lid and looked through the window and grinned from ear to ear," he said.