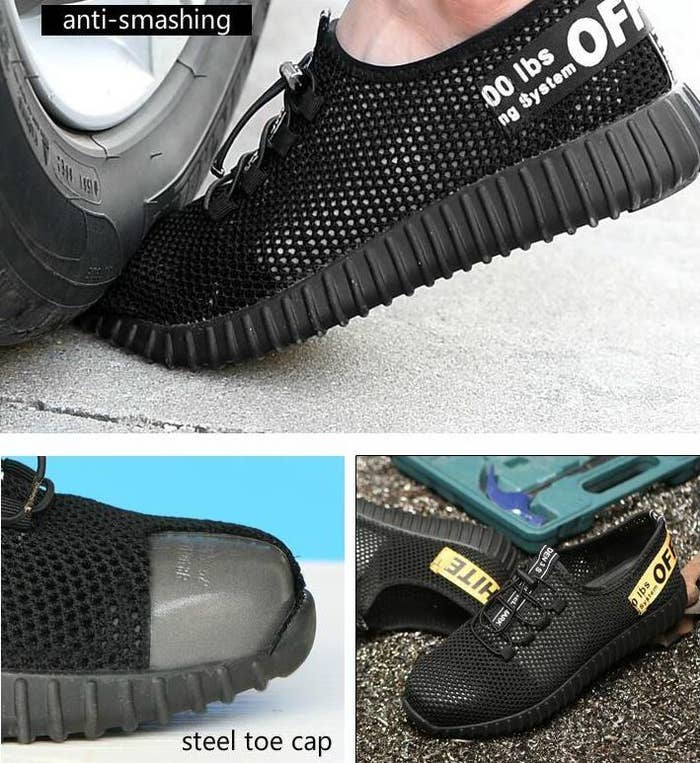 When it comes to fake footwear, it's hard to classify one pair as more egregious than another, but the sneakers seen here may very well take the cake for the most outrageous counterfeits of 2018.
The concept begins with a mash-up of the Yeezy Boost 350 and Virgil Abloh's Off-White designs. While that may have been a rational enough idea, it's been taken to the extreme by turning the traditionally minimal knit shoes into indestructible tanks.
These fakes come decked out with a steel toe cap—perfect for keeping toes safe when they're being run over by a car or smashed by a brick—and Kevlar "bulletproof" soles, which are also anti-slip for good measure. 
Despite these levels of protection, one website warns buyers not to actually shoot themselves in the foot. "The term 'bulletproof' is used as an adjective to emphasize the sturdiness of these shoes, and that although they have resisted air soft balls; by purchasing this item, you agree to not ever hold us liable for shooting yourself on the feet or any such similar event," reads the product description.
To make things even more confusing, there appears to be multiple variations of these fakes, including styles with Yohji Yamamoto's Y-3 branding. On the bright side, however, they're considerably cheeper than a real pair of Yeezys or Off-Whites, retailing at just $69.99.