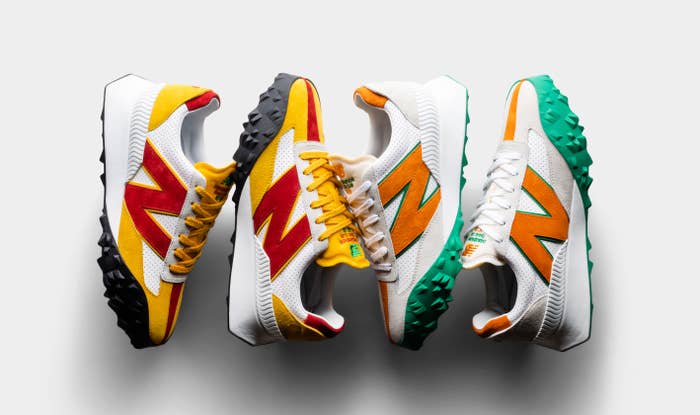 Releasing a brand new lifestyle sneaker is no easy feat. Doing so with a collaborative partner that is green in the footwear space is doubly challenging. Not only are you dealing with a consumer that's conditioned to favor familiar retro designs, but you also miss out on some of the built-in hype that accompanies teaming up with an established brand. Add in the hurdles of working through a global pandemic, relying solely on digital mock-ups and Zoom calls, and the task becomes an entirely different beast. Together, New Balance and Casablanca have not only been able to thrive in the face of all of this, but they created one of the best new sneakers of 2020, one that caught on in both the footwear and style spaces. And it looks like they're about to do it again.
A unabashed sequel to 2020's aforementioned 327 model, the XC-72 is the latest design from New Balance footwear designer Charlotte Lee. Having previously honed her skills working exclusively on women's and kid's lifestyle shoes for the brand, the UK-based Lee began in 2019 a new role with a focus on new concepts for the global market. A seven-year vet at New Balance, Lee has had a hand in numerous models from 2014 onward, but it's the 1970s-inspired 327 that really put her in the spotlight. She's also the designer behind the New Balance 237, a stripped-down version of the same '70s style concept that's seen collaborations with stores like size? and Sneakersnstuff. 
Although he first found footing in the design world as co-founder of Pigalle—a high-profile brand in its own right—Charaf Tajer's Casablanca label started around the same time Lee took on her new role. Casablanca was founded in 2018 and quickly became something of a fashion week favorite, earning a LVMH Prize finalist spot in 2020 and gaining cred amongst sneaker enthusiasts with its New Balance collaboration. The brand's elegant-but-leisurely aesthetic combines prints and patterns inspired by Tajer's French-Moroccan heritage with themes from the tennis court. This attitude is conveyed on its work with New Balance, which in just a little over a year has already produced just shy of ten different sneakers.