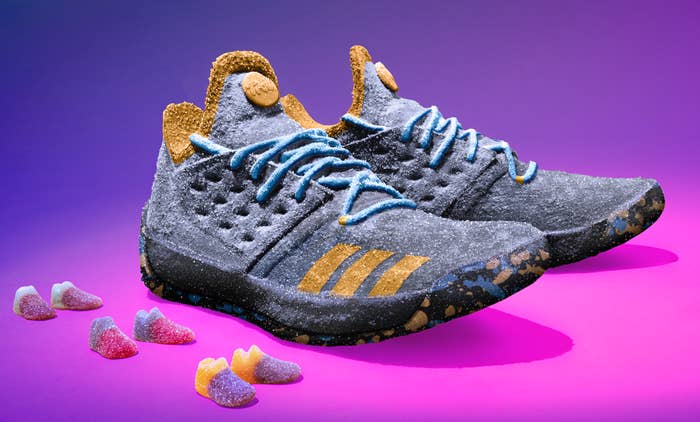 Adidas is not the only brand celebrating James Harden's 2018 NBA MVP award via sneakers. Candy company Trolli is also getting in on the festivities by releasing some commemorative gummy candy for one of its brand ambassadors.
Trolli's Most Valuable Candy is a limited edition release of the life-sized gummy candy modeled after The Beard's Adidas Harden Vol. 2 signature sneaker. This particular version is colored to resemble the "MVP" colorway that was released to celebrate Harden's accomplishment and flavored with raspberry, lemon, strawberry and blackberry.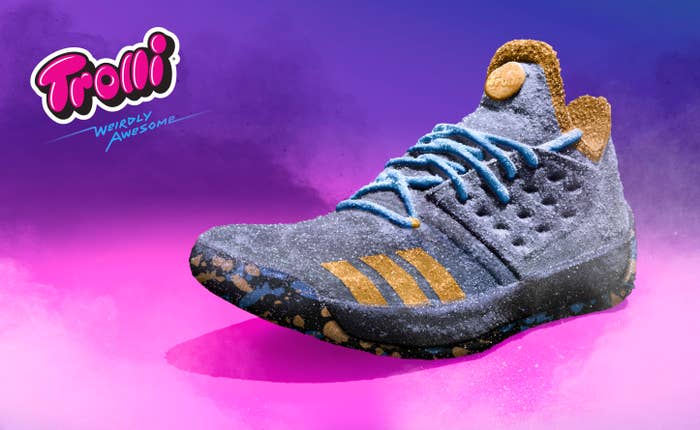 This is not the first time Trolli and Harden have collaborated. Earlier this year, life-sized sneaker candy was created and raffled off with StockX. The partnership has also produced the more attainable Sour Brite Sneaks bite-sized candy sold at 7-Eleven locations around the country.
Three pairs of the giant candy sneakers will be available to purchase exclusively on Amazon this Friday, June 29 for $2,677 each. The oddly specific price tag symbolizes Harden's point total this past season and makes it the most expensive candy ever sold. All proceeds will go to Harden's charity 3 The Harden Way. June 29 will also mark the official launch of Harden's Sour Brite Sneaks candy on the Amazon platform as well.