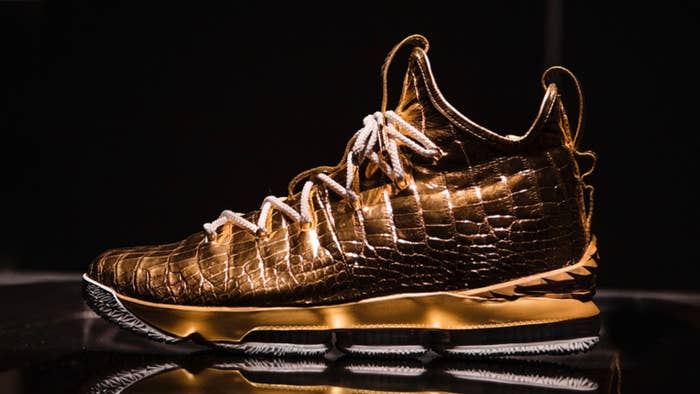 For his latest project, Dominic Chambrone—better known as The Shoe Surgeon—linked up with Nike to celebrate LeBron James' milestone of 30,000 career points. The result is the most expensive LeBron 15 ever created.
Chambrone crafted the one-of-one, a gift for King James, using some of the most premium materials ever seen on a sneaker. The upper is constructed of genuine crocodile skin dipped in 24 karat gold. Gold zippers have been added to the medial side of each shoe as well complete with custom zipper pulls. Each zipper pull uses 14 grams of 18 karat gold. Continuing the gold motif, the heel clips are gold-plated and the lace loops are also solid gold. Adding to the luxury, the aglets feature 2.32 carats of diamonds are set with the words "WORLD" and "CHAMPIONS." 
The sneaker totals up at an astounding value of over $100,000. "This was by far the most expensive and challenging shoe I've made to date. But the sweat and hours was worth every cent," Chambrone told Sole Collector.
If the special pair was not enough, LeBron was also gifted with a matching pendant featuring his signature lion head logo made out of 27 grams of 18 karat solid gold and 238 diamonds on a 30 inch, 18 karat solid gold Franco chain cut with 10 carats of genuine diamonds.
Take a look at the LeBron's congratulatory pair below.