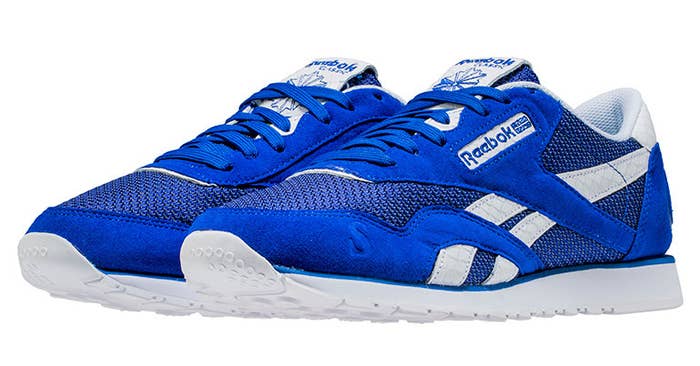 An upcoming release from Reebok is causing a stir with Los Angeles rapper Nipsey Hussle. A Reebok Classic Nylon labeled as a collaboration with the artist has been circulating online dubbed as a collaboration with artist, but that seems to not be the case. 
Sneaker store DTLR has the shoe labeled as "Nipsey Hussle QS" on its release calendar alongside a second style code also tied to the Crenshaw artist. Upon seeing images of the sneaker, the rapper took to Twitter to clarify the matter.
Nipsey's name is never actually used on the pair, however there are a handful of details that do give the appearance of a connection. Most overt is the "Rich" and "Rollin" text found on the heel tabs—a possibly reference to an older track from the Cali rapper titled "Rich Roll." Another detail found on the heel is the debossed "Crenshaw" and "Slauson" graphics, which coincide with Nipsey's hometown neighborbood. Less blatant, but still relevant, is the shoe's blue colorway. While there are plenty of shoes that use blue, it's been used by Nipsey on past collaborations and could be seen as symbolic to his Crip gang affiliation. 
It's unclear if this was a miscommunication to label the pair a Nipsey Hussle collab by a particular outlet, if Reebok is trying to get away with something, or if it was just a matter of bad timing. Although the rapper is now signed to Puma, the announcement was made less than a month ago, and the shoe was originally slated for a Feb. 17 release date.
Reebok has not yet returned a request for comment.
UPDATE 02/14: Nipsey has responded in even stronger terms that this shoe does not have his authorization.
I don't make Threats. I stated a Fact. You Don't reproduce Trademarked Logos (CRENSHAW...ALL MONEY IN NIPSEY HUSSLE) without a contract. That's jus business.

@Reebok

HAS NO CONTRACT OR AGREEMENT IN ANY FORM. And they are profiting from LA GANG CULTURE (THATS NOT FOR SALE) BY ME

https://t.co/gxwyL1ucSV