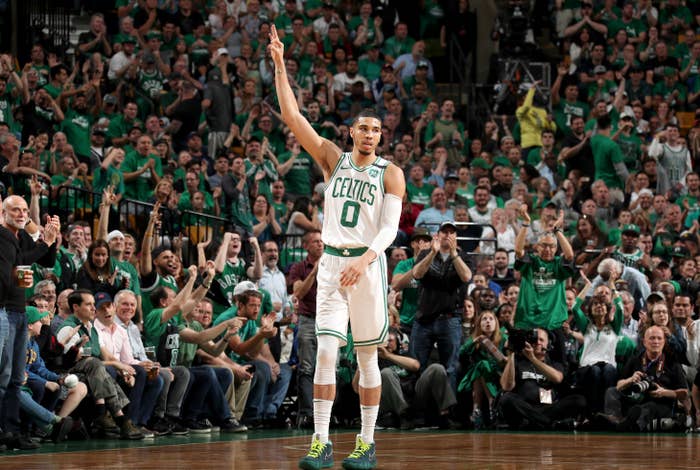 Last season, Boston Celtics point guard Kyrie Irving went down with a left knee injury that sidelined him for the team's entire playoff run. Rather than let some of the exclusive Nike Kyrie 4s Irving had planned to rock collect dust in the locker room, he enlisted the help of rookie teammate, and close friend, Jayson Tatum to do the honors of unveiling them on the hardwood. 
Among the pairs that Tatum debuted were the extremely limited "Wheaties" colorway, "Green Lobster" inspired by Concepts' 2009 SB Dunk Low collaboration, and the "Power Is Female" pair he laced up for Game 7 of the Eastern Conference Finals.
"Me and Kyrie are really close. We've been close for awhile. We have the same agent. Since he was out and we were on the same team, there was no better person to debut the shoes and carry it on since, unfortunately, he was injured," Tatum told Sole Collector. "[Kyrie] would have worn them during the playoffs, but he couldn't play. It was kind of cool that he let me wear them."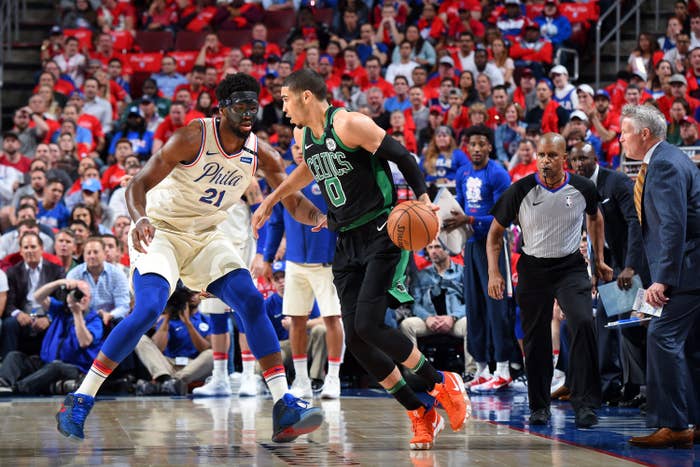 Of the three pairs he debuted, only the "Power Is Female" Kyrie 4 has made its way to retail thus far. The limited nature of the other two caused a stir when he stepped out on the court. 
"The internet was going crazy when I wore the 'Green Lobsters' and the 'Wheaties.' The 'Wheaties' might have been my favorite pair," said Tatum. "Not too many people got them and I wore them in the playoffs, on a national TV game, so I had a lot of the hype."
Now entering his second season and coming off of an impressive playoff showing that solidified him as one of the league's best young talents, Tatum is among the youthful Celtics core that many feel could lead them all the way to the NBA Finals this year. Being one of the most promising players in the NBA comes with its perks. The C's small forward was commissioned to be part of Foot Locker's latest "Air Origins" campaign with Nike.
In the ad, Tatum unearths a time capsule of '90s goodies like VHS tapes, water guns, and retro Air Maxes that transport him back to the era. Born in 1998, Tatum is a little too young to have experienced much of the '90s first hand, but says he has been able to learn about it thanks to the internet.
"I think that's what makes this really funny. I was born in 1998. So, I wasn't actually around, but thanks to YouTube and stuff like that I have a pretty good idea," he says. "The '90s was a really cool time if you look at music and basketball."
The Tatum-advertised Nike "Air Origins" pack is currently available now at footlocker.com and select Foot Locker locations for $160-$170.