It's an uncomfortably hot morning in Beaverton, Oregon, and droves of global media are packed into Nike's top-secret Blue Ribbon Sports workshop at the brand's World Headquarters to get a sneaker peek at six shoes designed by the winners from Nike's On Air contest, which allowed fans to create their own one-of-one Air Max sneakers. The winners—20-somethings from New York, London, Paris, Shanghai, Seoul, and Tokyo—are here to work over the first samples of their design with Nike employees and last year's champion, Sean Wotherspoon.
The sneakers vary from a maze-like pattern on the Air Max 1s designed by Tokyo's Yuta Takuman to a deconstructed VaporMax plus from Paris's Lou Matheron. The stories behind the shoes themselves, and the people behind them, are as varied as their designs. Shanghai's Cash Ru created an Air Max 97 inspired by the city's clouds and water, which he may release at retail looking like a funnel cloud. That's contrasted with an Air Max 98 from New York City's Gabrielle Serrano that takes its design cues from the city's diversity. What makes the On Air contest special isn't just that it will result in limited-edition Air Max sneakers, which will likely resell for bundles of cash, but that it's able to tell a global story by honing in on very different individuals.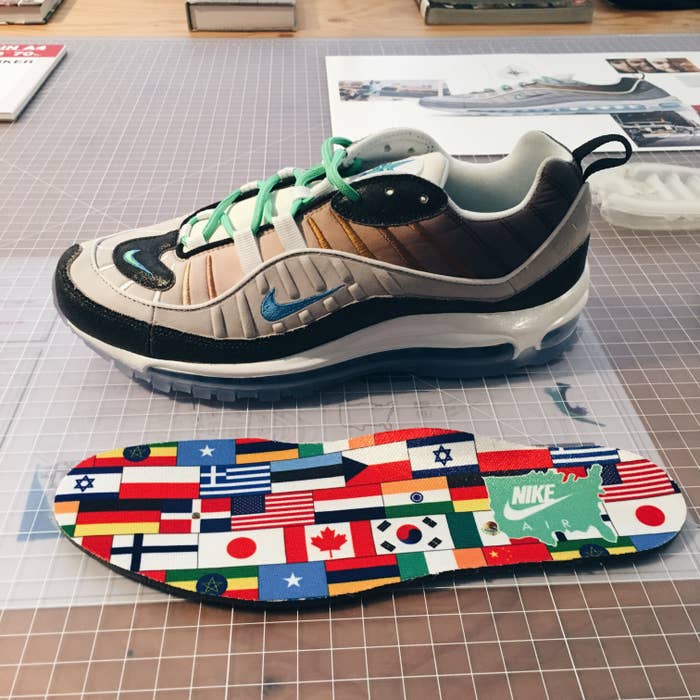 For Matheron, this year's winner, the inspiration for his shoe comes from Paris' love of the Air Max TN and the Palais de Justice, where she was able to do a photoshoot during its construction. "The TN is really Parisian. When I was younger, [I'd see] all these guys in their tracksuits. They didn't have the TN, so I tried to adapt my idea to the VaporMax. Also for its design, because the VaporMax is the last one that came out at Nike. It reminds me of this idea of new stuff happening in the city. My design was inspired by construction sites in Paris. These days we have a lot of construction sites in and around Paris. I came up with a shoe that will remind people of workers' outfits. The colors are inspired by metal, that's why it's white, grey, and blue. The workers' outfits are orange and yellow."
"I'm a photographer, that's why this is even more incredible," she continues. "I haven't been trying to do this sort of stuff. Winning this contest is a huge surprise."
The On Air competition itself was an encore of Nike's Vote Forward program from last Air Max Day, which had known influencers from across the world submit Air Max designers and had the public vote on them. Sean Wotherspoon's Air Max 1/97 was the winner, and the brand decided to change up the format this year. Instead of having familiar faces create their own shoes, they opened it up to the public and had workshops in each of the six cities where dozens of contestants would have a few hours to create their own shoe that draws its cues from their home turf. I got the chance to attend the New York City event and made an Air Max that represented New Jersey, because who cares about NYC at the end of the day? Three people were chosen from each city and then their work was voted on.
That process caused a bit of controversy. London's winner, Jasmine Lasode, was accused of copying another person's design on the Internet for his Air Max 97, although that rumor was quickly disproven. "Yeah, [that pissed me off]. I didn't even know what the boy looked like. Apparently he was at my table. It [came out] the same time as voting," she says. "I was like, 'I've not got this.' It was actually stressful. He made this lie, and I couldn't comment on it. People catch wind of it, and they join the bandwagon to help him. That caused more people getting involved."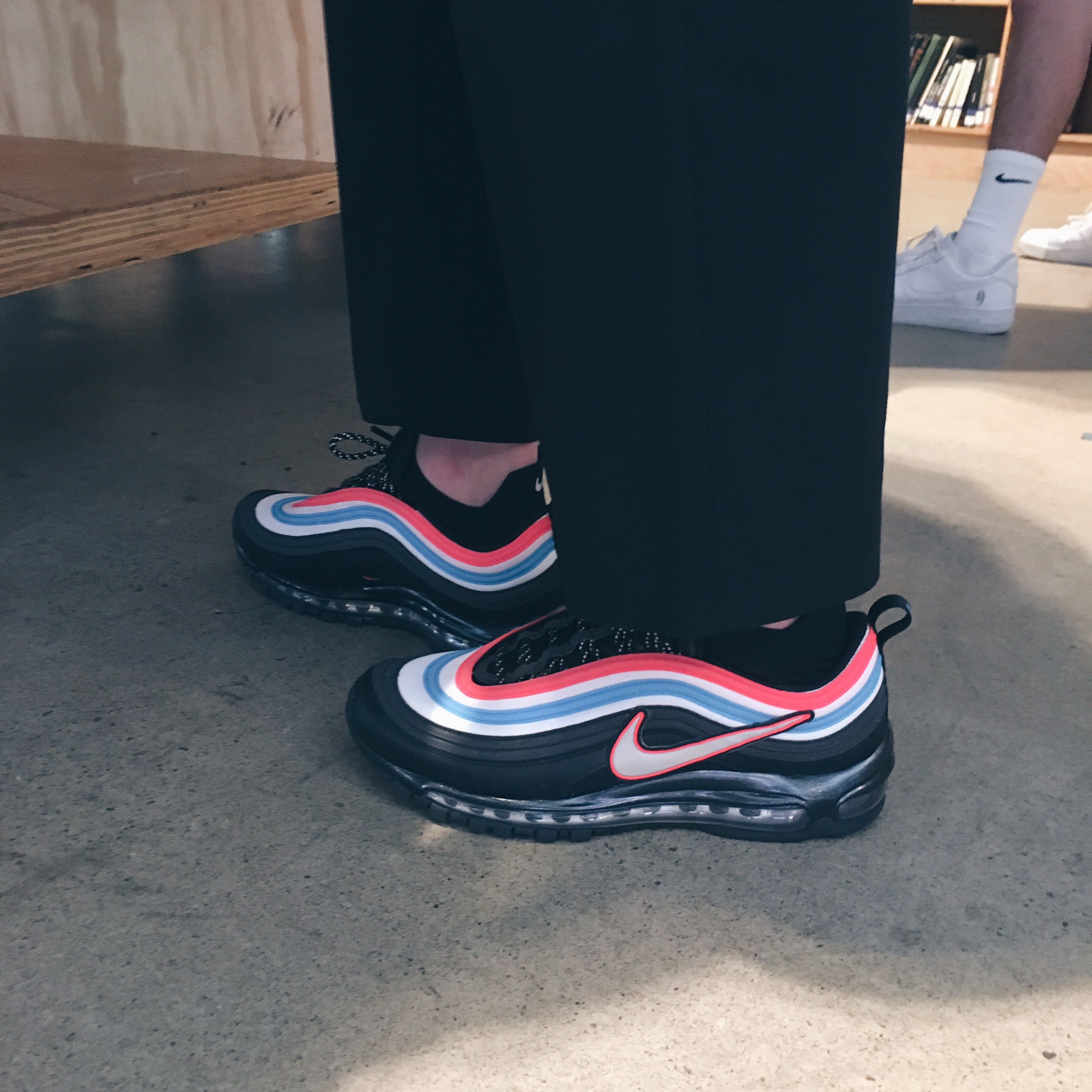 Controversies aside, the On Air contest hasn't only afforded a group of aspiring designers the opportunity of a lifetime to create the sneaker of their dreams, but it's also given tried-and-true Nike designers the chance to get a new perspective on footwear. As the winners looked over the first samples of their shoes, they were getting pointers from Nike employees on how to improve the final version. "The thing that I've taken away from this is that they're bringing so many ideas. I've been doing this for 18 years now, and they're bringing ideas that I never thought of," says Senior Director of Max Air Dylan Raasch. "It's cool to see them approach the footwear design thing from a totally different point of view. Helping them get there is great."
The real reason everyone is here, though, is to get an insight on the personal stories that inform these shoes. "I own a lot of Air Maxes. They're my favorite shoes. I like going to other Air Max Day events. Nike is my favorite brand. I think have 500 shoes the last time I counted, and that was a few years ago," says Serrano. "With this shoe, I really wanted to highlight diversity and inclusion. If I'm going to have a bigger platform to talk about that, that's what I want to do."
It's just the beginning for all these designers. If last year's competition is an indicator, with Wotherspoon soaring into a full-fledged sneaker personality, then big things are going to come along for these kids. In fact, since they were named winners in May, they've been flooded by requests from the public, who are dying to get a pair.  "So many strangers sent me messages. My friends obviously [asked me for shoes], but so many strangers. People send me videos of themselves and say, 'I want to take the time to congratulate you,' and they'd have their parents in the video, too," says Matheron. "It was nice but too much. It was amazing to see, though, how people can support you even if they don't know you. Some people were from France, but there were a lot from around the world. It's really overwhelming."
The real Easter Eggs out of this experience is the sneakers themselves, which have a load of different details on them that you wouldn't find at a retail store. "I want people to take the shoe home and keep finding different things," says Serrano.
It's that ingenuity that makes the On Air program worth it, not just for the contestants and consumers, but, more importantly, for the people at Nike. "Approaching a shoe, like the Cloud Shoe, I never thought you'd cut a shoe after you bought it," says Raasch. "It's a total new way to look at making a shoe for someone and maybe the process doesn't have to end at retail. Maybe it keeps evolving."