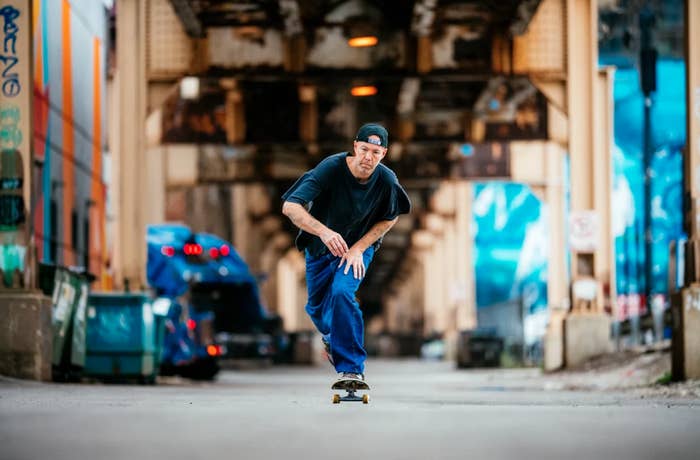 There's a new boss in town at New Balance. Andrew Reynolds—one of the most celebrated and influential skaters of all time, with a career that's spanned from the '90s to now, with a connection to brands such as Birdhouse, Baker, and Emerica—signed a deal with the athletic footwear brand in December 2022 and notched its skate offshoot, Numeric, up another notch with his star power. Reynolds, whose signature shoes with Emerica are among some of the most memorable skate shoes of all time, brought a genuine level of excitement to New Balance. Right time, right place.
New Balance is bigger than ever. The brand, which was founded in Massachusetts in 1906, has hit its stride with the dad shoe and now Y2K trends, and with collaborators including Teddy Santis, Joe Freshgoods, Salehe Bembury, and Action Bronson. But its skate line has continued to grow in stature, too.
The brand recently adapted the 480, New Balance very first basketball sneaker, from 1983, into a skate shoe. And Reynolds has already put his own spin on the shoe. The sneaker was done up in shades of brown; he wanted to take a New Balance aesthetic and have it make sense for what he likes.
"Let's try a few different shades of brown that don't really match," Reynolds says about how he came about the shoe's design.
But what brought him to New Balance wasn't that the brand is cool right now or a big-buck sponsorship. He just wanted to wear their shoes. Now in his 40s, Reynolds says he needed something comfortable to skate in and liked Numeric's line. After years with Vans, he realized that their sneakers weren't comfortable for him to skate in. So he reached out to New Balance. That turned into a meeting, which then turned into a deal. And the rest, as they say, is history.
Now, Reynolds says he's at the best stage of his career: being taken care of by New Balance and hoping to build something longlasting for the future. "It's honestly been one of the best decisions I've ever made in my skate career," he says.
He also has his own signature shoe on the way. We had the chance to talk to him recently about all of it. Read the interview below.
So how did the deal with New Balance happen?
Well, I had a long time at Emerica, a skate shoe brand was really popular in the early 2000s and I'd say, in 2014, I like to think when the Supreme video Cherry came out, that was a big change in skate culture from kids loving those skate shoe brands to just wanting to wear more Adidas, Nike, Converse, just the known brands. I started to slowly see that kids weren't wearing skate shoe brands anymore. I was like, "OK, this is a problem." I want to make the change with the industry and culture. I'm trying to stay current and involved with everything that's happening. So right then, I started thinking, "OK, I need to make a change." I went to Vans;, I had a three-year deal with Vans. A lot of my team riders on Baker ride for Vans. I thought it was a good fit, super- cool people. Vans are classic, but I don't really skate well in a vulcanized shoe.
Looking down, they felt cool and felt like skate shoes, but it just wasn't functioning the way I like. At this point, I'm 40 years old, and, dude, I want to skate as long as I can, and I think I can really push this maybe longer than anybody ever has. I need some good shoes. So I reached out to the shoe designer from New Balance, Jeff Mikut, and was just asking questions. I wasn't really too attached to the idea of riding for New Balance; I just wanted to know about the Tiago shoe and how they were made. Because what I like to skate in has a midsole that has some padding in the heel that also continues the whole way through the front of the shoe, which a lot of skate shoes, if they don't have it in the midsole, it's usually only in the heel and the front is very thin, with just whatever insole comes in the shoe. So you're really feeling a lot of the ground in your board, which works for some people. But for me, that just equals pain to my feet.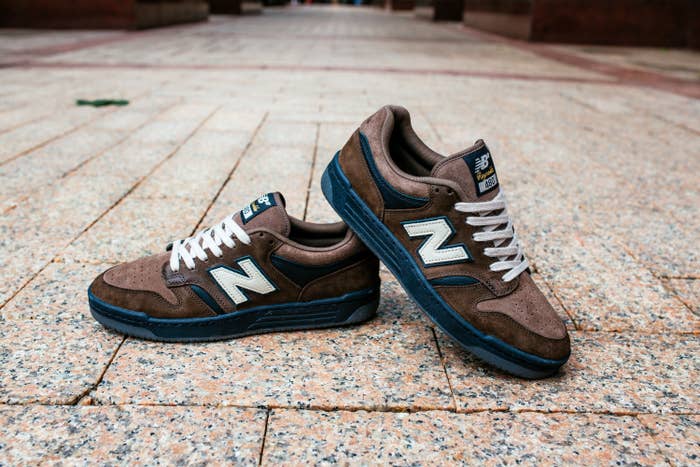 So I like to have some cushion and an insole and then a built-in midsole in the shoe, and that's what the Tiago had. So I was like, "Oh, shoot, I got to try these"—the Tiago 1010. And I tried a couple pairs and it was exactly what I was hoping I would feel. Like a skate shoe from the early 2000s, '90s, that feel. It had some padding in the tongue, some padding around the collar, and had a midsole, and I was like, "Dude, these are super comfortable." That's when I started to really become obsessed with the idea of, I want to work something out with them, even if it's just skating the shoes. I didn't even really think about getting a deal or anything like that. I just was like, "I just want to skate these shoes because it's going to help me skate the best I can and for longer." I actually went down there with a whole trash bag full of shoes. I had DC Lynx in there and Jordans and old skate shoes I used to skate in, Vans.

I cut them all over with a razor blade to see what makes the ones I really like—why I like the ones I really like—because I wasn't really sure what exactly it was that was making ones feel so much more protective. I went down there with Jeff, the whole team of people, and just kind of showed him, "Hey, can I just wear the shoes? Or maybe you guys could help me make a shoe or something and I could just pay you guys, or something like that. I don't know." I didn't really know. I just was putting skating first. But from that meeting in conversation with Jeff, I think it kind of sparked the idea with everybody involved, like, "Dude, we can help him; he can help us. Let's move forward with this." It's honestly been one of the best decisions I've ever made in my skate career, the way they got behind me and what I need to skate in and a small team of people that really care about the product and the team and what we're doing. It's been amazing.
Is it funny how New Balance has a label of "dad shoes," where you reach a certain point in life where you like wearing New Balances because the shoes are so comfortable, but that kind of naturally happened with you with skate shoes as well?
Yeah, I kind of like that about them. That whole dad shoe thing, like Seinfeld or if you see certain people wearing them, and I think that's what makes them cool. It shows just every day in the world. Now, it's still that, but then all the celebrities and rappers will have them. I seen a picture of Freddie Gibbs with some 480s on the other day, the skate ones, and I was hyped. Stevie Williams hit me up like, "Maybe I could try some New Balances." I was like, this is now fully acceptable. When it used to be, I would say 10 years ago, people were like, "I'm only going to wear Nikes and Adidas. That's the cool brands." I feel like New Balance has broke down that barrier and they're up there with one of the cool brands. I haven't got the one yet, but I still want to get that white one—the white 608, the super-dad one.
Oh, yeah, the one that's like the lawn-mowing shoe.
Yeah, the OG lawn-mowing, barbecue. I haven't got a pair yet, but I got to get some, get them all dirty. I was kind of joking around with them just to joke when I got on them. I'm like, "Well, I'm a dad and I'm old, so kind of a perfect fit, right?"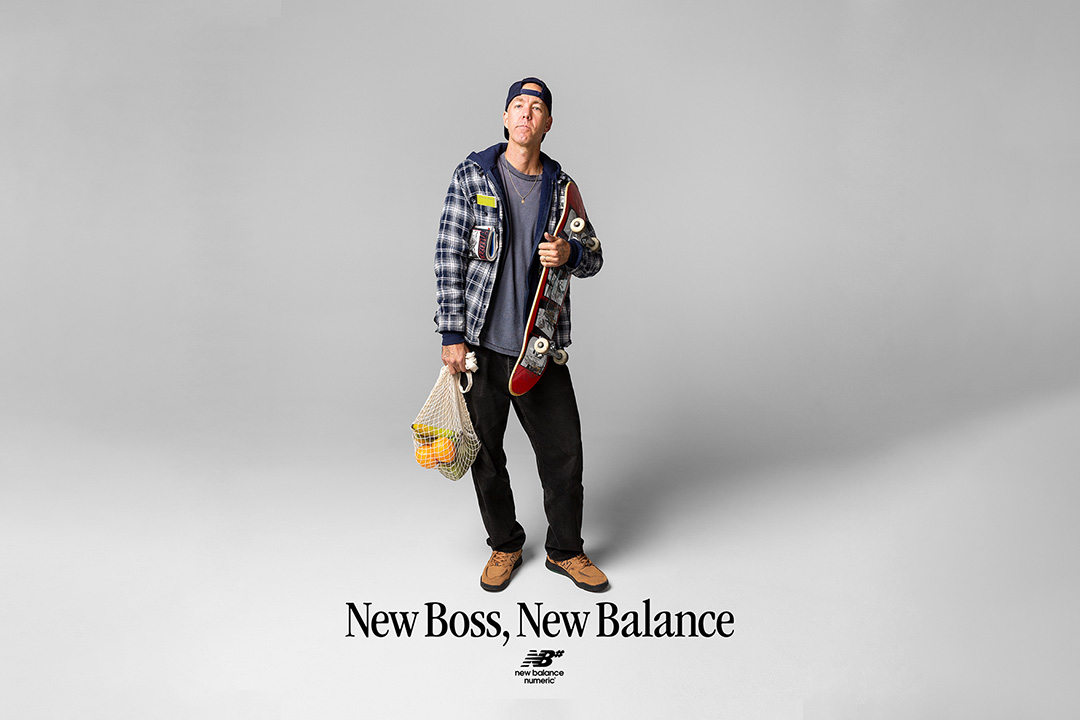 I remember when you signed, you had that ad, the New Boss, New Balance. There was an original ad, from the '70s, where it was an old man and woman carrying the groceries and they had you recreate that scene. Did you think it would cause a bit of buzz when you did that photo shoot?
I don't know if many people put it together that it was based off those old ads. That was my idea, because I just thought it was kind of funny to play off those old people with the New Balances on and the grocery bag. I searched online and got the exact bag that they had—it was a fabric bag that has holes in it—looked at it and was like, "OK, they all have some extra stuff like a newspaper and a magazine and some groceries and a thing in their hands." I was like, "OK, I could do this." The response was cool.
I really didn't know what to expect, but everybody was just genuinely supportive of me and understood. A lot of people, a lot of skaters that are really into product, are basically like, "Yeah, of course he's going to want to wear New Balances. They make great shoes." It was clear to people that this is not some hustle or something. It was like, I need this. I think people were excited about it and kind of understood the decision.
You have the new shoe, the 480, in your colorway. How did you go about making that yours?
Well, when we first started talking, the main shoe I was looking to skate in was the Tiago 1010. I was like, "Are you guys coming out with any other shoes that are built this same way? Cupsole with the midsole from your toes all the way to your heel?" And they're like, "Well, actually, we have the 808 coming that has even more foam, and then we have the 480 coming that has the midsole." They kind of were hesitant;they didn't show it to me at the first meeting. I was like, "What is this shoe they're talking about?" I didn't even know what they were talking about. They just kept saying, "We think we have something that you might like." I'm like, "OK, cool. Let me see." "No, we can't do that." I'm like, "Al right." Then I went back eventually and they're like, "OK, this is the 480. It's a basketball shoe from 1983 that we're re-releasing as a skate shoe." I see a lot of comments and stuff, "We want old styles to be turned into skate shoes." People like that.
That was their first time trying that. They took the 480 and when I saw it, I'm like, "This is what I skate in. Just a cup sole shoe in a straight line that has the built-in foam and has the look down at the toe that looks like that." I'm like, "Yeah, dude, this is what I love to skate in." Then I was already in the deal at this point, so they're like, "We want to come out with a couple colors and then we want to give you a color with a shoe." So I saw that a lot of the colors were white sole or sporty kind of colors. So that was the first thing. I was like, "OK, I want to do something that's dark." I kept seeing these shoes all over where there would be a couple different shades of blue, but they were a little off, not the same, or a couple shades of gray that were a little off.
There was a lot of New Balances like that, so I said, "Let's try a few different shades of brown that don't really match." At first, it was a little even more so because it was like the sole was charcoal, the shoe was brown, and then the other brown was a little off. But then Jeff sat in the back and was like, "I think it looked really nice, black sole, little light brown, little dark brown, really nice materials." I was stoked. I was like, "Yeah, dude. You're right. Let's go with that."
You said it brings you back to the cup sole shoes, and I can't help but look at that shoe and just see a little bit of the Emerica Reynolds 1 in it. Is that what you like or intentional?
Colorway or design or what?
I guess maybe just both. It's not like one-on-one, but it's like you can see how you would like both of those models.
Some of my skater friends, we have a category of shoes that we kind of joke around [about]. This is just a skate shoe, right? A skate shoe, a Jordan 1, low top. It has the piece that comes up for two or three first eyelets and then a piece that goes up for the top eyelet and then something in the middle, whatever their logo is, éS Accel. The piece at the bottom eyelet and the top, all with a toe cap. So there's a Jordan 1, a Dunk, an éS Accel, a Reynolds 2—what else is there? There's like, oh, probably Converse Fastbreaks might fall into that category. This 480 New Balance, it's just such a standard design with two pieces coming up at the top and bottom of it with a space in the middle.
What people have been skating in since the Bones Brigade were in Jordans. It's such a good, classic design that works. Marc Johnson Emerica, very similar design. Yeah, it's definitely based on that. This came way before. This was in '83, so if anything, I'm taking a Reynolds 2 and trying to copy that era. You know what I mean?
Without the huge puffy tongue and the really padded shoe. That whole era was crazy. When I bring one out now and look at it, I'm like, "I can't believe we thought this was a thin shoe."
The tongue is like a pillow. But I feel like that design of that toe shape and having a piece that comes up in the front and back like that is always just going to be a classic basketball, skate kind of shoe.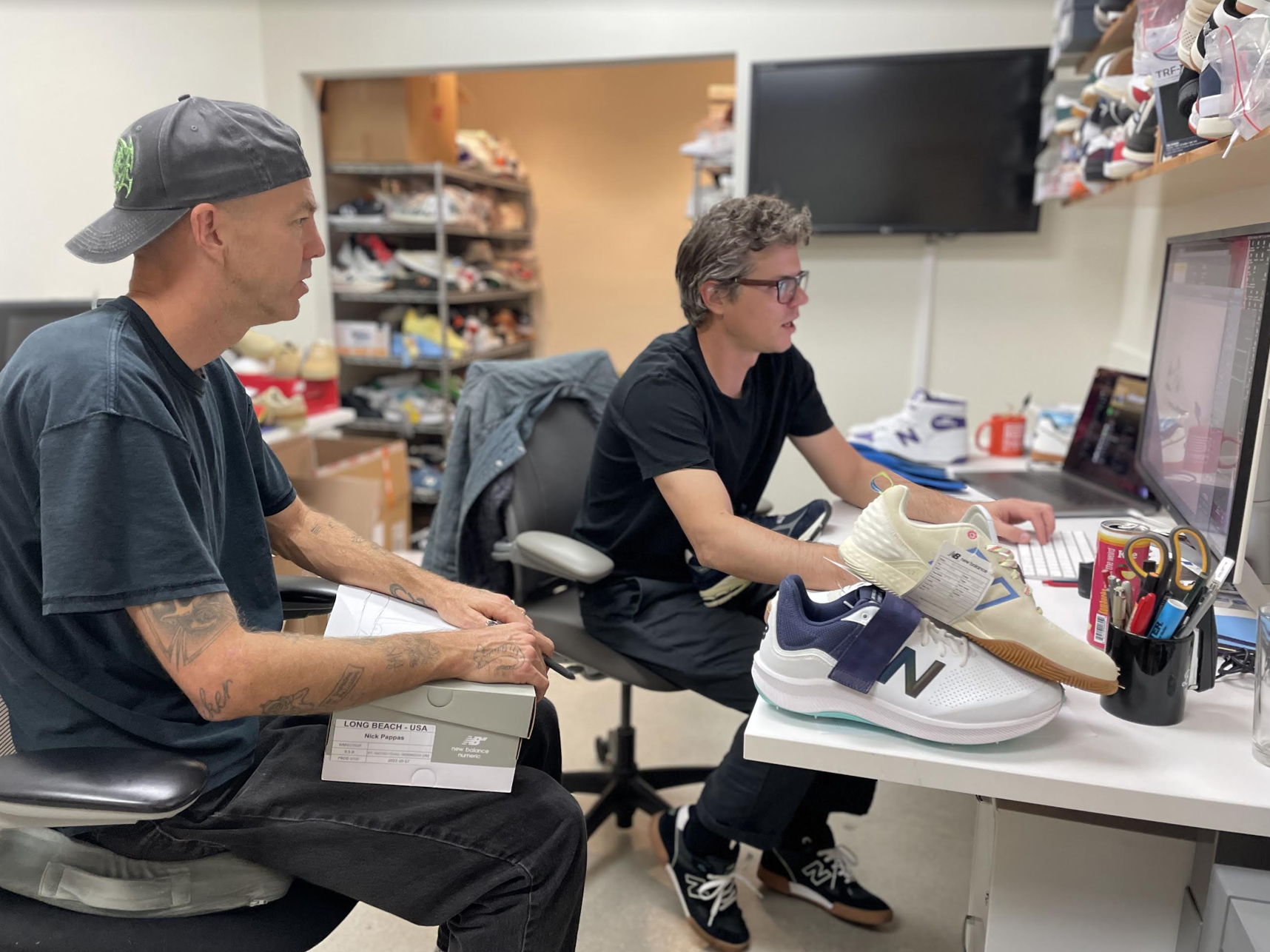 Is it funny for you to see some of the puffy skate shoe style come back in fashion? You have a high-fashion brand like Lanvin with that Curb skate shoe or Adidas is bringing back their skate shoes from the '90s that are super puffy. I don't know if people are wearing them to skate in, but just that's fashion.
Yeah, I don't know. To me, it's always a little hard to see. You can see they're trying to leach on the skate culture, which a skater sees right through it. You're not going to see a skater wearing some Prada skate shoes. All they do is they just copy a brand. Wasn't there a D3 that was another brand? It was the exact same thing.
Yeah, Under Armour made it with ASAP Rocky.
Yeah, I don't know. I'm personally not a fan of it, but an old skate brand bringing back a style, I just saw the Adidas ones with the fat stripes. If they've already done it and it was a skate shoe for them and they bring it back, I think that's cool. But I think a fashion brand, trying to put the word skate on something, I'm like, "Come on." I don't know. Skaters definitely don't care about it.
You've had so many shoes over the years. Would that be weird to you if you saw a fashion brand repurpose your old designs?
Yeah, that would be weird. I wouldn't like it. Erik Ellington has been reached out to like, "Can we do your design?" They brought back the Marc Johnson shoe. For me, I'm 100 percent New Balance. I want to support the team and the skate side of things and the whole brand. So to me, I would look at that almost as you're interfering with my business at this point. I wouldn't like it.
New Balance, aside from the skate team, they just have this huge roster of collaborators. You have Aimé Leon Dore with Teddy Santis, Salehe Bembury, Joe Freshgoods. Have you met any of those guys, or is there anything that you're open to working with them on?
One hundred percent. I follow Teddy and ALD. I see the brand is so clean. I love it. I take inspiration, actually, from when I see the way the shoots are done and advertising, I'm like, "Damn." Then, when I first got on, I heard they hired this guy to be the creative director for all the Made in USA stuff. I'm like, "Yeah, they should be paying that guy whatever he wants." That's a really smart move. All those collabs, some stuff, I don't know exactly what they are. But everything they're doing now, even Coco Gauff, who won the biggest thing in tennis—I don't know anything about tennis. I saw that. I'm like, "That's my teammate." I'm like, "Yes, they're crushing it in so many areas." I'm happy to be a part of it. I just got in the mail actually some 550s from thisisneverthat. They look canvas; they're brown. I'm hoping to do stuff like that with Numeric—Baker and other cool collabs with the skate stuff.
I know you have the 480, but is there any plans to get a Reynolds shoe?
We're making a shoe right now. I've been designing a shoe and putting really every detail in there that I feel is necessary for the way I want a shoe to work. Tweaking, just tweaking on all the stuff with Jeff, and we're flying to Boston next week. My first time going to New Balance, flying to New Balance and looking at all different kinds of foams and what kind of shanks you could put in the shoe for more bounce and flexibility and different rubbers and all that stuff. They're going to measure my feet and take a scan. I'm stoked. The fact that I went into this just looking for some good shoes to skate in and they're treating me like Michael Jordan. I'm tripping. Not only that, when I got on New Balance, a cold plunge just shows up at my house. All these Hyperice tools, Norma Tech leg compression things, just was showing up just because I was part of a brand that was so on it.
That's crazy how much life ends up taking care of you when you don't expect it.
Yeah, I'm really stoked. It gets me fired up just to keep on going harder. That's what having somebody behind me does for me. And when we've been going on demo trips and doing demos. I'm 45. I'm like, "Dude, I'm going out there with Jamie [Foy]. Try to kill this demo for the kids, no matter what." I think they see my love for skating, the team and everything. I think it's going to be a long, really good relationship.