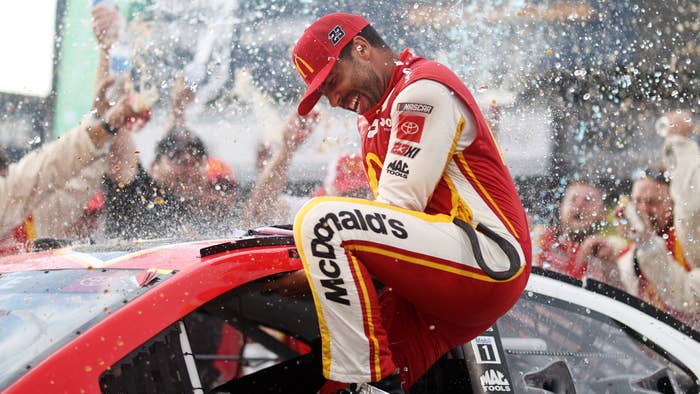 Having Michael Jordan as your boss comes with a lot of pressure. Now imagine having that pressure while also having to race a stock car at nearly 200 mph down the speedway for your day job.
That's exactly what life is like for NASCAR driver Bubba Wallace, who was chosen by Jordan to race for his 23XI racing team. Now in his third year with Jordan's club, Wallace is gearing up (literally) for the Daytona 500, the sport's inaugural race to kick off the NASCAR season, which happens this Sunday, Feb. 19.
While NASCAR might not bring in the same ratings when compared to the NBA or NFL, Wallace has become a standout name in sports. He's currently the only full-time Black driver in the Cup series and made headlines in 2020 when he spoke out against racial injustice, including banning the Confederate flag at races. 
When Jordan announced he was starting the 23XI race team in September 2021 with three-time Daytona 500 winner Denny Hamlin, Wallace was the first driver they called. 
Ahead of race weekend, Wallace talked about what it's like to work closely with the GOAT, why he doesn't have a Jordan Brand deal, and NASCAR style off the track.   
So the Daytona 500 is coming up. Take me through the process of preparing for a big race like this.
Daytona's the first and the biggest race of the year for us, so there's always a lot of nerves and anxiety. It's my sixth year in the Cup and third year with 23XI, so at this point, it kind of becomes like riding a bike, but you just never know how it's going to play out. 
As much work that we can do here with engineering meetings, drafting studies, watching previous races to pick up things—these races are so unique because you never know who's going to win it until they cross the finish line. Other races you can kind of get a gauge like an hour into the race, but here, we're all racing nose to tail and side by side about 40 cars deep.
 A wreck can happen at any second and one wreck can take out multiple cars. You're lucky if it takes out one car, but one wreck usually takes out about 10 cars. And you don't want to be a part of that.
Just imagine racing down your interstate at nearly 200 mph when it's rush hour traffic. One person makes one wrong move then a lot of people are getting involved in a wreck. So you just have to mentally prepare yourself for that. I just tell myself to not be a part of the madness.
With this being your sixth time in it, do the nerves get any easier to manage or are they always the same level?
It gets a little bit easier. The pressure isn't there as much. I think the 23 team is looked at as a strong superspeedway [a longer NASCAR track with wider lanes and higher speeds] racer and that's a very proud title to have. But also with that, people are watching and expecting results. 
You can never predict a speedway race. It's hard, but I think we're good enough to go down there and win. We've finished second twice now and had multiple good finishes in the 500, so we are one of the favorites. But, you still just don't know what's going to happen.
Speaking of the 23XI team, you were handpicked by Michael Jordan and Denny Hamlin to drive for them. Are there any similarities to NBA culture and NASCAR culture? 
Whether it's basketball or racing, they're similar in that fans want to see a good show. People want to cheer for their favorite team or their favorite drivers, like they would their favorite players. 
NBA games are usually a lot quicker duration-wise and our races are long at about four hours a race, so mentally as a driver, you've got to stay with it.
Michael Jordan is like this mythological figure in pop culture. What was it like when you first met him?
I remember the phone call that I got from him when this deal was all going down. I had to take a step back because there are not that many people that I get starstruck over.
I didn't get starstruck over meeting MJ, but I often find myself in scenarios when we're together and BSing and talking about life and it's cool to step back and see yourself in that moment. 
But it's not like I've ever been at a loss for words or freaked out. That's just not me. But I definitely enjoy the time that I do get to spend with him.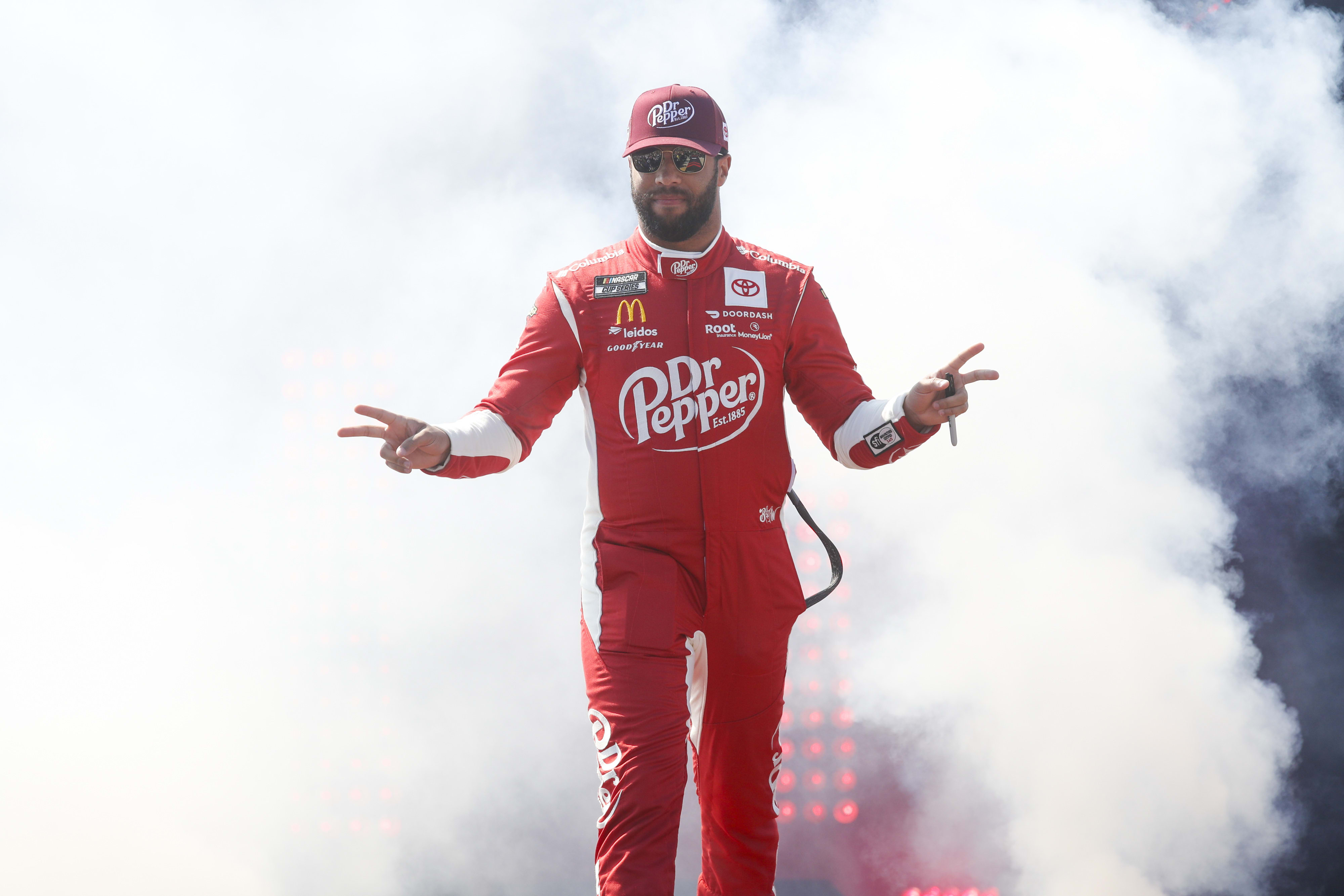 What do you guys talk about?
He's a good conversationalist. He loves racing, which is super cool. A lot of people think that with his status that he just wants to put his name on something, but no. MJ is totally different. He'll call you and ask you first, "Why should I do this with you?" 
It kind of makes you stay on your toes. He wants to win and be one of the top teams in NASCAR. It definitely brings a lot more pressure to myself in dealing with all of that. 
Being that MJ doesn't come from a racing background, does he offer any support outside of money?
He gets it from being an athlete and performance standpoint. Also, by how much he just knows about NASCAR. He's never like, "Hey why didn't you pass this guy?" He notices when cars aren't doing certain things or when we're taking a different line and it's not working.
MJ sees a different perspective. He's not like, "Win or else." MJ understands that it takes a whole army to win a race and I feel like we're getting our last bit of troops in place to go out and conquer. 
Part of the Jordan mystique is his shoes. Are there any sneaker perks to being on his team?
I'm different because I'm sponsored by Columbia. I make it really tough on the two brands, but it works together somehow. 
But it's cool just to have conversations with him about all that he's been able to be a part of in business. Basically, anything he touches turns to gold. So I hope to be right there in his back pocket.
Why'd you go with Columbia? 
With Columbia, they came to me with the idea to make my own line. We did everything from footwear to outdoor wear to joggers to T-shirts to big puffer jackets. I looked at the numbers and it sold really well, so that was exciting and I appreciate all of the fans that bought the Bubba Wallace line.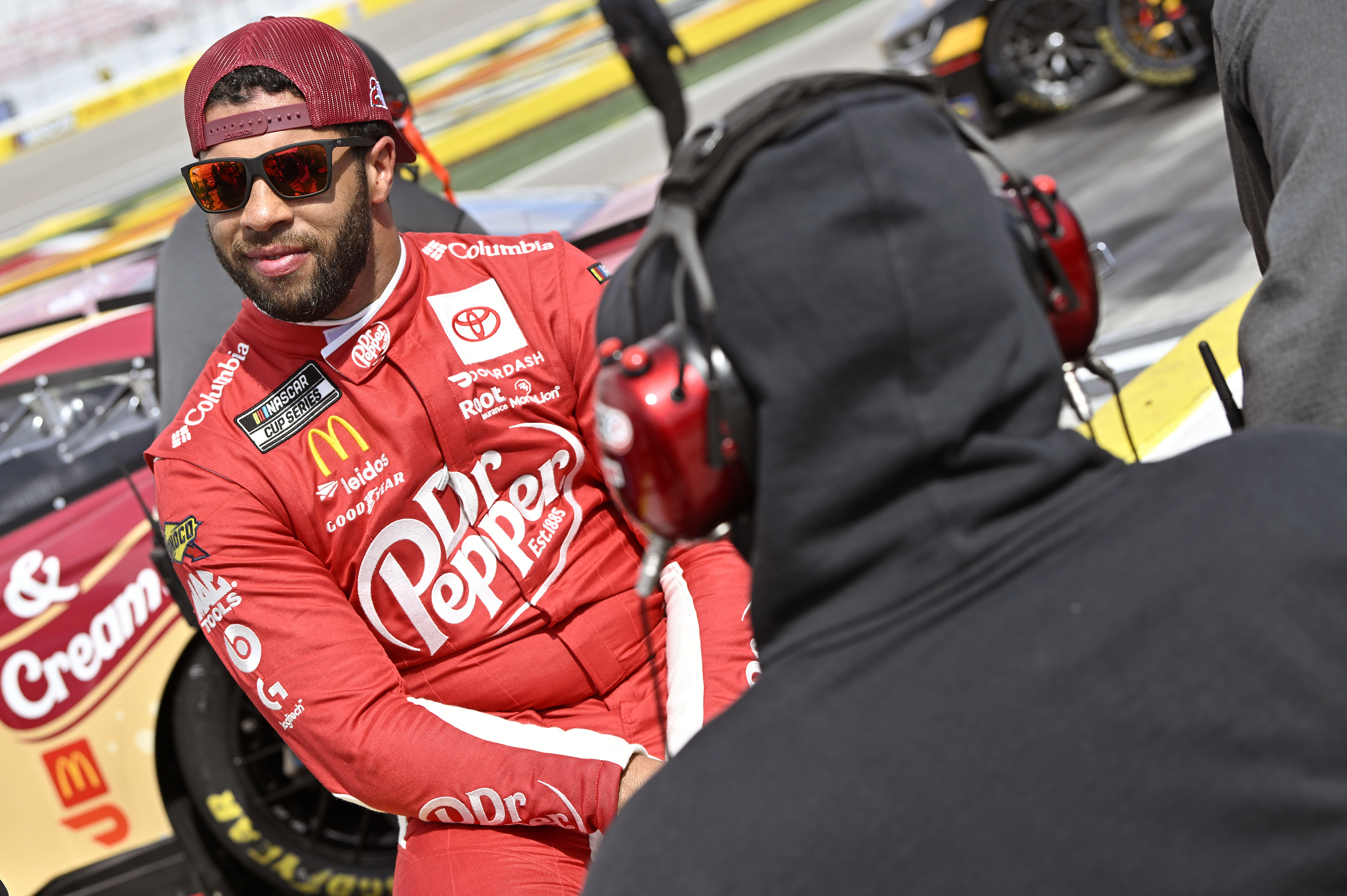 There's this rumor that you can't really hang around MJ unless you've wearing his sneakers or Nike. Is there any truth to that
Well, he makes an exception for me. What's he going to do? Kick me off the race team? If he wants to, then that's his choice.
Let's talk about footwear for a bit. Looking at the context of basketball, players get signature sneakers made for them. As a driver, what's important for driving a race car?
I feel like I'm always changing. Maybe it's because I'm getting older or that I'm constantly walking around the racetrack. So I always look for something with a lot of cushion. 
I'm the type of person that will sacrifice looks for comfort, that's for sure. Don't get me wrong, I'm not going to put something on that doesn't match the entire outfit. If I'm going to be on my feet all day, I gotta have something with some cushion. 
How would you describe your fashion sense?
That's a tough question. I think I'd have to ask someone else what my style is. I don't know. Is "basic" a fair enough answer
I wear joggers almost all year around. Usually I'm in a comfortable pair and a T-shirt. That's me. I'm pretty simple. I will say that I'm more of a big accessory guy. I like my watches and stuff like that. As far as everything else, I'm just basic.
What was the last purchase that you splurged on for yourself?
It had to be a watch. My last purchase was probably an Audemars Piguet Code 11.59. My wife Amanda—we just got married on New Year's—always tells me to enjoy the things I already have before I buy new stuff. Basically it's code for, "Stop buying so many damn watches."
When you look across different major leagues, there's certain personalities that stand out for their style in addition to how they play their sport. Is there someone like that in NASCAR?
Jimmie Johnson was definitely that type. He always looked clean cut, like you might see him if you opened up an expensive magazine. 
Everyone else, we're all pretty much the same. We show our personalities in small ways, but not so much through fashion.
What about from a fan perspective? Any outfits stand out when you look out into the stands?
Vintage NASCAR stuff is definitely in. Some of the shirts you see or some of the old racing jackets are actually pretty fire. It's definitely cool to see who's into what just by looking at what they're wearing. If you've ever been to a race you'll see all the wild and creative fits that people show up in.
You seem pretty optimistic going into this season. Is there anything different you did going into it to get you to this place?
I think it's just a part of growing up and maturing. Marriage had a lot to do with that. We've been together for 7 years now and it's a never-ending process because you're always evolving and learning about who you are as your true self.
But it's also just realizing the task at hand and how many people are looking up to you, whether that's here at the race shop or outside in the public eye, and try to do better for them. 
That leads into my last question. How do you feel about the future of the sport in terms of diversity and new audiences getting into it?
If you look at what 23XI is doing by promoting a lot of diversity or what Trackhouse Racing is doing in the same way, it's really positive. But not just inside of our sport; if you look outside of it, the world has changed since 2020 in bringing racial issues to the forefront.
Companies are actually realizing the importance of it instead of just checking a box. Now it's being promoted and it's being talked about more and NASCAR is following suit on doing more and listening to feedback on what we can do better, instead of being reactive about those things.