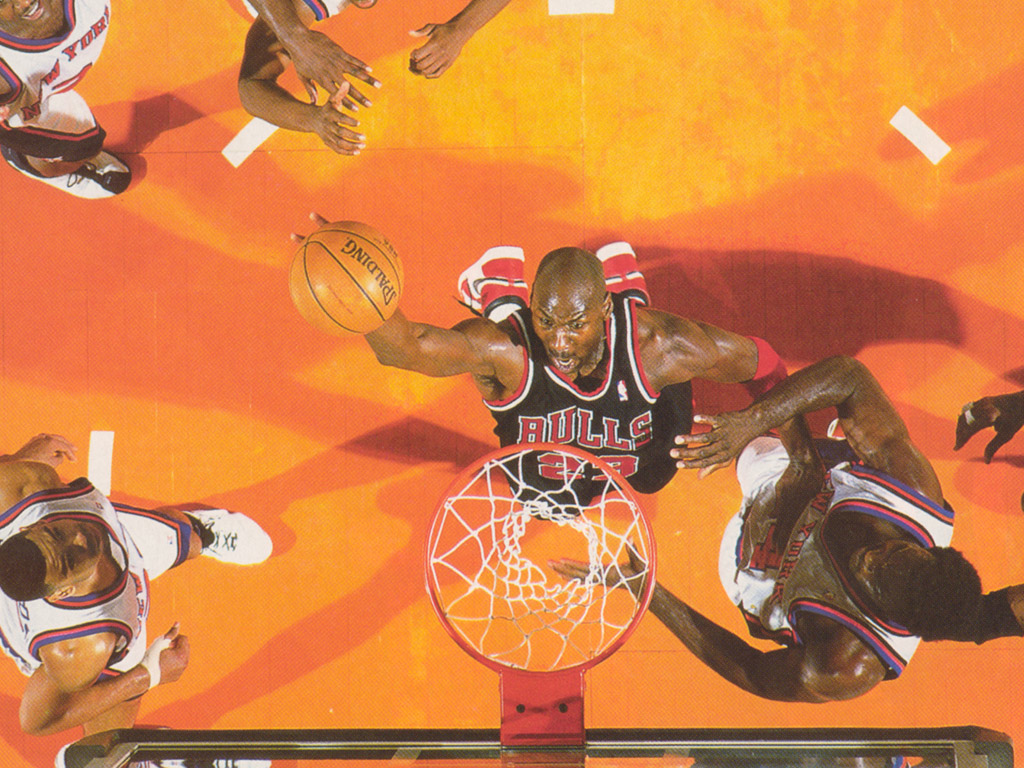 by Gerald Flores
The year was 1998.
The place was Madison Square Garden. 
It's no secret that Michael Jordan has had a flair for superhuman performances in New York City throughout his career. There was the time when he basically shook off the entire Knicks starting lineup and dunked over Patrick Ewing in the 1991 Playoffs. There was also the time he set a Garden scoring record with a 55-point outing in his fifth game back from his first retirement in 1995. 
But to me, there was no more herculean feat than the time he played a full NBA game in a pair of 13-year-old sneakers that were a full size too small. 
The day was March 8—Michael's final game as a Chicago Bull on the hallowed floor of "The World's Most Famous Arena." For the first time in 14 years, the majority of the attention wasn't on MJ's patented fadeaway jumper or his unstoppable drives to the hoop. For this game, it actually was the shoes. (Although there were plenty of memorable Michael Jordan highlights, too.)
"Because of the love affair he has with New York City, Michael said he's going to do something special," Ahmad Rashad reported from the sideline during warmups, adding that these weren't special retros. These were the actual shoes from 1985. "That special something is wearing his original Air Jordan shoes."
I grew up rooting for the Knicks all of my life...unfortunately. If you've ever been to a basketball game at Madison Square Garden, then you'd understand the connection Michael Jordan had with fans in the Big Apple.
Yes, he torched the team for pretty much his entire career. He, arguably, may have singlehandedly kept Patrick Ewing from ever reaching the mountaintop. In his appearances at the Garden before that game, MJ recorded two 50-point games, four 40-point games, 17 38-point games, and 10 20-point games.
But Knicks fans respected Michael Jordan just as much as they reviled him. Just ask Spike Lee.
Sensing that this was going to be his final act in front of the Big Apple, Michael Jordan took it back to where it all started -  the Air Jordan 1 (actually, it all started with the Nike Air Ship, but that's a different story).
Unlike some of the contrived tales that brands and sneaker media might try to sell you today, this was an organic moment in sneaker history. There was no pre-written media blast about Michael Jordan being born in Brooklyn or tie-in to a special pack that was about to release. In fact, Air Jordan 1s weren't even being retroed in 1998. This was totally unscripted and unscheduled. 
MJ wrote in his autobiography in 1998 that his wife found the shoes while she was doing some spring cleaning. Jordan's original plan was to only wear the throwback sneakers during warmups, but kept them on for the game when he saw more and more people noticing them. 
I was 12 years old when this game happened, meaning my breath still smelled like Similac when the original Air Jordan came out. I had never seen MJ wear the sneaker in the '80s. This was the first time in my life that a basketball player wearing a sneaker piqued my interest.
The Internet existed, but just barely. #SoleWatch or Kicks on Court style sneaker recaps weren't happening yet. To discover the sneakers that players wore in game, you had to actually watch the game.
And watching Michael Jordan play that Sunday afternoon game in 1998 was like watching Duke Ellington lead a band or Andy Warhol paint soup cans. MJ's final stat line that game: 42 points, 8 rebounds, 6 assists, 1 huge Madison Square Garden ovation. 
Compared to all of the stellar games that Michael Jordan has had in his career, this game probably wouldn't rank high on the list. But why don't you try playing an NBA game in a pair of kicks that are too small, without Zoom Air, carbon fiber, or lightweight breathable materials? See how that works out for you.
Michael Jordan did that. More importantly, he backed it up with an athletic showing that most of today's "sneakerheads" in the NBA probably wouldn't be able to achieve. That's what made the sneakers and the moment even more special, not the other way around.
"It's big pressure to come out here with new shoes and make a statement," Michael Jordan told Ahmad Rashad in the post game interview. "But you still have to come out here and play the game of basketball."
Gerald Flores is the Editor-in-Chief of Sole Collector. He also writes about suffering as a Knicks fan here.