1.
by Gerald Flores
It's one of the biggest shopping days of the year. 
Black Friday, the day after Thanksgiving, is not only a time when you'll see loads of people camping out in front of Wal-Mart to save big on a new television, but it's also grown to become a time when some of the year's hottest sneaker releases drop.
And the annual event is only getting bigger. While big box stores have made the ungodly switch from opening up at 6 a.m. Friday morning to 6 p.m. on Thursday night, the amount and quality of sneaker releases have also swelled. This year is highlighted 
This years' drops are highlighted by Nike's "Opening Night" signature hoops pack, Pusha T and adidas' second collaboration, and is topped off by Jordan Brand's remastered Aqua 8.
2.
But how did Black Friday grow to become an unofficial sneaker holiday? 
The question has even stumped some of the best storeowners in the world.  "I don't remember the moment," said Rick Williams, owner of Burn Rubber. "It kind of grew into a gradual thing over the years, where brands will always pull out one of the illest shoes on Black Friday."
Mike Packer, owner of Packer Shoes, also can't pinpoint the moment in sneakers where it all turned around. But Packer says the day has always meant something for the industry in terms of sneaker deals. 
"From the sale aspect, it was always something there," he said. "The way companies look at it, everybody is going to be out shopping and everybody is going to be trying to save that dollar."
According to Syracuse, 95.5 million people will or may go out shopping on Black Friday, with 140.1 million expected over the entire Thanksgiving weekend overall. Those figures don't even account for the number of people shopping online this weekend, a practice that design consultant Mayor would like to go away in sneakers during Black Friday releases.
"Fuck that. Go to the store, not online," Mayor said, adding that he wishes that brands would only let their Black Friday drops release in real life, and not on the Internet. "I want to see the store open up at 3 o'clock in the morning after everybody stuffed their bellies and have people go get the shoes."
Mayor also has a pretty solid theory about when Black Friday became an unofficial holiday in sneakers – DJ Clark Kent's 2008 release of the "Black Friday" Nike Air Force 1.  In true Black Friday fashion, it was the only sneaker released on the day to already have a sale price when it dropped at New York's 21 Mercer (Now known as NikeLab).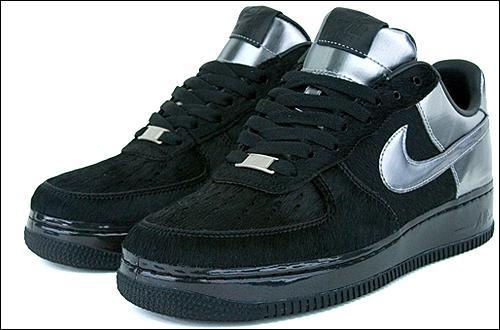 The rare Air Force 1, which featured premium all black pony hair, initially dropped for $150, well below it's true retail price of $225. The sneaker was sold at the higher price point when it released at other boutiques that December, which included Concepts in Massachusetts and Shoe Gallery in Miami.
"DJ Clark Kent was behind the original Black Friday shoe for Nike," Mayor said. "I know because I had the shoes on before anybody else did. If it works, you run with it."
Kent went on to expand his Black Friday drops in 2013, when he put his touch on three Nike SB sneakers, the P-Rod 7 High, P-Rod 7 Hyperfuse Max, and Nike Dunk Low, which all released this time last year.
But since that first launch in 2008, it's become customary for new sneakers to launch on the day after Thanksgiving. This has been especially true with Jordan Brand, which has had key drops on every Black Friday starting in 2009 with the "Flu Game" Air Jordan 12, and then the "Flint" Air Jordan 13 in 2010, the black and cement Air Jordan 3 in 2011, the "Bred" Air Jordan 4 in 2012, last year's "Oreo" Air Jordan 5, and this year's "Aqua" 8.
And it all started with the "Black Friday" Nike Air Force 1, a contribution to sneaker culture that DJ Clark Kent himself proudly lays hold of. 
"It was designed by me and no other shoes were dropped on that Friday as a 'Black Friday' release until that shoe," DJ Clark Kent said. "I guess it was the start of the madness."