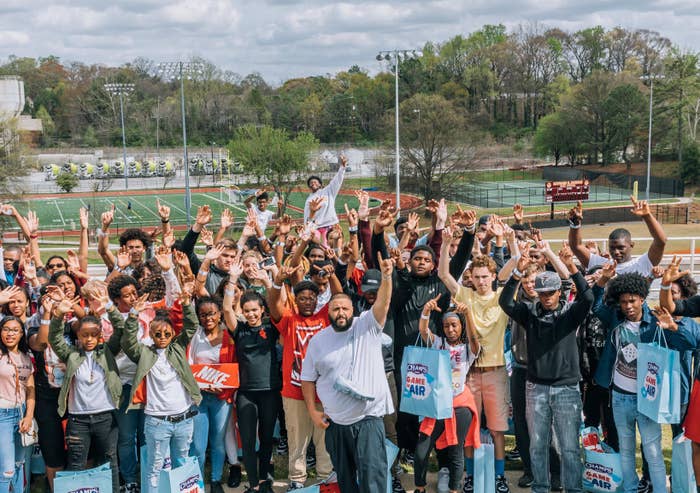 March 26, AKA Nike's manufactured holiday Air Max Day, has fast become an annual time for sneakerheads to dust off the Air Max sneakers in their collection or pick up one of the new Air Max releases the brand lined up. DJ Khaled celebrated a different way. While in Atlanta filming a movie, Khaled stopped by Maynard Jackson High School on Saturday to surprise over 70 students with a free pair of Nike Air Max sneakers. The students were identified by Champs Sports as teens who were excelling in class, helping their community, and on the sports field as part of the retailer's "Game On Air" campaign. Sneakers were also provided by Champs.
Khaled, who worked as a salesman at a Champs Sports store in Orlando, Fla while he was a teenager, also gave the students some of the major keys he learned from working at retail at that age. 
"Whatever you do, do something that you love. I loved working at Champs because I loved sports, the fashion and the culture," Khaled said, adding that he went from dropping his mixtape into the sneaker boxes of his customers to having a Champs Sports location built into his Miami recording studio. "Working at Champs connected to me being a mogul now. That's what I want to tell the young world. We're all moguls. We're all bosses."​