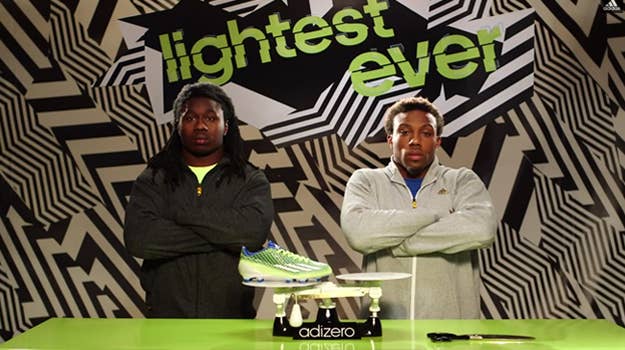 Football is a game built on speed, where even the slightest edge could be the difference between a touchdown or an interception. With the NFL Draft just two days away, teams are making final decisions and evaluations on players they're looking to add to the roster for the upcoming season. adidas is evaluating speed and players as well as they recently signed one of the fastest and the highest ranked wide receiver coming out this year Sammy Watkins, as well as Kansas City Chiefs Pro Bowl safety, Eric Berry.
adidas' two newest brand ambassadors teamed up to see how the adizero 5-Star 3.0 cleat stacked up against some of it's biggest competitors in the market. The two budding superstars as they cut up cleats from top competitors Under Armour and Nike to weigh them against the lightest cleat in the world, the adizero 5-Star 3.0. The results may surprise you, as even chopping other cleats into pieces keeps them heavier then the 5-Star 3.0.
If interested in grabbing a pair of the adizero 5-Star 3.0 cleat, you can do so at adidas.com, for a suggested retail price of $110.
[adidas]
RELATED: adidas adds the adiPure 360 Training Shoe

RELATED: Everything You Need To Know About the adidas Adipure Adapt