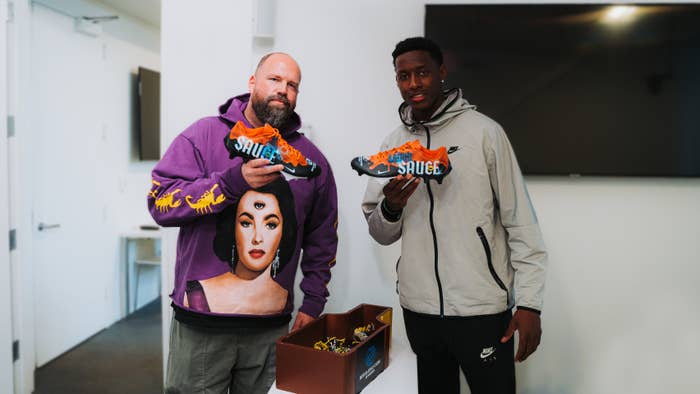 For Week 13, players throughout the NFL will once again wear customized cleats in honor of various causes they have chosen to support for the league's annual "My Cause, My Cleats" initiative. One of the players include New York Jets cornerback Ahmad "Sauce" Gardner, who joined forces with renowned sneaker customizer Mache and restaurant chain Buffalo Wild Wings to create special Nike Vapor Edge 360 cleats made with actual sauce mixed into the paint.
"No one else but Mache and Buffalo Wild Wings could pull off the first ever cleat designed with sauce," Gardner said. "Mache did such a great job and the cleats are dripping with style and a little flavor. Excited to rock these on Sunday and then auction them off to support the Boys & Girls Clubs of America."
Gardner's custom cleats are inspired by the "Sauce" chain he wore when he was drafted with the fourth pick in the 2022 NFL Draft. The custom cleats will come in a special wooden box inspired by a hot sauce bottle while mini chain sauce bottles will be attached to each cleat. 
"I like to say that every shoe I customize has flavor but when 'Sauce' Gardner and Buffalo Wild Wings asked me to create one with actual flavor, how could I say no? I love trying new designs and constantly pushing boundaries," Mache said. "But this isn't just a gimmick design and it's something I'm truly proud of. I am psyched for Sauce to show off these cleats in a few weeks."
Gardner will wear his custom Nike Vapor Edge 360 cleats designed in partnership with Mache and Buffalo Wild Wings this Sunday, Dec. 4, when the Jets face off against the Minnesota Vikings. The cleats will be available via auction following the game, with the proceeds supporting the Boys & Girls Clubs of America coinciding with the NFL's "My Cause, My Cleats" program. Additional details about auction will be available on Gardner and Buffalo Wild Wings' social media accounts.
Founded in 1860, the Boys & Girls Clubs of America is a national organization that provides voluntary after-school programs for young individuals. On its website, the organization says its mission is "to enable all young people, especially those who need us most, to reach their full potential as productive, caring, responsible citizens."