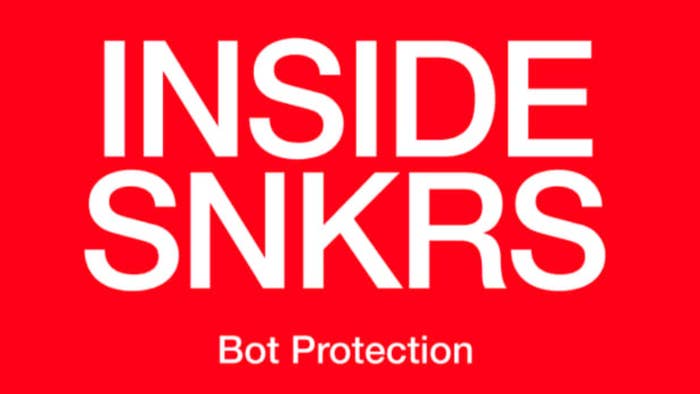 It's not often that Nike gets transparent on how it combats bots on its SNKRS app, but the brand did just that today when it shed some light on its anti-bot protection on the shopping platform.
The Swoosh shared a post on SNKRS, the brand's digital hub for its most coveted product releases, asserting that releases on the app are protected against bots in many ways. Nike's definition of a bot is "autonomous programs that interact with systems to create fake accounts and check out on digital platforms more quickly and in greater numbers than any human ever could," which in turn gives those who are using the bots a greater chance of purchasing the product than general users.
The brand also revealed that its terms and conditions ban the use of bots and to enforce the terms, it uses a number of tools to identify and remove bots from the platform. This includes measuring various interactions on the digital platforms to detect bot activity, account verifications, and IP reputation to verify that users and entries are authentic. The aforementioned methods are used at several different points during a SNKRS launch.
According to Nike, depending on the popularity of the sneakers launching, bots can make up about 10 to 40 percent of total submissions, which Nike says get marked invalid and removed from the release. The brand also claims that it has a team of engineers that removes as many as 20 million bot submissions from global SNKRS launches monthly.
Last year, Nike released its "Exclusive Access" launch model for the release of the coveted Off-White x Dunk Low collection. The brand confirmed that the goal of "Exclusive Access" was to provide members with access to exclusive products that they'd enjoy. Content engagements like getting notified of upcoming drops and tuning into SNKRS Live sessions are some of the methods that determined a user's chance of getting exclusive access to the product.
"We take bot protection seriously, and critically evaluate launches retro-actively for learnings to help evolve our defenses in step with the speed of bot developers, Nike said in the post. "Our engineering teams use data to flag potential bot accounts continuously, and block these accounts from future launch access.