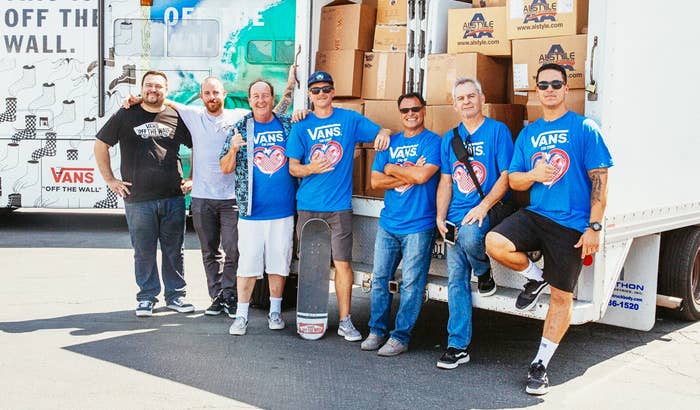 In the wake of the destruction brought on Texas by Hurricane Harvey, one longtime shoe dog is taking it upon himself to help those affected through footwear. Steve Van Doren, son of Vans co-founder Paul Van Doren and current VP at the California skate brand, packed up 5,000 pairs of sneakers, 4,000 shirts, and about 5,000 pairs of socks on Tuesday and headed for Texas.
"I represent Vans and personally have many friends and employees in Houston that have been affected by the storms," Van Doren told Sole Collector. "I have been waiting patiently for more of the road to open up and for some of the water to recline...Vans has always been about people helping people. We may be based in California, but I want to be in Texas to hand out shoes, socks, and shirts to anyone who may be in need of dry clothes."
Van Doren will be joined by members of the company's events and promotions team, who will help with distribution of the items. He's posted updates from the trip on his personal Instagram account.
Vans hosted a fundraiser at its California headquarters on Tuesday where its parent company, VF Corp, matched employee donations dollar-for-dollar. VF Corp also donated $50,000 to the Red Cross for Hurricane Harvey relief efforts.
Despite being high up at the company, Van Doren has a history with this sort of on-the-ground work. When Hurricane Katrina struck in 2005, he did the same thing.
"I know there are so many people in need," he said, "and I just want people to know that Vans and I give a shit!"