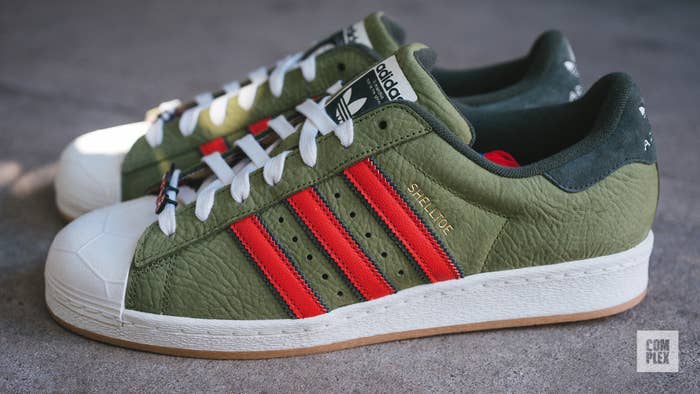 Adidas is planning to release a line of Teenage Mutant Ninja Turtles-themed versions of its Superstar sneaker beginning in early 2024, according to an internal Adidas document that's been viewed by Complex. The sneakers, which are an official collaboration with the TMNT franchise, play off the "Shelltoe" nickname of the Superstar as a reference to the reptilian heroes.
News of the collaboration was first reported by Kicks Finder in an X post in June.
An Adidas spokesperson declined to comment on the upcoming TMNT x Adidas "Shelltoe" sneakers.
The first of the TMNT x Adidas is scheduled to arrive in February, per the document, with two more to follow in April. Their release dates are subject to change, and have not been confirmed by Adidas—one source says the first launch has already been pushed to March. The 2024 release is tied to the 40th anniversary of the Teenage Mutant Ninja Turtles franchise, which began as a comic book in 1984.
The first TMNT x Adidas shoe, shown here, has a green upper with a turtle shell pattern on the toe. The shoe has monogram lace charms connected to the individual turtles, two sets of sock liners, and "Ninja Power!" text under the tongue.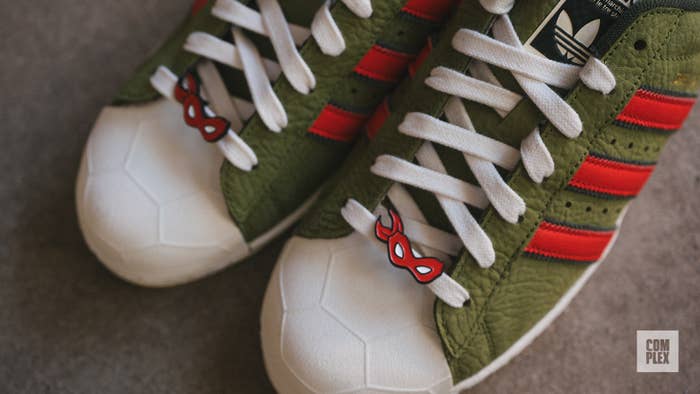 The TMNT x Adidas sneakers will come in action figure-style blister packaging, a technique Adidas has used on Star Wars collaborations in the past. Each shoe will be packaged with a collectible Teenage Mutant Ninja Turtles comic book.
The TMNT x Adidas "Shelltoe" (style code IF9280) will retail for $130, per the Adidas document.