"Give us a million dollars" was the humble request Joseph "Run" Simmons had for Adidas in the 1980s, when Run-DMC's single "My Adidas" was making its way up the charts and into the impressionable minds of sneaker-buying youth across America. He laid out the term after an a capella verse about Run-DMC's love for the Superstar model, while lying back on a plaid couch and waving around the shoe in the unlaced style that had become the group's signature.
"Adidas could never even buy this much promotion we give 'em," reasoned Jam Master Jay, pointing out the single's success on Billboard.
The conversation might come off as shrewd negotiating today, but Run insists that wasn't the intent.
"We did nothing for nothing, besides for our creativity," he says now. "We are artists and we were having fun."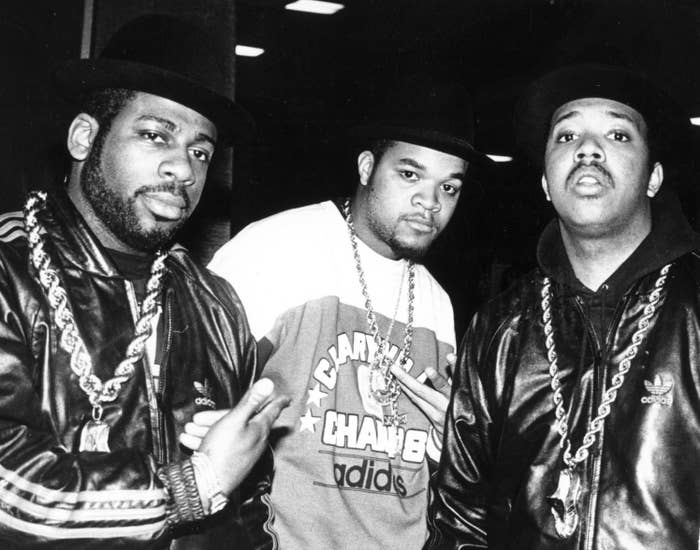 Still, the request found its way to Adidas' execs. Later, at a show in Madison Square Garden, an Adidas employee named Angelo Anastasio watched scores of Run-DMC fans lift their Superstars in the air at the command of the MCs onstage. After that, Adidas signed the Queens trio to a landmark deal that helped legitimize hip-hop as a commercial force. It also helped revive the Superstar, which was in a sales slump at the time.
Run says the deal's success owes to the group's legitimate appreciation for the shoes, which came before any financial motivation.
"It's magical because we wasn't hired to promote Adidas; we were just doing us," Run says, speaking alongside fellow Run-DMC rapper Darryl "DMC" McDaniels, Adidas Superstar originator Chris Severn, and Adidas North America president Rupert Campbell.
The conversation takes place at Adidas' office in New York City, in front of a display of Run-DMC memorabilia—signed sneakers, turntables, and chunky gold chains with Superstar sneaker pendants—and Adidas employees. It's timed to coincide with hip-hop's 50th birthday and New York City Mayor Eric Adams naming Aug. 9 "Run-DMC Day."
The office setting is not the most neutral environment, which means the comments about Adidas and the Superstar can feel promotional. But though Run-DMC is certain and proud about the indelible cool of the Superstar, its surviving members are candid about their relationship with sneakers. They discuss their footwear before they became synonymous with Adidas, and the missteps they made once they did.
"What we should have done is not make sneakers of our own," says Run. "We should have just kept endorsing the Shelltoe, because to this day I tell the managers from back then, 'Man, we should have just said, listen, let's make a deal to be down with the Shelltoes.' So for us, to this day, this shoe is beyond the creator over there and the president. This is my sneaker."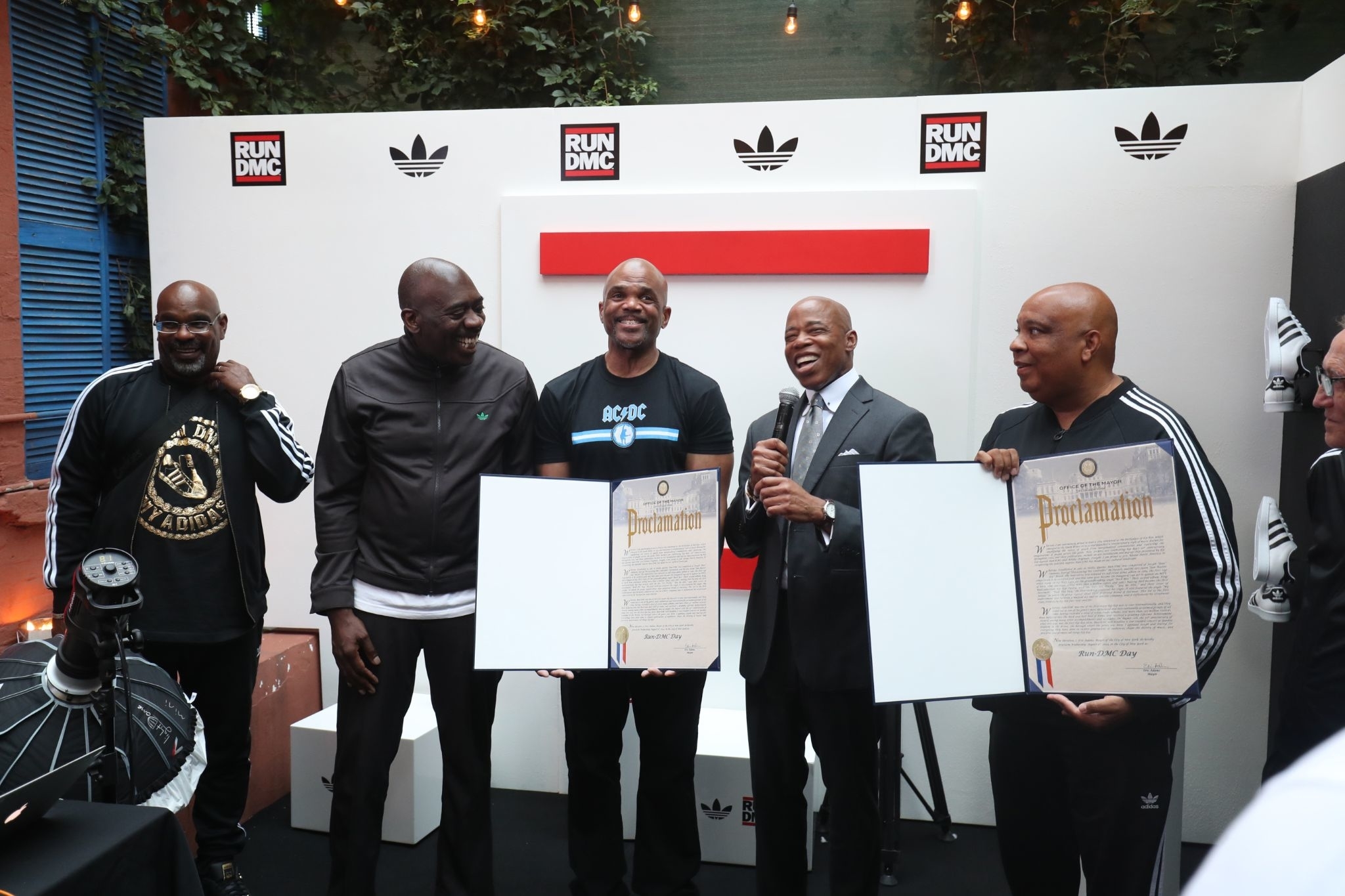 Adidas' leadership is gracious toward the group. Run-DMC x Adidas sneaker projects still pop up decades after the Hollis legends ran the rap world, like those made in tribute to the late Jam Master Jay. The DNA of what Run-DMC did is visible across the sneaker industry today, where rappers frequently design shoes alongside big brands.
"There's not one area of Adidas' originality and culture that Run-DMC hasn't done, hasn't touched," says Campbell. "Not one area. It's touched all of the areas of what we do. That's the first thing. And the second thing I would say is that you know what you've also done in collaboration with us has gone from New York to the planet, everywhere in the world, and again, I want to thank you."
DMC actually corrects him on the second note, redrawing the geographical bounds of the partnership's reach.
"On Mars, too," says the rapper. "I know a couple Martians. Didn't want to reveal that here, but I got a couple Martians."
What's the feedback from that part of the solar system?
"We rocking those up on Mars, my brother."
The discussion from last week—about the history of Adidas and Run-DMC's collaboration and about how their deal laid the foundation for the Yeezy line decades later—has been edited for length and clarity.
Chris, I want to start with you on the Adidas Superstar because you have the longest relationship out of anybody here with it. Can you tell us how that shoe emerged from models like the Pro Model and the Supergrip?
Chris Severn: Well, the Pro Model and the Superstar were parallel shoes. We started to make a low-cut basketball shoe first and it wasn't a Superstar. It had no name other than "Adidas." Then it became a Supergrip. And then, after that, when we had the shoe more or less perfected, it became the Superstar.
So what was that transition? What things did you do to perfect the shoe to make it become a Superstar?
Severn: The basic premise of the shoe to make it better for basketball was to have superior traction, grip on the floor. So players could move very quickly, start, stop and grab the floor so they wouldn't slip or slide. So that was the main premise. But then other things began to be needed.
We had to have more stability in the shoe. So we put heel counters in that were much stronger than the canvas shoes. Then, of course, the toe area—the shoes would rip out in the toe. But gradually we decided we could make a toe that would keep the shoe together, protect the toes, and look stylish. So as the shoe progressed, it became just an Adidas prototype to a Supergrip to eventually the Superstar.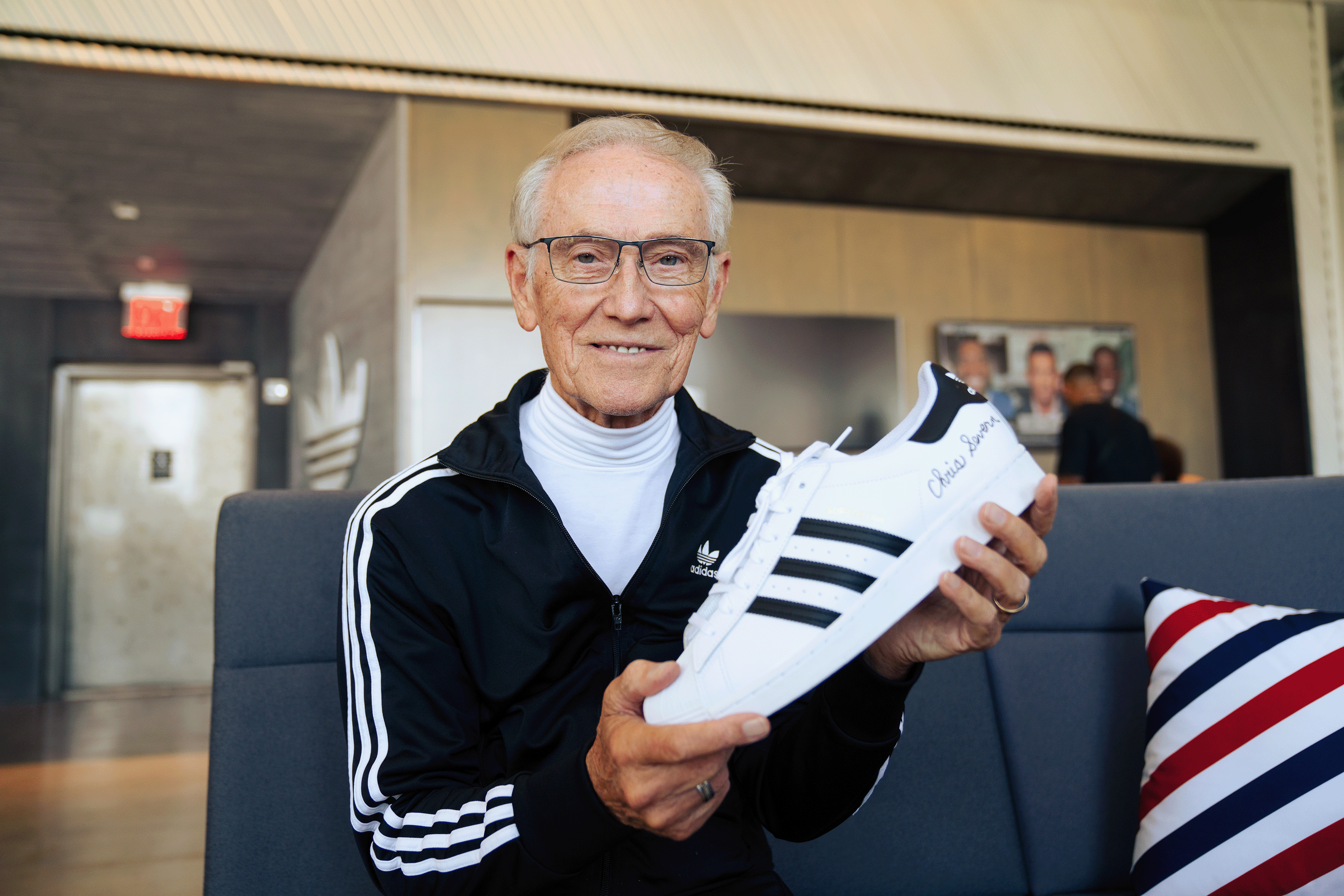 There were all these technical aspects to the shoe he's talking about—the traction, the toes—were things like that important to y'all, the way you guys were wearing them?
DMC: Well, no, it was more of an economical thing. Because these things are durable. And they fit the spirit of the people in New York City. There was a lot coming at us economically, socially. You know, like Melle Mel said on "The Message," it was "broken glass everywhere."
There was a lot of adversity. So these sneakers, these shoes represented the thick skins, the toughness of the community of people in New York City.
We grew up wearing Converse. We was rocking Converse; we was rocking Pro-Keds. L.A. gots the Chucks on lock, but in New York, '60s and '70s, we was rocking Converse, too. I had light blue Converse. But when it came time to get a sneaker that represented you, that was fly, that was stylish—if you didn't play basketball in the [Superstar], it could last you three years. But if you played ball in it, you would have to keep up your Adidas game. But for us, it was just representative of the toughness needed to survive in New York City.
Run: So he made them to be tough on the court. We wore 'em—
DMC: To be tough in the streets.
Run: The thing I always remember Darryl saying was that he could clean them easier than he could clean the competitor, Pumas.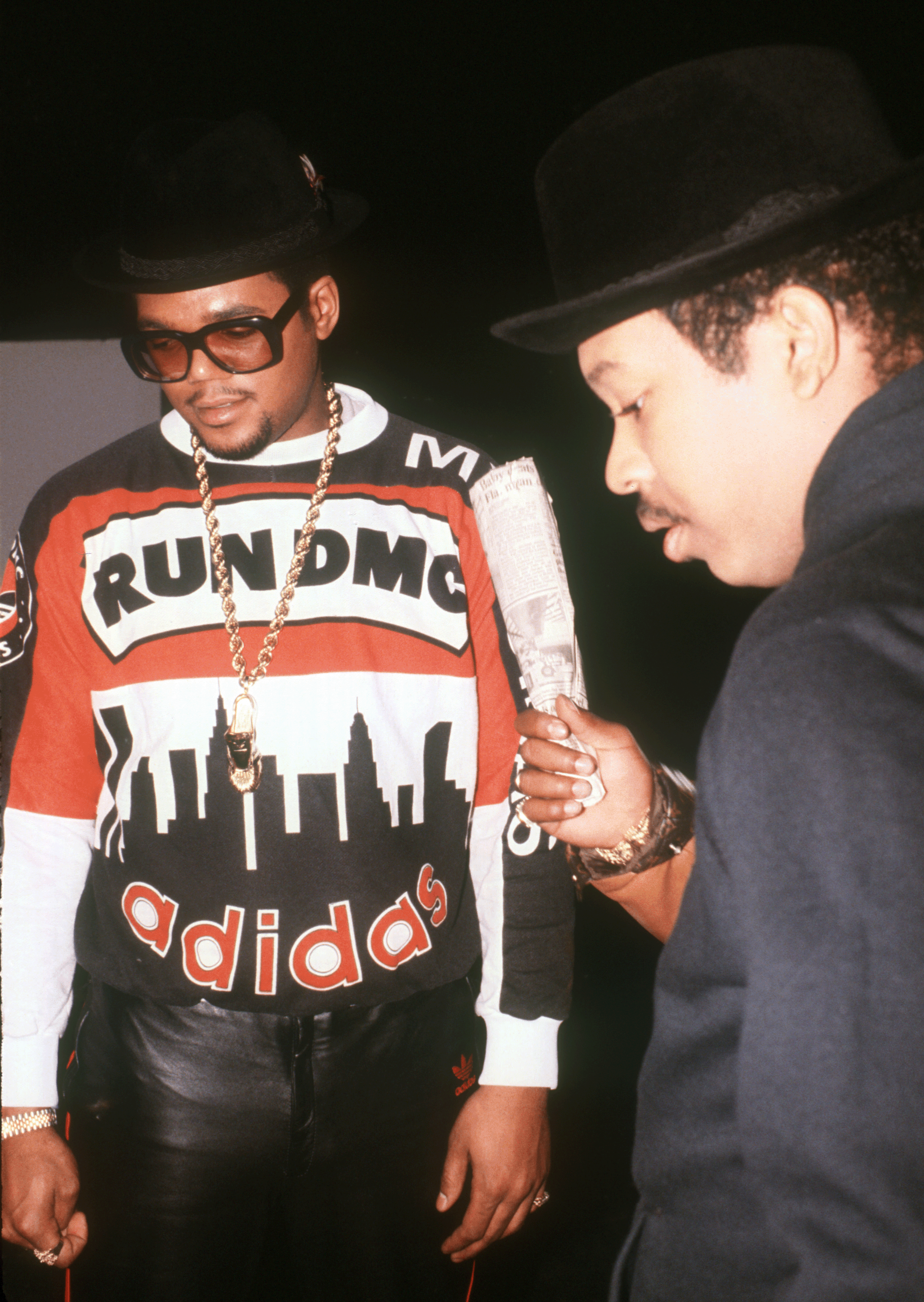 The leather is so much easier.
DMC: Puma was fly, but they wrinkled, they fell apart. These [points to Superstars] were like, bam.
Run: You could just wipe them down and they would become white again. Like I was in a comic book. These were like my superhero shoes.
It's so interesting to hear you make the comparison to Puma, too, because maybe unbeknownst to y'all, you were doing this proxy war where there's a long history between Puma and Adidas.
DMC: Yeah, we didn't even know it was related. The brothers broke up.
Run: I thought that was some type of joke. For me, putting these on, I remember Michael East had one Adidas on and one Puma. One day he had made extra money, this guy on our corner. He was so fly that when he got a check he got one Adidas and one Puma. We were like, "Whoa." Like he just came walking on the block.
DMC: That's super fly.
Run: That's really a lot of money. So he's like, "Yeah, I got a job." Or whatever he did to get that money. So for me, I believe from my heart that D kind of pushed us more towards Adidas, because they're rugged. And he can clean them easier.
DMC: And they look better when you draw them, because I was an artist. They looked fly.
Do you remember where you got your first pair?
[Run and DMC in unison]: Jamaica Avenue. [Laughter.]
DMC: Here's a cooler story, too. I remember we used to go to Jamaica Avenue and we was broke. Me and Run and Butter and T. There's just a show called The Little Rascals. I don't know, some of the older people might know it. And there's this one episode with Spanky, Stymie, Alfalfa, they're standing in front of a bakery, and it was like, "Man, if I had a nickel, I'd get the apple pie." Remember that episode? Then Stymie would go, "Man, if I had a nickel I'd get the chocolate."
We used to stand in front of Mr. Lee's and VIMs and Centrals and go, "Man, if I had some money, I'd get the Adidas with the light blue stripe." "Man, if I had some money, I'd get the ones with the red stripe." "If I had some, I'd get the one with the white-on-white stripe." It was like a dream.
Rupert Campbell: Can I tell you a really crazy story? My family came from Jamaica in the early '50s to London. I grew up in London; I have family over here. I used to come over here in the '90s. And I would buy my shoes from Jamaica Avenue, here, in New York.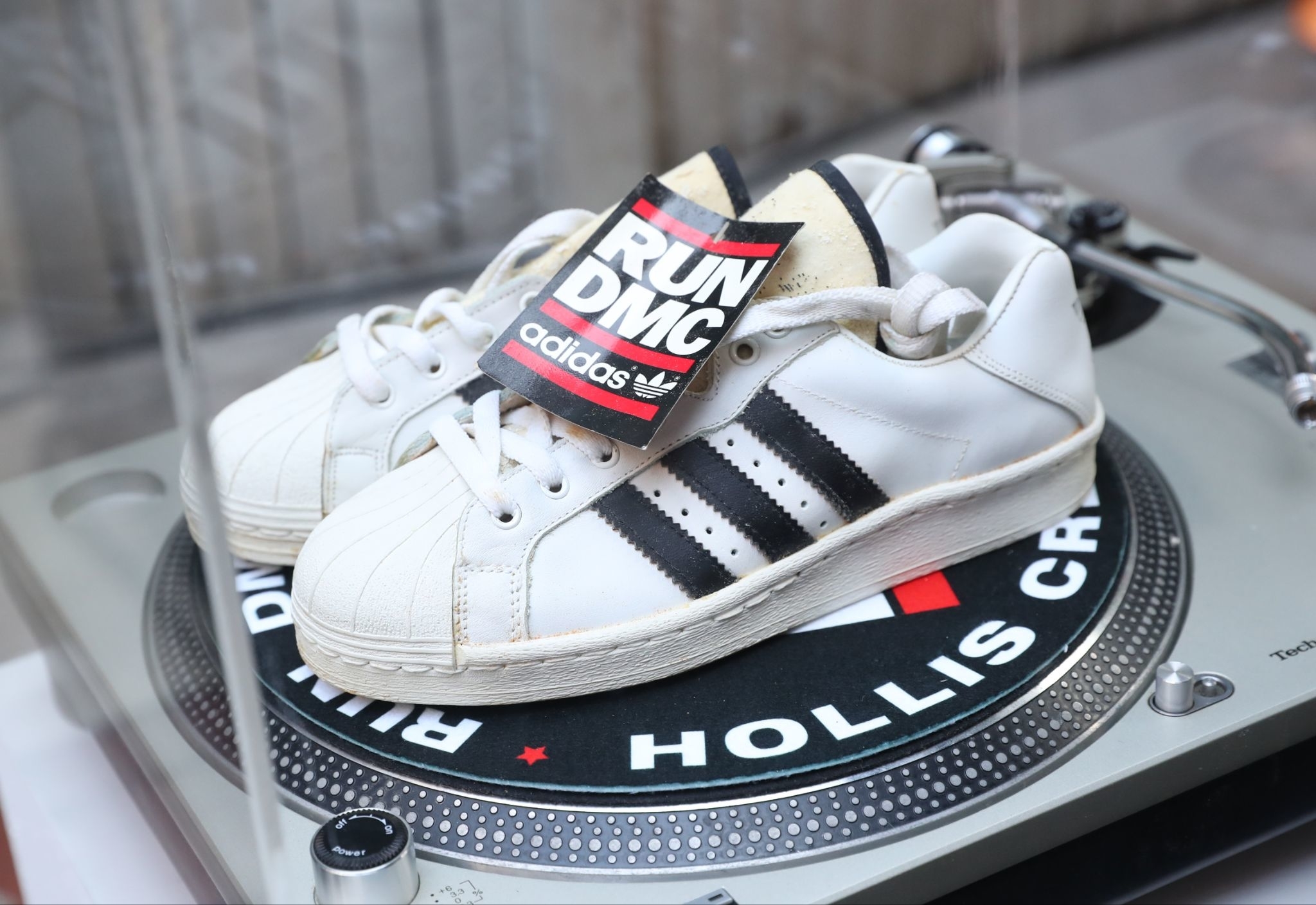 It was a pilgrimage for you to go and get the shoes.
Campbell: Of course, yeah.
Run: Jamaica Avenue had everything.
Campbell: Everything.
Run: That's where we found the gold chains, too. They would sell everybody little chains, but there was one guy that had thousands of dollars of big chains. Jay was so bold, he bought it. You gave him, whatever it was, $10,000. Everything was Jamaica Avenue.
Campbell: The change you started, this big thing with the chains, in Europe and everywhere, everybody was trying to find where they could get these big chains to wear as part of the outfit.
Run: D said it in a rhyme on "My Adidas."
DMC: "We took the beat from the street and put it on TV." That was a game-changing thing.
Run: Everything that we did we would catch. Like the words "perpetrating a fraud" on the record "Rock Box." It would come out as a word in the streets. And we were so lucky that we were able to put on a record. So if a dude come from jail with no shoe strings in his sneakers the next day, we could say it. So anything that was happening, we were able to grab it and immediately transport it, the coolest thing.
DMC: You gotta understand something, Adidas and Run-DMC is the only brand—let me say this to the world—Adidas and Run-DMC is the only brand in hip-hop that, number one, will never die. Everybody else faded away. Name 'em. Phat Farm, G-Unit.
This is the only brand that will never die. But it's also the only brand that means more to people than just the product. There's no company—car company, clothing company, food company. There's no product where people will take a newborn baby.
Campbell: And put them in the shoes.
DMC: And put them in an Adidas suit with little Adidas socks because they don't make the Superstars that small. And they don't say, "I'm raising them right because of Adidas" or "I'm raising them right because of Run-DMC." They would just say, "I'm raising them." So the whole thing that we did, by uniting and coming together, we gave something that was needed in that generation, and especially in this divisive time. There's nothing that people can come together and claim that has integrity. Righteousness, togetherness, inclusiveness, and I'm talking globally. When we went over to Japan. Remember '86?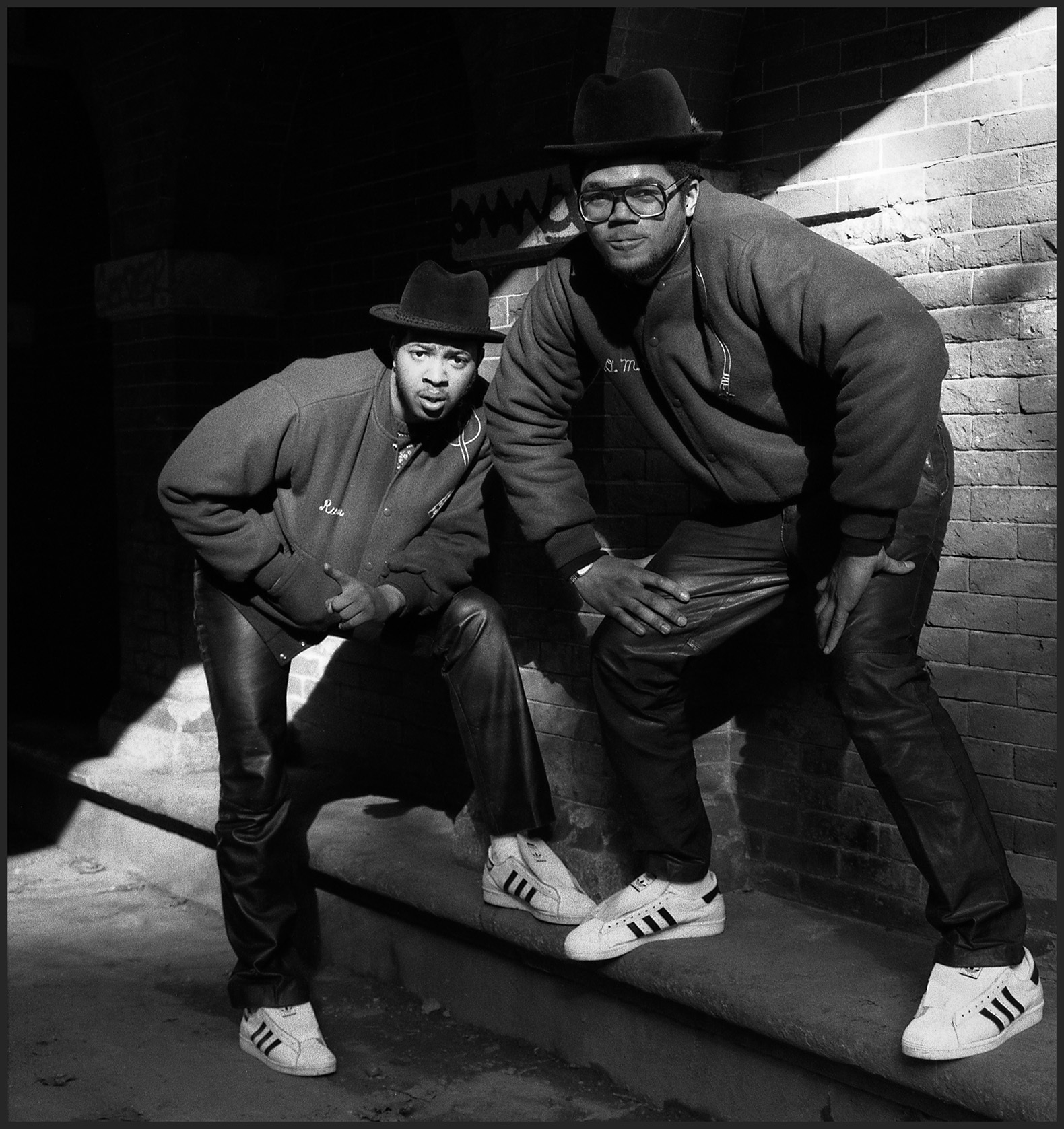 Everybody had Adidas on already?
DMC: They don't even know English, but they know this: Run-DMC. And when me, Run, and Jay would look, they would just go [stomps sneaker on the floor.] That's communication. That's deep.
Campbell: For me, as the president of North America, I try to educate our younger employees on this, because the world has changed so much, with different brands, different shoes, different this, different that. I always try to get them to remember that Adidas are the original pioneer in sports and culture brands. We are. We really, really are. And we took our shoe and gave it to you. And you took it to the world. And me in London, people in Japan, people in China, people in South Africa. They all have stories to tell us around the iconic Run-DMC and the shoe and Adidas.
Run: This is the thing that I believe. Maybe I'm crazy. I'm walking through the mall. This isn't ego, arrogance, or nothing. I see a little girl in a pair—don't know who I am, she happened to not see none of my TV shows. And she has on white and black Adidas, or white with pink stripe Adidas. And I'm like, "Man, she doesn't even know this started all in Hollis." Why she's wearing it and why she knows, "I'm good. I'm a staple here. I'm fine. I don't care what anybody else has on. I have on Adidas." And it goes through my mind. I can't shake the fact that she didn't even know. I can't shake it. It will not shake off of me that this little kid standing next to me has no idea, but knows she feels respected, at least.
Campbell: And Run, you said something to me backstage today. It's affordable.
Run: So that's another point that I made to you. If everybody's buying a $600, $700 pair [of] sneakers, you can just put on a pair of Adidas and walk in the place and you good. You know what's funny? After I said you're just as good, then I said to him, "You're probably cooler."
If you saw the Jordan movie, they were trying to create something like what we were doing, and they did it with Jordans. They said, "We can't just be about basketball. We gotta be about fashion." And that's how we turned his idea [gestures to Severn] of what he thought was more about basketball. We changed it into: wear it with a tuxedo.
Did it feel bold back then, the idea that Adidas would listen to you?
Run: No, we didn't care. We did nothing for nothing besides our creativity. We are artists and we were having fun.
DMC: "What we gonna do next? Let's make a record about the sneakers we love."
Run: We made sure that we got the deal but it was never about wearing it for nothing besides being cool. You guys were just the recipients of our creativity.
But when you made this video, there's this famous video and you're rapping a capella. And you say, "give us a million dollars." Did you think that would reach them in Germany?
Run: No, we didn't care.
DMC: That was in Philly, that was Episode 1 of Yo! MTV Raps, another groundbreaking thing, which put it on the map.
Run: Just talking, just being kids.
DMC: When we said that, we just needed money so we didn't have to pay for the tour buses. It had a lot to do with economics. But the spirit was when I wrote my rhyme, I wanted to create something because Dr. Deas had wrote "Felon Sneakers." And he was talking about the jail mentality, hanging.
Run: Taking out the strings.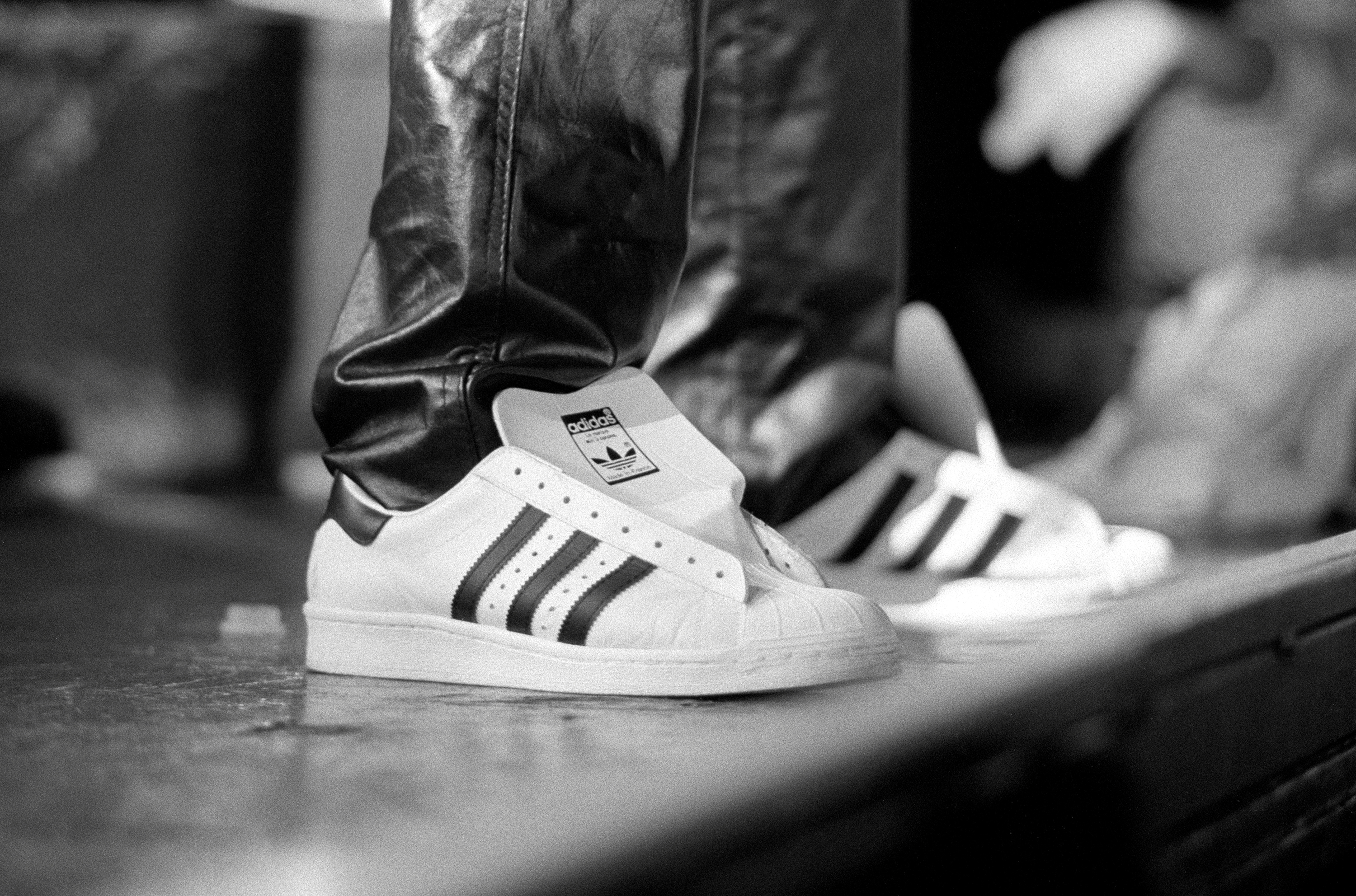 DMC: But he also said this, which was 50 percent right. The whole synopsis was, I can say it, this sneaker rose out of not just fashion and lifestyle, but out of society and historical conditions. So Dr. Deas basically was saying, "You see those young boys and girls in front of the delicatessens on the street corners with the fly sneakers on? Those are the problems of our neighborhood."
Partially right because the first thing you do as a criminal who sold drugs or did stick-ups, you go buy fly sneakers. So when I wrote my rhyme, I was trying to tell the world don't judge the book by its cover. Now, 10 percent of the kids on the corner were selling drugs and doing crime.
Run: They are not used as felon shoes.
DMC: Exactly. There was people in the streets of New York—no matter how much death, darkness, and destruction was there—who worked three jobs so they could get some Adidas. So I wanted to tell that story. So when I was sitting there writing my rhyme: "My Adidas walked through concert doors." And I did Live Aid. As y'all can see, at every moment with the sneaker, there was some good being represented. And you gotta be hard, you gotta be tough, you gotta be durable to succeed in this world, or on the ball courts.
Chris, was there a moment when you first recognized that shift in terms of people wearing these shoes for fashion and not necessarily just for basketball?
Severn: Well, going back just a little bit Adidas was a very popular athletic shoe in the world of track and field, even in football. But you cannot wear those shoes out on the street. And so when the Superstar hit, it was possible because it's a flat-sole shoe. It became a huge campus shoe, kids at the high school level, college level, universities. Now the Three Stripes were out there because everybody could wear that shoe. Even if they didn't play basketball.
DMC: See, culture has a purpose. Culture and style is definitive. Not only of the people who wear it, but definitive of the times that people are in. So with this Adidas, this wedding, we together for life; we can never get divorced. This means in the year 5060-something.
Run: D, every time, I know this happens to you, this is your life. You get on a Zoom, they go, "I got my Adidas on." No, no, no—I can't hang with a human being and they know they're about to meet me without them wearing Adidas that day. To make sure you feel loved. So we're synonymous.
DMC: You're synonymous with the constant. This world is ever-changing, which is cool. You gotta understand something. What you did, they might go, "Oh that's back in the day." "Back in the day" and "old school" isn't a time period. "Back in the day" and "old school" is a consciousness, how you artistically, fashionably, musically, lyrically, literally present who you are.
You can have the best rappers in the room, you have the best basketball players in the room, you have the best artists, the best poets in spoken word, filmmakers. A person could walk in here silently with some fly Adidas on and the whole room will go [cranes neck toward the footwear]. That's a power.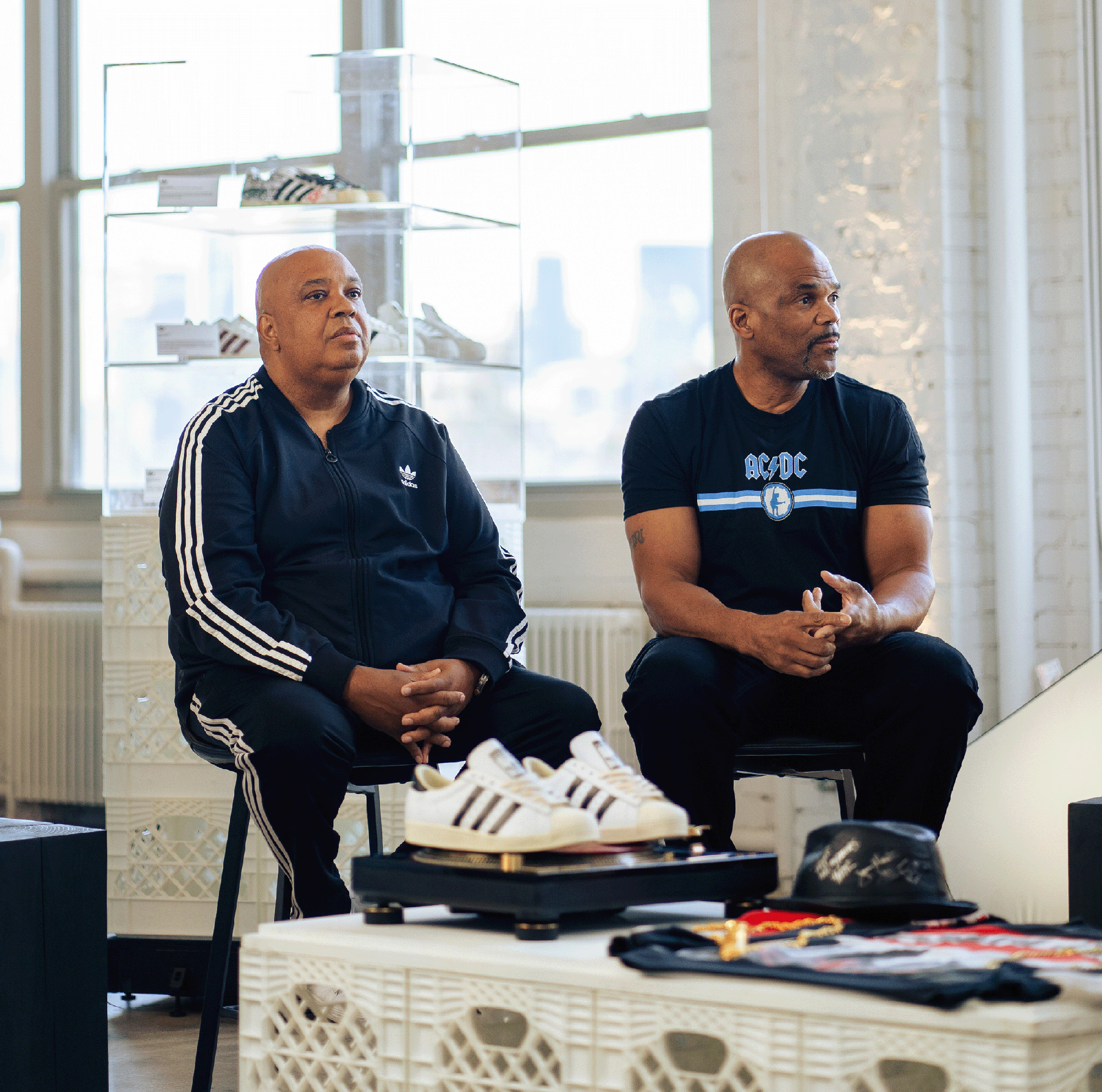 Run: I was on the train and I saw my hero, Earl Monroe. I see Earl "The Pearl" Monroe. And I'm sitting there. I don't know why, I'm like, I can't move. Because that's how much he meant to me. And I tell my manager, Mike Lehman. He's like, "I'm gonna go over there because I'm not shook like you." He says, "Run wants to meet you, from Run-DMC."
He comes over and says—this blew my mind because I'm such a fan of Earl Monroe from the New York Knicks back then—he comes over to me and he says, "Oh, I knew it was you because you had on Adidas." First of all—this is in my brain, "How do you know me? Why are you equating me with something? How did you know it was me?" He said, "I thought it was you but then when I saw the Adidas I was sure." Earl Monroe is saying that to me? That was my hero. It was just an "ahh" moment. We're synonymous, we're in this love together.
DMC: [Rapping] Run and DMC, as everybody knows, turned out the Garden with the sold-out shows. And inside the Garden, these two MCs.
Oh, what's my rhyme? Oh, ugh. I was making it up the other day. [Mumbling lyrics to himself]
[Rapping] And one DJ made history. The story goes on, needless to say, the Adidas corporation was there that day. I took off my sneaker, I held it high, and the whole damn Garden did as I. So powerful and more than real, Adidas gave us a sneaker deal. Inspiration to D is easy, that's why today y'all can wear those Yeezys.
I was speaking at a high school and a kid tried to diss. "Run-DMC, them old school." I hit 'em with that, the whole gym went [crazy]. And after I said that, the beautiful thing was, you could hear them, "That's true, 'cause my grandfather told me about that." You got legacy and generations, baby.
[Rapping] Inspiration to me is easy, and that's why today—through walls and floors I come crashing, the world adores my style of fashion. I wore my glasses so I could see, now everybody wanna wear glasses just like me. Ever since the days of Raising Hell, y'all know why you're wearing those Cazals. No curls, no braids, peasy heads still get paid. We are the reason why Yeezys can get made. Drop the beat.
I had to hit the kid with bars, 'cause he was trying to diss. And then the kid goes, "Yo y'all old school cats are over." And I said, "Thank you, 'cause I was just over in London the other day."
The teacher calls me in like two weeks, "D, don't you know, the next week all those kids came in with new Adidas." Because they felt the power.