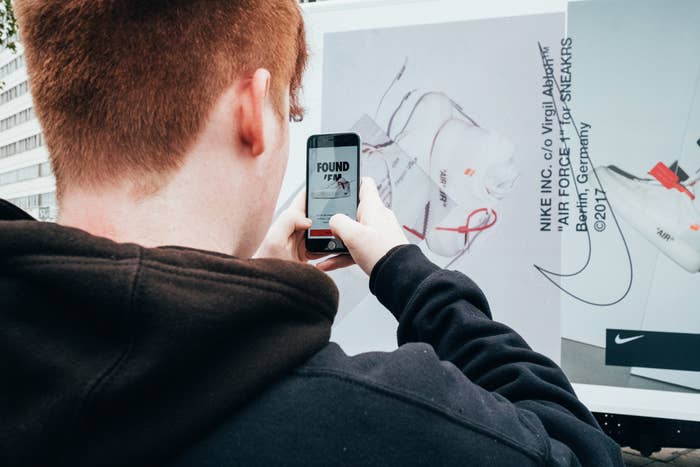 There's a stampede brewing in New York City's Washington Square. Packs of young men hold their phones in the air, squinting through the sun at their screens or shading their faces as they move in the same direction. What begins as a synchronized zombie shuffle breaks into an all-out sprint as they all dart toward one destination, phones clutched. The scene looks like something out of the height of Pokemon Go hysteria, but these men are chasing sneakers, not Squirtles.
This was how the launch of the of the limited PSNY x Air Jordan 12 "Wheat" through Nike's SNKRS app played out in June. The app has evolved from its launch in 2015 to include more interactive experiences, this one dropping clues for would-be sneaker buyers and requiring them to be in a specific place in a specific time to unlock a limited release, a function Nike calls the SNKRS Stash. This evolution has come at the hands of a startup Nike acquired in 2016 that's quietly helping shape the future of its online business.
The Manhattan office where they work, called S23NYC, still looks very much like a startup space—along with a mostly open floor plan, it's got ample snacks and supplies for beer pong tucked against a wall. But the 24-person team that works out of studio are now employees of Nike, which acquired the Virgin Mega startup (founded by Ron Faris in 2013 as part of billionaire Richard Branson's Virgin Group) in 2016 to ramp up its digital experiences.
"We knew we could drive more much more engaging, rich, and immersive experiences," explained Adam Sussman, who became Nike's first Chief Digital Officer in 2016, at a media event hosted by the S23NYC team last Friday. The creation of Sussman's position is emblematic of Nike's bullish push toward creating digital sportswear experiences that go beyond adding a pair of shoes to a cart and then checking out.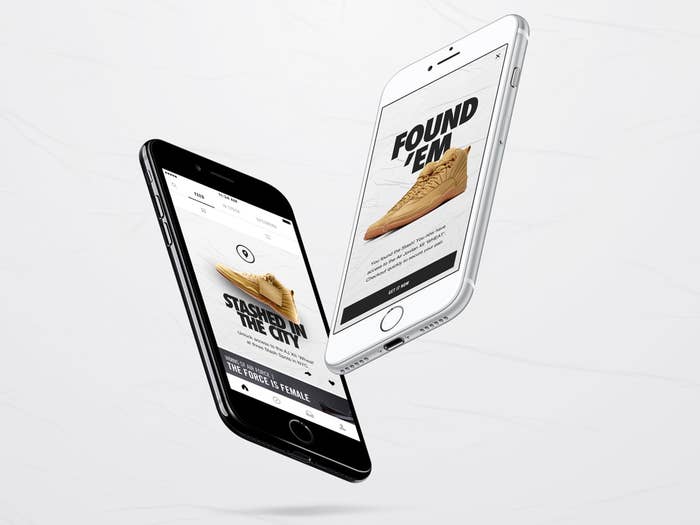 Tasked with leading this push in the SNKRS app, a platform very much catering to the sneakerhead crowd, is the aforementioned Faris, who also spoke at Friday's event. Since becoming absorbed into the Swoosh, his team has plucked shoppers out of lineups at boutiques like Concepts and Kith in NYC for focus groups. They've thought about how to bring emotion and energy into "sneaker culture," two things that many believe have disappeared in a scene now so reliant on online transactions over in-person ones. They want to identify what they call the "PhDs in sneaker culture," and partner with those influencers for launches, injecting SNKRS with some sense of community to go with the pure commerce. 
"We are gonna earn that right to shape that culture," Faris said. Of course, one should generally be wary of corporations bandying the word "culture" about. Nike's current struggles are well-documented, and this heightened focus on mobile and SNKRS ultimately leads back to the company's bottom line. Plus, it's historically been groups outside big brands like Nike or Adidas that have informed these scenes, a dynamic that's shifted as the number of sneaker obsessives swelled to make them a group worth targeting.
That said, the new features SNKRS has added have genuinely made buying sneakers online more entertaining, if not easier. The location-based Stash function conceivably cuts down on bots that would cheat the system by forcing users to be in an unannounced location at a certain time. (The brand brought it out again last week for surprise releases from Virgil Abloh's Nike pack in Berlin and Chicago.) One potential upcoming tool demoed at the studio had shoppers from different regions teaming up to buy sneakers via their phones. And the augmented reality launch used for David Chang's Momofuku Dunk collaboration opens up a whole new realm of possibilities where Nike can make any image a digital key that unlocks a shoe.
"We can turn any basketball court in New York into a retail area," Faris said of future uses for this tool. "Imagine on Instagram—any influencer can post a secret piece of art that can unlock a sneaker." This was demonstrated at S23NYC via stickers decorating the office that generated 3D models of sneakers from Virgil Abloh's Nike pack when looked at via an in-app camera. Upon the models popping up, attendees were able to purchase the Air Force 1 from the range ahead of its November launch.
In January 2017, Nike SNKRS held an early release for the "Sharpie" Foamposite One, a shoe that Penny Hardaway famously colored in with a marker to avoid a fine for his footwear in the 1990s. To get the shoe, users had to swipe over an image of it, turning the grooves on its upper from blue to black just like Hardaway did. According to Faris, 85,000 users unlocked the shoes using this feature, which was one of the first of these more robust experiences on SNKRS. While his recollection of the rollout has people organically discovering the Easter egg, in reality, sites like this one were tipped off by Nike and in turn informed the public.
Nike's desire to better win over that public ties back to its consumer-direct offense, a new business strategy announced in June 2017. Through this, the brand aims to use digital to create deeper and more personal connections with consumers. Part of the trajectory of the initiative is foreshadowed by the history of people like Faris and Sussman, the chief digital officer. Sussman's resume includes video game companies Electronic Arts and Zynga, a background that explains Nike's push to gamify sneaker shopping with the methods like these. Faris worked on cultivating digital music communities before Virgin Mega's acquisition, which links to his ambition to recreate the physical sneaker community via mobile.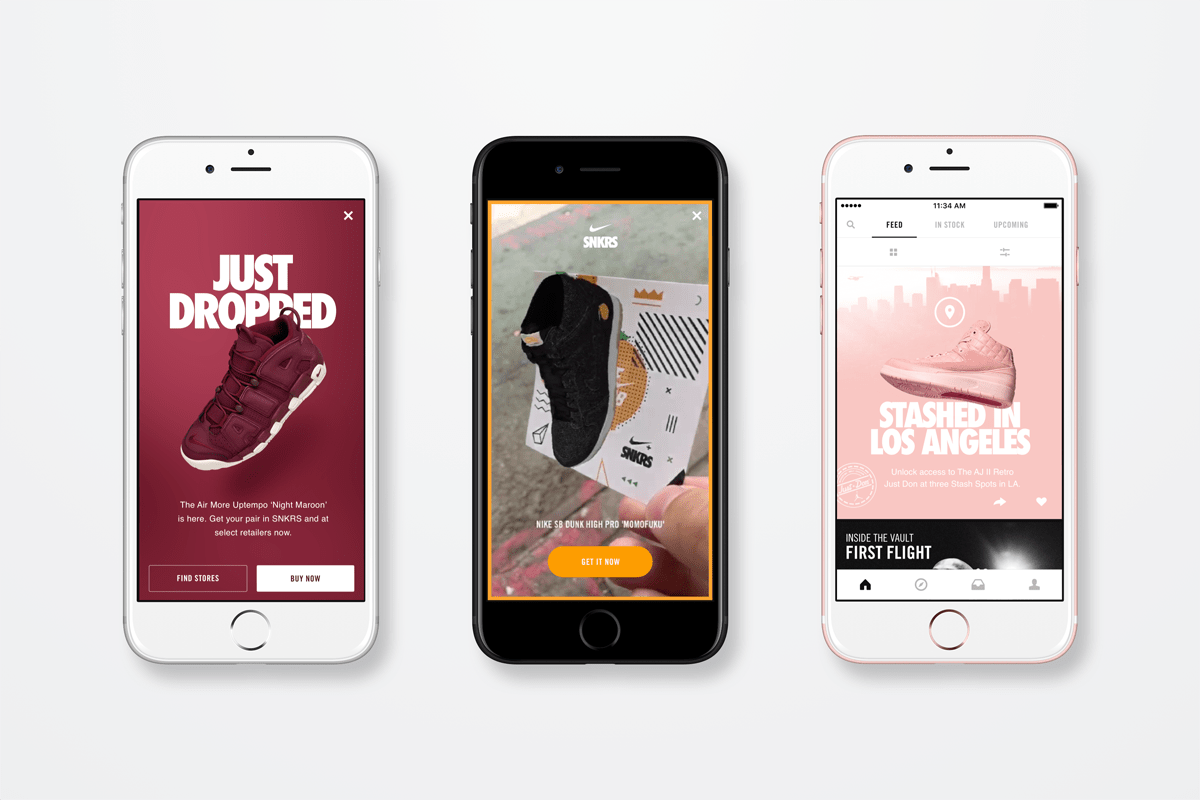 Nike's campaign to deepen its bond with consumers will not be without casualty. During the company's annual shareholders meeting in September 2017, chairman, CEO, and president Mark Parker said that while direct-to-consumer makes up one-third of Nike's business, it drove 70 percent of its growth in the year. As Nike focuses more on its direct business, it can become less reliant on wholesale partners.
Sneaker boutiques would appear to be in less danger here than big-box chains like Foot Locker due to their differentiated product and ability to better tell stories around it. But SNKRS is in some way an online recreation of the independently owned boutique, with more care spent on explaining history and building energy around items and limited releases. And it's hard to imagine stores truly competing with Nike in this arms race to reinvent how product reaches the customer; they just don't have the firepower or budgets. There's evidence that SNKRS is already eating up some of the business that these boutiques rely upon—one store owner complained to Sole Collector that the stock he had for a major release was shifted to be sold on the app. It can also siphon off some of the hype that drives shoppers to these stores on launch days by releasing pairs ahead of scheduled release dates. The irony of the threat that SNKRS poses to boutique accounts is that these stores helped cue Nike in to "sneaker culture" early on. Along with forums like NikeTalk, these physical spaces were where the footwear obsessions that Nike hopes to mine through SNKRS were born. 
Hearing Faris talk about his team's goals, one gets the sense that he genuinely cares about injecting a sense of community into the often cutthroat game of sneaker purchasing. He wants to avoid lineups, he wants people to work together to obtain coveted footwear, and he wants to reignite a passion around product. Sussman takes this a step further, saying that consumers love Nike and that it must do a better job showing it loves them back. (One without a company line to tow may more accurately describe it as a love-hate relationship.) There's nothing wrong with that—this site has certainly profited from those emotions for years—but anyone entering such a relationship would do well to keep in mind all the money and marketing involved. After all, the culture is based on cash.