1.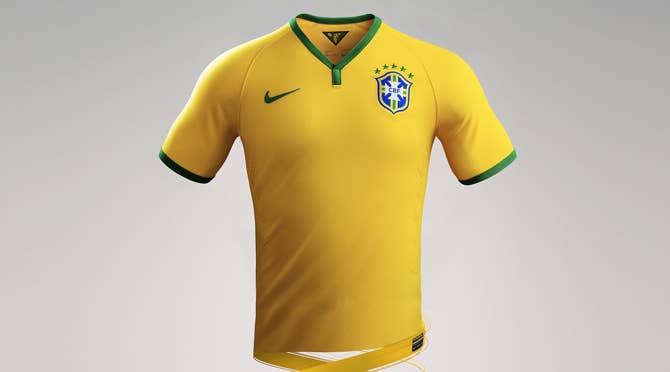 by Brendan Dunne
Nike might have played a part in the large-scale corruption scandal surrounding FIFA, the international governing body of soccer.
The federal indictment that charges nine FIFA officials and five corporate executives with corruption and racketeering doesn't mention Nike or any of its employees by name, but it suggests that the brand was involved in bribes relating to its sponsorship of Brazil's national soccer team.
The Portland Business Journal reports that the indictment mentions an unidentified "multinational sportswear company headquartered in the United States" that became the co-sponsor of Brazil's national team in 1996. Nike has sponsored Brazil's national soccer team since 1996.
The indictment says that the sportswear company signed a 10-year, $160 million agreement with the team in 1996 and later signed an agreement with sports marketing agency marketing agency Traffic Brazil that allowed the agency to invoice the company for fees for additional marketing services.
Traffic Brazil allegedly invoiced the sportswear company for $30 million in payments between 1996 and 1999, payments which were used in part for bribes and kickbacks.
It's unclear if the unidentified sportswear company involved knew about the kickbacks.
Nike has not commented on the details of the indictment, but it says it's cooperating with officials in the investigation of global soccer corruption.
"Nike believes in ethical and fair play in both business and sport and strongly opposes any form of manipulation or bribery," Nike said in a statement. "We have been cooperating, and will continue to cooperate, with the authorities."
UPDATE 5/29: Former Nike soccer executive Mick Hoban has spoken out about the company's alleged role in the FIFA scandal. In an interview with the Portland Business Journal, Hoban said that Nike never paid out bribes, despite the fact that bribery was "common knowledge" in the business of international soccer.
"There were literally tens, if not hundreds, of times when I was asked to do something dubious, if not illegal," he said. "Nike's standard response was to refuse."
UPDATE 5/30: Nike has issued the following statement on the matter, with an addendum clarifying that the company is not being charged with criminal conduct: