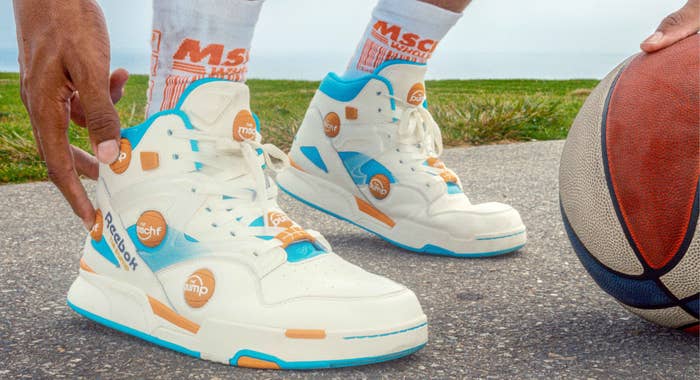 Dee Brown, the former Boston Celtic and Dunk Contest icon who won that competition in 1991 with an emphatic slam while shielding his eyes in the crook of his elbow, didn't originally intend for it to go that way. The move that he's famous for was a literal last-minute improvisation.
"I never practiced that dunk," Brown says, reminiscing on that NBA All-Star weekend in Charlotte, "so the first time I did it was at that contest."
Brown had planned for a windmill dunk. He also planned to incorporate his sneaker sponsor, Reebok, by wearing a hat from the brand and using it in the dunk. He wanted to take off into the air, tip his hat to the crowd, put it back on his head, and crank his long arm all the way around while flushing the ball home.
The NBA, which barred props from the Dunk Contest back then, did not want that. Someone from the league snatched the hat right before Brown approached the court for his final dunk.
"You can't use promotional material," Brown remembers being told. "You can't use a hat."
He had to pivot in the span of 25 seconds. Ten different moves went through his mind. Brown decided on a no-look dunk, a feat of supreme confidence that suggested any ball he held was destined to find the bottom of the net. He still made room for Reebok, pausing before his attempts to pump up the Reebok Omni Zone 2 sneakers he wore.
Brown understood that he had to win the crowd over, and that he might need more than athletic ability to do so. Pumping up his sneakers was his way of amping up the spectacle. He didn't think it was a big deal at the time, but use of his Reeboks helped pique interest in the shoes and set a new standard for product marketing in the NBA.
Decades after his All-Star turn, Brown is revisiting his heroics for a campaign with the art collective MSCHF, which is collaborating with Reebok on two pairs of Pump sneakers. Brown and his son Anakin feature in the anime-style video that introduced the shoes last week.
MSCHF's Reeboks are based on the Omni Zone 2 that Brown wore, but are pumped way beyond any reasonable measure. The MSCHF x Reebok Omni Zone 9s (so-called for their nine Pumps) will release on Sept. 27 at 2 p.m. EST for $250 via MCHF's website and app. The shoes come in two colorways: one meant to look box fresh and another meant to look like a vintage pair that's been aging away since Brown was in his prime.
Brown has long been loyal to Reebok, which struck a deal with him as soon as he turned pro in 1990. He says Nike was in the mix as a potential footwear partner as well, but that Reebok was the only company that approached him seriously. His Reebok deal, which he remembers being in the low six figures, did not take much negotiation.
"You gon' give me some money to wear basketball shoes for free?" he thought. "And I can get all the shoes I want? Where do I sign?"
The rookie benefitted from his team's proximity to Reebok's headquarters in the Boston area, and the relationship allowed him to go and get product straight from the source whenever he wanted.
"I'd go directly to the warehouse and basically leave the warehouse with 15 boxes of shoes and clothes and gear," Brown says. "Every two weeks, three weeks."
While he was close with the brand, he didn't give its leadership a heads-up on how much he intended to feature Reebok in his '91 Dunk Contest efforts. Other than a conversation he had with Reebok basketball marketing manager Joanne Borzakian, the brand didn't know what was coming.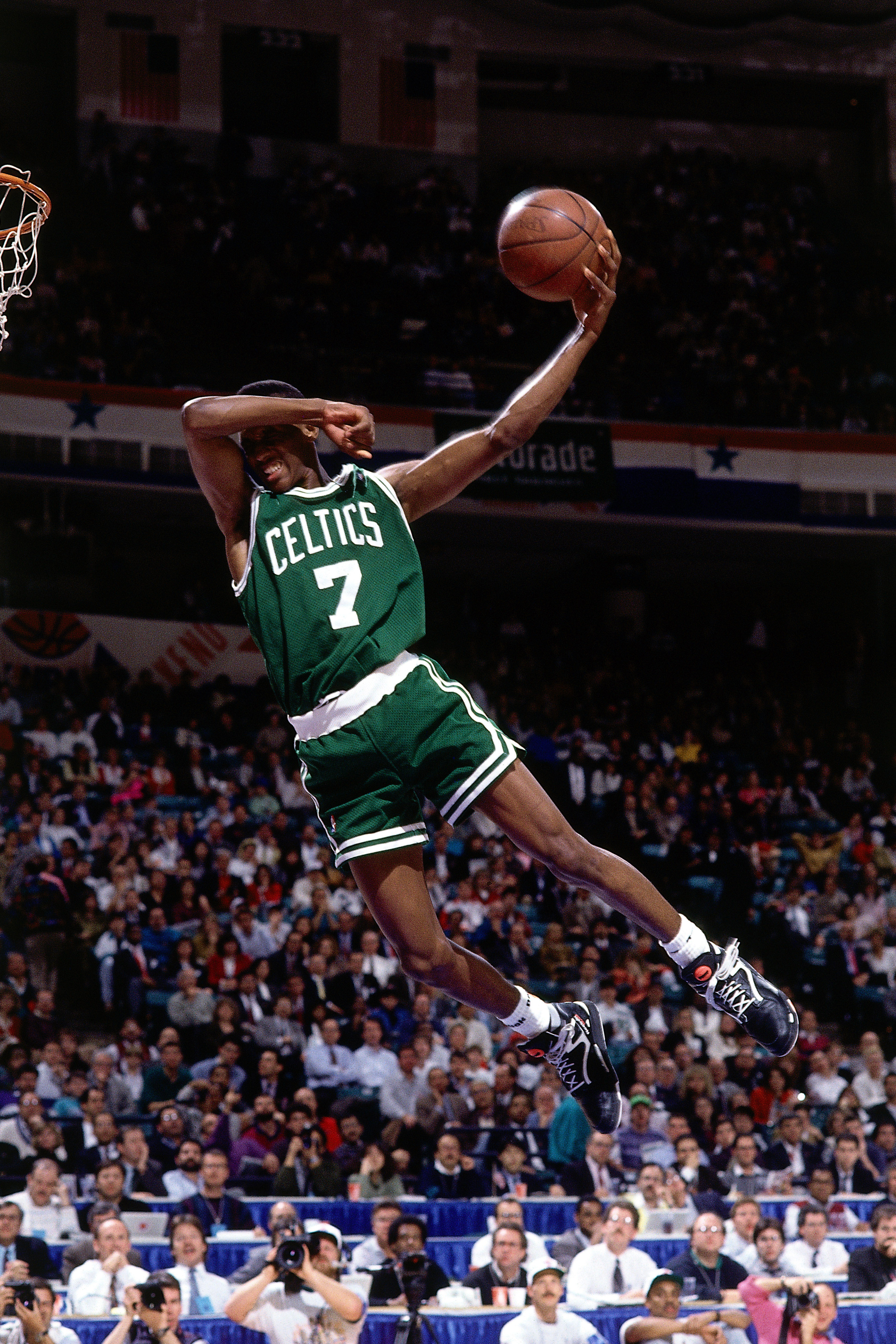 The same might be said for Reebok's collaboration with MSCHF. One former MSCHF employee told me that the group started work on building a ridiculous new Pump shoe overwhelmed with extra Pumps before bringing the idea to Reebok. (Current employees wouldn't confirm this.)
MSCHF and Reebok began conversations about collaborating on a sneaker in the first half of 2022. One early idea centered on Shaq's sneakers—MSCHF wanted to offer gigantic Reeboks made as large as Shaq's size 22 that could be worn by people in a more standard range of sizes. They decided on Pumps instead.
Reebok was insistent that if MSCHF wanted to exaggerate the Pump technology, to add extra apparatuses on the shoes utilizing its most famous sneaker tech, they had to be functional.
"From Reebok's perspective, that was the one thing in the contract that they said—they would not release a shoe with us if any of the air Pumps didn't work," says MSCHF chief creative officer Lukas Bentel.
A few of MSCHF's factory partners balked at the idea; some of them wanted to just fake the technology. Only one of them agreed to take the project on. Reebok was also skeptical that putting that many Pumps in the shoe could be done.
"I can neither confirm nor deny that the word 'impossible' was used early on," says Devin Burgoon, Reebok's senior director of marketing. "We definitely thought it was ambitious. We were holding our breath until we saw the first prototype, and we were all equally amazed that every Pump bladder was functional."
The first Reebok Pump shoe, released in 1989, allowed for customizable cushioning by letting the wearer press a button on the tongue that would inflate it. The early Pump shoes had one Pump connected to one bladder that could be inflated with air. The sensation that came with, and the notion that it might help you jump higher or protect your ankles, made the sneakers feel magical and gave Reebok an answer to Nike's Air tech during the sneaker wars of the late '80s and early '90s.
Arya Tabatabai, the head of manufacturing at MSCHF, lusted after a pair of Reebok Pumps in middle school. He wears Reebok regularly these days, preferring more plain shoes like the Reebok Classic Leather. If he does wear a Pump, he does not take advantage of its namesake technology.
"Personally, I don't Pump," says Tabatabai.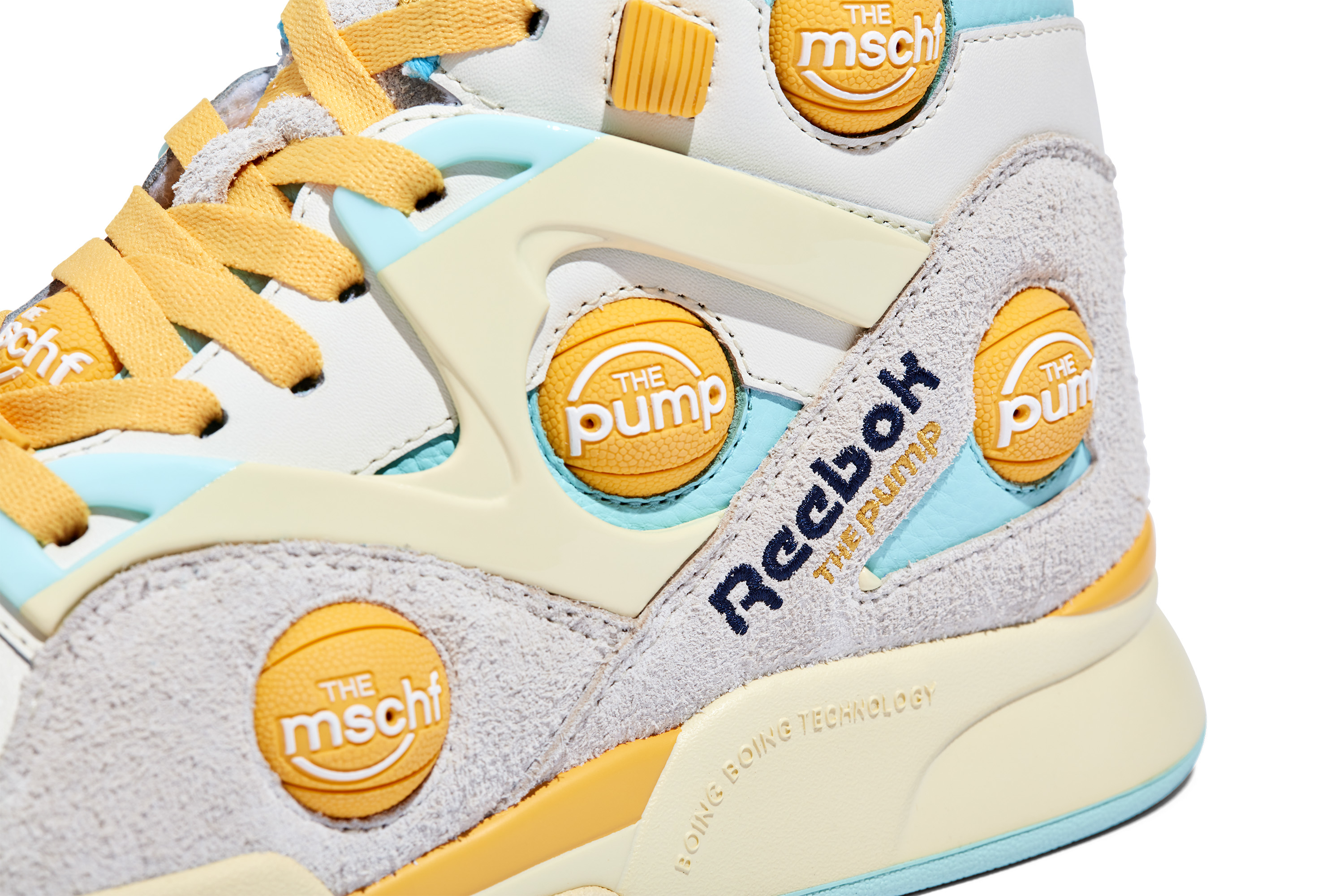 He was in charge of figuring out how MSCHF could make a Reebok Pump with as many Pumps as possible.
"The very first exercise we tried to do," says Tabatabai, "was, how do we attach multiple Pumps to a single airbag?"
Over the course of making the shoes, he cut up sneakers at MSCHF's office in Brooklyn while communicating with factories in Asia to solve production problems. Tabatabai sent specs to a factory in Asia on where to put the bags on the shoe and where to attach the associated Pumps.
Partly because of the demands of innovating on a 30-year-old silhouette, the Omni Zone 9 took longer to make than any other MSCHF shoe. Tabatabai says working alongside an established brand like Reebok extended to the timeline too—a collaborator always means extra time for approvals.
The shoes were produced by factories that MSCHF commissioned and then OK'd by Reebok, which is unusual when it comes to major sneaker brand collaborations. Generally, these sorts of projects have the bigger brand making the shoes after taking input from a smaller collab partner.
"The Reebok team said, 'Listen, we don't want to undertake this,'" says Tabatabai. "'We don't want to overload our factory or other people with it.'"
MSCHF's take on the Omni Zone 2 diverges from the original in a handful of ways. The new version is slightly slimmed down and hence a bit lighter. The TPU pieces on the upper are interrupted in places to make room for the Pumps. Those extra Pumps, Tabatabai explains, can help the shoe feel more secure on foot.
"Because the airbag is all over," says Tabatabai of the MSCHF Pump, "it's impossible not to feel its effect as you pump it up."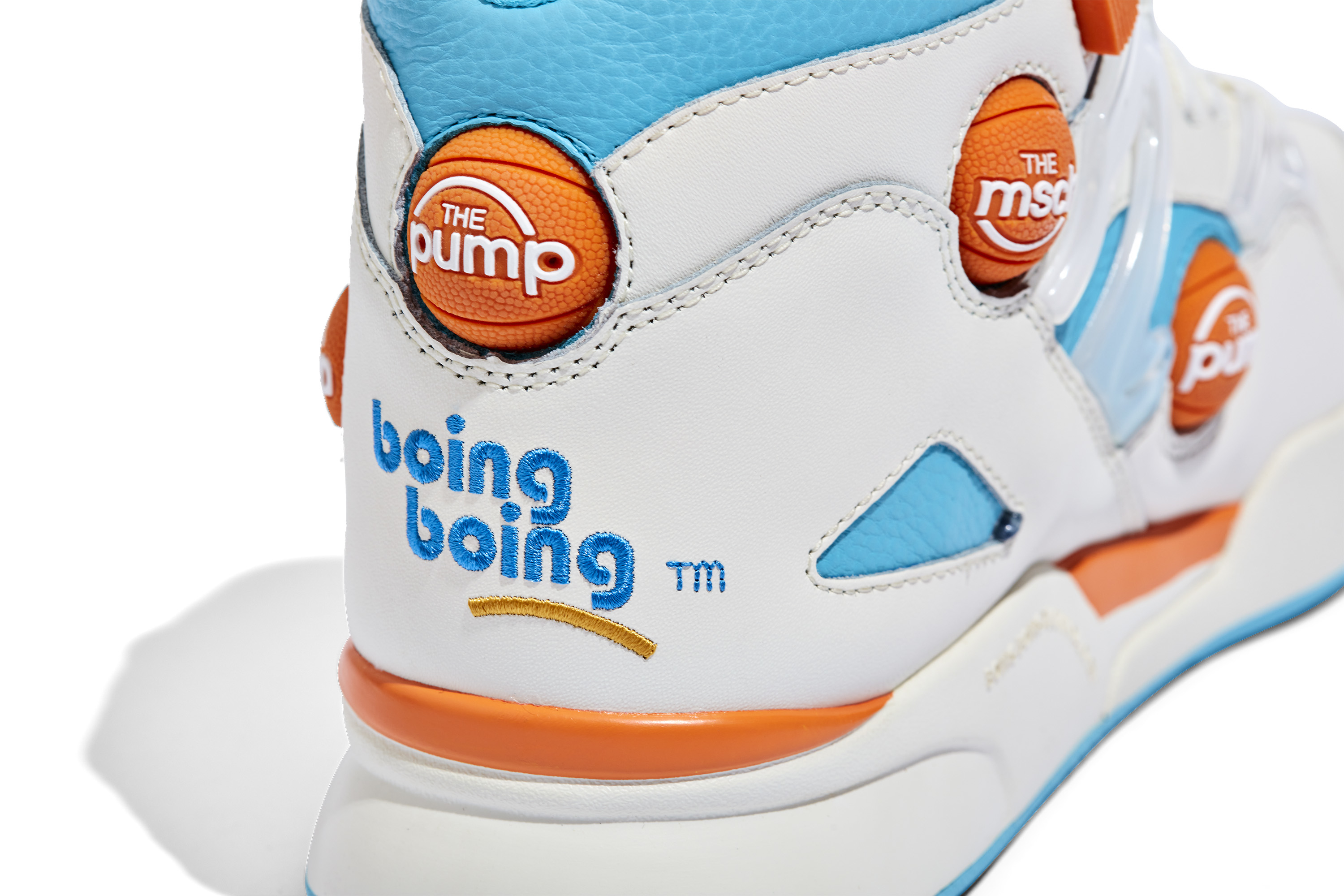 Reebok did not allow MSCHF free rein to use all of its sneaker tech. Hexalite, a hexagonal cushioning that looks like a honeycomb in the soles of your shoes, was off limits. MSCHF replaced it with Boing Boing, a "proprietary foam technology" that Bentel and Tabatabai giggle about while they grasp at what might be its potential benefits for the wearer. (It doesn't do anything.)
Brown, who played in Pumps regularly beyond this Dunk Contest theatrics, does not bristle at the bogus tech. Although, he was skeptical that MSCHF could pull off engineering feats necessary to make the shoes perform like the originals.
"Do all nine Pumps work?" he wondered. "Because if it doesn't, it's a gimmick."
He had to squeeze his size-14 foot into a shoe a full size smaller when he shot the ad for the collab because MSCHF didn't have its complete range of sizes yet. When Brown put the shoes on and Pumped them up, he was impressed.
"Holy cow," he thought to himself, "this is amazing."
MSCHF's anime-style ad for the shoes exaggerates the Pump's real-life capabilities. Via MSCHF
The commercial for the MSCHF shoes that Brown and his son appear in imagines the Pumps bestowing superhuman powers upon their wearers. (Brown's daughter Lexie, who plays for the Los Angeles Sparks in the WNBA, was going to be in it as well, but an injury held her back.) At the ad's climax, father and son float Kirby-like above the rim after pumping their sneakers to their limits. It's a hyperbolic vision of what once-cutting-edge sneakers could do for us.
Brown still believes in the Pumps. He wore them constantly when he played for the Celtics because he hated getting his ankles taped and saw the form-fitting capability of the Reebok shoe as an alternative. Did they actually make him jump higher though? He pauses while considering the measurable benefits of the Pump.
"That's subjective," Brown says.