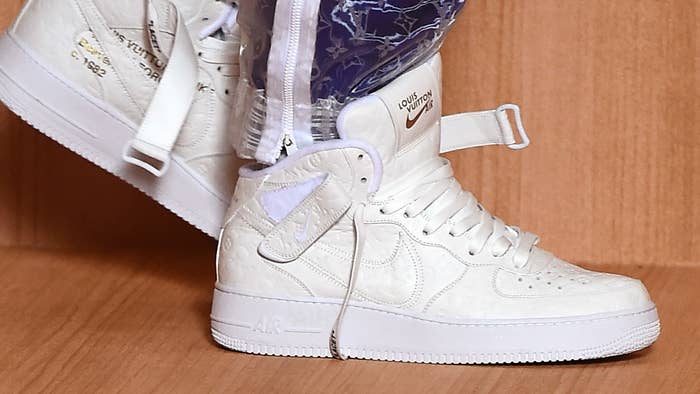 It can't possibly exist, yet it does. It's the sort of thing one expects to see posted as a mockup on a social media account or sold on a dubious website that may or may not actually fulfill the order. But the Louis Vuitton x Nike Air Force 1 collaboration is the real deal, a bold and deep collection of 21 sneakers unveiled to great surprise at the French fashion house's Spring 2022 men's show last week. They are the work of Louis Vuitton's menswear designer, Virgil Abloh, whose Nike résumé already includes a range of ambitious projects via his Off-White brand.
He has described the new Air Force 1s as being placed on a plinth, being complete simply by being inside the institution of fashion.
Long before the sneakers became official, they were a vision, something purely aspirational. They were a proposal from Black fashion that a pair of basketball shoes could exist in dialogue with European couture. It was all a dream, basically.
The shoes are peak hype wear, but they come with a story written across decades and sprouting up from subcultures into the mainstream. The Louis Vuitton x Nike Air Force 1 collection could only exist at this point in time, when sportswear and luxury fashion so comfortably interact, but also it can only exist through time, the story of the shoes starting in the late 1980s.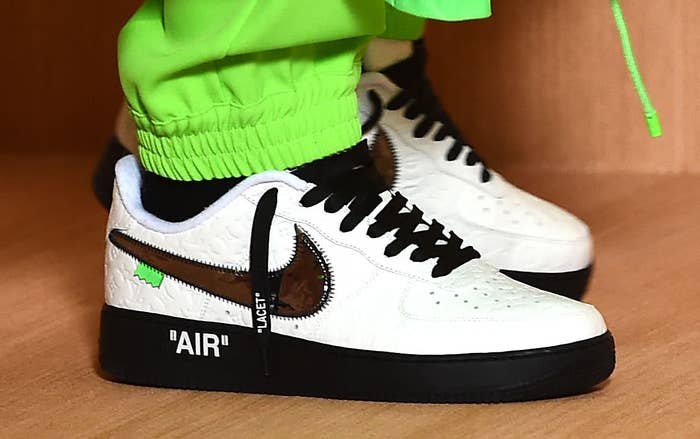 Their true progenitor is Daniel Day, better known as Dapper Dan. The Harlem fashion designer spent the '80s dressing rappers, athletes, and street stars by lifting prints from European houses and making them his own. In a style of sampling that mimicked the techniques of his hip-hop clientele, Day would take an established idea or design and reshape it, giving it new life in the form of an item that brands like his biggest inspirations, such as Louis Vuitton and MCM, would never have produced at the time. He silkscreened their logos into his own prints, making blueprints he could use freely.
His store, Dapper Dan's Boutique, was open from 1982 to 1992 for 365 days a year, around the clock. While it was best known for his apparel—tracksuits, leather jackets, and the like—the approach to appropriation extended to footwear. For powerful customers with serious money to spend, Dapper Dan's Boutique offered custom Nike Air Force 1 sneakers that used a Louis Vuitton pattern on their Swoosh. The more fabric used on the shoes, the more expensive they were. 
Though the mixture of Louis and Nike was novel, it wasn't necessarily a rare sight for New York's footwear cognoscenti in the late 1980s.
"Those weren't really anything special—semi-common Uptown fly guy joints," remembers Dante Ross, a music industry exec and record producer who's collected sneakers for as long as sneaker collecting has been a thing. "If you rocked it with a Dapper Dan suit it was a statement."
He's owned hundreds of pairs of Air Force 1s since the model debuted in 1982, and can still pull out ancient pairs on a moment's notice, but Ross never participated in the Dapper Dan custom versions of the sneaker. He, proudly hailing from downtown New York City, viewed them as an uptown thing. (A perpetual uptown thing, Air Force 1s remain colloquially known as "Uptowns.") To Ross, shoes like that were more appropriate for the uniform of Harlemites, rappers, and dope boys.
One son of Harlem who made the shoes his own was Rodney "Skip" Bryce, who grew up in the Lincoln Houses on the neighborhood's East side. He was known to the world as DJ E-Z Rock, partner of rapper Rob Base, with whom he released the 1988 smash single "It Takes Two." The classic song spawned an album of the same name, the cover art for which had E-Z Rock posing in a full Dapper Dan velour tracksuit with Louis Vuitton trim. On his feet was a matching custom pair of Air Force 1s by Dapper Dan, their Swoosh logo and heel tab overlayed with Louis icons. The outfit is rich and the look on his face lets you know it. While the sneakers on the cover made an important impression, even the select few who were keen enough to pay attention to the nuances of footwear back then didn't necessarily clock what was going on. The outfit was not impactful in the same way Rakim's wears of Dapper Dan designs were. The shoes are not referenced in the same breath as other classic hip-hop sneaker album art moments.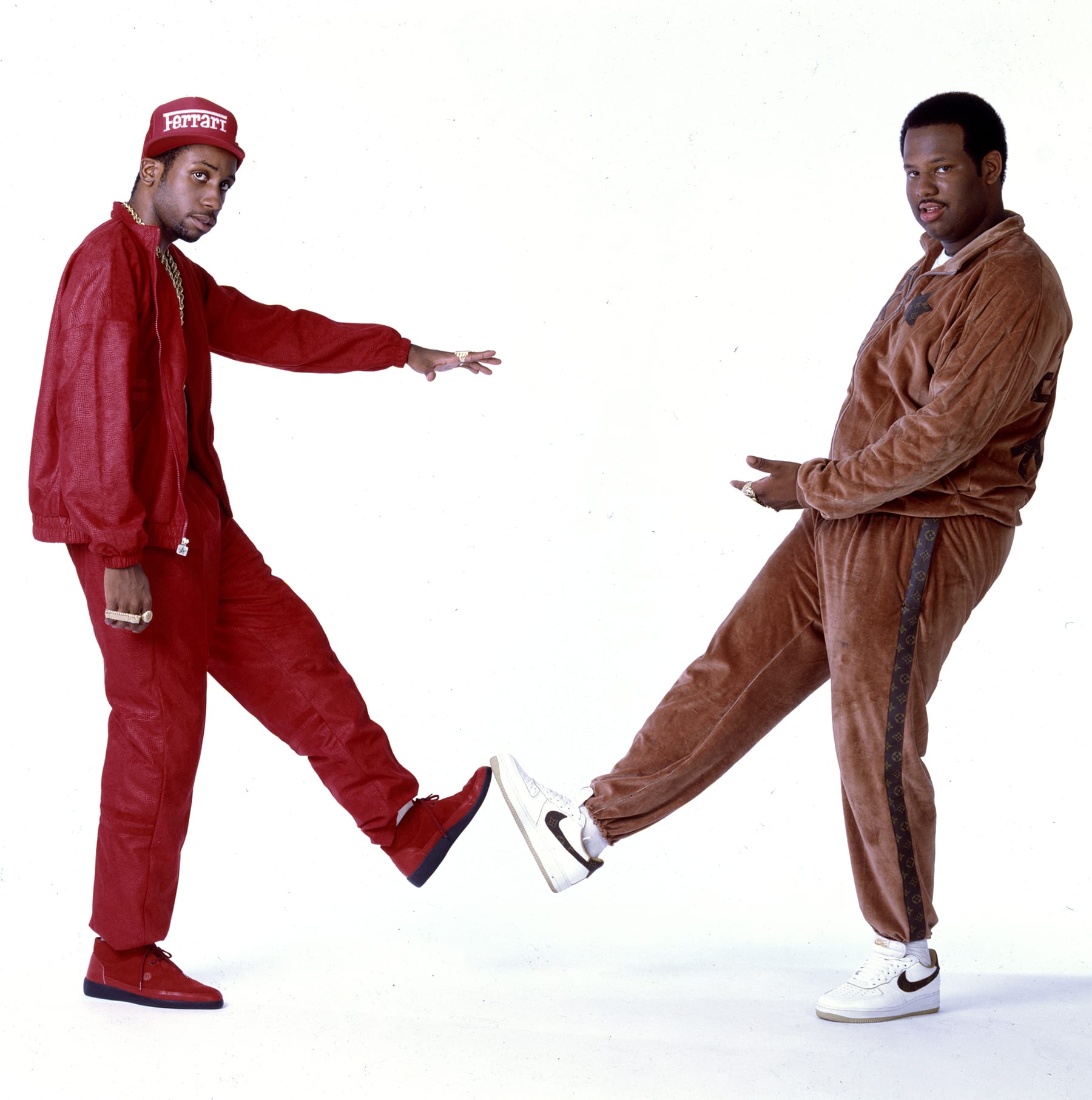 Janette Beckman, the photographer who captured those images of E-Z Rock in his Dapper Dan kicks, has no specific memories of the Nike-turned-Louis shoes aside from her technical efforts to render them properly.
"I would say as a photographer my main concern was that, 'Oh boy, I'm shooting on white and these guys got white shoes and I'm gonna have to make sure that I can see the white shoes against my white backdrop,'" she says now.
She became acquainted with Day when he opened his new atelier in 2018 and has photographed his recent work with Gucci, the house that embraced him as a brand partner in the 2010s. Beckman didn't recognize his oeuvre at the time, but Dapper Dan designs appeared frequently in her portraits of New York City's rap elite from the 1980s. When she first arrived in the US from her native England, the burgeoning hip-hop culture taught her to be aware of sneakers and what they meant in the scene, from the Pumas going anti-gravity in breakdance routines to the Adidas of Run-DMC.
She contrasts that era of style with what she sees now as more calculated. What rappers wore then was not a costume selected by an image maker; their likeness was defined more by their own taste.
"They were all small labels, so we didn't have hair and makeup and styling," Beckman says. "People would show up dressed as themselves, really."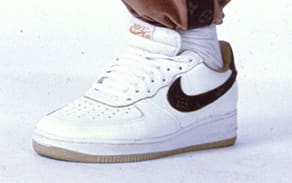 Over 30 years later, right about now, E-Z Rock's taste feels prescient. Louis Vuitton was explicit about naming the late DJ, who died in 2014, as an inspiration for the sneakers in a piece at WWD, the first outlet to report on the Air Force 1 project.
"The cover embodied the hip-hop community's early practice of hacking together high fashion and sportswear, sidelining diverging brands with equal reverence," the brand said in reference to the It Takes Two art. The actual show introducing the shoes had no overt inclusion of Dapper Dan, but the detailed production notes trace the Air Force 1s back to his Harlem atelier in the '80s.
The same reference point was an inspiration for Raif Adelberg, a strong-jawed Canadian who's shifted through countless eras in the streetwear industry. (Miraculously, he is without the bitterness that many men who helped build that game harbor.) Adelberg made and sold his own custom versions of Air Force 1s with Louis Vuitton print starting in 2001. He'd opened a pioneering clothing shop in Vancouver called 24 in 1997, but its establishment came before Nike granted accounts and allocations of sneakers to boutique-style shops that catered to collectors. Rather than rely on the brand, he had to find product himself.
"We used to travel to Japan and Europe and stuff like that," says Adelberg. "We'd go with empty suitcases and fill them up with limited-edition shoes and bring them back and resell them." He'd buy up phone books and seek out mom-and-pop shops to loot for deadstock shoes.
His store aimed high in concept. The idea was to give the streetwear shopper an experience like they might have at Hermès. It had valet parking, which most people took as a joke, and stocked Supreme before the brand decided to only sell its wares in its own stores. It didn't have an official relationship with Nike until 2001. Before then, if he wanted Nikes, he had to get them or make them himself. So Adelberg endeavored to re-create the Dapper Dan custom take on the Air Force 1, turning his childhood nostalgia into tangible product.
"I went to Champs and told them that I had a kids basketball camp and I needed a team discount so I could get a bunch of Air Force 1s, white," Adelberg says. "So I order them, I show up, and they roll out this palette of shoes for me. And I take them all to the cobbler, this local guy."
He cut up Louis Vuitton bags he'd collected that were sitting around his house, supplied the cobbler with the materials, and had around 48 pairs made. They looked like the Dapper Dan pairs: white at their base with the recognizable Louis Vuitton pattern wrapping the Swoosh. Adelberg put them on sale at his store for $300 each. Nobody was buying it.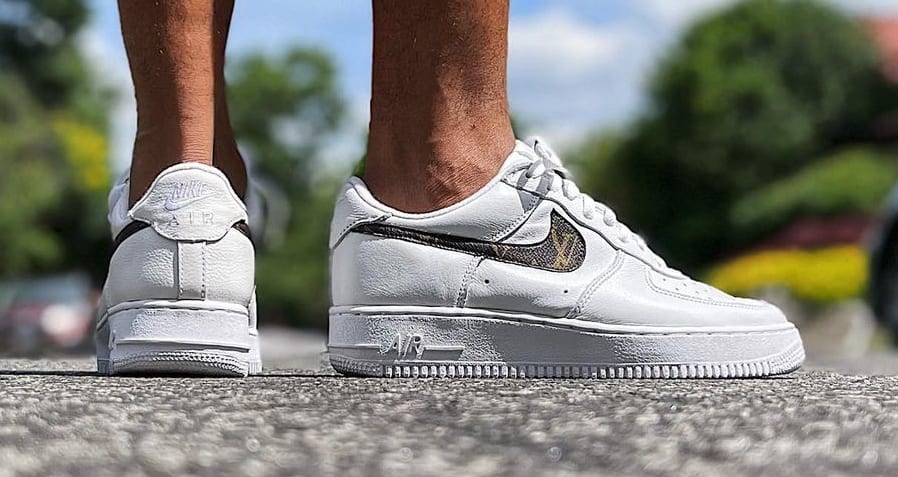 Maybe the combined distance across space and time—across a continent and after a decade—was too great to overcome. With the internet still nascent, it's hard to imagine many British Columbia residents being hyped about a remix of a somewhat niche icon of Harlem footwear. Adelberg's take on the Louis Vuitton version of the Air Force 1 found a better audience in Los Angeles at Union, a store that was better equipped for such a specific product. He shipped six pairs to Eddie Cruz, one of the original owners of Union. They sold out immediately.
Demand picked up—Mary-Ann Fusco, who was running the original Union location in New York, wanted pairs to stock. Rappers like Posdnuos of De La Soul and Nas started buying them. Adelberg churned out sequels, flipping Burberry and Gucci prints onto the shoes. Though business was good, it was not always stable.
"A shipment got stuck in customs because the shipments kept getting bigger and bigger and bigger," Adelberg says.
Eventually Cruz (who went on to found seminal West Coast sneaker shop Undefeated) asked if he could get the blessing to have Union make the shoes in-house. Adelberg, feeling no ownership of an idea he'd borrowed in the first place (but some uneasiness at letting the revenue stream go), acquiesced. The fluid exchange of the intellectual property around the shoes is emblematic of their story.
The notes for the fashion show where the official Louis Vuitton x Nike Air Force 1s first appeared last week work against what they label as "the myth of ownership in contemporary creativity." The device illustrating this is the widely sampled "Amen, Brother," a 1969 song by the Winstons that has been endlessly chopped into new forms of music via sampling. Its drum break, the isolated section of the song that a generation of musicians mutated into something new, is foundational to hip-hop.
The Louis Vuitton x Nike Air Force 1 has followed a similar, if much narrower path. It began as an unauthorized hybrid. It was later remade for a different type of consumer when Adelberg revived the design. He even heard that Nike had made one pair in-house in the early 2000s as an experiment, making it semi-real if not publicly available. Abloh's work might give Day's prophecy of sportswear its most tangible form yet, although Louis Vuitton is being coy about whether the shoes will actually release: "stay tuned for more details" is all a spokesperson will offer on that for now.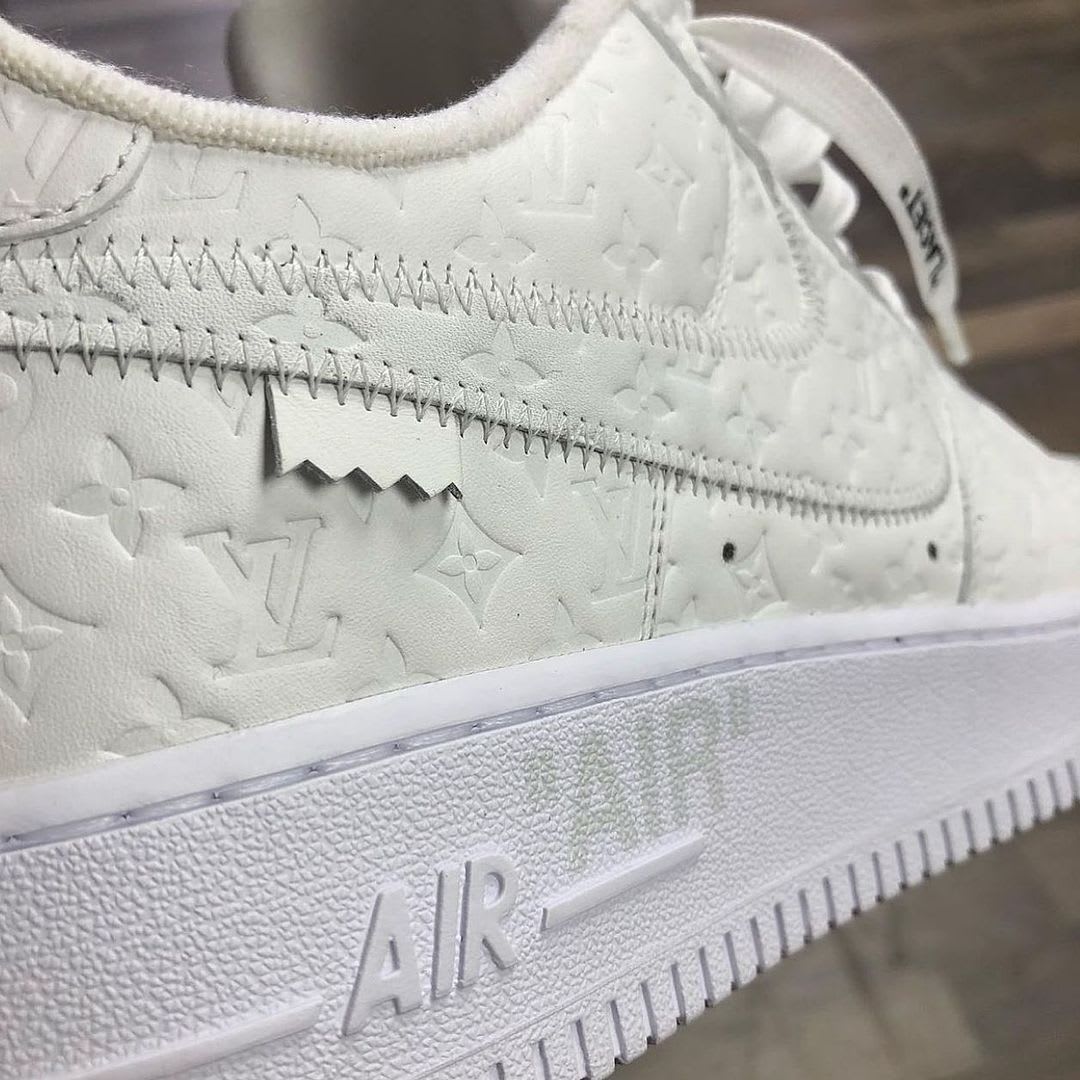 Still, proper public release or not, the shoes are real now, and their progress to that point is more important than any singular chapter in their story. Of course, the story becomes infinitely more convoluted when the many fakes and imitation styles enter the scene. Fake sneakers are universally dismissed as taboo, but necessary to consider here given the slippery definition of what constitutes authentic in a culture that thrived through resculpting patterns without permission.
Abdul Fouzi, a Washington DC-based sneaker collector known for his love of the Air Force 1, thought the design was Union's idea when he first encountered the shoes there around 2001. He was aware of the Dapper Dan era in New York, but had no firsthand experience of it, having first arrived in the US from his native Sierra Leone in 1990. After he bought his pair from Union, he secured another on eBay. After that, he started to see fake versions of the shoes proliferate.
"Some of it was very clever and very smart," says Fouzi. "You could find them floating all over the internet, you could find it [in] little stores here and there. Obviously those were all knock-off."
These were different from the ones that Dapper Dan and Adelberg sold in that they did not use legitimate Nike products as their base. Fouzi also witnessed the spread of this second generation style of imitation-luxury Air Force 1, which permeated hip-hop at the time.
"Later on you started seeing the Burberry pairs, the Gucci pairs, and things like that on the streets. You saw Ja Rule with, like, I think it was a Burberry joint on a video or something like that," he says. "You could call those customs or you could call them fakes. But all of that was all happening at around the same time."
Ross, who was around when Dapper Dan first blended Louis Vuitton into a Nike sneaker, recalls that even before the shoes popped back up at Union, copies of the style that appeared on the It Takes Two cover were available.
"The knock-offs started and were perpetual, seemingly from Day 1," he says. "I would say some version of the Louis bootleg Nike was getting made since E-Z Rock wore 'em, they never really went away."
The Louis Vuitton-style Air Force 1s and their variant forms—fake, real, custom, copy thereof, all of the above, etc.—have persisted. They have reached now what appears to be their final form, an officially sanctioned Nike project whose DNA was scraped from the streets of Harlem and preserved by curators, collectors, and at least one Canadian over the years.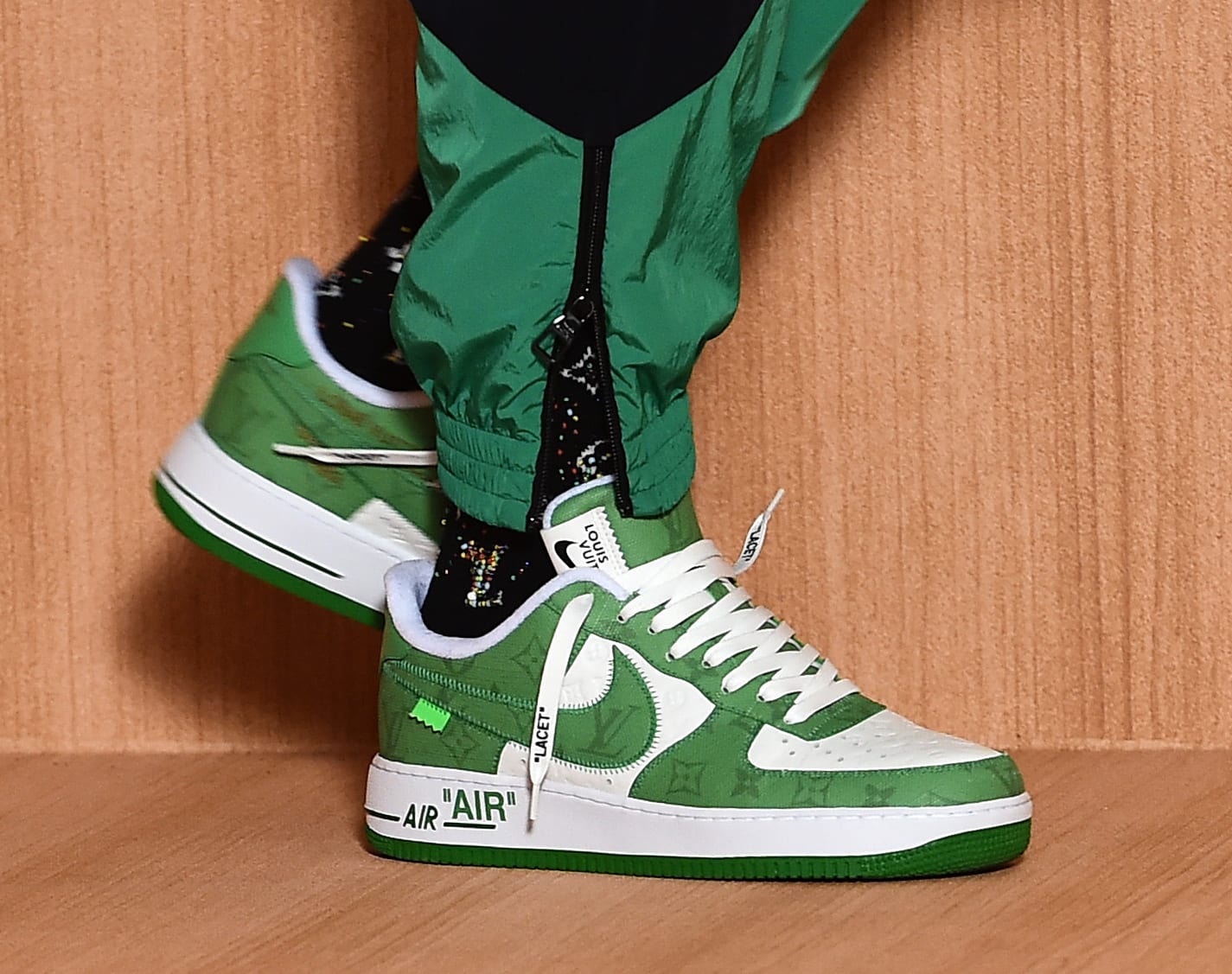 The idea of the sneakers is not new. The idea of this kind of crossover isn't new either—just last year, Nike-owned Jordan Brand put out a retro sneaker with Dior, and before that Supreme put out a range with Louis Vuitton in 2017 after flipping its style to the point of a cease and desist back in 2000. If anything, the Louis Vuitton x Nike Air Force 1s are a replica of a copy of a knockoff. With the tools Abloh is using, that's the whole point.
He has been accused of copying without credit before, but this is not a Xerox machine swipe. It's a borrowing of styles and scraps in the tradition of hip-hop. In a conversation uploaded to SoundCloud where Abloh discusses the images and people who inspired his latest Louis Vuitton show, his metaphor is the mixer, a device used to seamlessly blend divergent sounds. Here, he is standing behind the sampler, looping a familiar break that has echoed out through different eras. The Louis Vuitton x Nike Air Force 1, a sneaker collaboration over 30 years in the making, simply closes the loop.