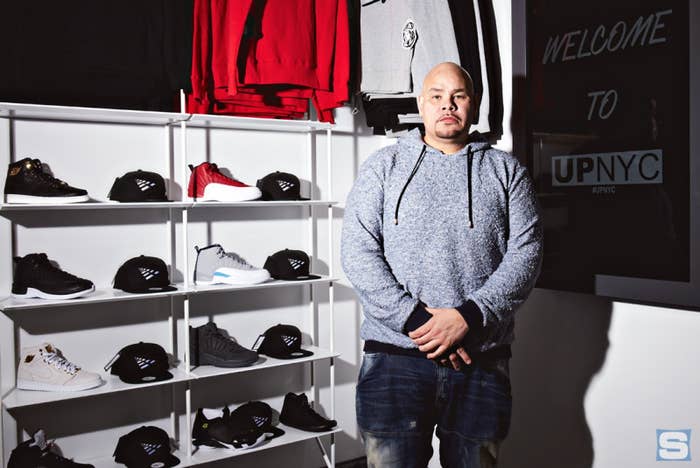 The grand opening of sneaker store Up NYC was a celebratory occasion by all accounts. On Nov. 5, 2016, eager shoppers were lined up the block to purchase the coveted shoes within. Throughout the day, rappers and athletes skipped the wait, heading straight inside to congratulate the store's co-founder, Bronx rapper Fat Joe, on his new business venture.
The store's other co-founder, 19-year-old Scott Spina, frantically handled transactions, a glittering Terror Squad chain around his neck seemingly cementing his spot in Joe's inner circle. Somewhere between then and now, things went sour between the business partners.
On Feb. 15, the payment processing company handling the store's credit card sales sued Spina and Fat Joe (birth name Joseph Cartagena) for $318,815 over allegations of credit card fraud. On Feb. 21, Spina sued Cartagena, claiming the rapper banned him from the store shortly after its opening and left him out of hundreds of thousands of dollars in sneaker sales.
The Feb. 15 complaint, filed by payment processing company Cayan in the Southern District of New York, alleges that the store used customers' credit card information to rack up fake charges. In it, Cayan accuses the defendants of fraud, breach of contract, unjust enrichment, negligent supervision, and a violation of the RICO Act. Cartagena's name doesn't appear in the lawsuit, but the defendants listed are Spina and All the Way Up LLC, a company formed by Cartagena and Spina.
According to Cayan, 30 separate, unauthorized charges were processed at Up NYC between December, 2016, and January, 2017. The lawsuit alleges that Spina's personal credentials were used to process all of the charges, and that those charges came from online orders via IP addresses originating near addresses affiliated with Spina.
Cayan became aware of the fraudulent charges after shoppers began processing chargebacks and contacted Spina and All the Way Up LLC about them. The lawsuit says that the defendants refused to pay for the fishy charges, breaching a prior agreement. Cayan had a reserve account set up to pay for some of the unauthorized charges, but it says it's still owed "at least $318,815.45 in unpaid chargebacks." The payment company believes that either Spina or All the Way Up LLC still have those ill-gotten funds in their possession.
While much of the blame in that filing falls on Spina, he claims that he's been banned from the store since November. The Feb. 21 complaint, brought by Spina against Cartagena in the District Court of New Jersey, tells the story of the store's genesis. In it, Spina says that he worked for months without pay to open the store and put up $480,000 to make Up NYC happen, despite being told initially that Cartagena would fund the operation.
Spina is suing for the money he invested in the store and profits owed, which he says he never received. He claims he was unlawfully ejected from the store on Nov. 25, 2016—just 20 days after its opening—and has been banned from returning since.
The lawsuit describes a takeover orchestrated by Cartagena in which Spina was cut out of the business that he put up so much of his own money to start. He alleges that Cartagena had the store's manager open a new bank account, to which money from store sales was diverted without his knowledge. Spina says that Cartagena's close friends were hired to run the store and then disconnected its cameras, locked him out of his Nike account, and effectively pushed him out of the business. In the lawsuit, Spina says that Cartagena incorporated a new LLC, Up NYC, and diverted all the property from their co-founded LLC, All the Way Up, to it. Spina says Cartagena still operates both of the similarly named companies.
Spina's lawsuit touches briefly on the store's debts owed to Cayan, mentioning them alongside outstanding debts owed to ADT and the City of New York.
Spina declined to comment on these matters when contacted by Sole Collector. Cartagena did not immediately respond to a request for comment.