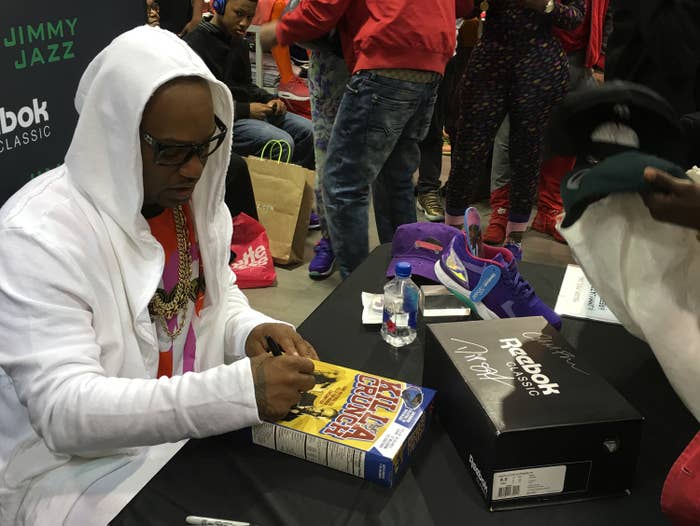 Reebok really let Cam'ron release his own weed-inspired sneaker, drenched in purple and pink, complete with his likeness mean-mugging from the insole via one of the more iconic photos ever snapped of the Uptown rapper. Let that sink in for a second. Giving the shoe a proper introduction, the brand brought the son of Harlem back home—to sneaker store Jimmy Jazz on 125th St. to be exact—for a shoe signing on 4/20 (No other day would suffice for a "Purple Haze" shoe).
He arrived how only Cam could, somehow maneuvering past the cops posted out front to keep the eager crowd that had built from getting out of control, clad in what looked like a bathrobe and dripping with jewelry, his landing soundtracked by hits from the height of the Dipset era and highlights of his more recent output. Amid the chaos, we got a few minutes to chat with Cam'ron about his history in the shoe game, the price of Jordans growing up, and the time his grandma made him throw his sneakers away.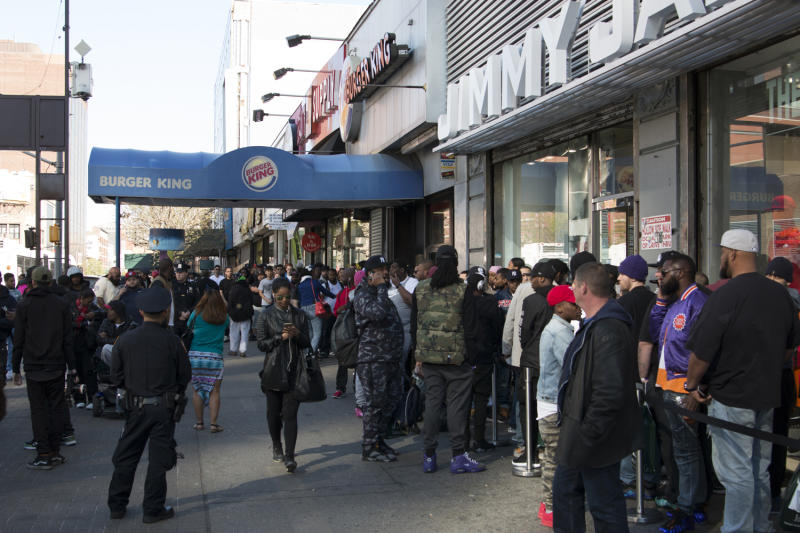 We hear about the Roc-A-Fella days when everyone was competing to be fresher than each other—Damon Dash buying more jerseys than Just Blaze. Do you remember those kinds of battles on a sneaker level?
We're from Harlem before we got to Roc-A-Fella. Dame from Harlem. It was getting fresh just going to the store. Like if you had to get toilet paper, you made sure you were fresh. It was way before the Roc-A-Fella days. I think that stems from just being from Harlem. We're in competition with each other.
Even in high school it seems like you were probably focused on the sneakers through playing basketball at a high level. What were the shoes you were trying to get back in those days?
I mean back in those days, Reebok was hot back then too. Of course Michael Jordan, you know. I tell the younger kids, now Jordans got numbers, but back then there wasn't no numbers and they argue with me, "There was always numbers." People didn't know Jordan was going to be that good. So when the first pair of Jordans come out, they wasn't called the "Ones" because nobody knew he was going to be that good to get a second or third pair.
You were with the Roc when Jay Z did the S. Carter Reebok deal. Do you remember when that happened? Was everyone getting pairs?
I remember he did it, but that was his money. It wasn't everyone else's money. We made some money when Dame bought PRO-Keds. Dame bought the company called Keds and he actually gave me the first pair of "Purple Haze" sneakers that was PRO-Keds. That was really dope.
It seems like you guys are so heavy into fashion—how did this not happen sooner? Were there talks earlier on with other sneaker brands?
To be honest my man Dame Presson from Reebok made all this happen. He been fighting for me up there for two years. This is really his vision. Of course I supported it, but we've been telling the people at Reebok they need to do this for a while. They was hesitant. We finally got them to commit to a thousand pairs and made it happen. But to be honest, this is the first kind of sneaker on a high level that I've been offered. Dame made this all happen.
Were they worried at all about the weed connotation?
No. Nobody. If they was, they ain't mentioned it to me, so it was cool. But I'm pretty sure they're mad they didn't make more now.
On your Instagram you had that crazy shot of that storage space with all the sneakers. How many sneakers have you thrown away over the years? What happens to all the old stuff?
I don't throw sneakers away—I need to. I need to throw a bunch of sneakers away. So I just put them in storage, like 4,000 pairs of sneakers. You know what's crazy? I'm looking at some sneakers I'm like, "I need to throw some away."
What's the plan? Donate them?
I have no plan. I remember I had sneakers when I was young and my grandma made me throw some out. Me and my cousin Bloodshed—he passed away—dumped 'em all on the street and went across the street and just watched mad people come take the sneakers that was just left in the middle of the street. 
You just had too many of them?
We had too many sneakers. We lived in an apartment, there was nowhere to keep 'em.
What's the craziest thing you've ever done for a pair of sneakers?
To be honest, I ain't really have to do too much crazy—maybe stole from my mom's purse or something like that. You know back in the days, the early '90s, sneakers was $100. Jordan made them $100. Nobody wanted to—parents didn't understand sneakers costing $100. So, probably stole some money, but I ain't do nothing crazy for no sneakers.
You couldn't just ask for them? Your parents weren't trying to buy a $100 pair of sneakers?
Nah.