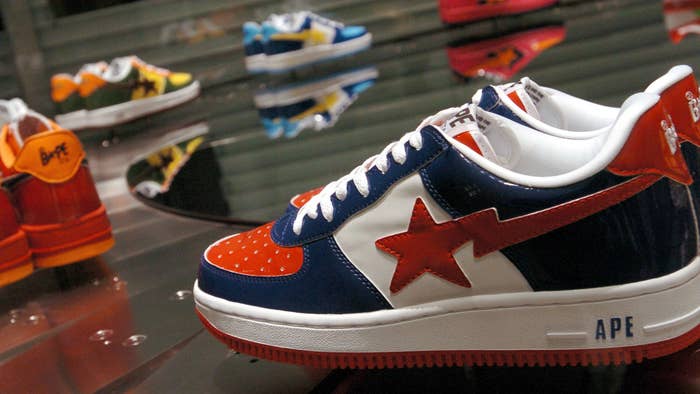 In a letter submitted in New York's Southern District Court on Friday, lawyers for Bape shed light on the iconic streetwear brand's long dispute with Nike over the Bape Sta sneaker. The letter from Bape's legal team references a 2009 meeting between Bape and Nike where the sneaker giant seemingly proposed to Bape a licensing agreement for the Bape Sta.
The new information about the disagreement between Bape and Nike comes amid a legal battle instigated in January by the latter, which is accusing Bape of trademark infringement.
The lawsuit centers around the Bape Sta sneaker, which is based on Nike's Air Force 1. The shoes feature similar uppers and soles, although Bape's version replaces the Air Force 1's Swoosh logo with a shooting star. Nike says the Bape Sta infringes on its trademarks for the Air Force 1 and wants Bape to stop selling the shoe and its other Nike lookalikes.
Bape's lawyers are requesting a conference ahead of an anticipated motion to dismiss Nike's lawsuit. The letter notifying the court of the pre-motion conference marks Bape's first response to Nike's allegations.
Bape's lawyers say that Nike's in-house counsel and VP of footwear flew to Japan twice in October 2009 to meet with Bape's leadership and "to object to Bape's sneaker designs." The lawyers say that Nike proposed an agreement with Bape that would force it to stop selling Bape Stas. Bape rejected the agreement that same month, according to its legal team.
The filing from Friday quotes directly from an email that Bape sent Nike in October 2009.
"We appreciate your efforts in coming over to Japan to discuss and present the license agreement in person," reads the quoted 2009 email from Bape's lawyers. "On careful review the license is not something we can rush to agree to since we do not perceive that Nike would have, at this late date, if at all, any viable or actionable claims against Nowhere/Bape."
There has long been speculation that Bape eluded litigation from Nike for so many years because there was an agreement between the two, and the email's reference to a potential licensing deal is the first real indication that Nike at one point considered such an arrangement.
"Perhaps we are overlooking something," the quoted email from Bape continues, "so in the interest of mutual cooperation, we would be more than amenable to reconsider our position, provided that you expressly spell out for us what claims Nike believes that it could advance against Nowhere/Bape. Once we receive this information, we will be able to more fully consider your offer of a license. look forward to hearing from you."
Nike's lawyers referenced Nike meeting with Bape in 2009 in their initial complaint, saying that the streetwear brand diminished its business in the US after the meeting.
Nike brass was familiar with Bape well before then. One person who was once close with the sneaker brand's leadership tells Complex that Mark Parker, who served as Nike's CEO from 2006 to 2020, met Bape founder Nigo in Japan in the early 2000s.
In the request for a pre-conference motion, Bape's lawyers say that Nike walked away from the dispute in 2009 after being asked specifically about the claims it had against Bape. 
"Three years later, in 2012, Nike introduced its new in-house counsel to Bape indicating that he wanted to further discuss Nike's concerns regarding the Bape Sta sneakers," Bape's lawyers say. "But Nike's new in-house counsel never contacted Bape."
Bape's legal team says that the brand didn't hear from Nike's counsel again until the demand letter that came before the trademark infringement lawsuit filed in January.
Now, Bape wants Nike's lawsuit dismissed. In the lawsuit, Nike says that Bape's shoes based on popular Nike models like the Air Force 1, Air Jordan 1, and Dunk infringe upon those designs' trade dress, which is a trademark that protects their physical appearance.
Bape's lawyers say that Nike's complaint does not sufficiently identify the distinctive elements that make up its trade dress for those shoes. The lawsuit includes trademark registration numbers, drawings, and photos of the associated shoes, but Bape argues that's not enough.
"Nike has no choice but to spell out the elements of its trade dress or have its complaint dismissed," Bape's lawyers say.
Nike, per the letter submitted on Friday, plans to oppose the motion for dismissal.