1.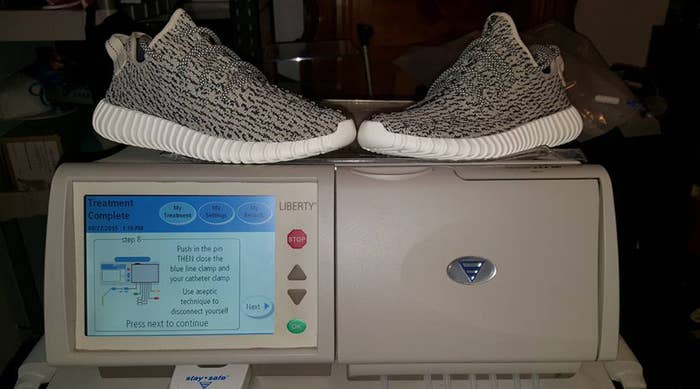 by Brendan Dunne
A pair of adidas Yeezy 350 Boosts might give one Michigan man a new lease on life.
Matt Neal, 26, of Ann Arbor, Mich., posted on the Facebook group WDYWT seeking to trade the Kanye West sneakers for a new kidney. Neal explains in the caption and the comments that he has two failing kidneys and has been on dialysis for two years now.
He mentions that it's illegal to actually buy a kidney in the U.S., but seems to be hoping that trading his pair of size 10 Yeezys offers a loophole.
Despite the post being not an hour old at the time of writing, Neal already has plenty of support. His original photo has been liked 165 times and he says in the comments section that users interested in donating their kidneys have messaged him.
For what it's worth, Neal has a good sense of humor about the whole thing, calling his own failing kidney one that's been "abused by being a hype beast."
Anyone hoping to help out can read his full post here.
UPDATE 8/30: According to TMZ's post on the story, Kanye and Kim Kardashian were made aware of of Neal's situation and were moved. They say if he does end up trading his Yeezys for a new kidney, they'll replace them with another pair.
Federal law prohibits anyone from exchanging money or merchandise or an organ, but fortunately, many people who have seen Neal's Facebook post have offered to help for free. Here's hoping this story has a happy ending.