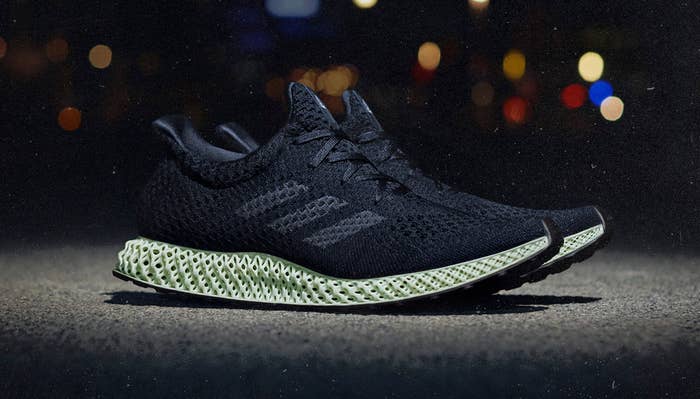 The release of Adidas' highly anticipated Futurecraft 4D sneakers ($300) is happening next week, the brand confirmed in a press release on Friday. The announcement about the release, happening on Jan. 18 at New York-area retailers Kith, Packer, and Sneakersnstuff, comes as something of a surprise in the wake of a legal issue surrounding the model.
The Adidas Futurecraft 4D is created in partnership with Carbon, a Silicon Valley-based tech company. The shoe uses a process called digital light synthesis to create midsole material using light and oxygen.
Popular leaker account Yeezy Mafia wrote on Twitter on Jan. 4 that the model would be available on Jan. 18, only to write later on Jan. 9 that the shoe was delayed "due to legal reasons." The account went on to speculate that Under Armour, which released a similar-looking 3D-printed sneaker in 2017, was taking legal action against Adidas over the design.
FUTURECRAFT 4D RUNNER

Core Black / Ash Green

18th January on Confirmed Web (Date subject to change again)

pic.twitter.com/X5C438iMx6
Dear All

Due to Legal Reasons

Futurecraft 4D and Alphaedge 4D release won't release in Spring/Summer 2018

pic.twitter.com/hy9UWqZvcM
At the time of writing, there are no court documents indicating a brewing legal battle between Adidas and Under Armour over this or any other shoes. An Under Armour spokesperson declined to comment, writing to Sole Collector that the brand does not speak publicly on its intellectual property strategy. An Adidas spokesperson did not provide a comment.
Despite this, there is evidence that a legal issue threatened to delay the launch of the shoes. In an email sent out to Adidas employees in Europe and obtained by Sole Collector, the brand wrote that the Futurecraft 4D and the similar Alphaedge 4D model wouldn't be launched in Spring/Summer 2018 "due to legal reasons." The email was not explicit about the nature of these issues.
The Adidas Futurecraft 4D was unveiled in April 2017, and 300 pairs of the shoe were given to friends and family last year. Adidas said then that it planned to release an additional 5,000 pairs by December 2017, but that launch never materialized. It's unclear if next week's wave of pairs will deliver on that number.