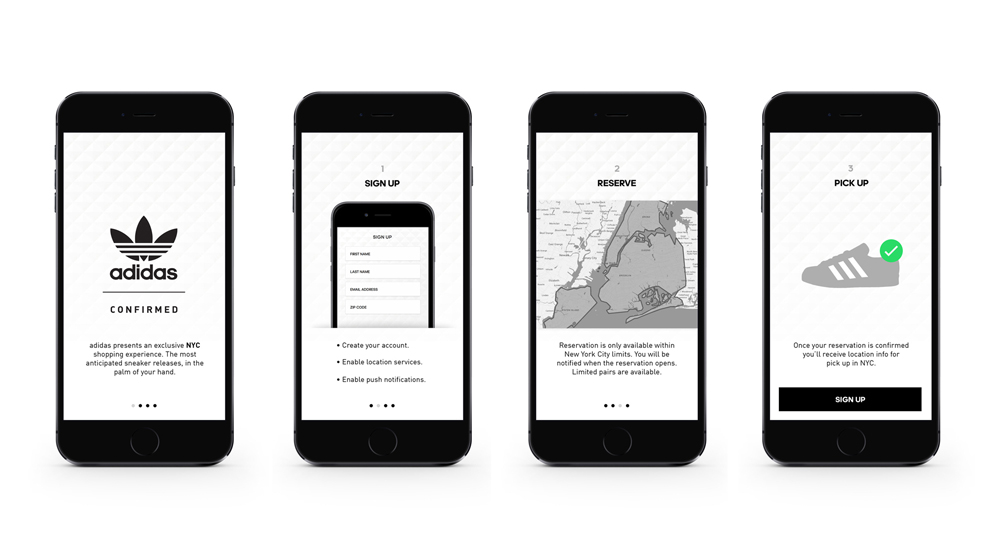 by Brendan Dunne
adidas wants to change the way you buy sneakers. The long lines, the acts of violence, and the automated purchasing bots have soured the sneaker scene more and more in recent years, but the brand is hoping its new mobile app, adidas Confirmed, will be the solution.
Announced this week, Confirmed offers the ability to purchase sought-after product on a mobile platform. The app shrinks the number of people competing for a single release by using geo-targeting to send push notifications to users in the vicinity of a product launch. If you're in the right zone, you'll be able reserve said sneakers on your phone and then pick up and pay at a nearby location within a designated time frame.
The hotly anticipated Kanye West x adidas product will launch through this app, and there seems no better testing ground for how the platform can handle hype.
"Online you've seen a lot of commentary regarding people thinking that the release of products is somehow rigged or favored," said Simon Atkins, adidas' vice president of brand activation, who's played a big part in bringing the product to the public. He added that the app was born out of, "Large amounts of consumer frustration," from sneaker releases that have been botched by the big brands.
Physical sneaker releases have been increasingly problematic. Stories of massive crowds, violence, and even police activity at sneaker launches are unfortunately now commonplace. Atkins acknowledged this, saying, "In SoHo in New York, in our own store, sometimes we've had permitting issues because of overnight lines."
Six months ago, Atkins and his team took it upon themselves to change the paradigm and to figure out a way to bring this type of sought after product to consumers in a fair and equitable way. While no product has released through the adidas Confirmed app yet, there are already some criticisms and challenges.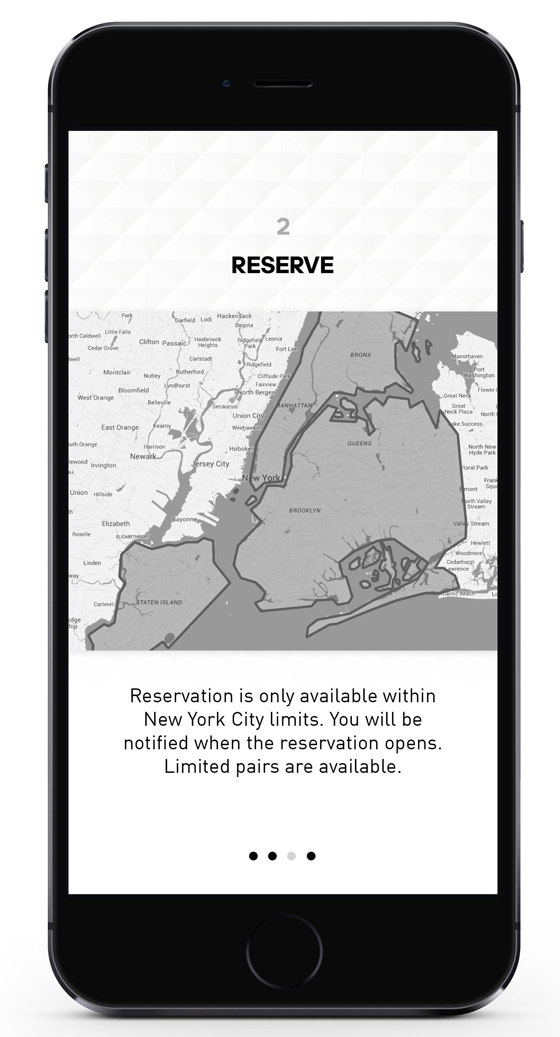 Many were miffed at the fact that the first release through the app will be an NYC exclusive. Atkins insists that the long-term plans for the app involve a wider geographic distribution, and that the small launch will serve as a test for how best to scale things up.
"That's the whole point of the app, right?" Atkins said. "Everybody has an equal shot. We just want to make sure that we do right by the consumers and roll it out in a smart and consistent way."
As is always the case when dealing with limited products, the app faces the threat of being compromised. Nike's Twitter RSVP service was quickly broken by people who wrote scripts, and the brand was forced to adapt with photo tweets containing the relevant codes. Since, Twitter RSVP has been retired. Nike's online releases are often the source of complaints, as certain pairs immediately disappear thanks to bots that are able to add items to carts faster than a human possibly could.
Does Atkins think that Nike has failed in this regard?
"You'd have to ask Nike themselves on that," he said. "What we are focusing in on is how can we put the consumer first."
In the same way that Nike's Twitter RSVP, Twitter Link Only, and other launch styles have been targeted, adidas Confirmed will be targeted.
There are already reports of people tricking the GPS in their phones to put them "in the zone" for the regionally exclusive NYC launch that's coming up. On this end, Atkins has promised that, "We're very aware, day in day out, hour in hour out, as to what the feedback is on the app and how the app could potentially be compromised."
adidas' ability to adapt and keep the system fair, along with its ability to create a stream of coveted products that deserve this type of launch, will be the ultimate test for adidas Confirmed. Regardless of the outcome, it's refreshing to see a brand taking these sort of steps to please the consumer–especially with regards to sneaker releases that would sell out anyway.
"Everybody could walk in, whether it's our own retail stores or our wholesale partners, with the cash registers full," Atkins said. "It's not about that. It's very much about how we can improve the experience from start to finish with our consumers."
Atkins and the adidas team at large want to solve the problems of people having to line up again for restocks or a lottery system that they feel is rigged. "This takes away from what is the essence of the really exciting part of our business," he said.
Atkins sees a future for adidas that includes continued support of product launches through apps. He also mentioned that he sees adidas at the forefront of a new paradigm for limited sneaker releases, one that the rest of the industry might be chasing if adidas Confirmed goes right.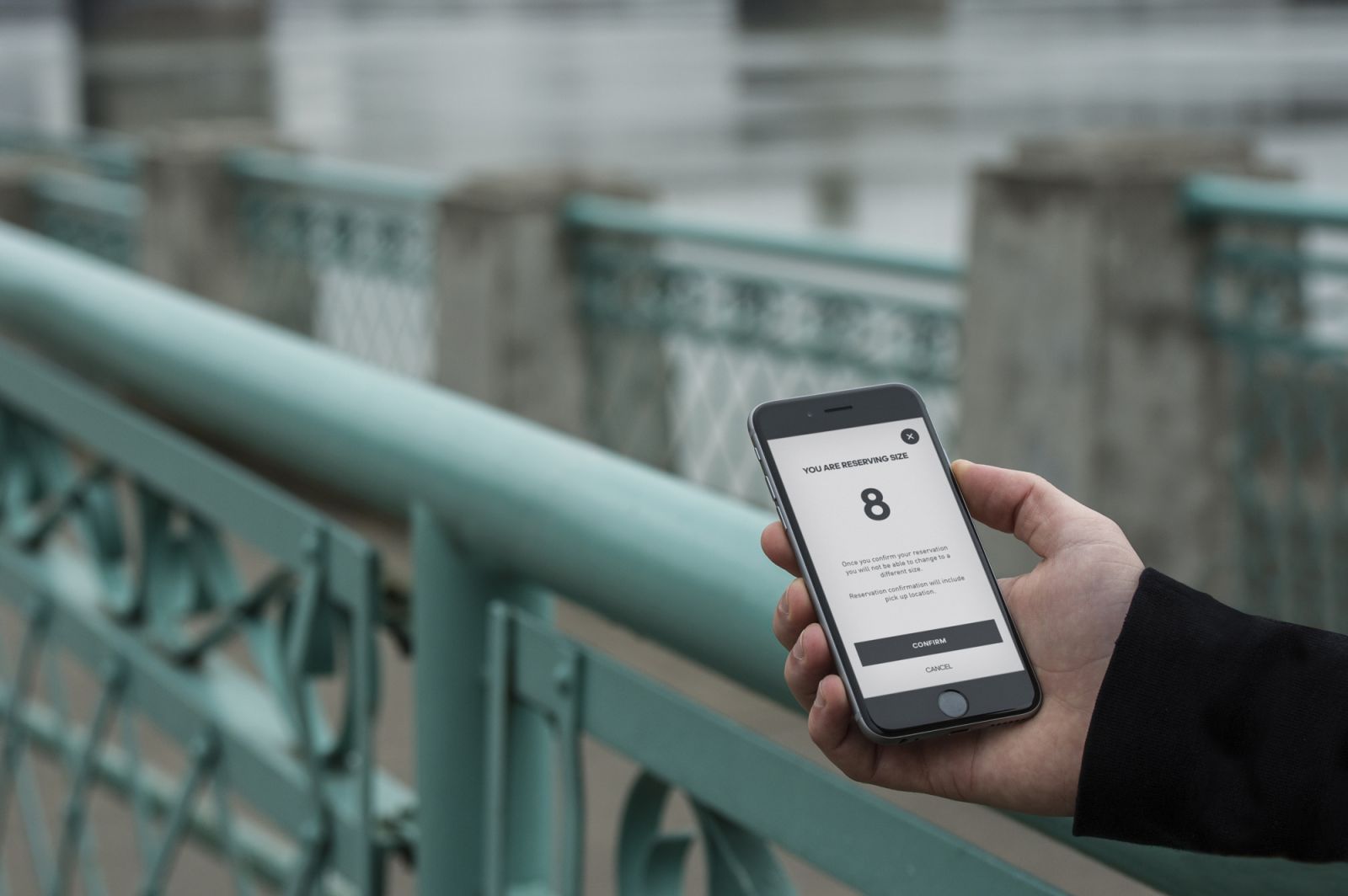 Atkins on adidas Confirmed's NYC-only launch:
"This is a long term project. There's an opportunity to be very focused around NYC. We want to be sure that the experience is seamless. We're going to have personnel on site at every location that the app will be servicing to make sure that the consumer, the first people to experience it, get that. We're going to make sure that we make any tweaks or improvements that we need, and then we can roll it out as quickly and as broadly as we need. The intent is not to exclude people."
On how frequent the adidas Confirmed releases will be:
"We're going to go case by case. [We'll use it] where we think the demands far exceed the supply, or where we have specific projects where we want to maximize this kind of experience. It's going to have a level of flexibility whether we can do it zonally or nationally. We're going to cherry pick through those projects now and in the future. When you look at our recent work, the past 12 months, all our high-demand limited release products, we'll take a portion of those where we really think that the app can be of great use."
On adidas Confirmed being used to launch product through other retailers:
"We're in good conversations with a lot of our wholesale and retail partners and we will work through, case by case, what is the distribution. The app has the capability of servicing any type of distribution, not only our own. Depending on the type of product and the distribution and the type of retail partners that we've got, we can swap out the service level of the app accordingly."
On spending so much effort on the delivery of sneakers that will sell out regardless:
"The products that we will want to release that have this type of interest could sell out instantly. I'm sure you've been in lines or spoken to people in lines and seen frustration where people haven't collected. And then people are having to line up again for restocks, or a lottery system that they feel is rigged, or online where bots seem to somehow instantly get there first. And then a resell industry that immediately pops up straight after. That takes away from what is the essence of the really exciting part of our business. That's what the app is there to do from start to finish: to deliver a better experience."