1.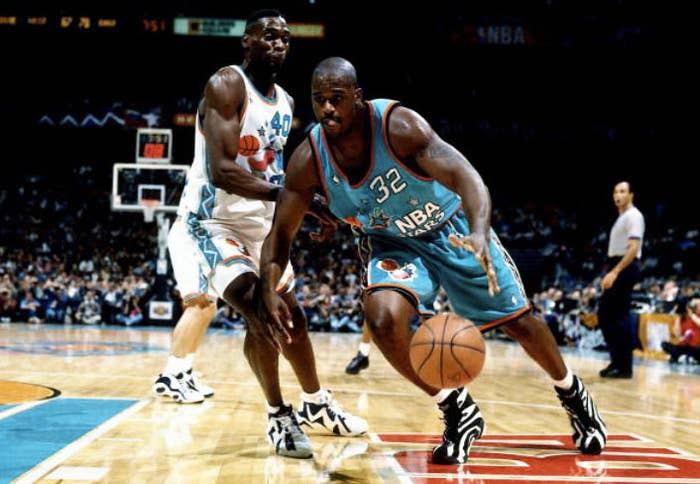 Once upon a time, Reebok was a basketball powerhouse.
During the brand's golden era, vector logos were on the feet of the game's marquee players. And like that vintage vector logo, Reebok may be on the verge of being phased out in the NBA.
As of today, the brand has no new performance footwear, a wealth of struggling retro product and lacks a signature athlete to carry the legacy forward. They're almost completely irrelevant in the category, but it wasn't always this way.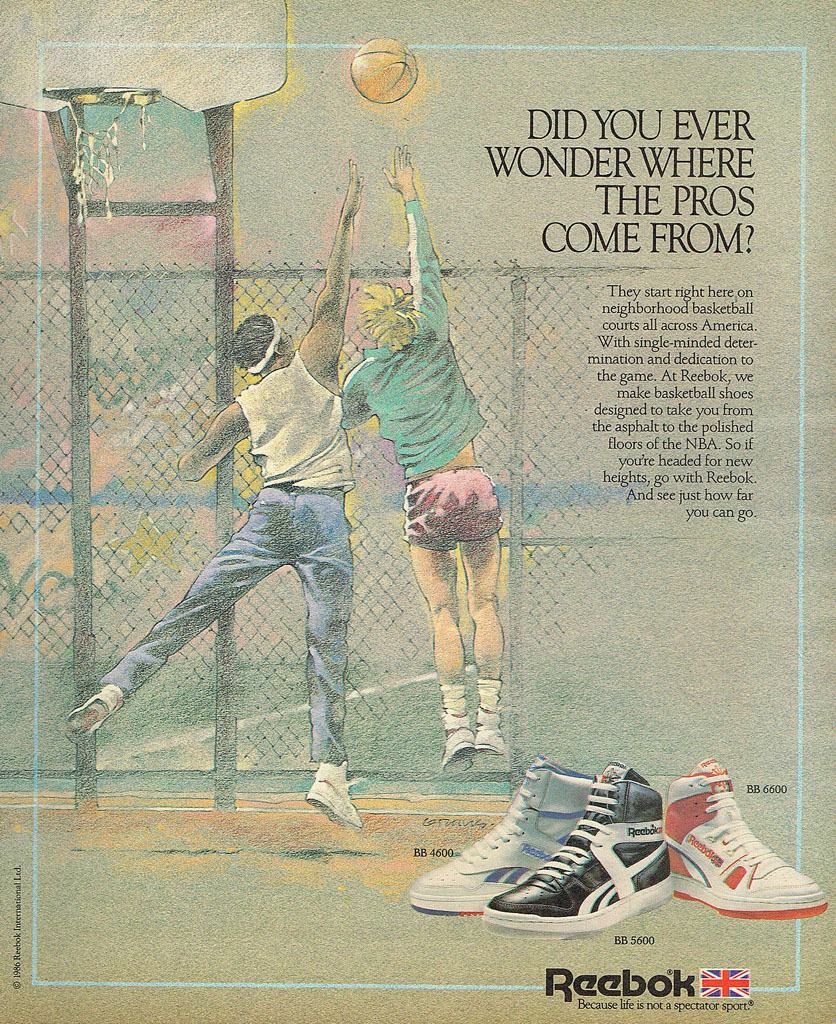 After failing to connect with consumers by tagging select Freestyle releases as 'Basketball Edition' in the early 80s, Reebok officially entered the hoops world in 1986. The brand pried Boston Celtics teammates Dennis Johnson and Danny Ainge away from Nike and launched the first models from the BB series. By 1987, Reebok controlled 26 percent of the athletic shoe market, with basketball accounting for 8.6 percent of their total sales.
Momentum stalled shortly after, as Reebok took a backseat to the rise of Nike Air, but the brand was able to drum up interest once again with the introduction of the Pump in 1989. The inflatable technology was implemented into various silhouettes, including the Omni Zone worn by Dee Brown for his no-look dunk in the 1991 Slam Dunk Contest. Reebok sold 20 million pairs of Pumps over a four-year period.
However, as quickly as the Pump took off, the big seller slumped. Looking to regain some of their declining market share, Reebok Basketball turned to endorsements, landing incoming rookie Shaquille O'Neal in 1992. The Big Fella was never a major mover for the brand, but he did provide it with an aura of relevance as one of the game's best young players and biggest personalities. O'Neal and Reebok mutually ended their partnership in 1998, as the larger-than-life superstar looked to establish his own Dunkman brand.
Aware of their fading presence in the NBA, Reebok went all-in on Allen Iverson in 1996. The gamble paid off, as Iverson delivered at the cash registers and in helping change the perception of the brand. The relationship between Iverson and Reebok was initially such a success that the two agreed on a 10-year 'lifetime' extension in 2001.
2.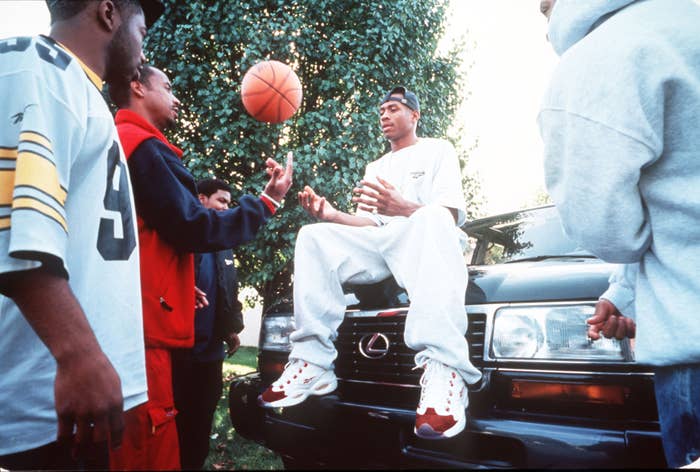 Despite their best efforts, Reebok failed to build a stable roster around Iverson throughout his years. Steve Francis was a flash in the pan and never quite connected as lead for the Blacktop Collection. Yao Ming was viewed as a major acquisition in 2003, but foot injuries derailed his career and Reebok was blamed by some for his early retirement. By 2010, Iverson's pro career was a wrap and his signature line was cut off after the Answer 13. Reebok took one final swing with signature athletes by adding John Wall in 2010. On the heels of the success of the Zig Pulse running shoe, Wall led three Zig-equipped basketball models. Unfortunately, ZigTech in basketball didn't yield similar results, and Wall was shifted to parent company adidas in 2013. He is now playing the best basketball of his career.
Today, Reebok's NBA representation is limited to just four players. There's Gerald Green, a longtime journeyman who turned his career around after a two-year hiatus from the league. Backup point guard Ramon Sessions is buried on the bench, and his star has faded in recent years. Jason Terry (age 37) and Andre Miller (38) round out the group. Clearly, there are no signature caliber players in the fold. And after losing Nerlens Noel and Isaiah Thomas earlier this season, Reebok Basketball is virtually a non-factor. To avoid going the way of once great, now somewhat defunct hoop brands like Converse, FILA and Etonic, they need a brand overhaul and signature presence.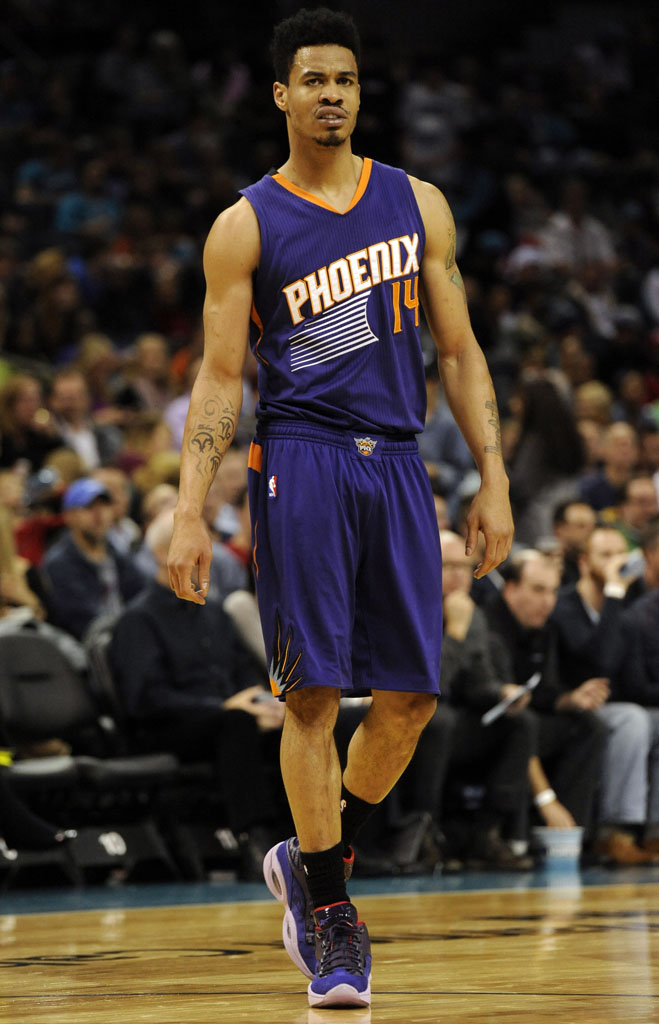 Though not exactly going toe-to-toe with Nike, adidas and Under Armour have kept themselves in the discussion with aggressive moves. John Wall and Dame Lillard have been added to adidas' signature lineup, while Under Armour made a serious play for Kevin Durant over the summer and just introduced Stephen Curry's first signature model. As the old guard prepares to bow out, there's an influx of new talent waiting in the wings, and these brands are making sure they have a piece of the future.
On the business front, the basketball footwear market is thriving right now. Last April, NPD Group calculated a 12 percent growth in basketball performance sales from the previous year. Similarly, basketball-inspired footwear grew 9 percent during the same period. Overall, basketball-related footwear accounted for 25 percent of all athletic footwear sales. Despite the fact that more money is being spent on basketball footwear, Reebok has less than 1 percent of the market share and they haven't made much of an effort to reverse that trend in recent years.
Stripping business away from the discussion, Reebok belongs on the court. From the BB series to the Pump to the Question, Reebok has always answered the call when they needed to. Brown's no-look dunk, Shaq tearing down goals and Allen Iverson breaking Michael Jordan's ankles are all iconic basketball moments that are immediately linked to Reebok. The story of basketball footwear cannot be told without a chapter on Reebok, but that chapter is rapidly nearing completion.
Amid rumors that adidas is looking to part with its subsidiary, Reebok is making a strong play in other categories. The company has reassumed its identity as a fitness brand and even unveiled a new logo last year to reflect the change. Last month, they became the official partner of UFC and signed several top fighters to endorsement deals.
The brand was once so strong that no fewer than 20 of its heritage models are currently back on the market. The problem is that most of those shoes are stashed away in the deepest part of the discount bin with a full size run. Reebok Basketball is in dire need of fresh faces, product and innovations. Their story no longer resonates — with crowds young or old. Now is the time to get back into the conversation, or risk turning the page for good.
Brandon Richard is a writer for Sole Collector who has spent more money on Reebok than any other sneaker brand for the past two years. You can follow him on Twitter here.