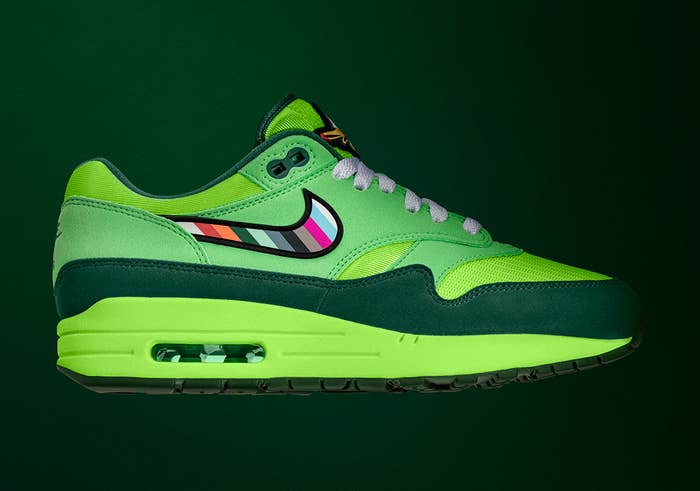 The expanding presence of sneakers and the sneaker industry in the NFT space continues with the launch of Division Street, a marketing agency co-founded by Phil Knight and other notable University of Oregon alumni focused on developing NIL opportunities for Oregon student-athletes. The agency's first NFT Collection, "Flying Formations," is a limited-edition series of 120 one-of-a-kind NFTs created by legendary Nike designer Tinker Hatfield to benefit Oregon Athletes. Accompanying each NFT purchased will be a physical "Ducks of a Feather" Nike Air Max 1 also created by Hatfield.
A model originally crafted by Hatfield, the Air Max 1 gets reworked in varying shades of Oregon green, highlighted by SMPTE color bar-like hits on the Duck tongue patch and Swooshes. Each pair will be autographed by Hatfield.
Following the sale of the NFTs, a claim window will be announced for the shoes. During the window, owners of the Flying Formations NFT will be able to verify ownership and claim the pair of shoes associated with their NFT. Each NFT is associated with a unique pair of Air Max 1s, with its own size and serial number.
"Ducks of a Feather" auctions officially open on Feb. 20. Visits ducksofafeather.xyz to learn more about the project.