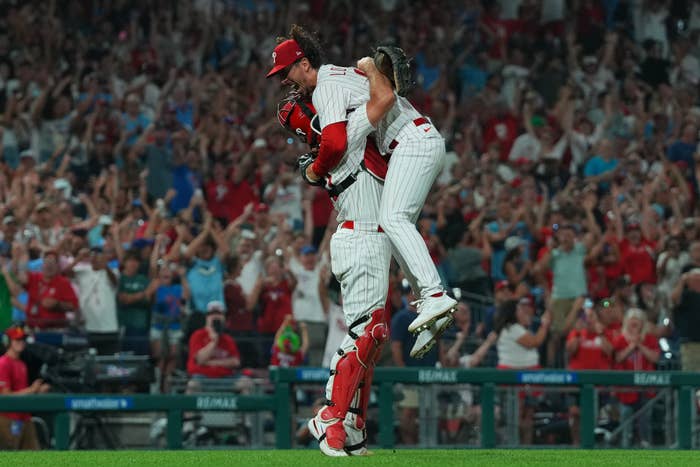 It's been a dream season for Philadelphia Phillies right-hander Michael Lorenzen, who made his home debut with the team Wednesday night. Prior to being traded to Philly, the 9-year veteran made his first ever All-Star Game as a member of the Detroit Tigers, starting 18 games with a 3.58 ERA to get the nod. As well as things have gone for Lorenzen this season, nothing could have prepared him for the magic at Citizen's Bank Park earlier tonight.
Lorenzen, 31, not only made his home debut with the Phillies, he threw a no-hitter—the fourteenth in the franchise's history. He became the fifth pitcher in major league history, and only the second since 1900, to throw a no-hitter in his home debut with a new team.
What made Lorenzen's performance even more memorable is that he threw his no-hitter in a pair of custom Vans UltraRange EXO cleats. After beginning his career wearing Nike, Lorenzen has exclusively pitched in Vans for the past two years, lacing up various colorways to match his uniforms with the Cincinnati Reds, Los Angeles Angels, Tigers, and Phillies. He also had a special pair made to match his All-Star threads.
Lorenzen's pairs are made by Custom Cleats, a company specializing in converting everyday sneakers into wearable cleats. It also made headlines recently for transforming Donovan Mitchell's upcoming signature shoe, the Adidas D.O.N. Issue #5 into a pair of cleats for a rare on-field debut during All-Star Week.
The moment gives the spotlight to Vans, mostly known for producing skateboarding footwear, in a sport it has no presence in other than Lorenzen's customs. Lorenzen, a SoCal native, recently told Foul Territory that he grew up wearing Vans and referenced his skateboarding history as inspiration for bringing the shoes to baseball. He added that he feels big box brands such as Nike don't pay him enough, so he'd rather play in what he feels most comfortable wearing.
After throwing his no-hitter, Lorenzen told reporters that his Vans may be en route to the Hall of Fame. "Maybe send those to the Hall of Fame and those will be the first pair of Vans in the Hall of Fame," he said.
Lorenzen was correct—his cleats are indeed headed to Cooperstown, cementing his and Vans' place in baseball history.