1.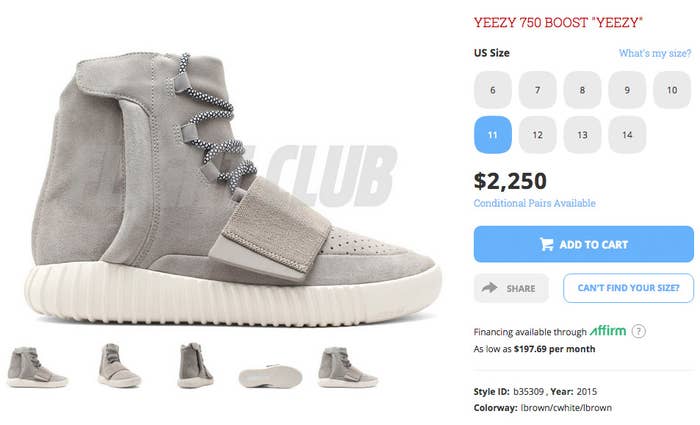 by Brandon Richard
With box prices continuing to climb, sneakerheads are looking for more ways to fund their habit. Answering the bell is consignment shop Flight Club, who is allowing shoppers to finance its high priced sneakers online.
Through Affirm, which has shown strong growth with online merchants in the past year, Flight Club is allowing you to bring home your holy grail with a monthly finance plan. After providing personal details to get instant approvals, purchases up to $10,000 may be split into 3, 6 or 12 monthly payments. The kicker is that the APR rates run from 10-30%, so interest is going to be sky high.
In the example posted here, buying the adidas Yeezy 750 Boost priced at $2,250 would run at least $197.69 per month based on a 10% APR over 12 months. Depending on where the interest rate lands, financing the already expensive sneakers could cost hundreds.
Though the finance option is now a reality in sneakers, it's probably just best to pass. Financing should be reserved for essentials like a home and transportation — and it's not only about the price of the shoe, but the interest that will accumulate over that time. But the option does exist, which is truly a mind blowing development in sneaker shopping.
2.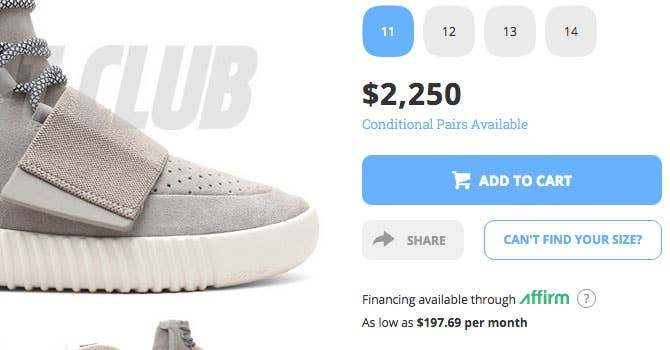 3.