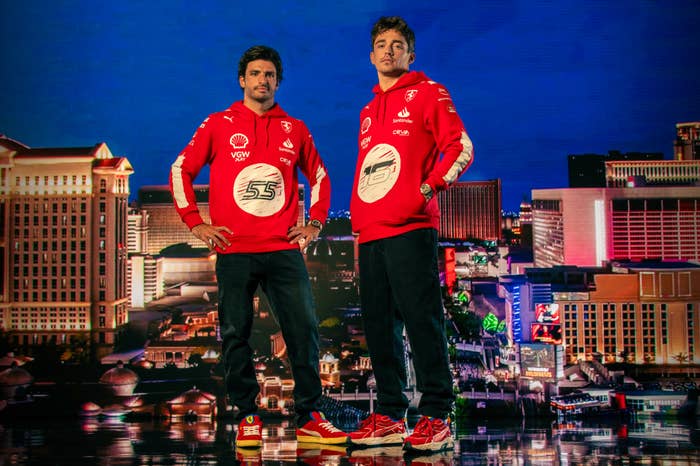 Formula 1 is already one of the most luxurious and high-profile sports on the planet. This year, that is being ramped up to a whole new level with the inclusion of the season's penultimate race taking place on the streets of Las Vegas.
A number of the F1 grid's teams are taking the opportunity of racing in the Sin City to release exclusive collaborations with brands familiar to the sport's fast-growing American audience. This is reflective of the direction F1 is heading in general, tapping into the pop culture space more and more, as evidenced by Lewis Hamilton's new collaboration with Fortnite and the appointment of ASAP Rocky as F1 x Puma's creative director.
Rocky's work with Puma isn't all that the brand is doing for Vegas, as it has also teamed up with artist and designer, Joshua Vides, to not only release a capsule inclusive of footwear and apparel, but to design the actual boots, uniform, and livery that Ferrari will be racing in during the Vegas GP. Ferrari drivers Carlos Sainz and Charles Leclerc both revel in the opportunity to partner with a creative like Vides on actual equipment to be used during a race.
"To have such a creative person creating those racing items is really cool," Leclerc tells Complex. "And for him to bring his world into the racing world was also really cool to see."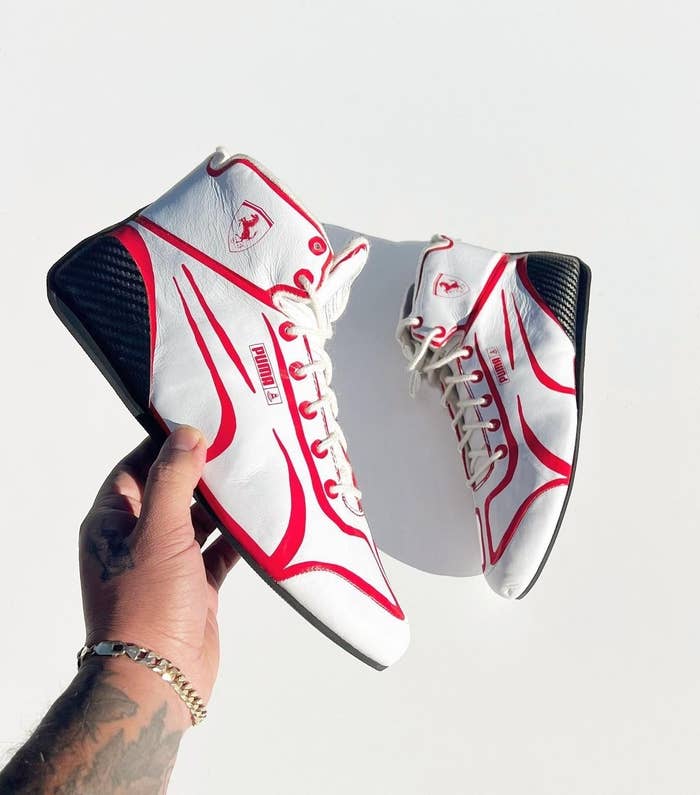 For the design, Vides applied his signature brush stroke motif to the Scuderia's livery as well as hand-painting the iconic Ferrari logo. Overall, the collaboration is meant to pay homage to the "golden era" of F1 when Ferrari dominated the sport's popularity with names the likes of Niki Lauda, Clay Regazzoni, and Gilles Villeneuve in its ranks.
Alongside the actual race capsule, Vides lent his recognizable aesthetic to a replica apparel collection dubbed "Back to Las Vegas" that comes highlighted by Ferrari-inspired iterations of the Suede, Tuff, and RS-X sneakers.
"I've personally become a big fan of sneakers recently and I'm buying some new ones," Sainz says. "Then the fact that actually my racing boot for this week looks a bit more like a sneaker is something I enjoy."
The entire Joshua Vides x Ferrari x Puma "Back to Las Vegas" collection is currently available at prices ranging from $45 USD to $180. Ahead of this weekend's GP, we caught up with Leclerc and Sainz in Las Vegas to talk working with Vides, the sport's growing popularity in the States, and more.
This interview has been lightly edited and condensed for clarity.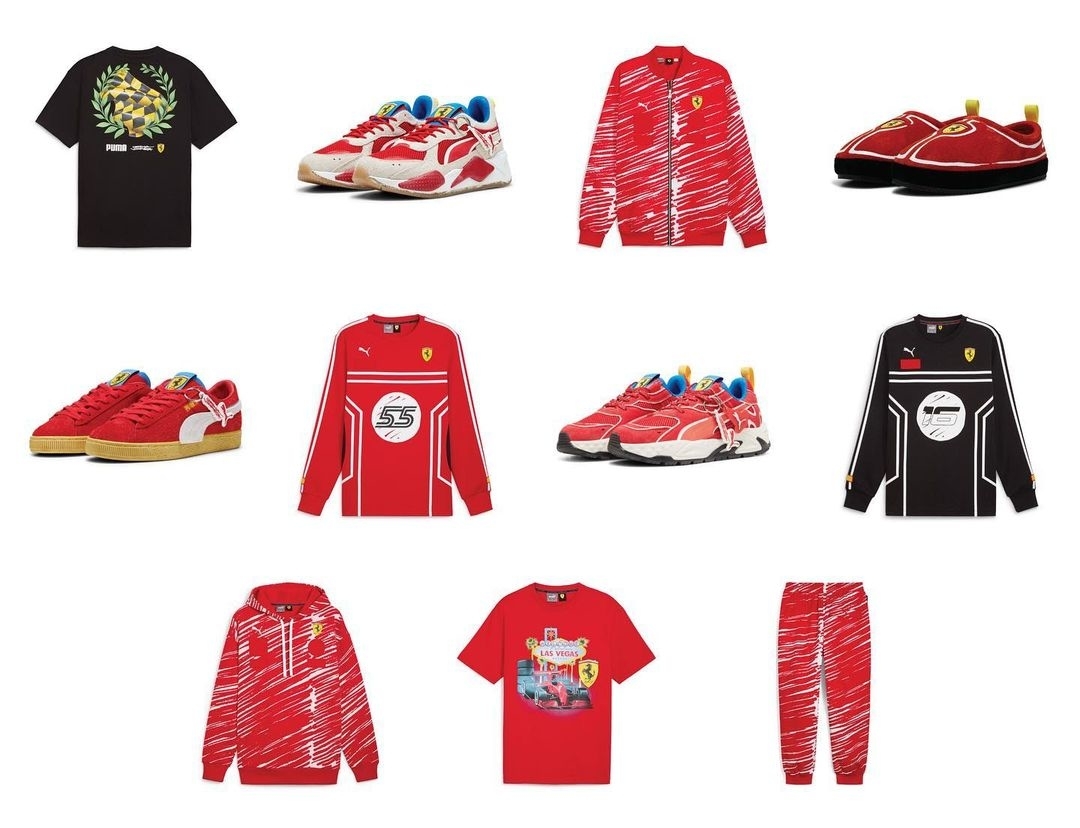 What was your first thought when you saw the special edition race boots and race suit for the first time?
Charles Leclerc: I love it. It's really different. But I think it looks super cool, the kind of style where it looks like a brush stroke, I think these look super cool. I like the fact that everything is either red or white and also the logos are white, which I think is something cool that I've never seen before. And I just like it. It's creative and it's a bit different.
Carlos Sainz: I enjoyed the fact that it was so simple in terms of colors, different to what we used for the rest of the season. And obviously being in Las Vegas, it had to be a bit spicy and I think it's exactly that.
What was it like working with Josh on the project for the actual racing boots? How much have you been involved in the process?
CS: For me, mainly the racing boot, I really love the gadget they put on. It's a shame that we can't actually drive with it, but I think to walk around the paddock, it looks different and it looks something that, for example, no one has ever worn on a boot before. So when I saw it, I was like, okay, this is completely thinking out of the box.
CL: To have such a creative person creating those racing items is really cool, and for him to bring his world into the racing world was also really cool to see.
How important is it for the drivers to be involved with the design of the car?
CL: Personally, I love design, whether it's architecture or actual design and clothes especially. It's something that I really, really enjoy. Actually, one of my projects coming to Formula 1 was to have my own clothes brand. But now I don't have time to dedicate to that. That would be something I like to do one day. So to be involved in those kinds of creative projects is something that I of course, really enjoy.
CS: Ferrari, recently, they are showing us a project maybe a year ahead. So they're getting us a bit more involved with our opinion as drivers of what looks good, what doesn't look good, and what we prefer. And the more they show us, I think the more we can also contribute to give ideas of what would look good on a racing suit. I think this [collaboration] is making Ferrari a bit cooler. We're making different things for a lot more races this year together with Puma. So I think it's working out really well.
What are your thoughts on Formula 1 and racing crossing over more into the sneaker and fashion world?
CL: To make those racing items as fashionable as possible, there was no better person than Josh. So it was great to have this collaboration and to have the fashion world mixed together with the racing world. But I think they've done an incredible job on that connection.
CS: I think the boot looks a lot more like a sneaker now, like you said. I've personally become a big fan of sneakers recently and I'm buying some new ones. Then the fact that actually my racing boot for this week looks a bit more like a sneaker is something I enjoy.
What is your favorite part of the entire collection?
CL: I'm going to be repetitive, but to be honest, it's just to see such a creative mind imagining it and putting his vision on a racing suit, which again is not something that we see or that we have ever seen. So I think it's super cool to be able to have a super cool suit and something very different. I've never seen a Ferrari suit like this before and it's great. I love the results. Also, it's red and white, which are my colors. The Monegasque flag is red and white. It's not on purpose, of course, but it makes me love it even more.
CS: Originality, I think, is the key word. How original everything looks, how different, and especially for special races like Vegas or Miami at the beginning of the year. We've just felt like it's a great opportunity to think a bit out of the box and do something a bit different for everyone. I think this is also a Ferrari going a bit more in a different direction and creating a bit of a different experience for everyone, which I think is what we need to do.
What is going to be different about this Las Vegas race both on and off the track?
CS: Well, first of all, it's a new track. And a new circuit is always special, it's always different, it always presents new and interesting challenges. On top of that, the circuit is on the streets of Las Vegas at night. With all the hype that there has been around this Grand Prix, I think we're out for one of the more special Grand Prix over there over the last decade. I cannot wait to drive and see if we are competitive this weekend. But at the same time, try and enjoy the experience of just getting to race under the lights of Vegas.
CL: It's going to be amazing. I've been once in Vegas before, which was not for the same purpose. It was mostly to enjoy and party and I've had an incredible time. This weekend will be very different because for sure not much partying apart from if we win on Saturday. But yeah, I love Vegas. I think the energy around here is absolutely incredible and to have such an amazing event in the middle of Las Vegas, I'm sure will be very special.
How much of an impact has having more races in the United States had on Formula 1?
CS: I think that the interest in the sport has grown a lot in the US and more and more cities were interested in hosting a Grand Prix and the fact that cities like Miami and Vegas got added to the list of hosting was an incredible thing. I think it also is getting me, for example, to visit places in the US that I had never been before. Vegas is a good example. More and more US fans are tuning into TV and following us. The US is a very big country and we need to cover a bit of the whole country. I think the way we're doing it now is perfect.
CL: It has changed a lot over the years. When I first arrived in 2018, the sport was definitely not as big as it is now. I think there was an incredible opportunity for Formula 1 to develop here because Americans are huge sports fanatics. Formula 1 didn't seem to quite succeed at that point in time. But now with the Netflix series and with more and more races in the US it's exploding, which is great for the sport. In the US the race is always a bit different. There's a bit more of this show which I think is great. The essence of the sport, which is of course most important. But having that show part that Americans are so good at is something that was needed in Formula 1.