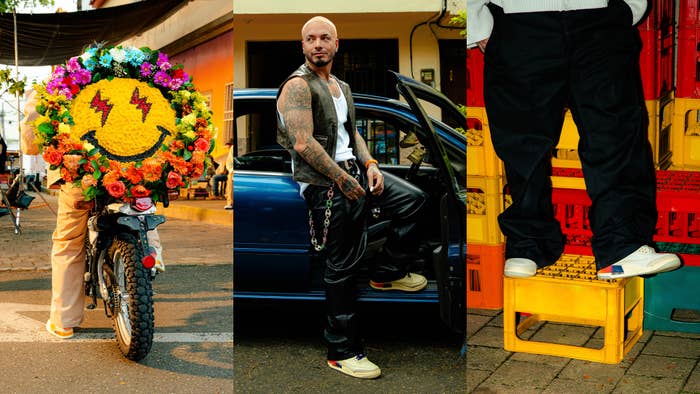 The sun is still shining over Medellín when J Balvin begins to gush about his forthcoming Air Jordan project, but by the time the conversation is over, it's dipped behind the mountains. The timing is a coincidence but one that aligns perfectly with the upcoming Air Jordan 3, a sneaker themed around the Medellín sunset.
This is Balvin's third collaboration with Jordan since he signed with the brand in 2017. It is clear to the multi-platinum recording artist that this sneaker is a cut above the rest. His Jordan 1 was unmistakably his, dressed in wild colors with jagged edges, but he knew that some people were going to love them and some people were going to hate them. He also acknowledged how difficult it was to work on the Air Jordan 2, a model that's never been held in the same regard as the 1 or the 3.
Balvin's third project with Jordan Brand, releasing on Sept. 23 for $250 alongside a matching apparel collection, is proof that he's just starting to hit his stride as a sneaker collaborator.
"I wanted people to feel that they were wearing Prada," Balvin tells Complex. "But they were wearing Jordan, a J Balvin-Jordan collab, Air Jordan, Air Balvin. So everything is super clean, all black or all khaki, just simple, but strong."
Beyond representing himself as an artist and a designer, Balvin is representing the entire Latin American community through his sneakers. He is the only Latino artist currently signed to the Jordan Brand, and he has one of the most successful collaborative relationships with the brand, en route to his third release, and already with a fourth in the chamber.
Balvin laid the groundwork and now other artists in his community are reaping the benefits. Bad Bunny has a flourishing collection with Adidas and Anuel AA has a deal with Reebok. The Colombian star has never shied away from praising his fellow Latino artists either; he expressed his pride for Bunny on his second Sneaker Shopping episode in 2021 as well as during our time in Medellín.
"It's beautiful, man. I think we opened that door. I think that's one of the things that makes me feel so proud," Balvin says. "And Bunny has his own brand, his own sneaker. Anuel has his own sneaker, so that's powerful."
In an interview with Jordan Brand's vice president of entertainment marketing Reggie Saunders, the industry insider made it clear how important Balvin is to the brand, not only for his influence in the Americas, but how much he has meant to the Jumpman globally as well.
"His presence has been insanely important, because we're being able to open up to the world," Saunders says. "And that's what the Jordan Brand is. You can stay in North America if you're a brand, but if you go global, we're just continuing to tell Michael's story on an authentic level. José (Balvin) loves Jordan. He can speak about it with no talking points, speaking from the heart. But I think it's very important for the brand to keep going globally."
It's not only in his hometown or in Latin America where Balvin witnesses his own influence either. While recently on tour, the reggaeton artist said he saw fans all over the world wearing his past sneaker collabs, from Singapore all the way to Australia.
Below is Complex's full conversation with J Balvin where he talks about his relationship with the Jordan Brand, working on iconic silhouettes, the release of the Air Jordan 3 "Sunset", his new chapter in music, and more. This conversation has been lightly edited for clarity.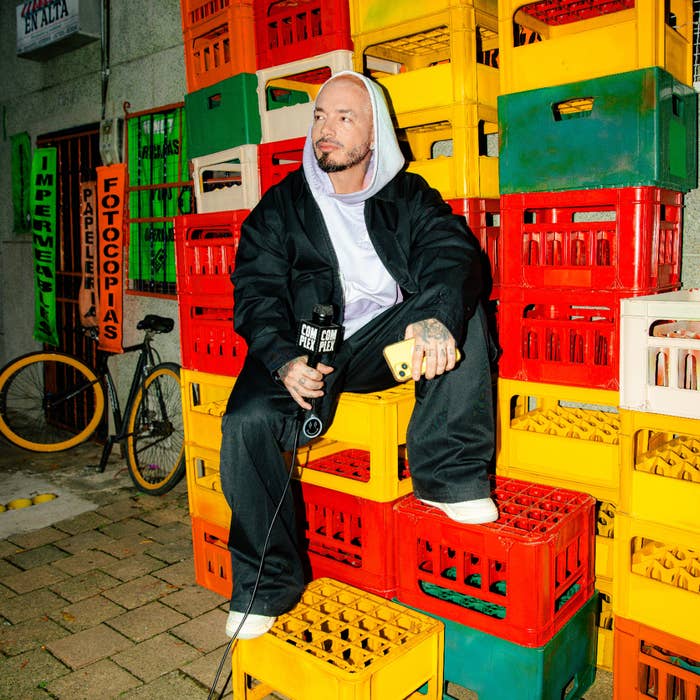 ---
This is your third sneaker collaboration with Jordan. What has it been like being their partner for three projects now?
Man, it's been a dream because we're here right now in Medellín, Colombia, so people have a lot of limitations sometimes in their mind, and I always thought that I could do it. And it's beautiful right here that we met in Colombia, talking about sneakers that are very inspired from my city and the sunset of my city. So it's beautiful, man.
It feels great because I'm the only Latino artist that has done this, and we are doing it in order, the 1, the 2s, the 3s. So now you know what's next, right? So it's really crazy, man, because as Latino, I love to elevate our culture and we have done a lot of changes. The first one was really loud because I really want to get people's attention. It was really the intention of it. To be like, "What is this?"
And the second one, the 2s are not easy to—they're not as commercial as all of them. So it was a hard task, but I enjoyed doing the light, and that it has a mental health story. So just jump into the light.
And the third one, I think that's what I wanted to do because the 3s, they're like grails. When I had the opportunity, I was thinking, "What will you do if you have the chance to touch up a little bit, the Mona Lisa?" So you cannot do a lot of things. You have to keep the essence, and basically people see it like, "Oh, that's the Mona Lisa, there's something cool and it's something new," but it's a little touch. So that's why we went super light, clean like the sunset, which just looks gray with the color, it's called coconut. It's not white, it's coconut. We went really clear and more because I'm thinking about my city, how I want to show Medellín, Colombia, to the whole world. So it's super happy and I think it's a statement. It's really cool that you're talking about a sunset from a city that used to be the most dangerous city in the world, and now one of the safest. So it's really important, man. I think I enjoyed the whole process. Frank Cooke has always been my right hand when it comes to design. And of course the whole Jordan team. It's cool, man. It's amazing that we have this opportunity to show the world a little bit of Medellín sunset and Medellín, Colombia.
You started to allude to this a little bit, but not only are you working with Jordan, you're working with Jordan on the Jordan 1, the Jordan 2, the Jordan 3. Like you said, these are grails. How much of an honor is it for you to work on those shoes? I mean, there's a J Balvin Jordan 1. Can you believe that?
Yeah, it's still, it's crazy to me because it's like, I have mine right now on. They have my name on it, but when I walk around and see people with the 1s, I'm like, "Wow, we did that." And I knew what was the vision that I wanted, as I told you, go super left and be as loud as possible. So it was like a love and hate situation, which I knew. But I wanted to take people's attention to get to know the artists also, because there's a lot of people. I do music, but I also wanted people that don't know about me to be like, "Okay, who's this guy?" I think that takes real attention and I feel super, super proud of it, man. To me, it's still a dream and I think it'll be a dream forever.
Everybody used to ask Michael Jordan what his favorite shoe of his was, and he would say it's like picking between children. Do you have a favorite of your three?
The 1 is too important because it was my first one. But when it comes to the 3, I had it all planned; I knew it was going to go left, less louder, and then classic clean, but cool. So the 1 and the 3s, but definitely right now my energy is on the 3s, 1000%.
How has working on each project been different? What's been different between working on a Jordan 1 and Jordan 2, Jordan 3?
It's totally different. First, I do the whole process, like I start wearing them every day. Not my shoes, any Jordan 1, feeling it. But the good thing about my Jordan 1s, it's like they don't crack because they're not leather. It's kind of like denim. So you don't feel like, "Oh man, I'm going to crack my ... I'm going to destroy them." Now, that's one of the coolest things of the 1s that I was wearing all the time. I was like, this is the thing that bothered me the most that they crack. So that's why we made that material. That was 1 vibe, and I was thinking about my first and second album. My second and third album that I dropped was Oasis and Colores, so it was vibes and colors. So that's why it's too loud, because that's the concept. Then I went to the other stage with the second, the 2s, my album Jose has the sky, clear sky. And I was thinking all about mental health. I'm an advocate for mental health, so I wanted to tell a story. And through the sneaker, I can tell it's okay not to be okay, and things that normally no one talks about and having the opportunity to speak louder with Jordan in a massive way. I think that was the most meaningful thing, like the awareness of mental health. And that is the reason why they light up, it's like no matter what, you're in the darkness, the light will come.
And now with the third one, my energy was just going into my city and watching. The sunset to me always reminds me, it's a new opportunity, it's the next day coming. I'm telling the story of my city, Medellín. It's like, we were going through the hardest moment and then we switched that energy into positive. So that's why I'm thinking about sunset. The sunset is the day that is going now, the day is ending now. It's time for another day. So that's the inspiration, and also the whole collection, super, super clean. It's like, I think I had the conversation with them, it's one of the highest end materials they have used in terms of a collab like this, besides the Dior for example. And that's what I want. It was like I wanted people to feel that they were wearing Prada, but they were wearing Jordan, a J Balvin Jordan collab, Air Jordan, Air Balvin. So everything is super clean, all black or all khaki, just simple, but strong. Sometimes less is more. And this is the case with this collection.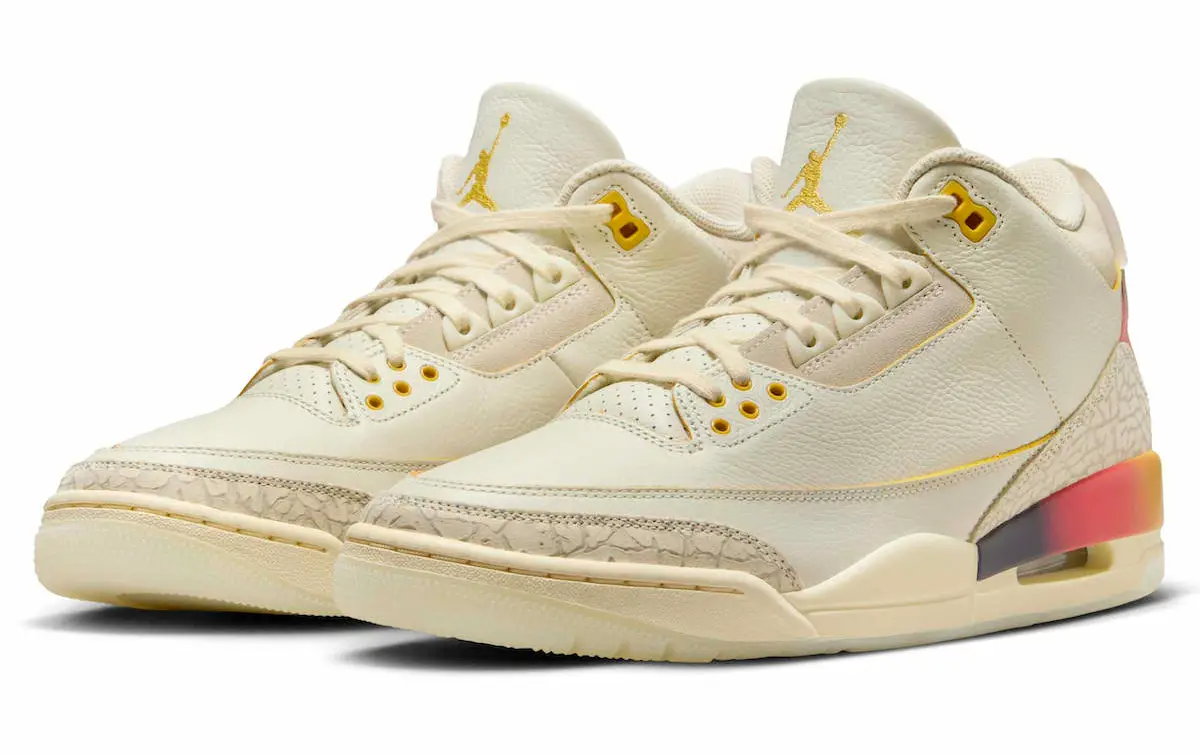 All of your shoes, they're very clearly J Balvin sneakers. They have signature touches that make them clearly yours. How important is it for you to make it so everybody knows this is a J Balvin sneaker and there's no mistaking that?
Well, you only have that opportunity once in your lifetime. So you just want to make sure that you have your stamp on it. We always use the smiley face with the thunderbolts in the eyes. But it depends. Let's see what happens next year and my vision next year, and it could change a little bit, but I'm always going to have something that people really connect with, and this is J Balvin.
We've seen other Latin artists get bigger in this community as well. Bad Bunny, Anuel AA with Reebok. How much does it mean to you to see those other guys winning as well?
It's beautiful, man. I think we opened that door. I think that's one of the things that makes me feel so proud. I hustled so hard for this. Took me like three, four years explaining to them how big our culture is and how global our reach is. So it took me time. It took me time to prove to them and it was worth it. I didn't sacrifice. I was just like, I put a lot of my time in it to share with the Jordan family and be like, 'Yo, this is what's coming. This is what's going on. This is our culture.' And now we are one of the biggest, if not with the biggest movement right now with music around the world. So it's good that we opened that door. And then Bad Bunny has his own brand, his own sneaker. Anuel has his own sneaker, so that's powerful.
Have you ever seen somebody, like another celebrity wearing your sneaker and it was like, 'Holy shit, this person's wearing my shoe?'
Oh, a lot. I've seen a lot of basketball players, man, and I mean a lot. But you see Jennifer Lopez wearing them or you see, oh man, there's too many. It's just crazy. Like Jimmy Fallon wearing them, Chris Brown, a lot of artists that support guys or a lot of people that are super cool wearing them. It's crazy to me.
You mentioned Jennifer Lopez. Can you just take us back to that Super Bowl moment, the first time when you debuted them, just how crazy it was to wear your shoe and perform on one of the biggest stages in the world?
It was amazing because I wanted to have a special moment to show them. And it's God's will man, and it was perfect timing because it is the biggest position in the US and in the world. So being there with J Lo, with Shakira, with Bad Bunny and myself, it was the best time to show the world. We all were Latinos there, so we're like, "This is the right moment to show the world what we have," and it works really well.
We were on FaceTime with DJ Khaled yesterday and he was hyping your shoe up saying, "Sneaker of the Year." Ever since you first showed them at the Miami Grand Prix, he needed a pair right away. You gave him the pair off your feet.
He got my samples, man. He got my samples. I got to take them off, but you know the guy, he's going to get it no matter what. He was going to make me look bad [if I didn't]. My word's my currency. I was like, "You know what? I'm going to give you mine." He's very into the sneaker game. I don't know why he forgot that you only get a sample and you have just one. So that's why I gave him mine. Yeah, it's cool and I have received a lot of comments from different people about sneaker of the year. And to me, just the fact that I'm listed on that name with the vision that I had created, which I knew I was going to get to that moment that people be like, "Okay, this guy now really gets it."
Do you think it's your best shoe yet?
Yeah, definitely, because it's the perfect balance of my DNA and the Jordan DNA.
So you told the story a while ago for your first shoe, you had to convince Michael Jordan to give you your own collab. Do you still stay in touch with him? What has he said to you about this shoe?
Yeah, last time I saw him it was his birthday. And he's such a great guy, man. He's the GOAT.
Like that video of his fans making the goat noises?
Yeah, the video in Italy is just amazing. So I always have a lot of communication with his wife, Yvette. She's always been super supportive of my career. I didn't know she was Michael Jordan's wife and she went to the concerts before and it was really cool. And she's also a Latina, so it's cool because she understood way before we started doing the deal until we closed it in Paris. Reggie [Saunders] was there and Michael Jordan. He's an amazing guy. Yeah, of course I got to talk to the GOAT.
What's your favorite Jordan model of all time?
Wow. That's really a hard question, man. I think 1s. Yeah, that's how everything started in 1985. I have a lot of the OGs, '85s. And yeah, I have of course that feeling because that's the year I was born, in '85, and that was his first shoe. So it means a lot to me.
I don't know if you've been seeing the new shoe that Travis has been wearing lately, but it's his own signature shoe. Musicians don't really get signature shoes that often. How wild is it A, for you to see him get his own signature shoe, and B, how much would you love to get your own signature?
It's amazing. I always had that idea on my mind. He's super great because besides he's a great, creative guy, great artist, now he has his own shape. It's different now and I hope it's going to be great for him. I'm also the same way. I'm going that way, and it's not that I'm copying, it's just like I'm the only Latino representing the Jordan family. So I got to keep elevating my culture. It's no other way. Anyway, I don't do this just for Latinos, I do this for the whole world as music. I don't do music just for my people. I do music for the whole world. I'm waiting for the right moment to do so. It takes time. You gotta design, it's a new design. So it's not that you're doing a collaboration, the shape is there, creating a shape from scratch is another story.
You said earlier you've done the 1, you've done the 2, you've done the 3. The roadmap is there. How far are we going?
My dream, man, is to make the biggest [collection] in history. It would be like this guy made everything in order. There's going to be tough ones, the 2 wasn't easy. It wasn't easy at all. But the shape of the 4 is so beautiful that you gotta keep that taste. And I know we're going to kill that. I think that's going to be also on the Sneaker of the Year list, hopefully. But yeah, I think it'll be dope to make 1, 2, 3, 4, 5, 6, 7, 8. No one has touched the 11s.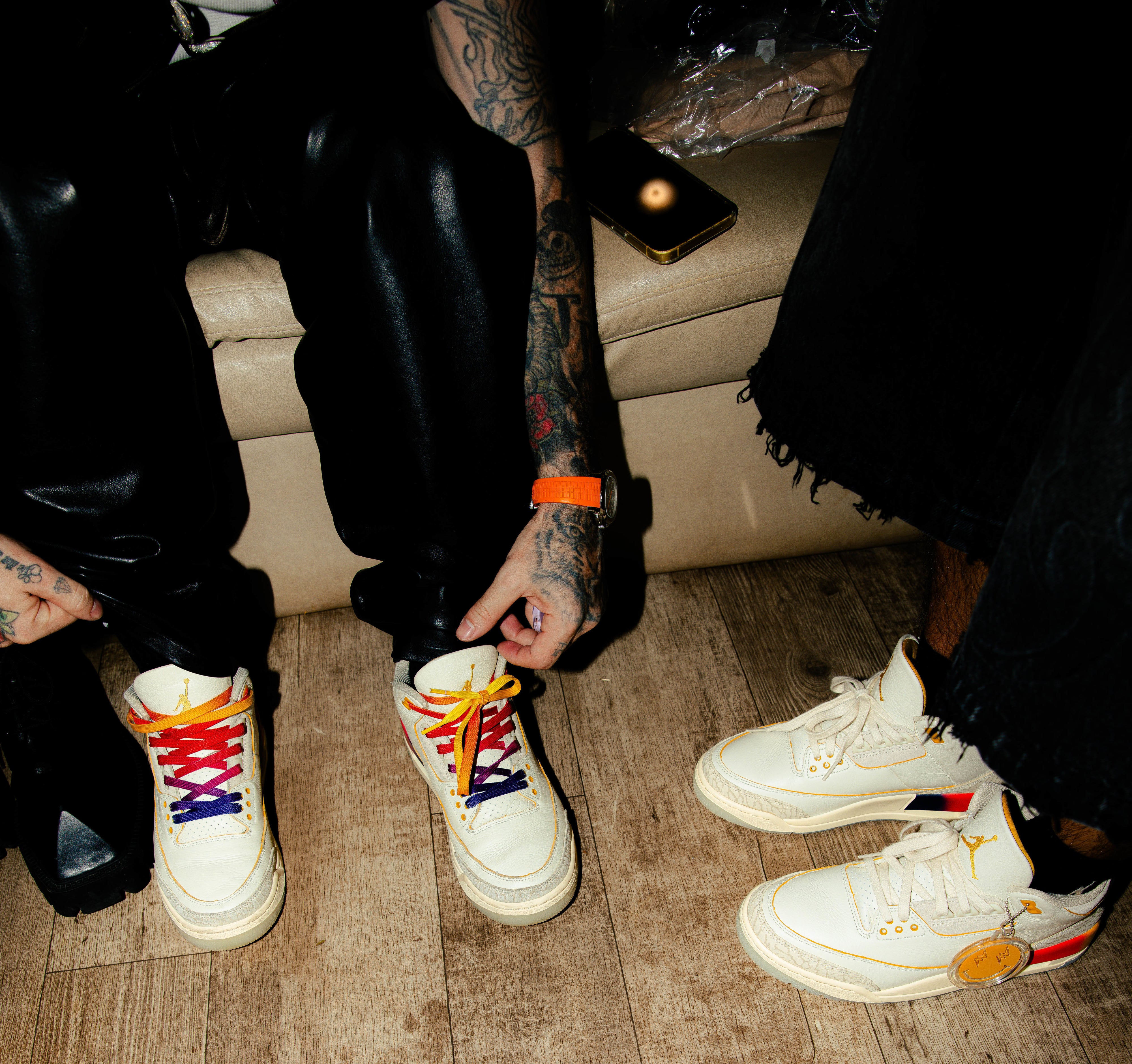 Moving on to music a bit, how would you describe this new era of music that you're entering into?
I always like to reinvent myself. And the new album and the new music that is coming, it's totally fresh and I took my time to make it. And people that don't listen to reggaeton, they're going to relate to it really easily because of this one sample that is really catchy that is going to give a lot of people nostalgia. And for the kids that don't know that sample, that sample has always been so cool that you're going to see soon that it's impossible not to vibe to it. The rest, of course, straight up reggaeton for my people, for the reggaeton-core fans, hardcore fans. But the collabs are unexpected, and...reggaeton you have dance, or drill, have a little bit of everything, man, of what I love. So it's definitely a thing. The next move is my freshest song.
Can you give us a little sneak peek on any of the collabs?
We got Usher. We got Usher on it. It's really, it's unexpected how you make the best click and to make a great hit. So I think we got it, God willing.
You've taken a more quiet approach to your art, your music these days, the way that you've gone about making this album over the last couple of years. It's just been quieter than usual. What's the reason for that?
I wanted to have time for myself. I just had a son two years ago, but I stepped away a little bit from dropping music, like nine months. I stopped using social media and just focused on my mental health and how to just be super clear of what I want in life, how to be a better dad, how to be a family guy, a real family. Used to be just my girlfriend, now we're a family. So I took the time. I was always desperate to be out there because I love to compete, I love to have my music out there. Love the feeling. Thank God we have a lot of music that's always there. It's beautiful. We have a lot of classics and things like that. I'm talking, but it's from like 10 years ago to last, like a year ago, the last time I dropped a song or two max. Not everybody can take that, like take the risk of having a little break more when Latino music runs so fast. It's constantly dropping music every Friday. Every Friday there's new music. Every Friday there's new reggaeton songs. One artist can drop like four songs in less than a month. But once you create this brand, J Balvin, like touching the sneaker world, talking the fashion world, talking music and art, you have a more established name that you can take the risk. And now we're coming back and I'm positive about what's going to happen.
Karol G just released her album very recently. What's it like seeing another artist from Medellín have so much success?
It's great. She also has an office right here in this building. It's beautiful, man. She deserves the best. She worked hard. The fact that she's doing all this, selling out all these stadiums in the U.S. makes me really proud. It encourages a lot of artists, including me to be like, that's the girl. She never stopped. She never quit. And it took her time to... Because I saw the whole process. I saw the whole process. So I know she worked so hard for it that she deserves right now to be at her peak. So I'm really proud of her and proud that she's from Medellín also.
Your Jordan collection has unlocked this global expansion for Jordan, whether it be Latin America or just globally in general. How important is it for you to represent Latin America for Jordan?
Oh man, that's my main goal. My main goal is to elevate the Latino culture. And it's cool when we were touring in Singapore a month ago. You see all these kids working with my Jordan 1s. And then we went to Australia and you see kids working with the 2s. So it's like this is really a global impact. And music and fashion, both are ways to express yourself, and the sneaker world, it gets bigger and bigger. So it's beautiful that you can connect with me in the style that I create, or also you can relate to my music. So it's win-win no matter what. You're sharing your creativity to the whole world and what's your expression.