On the prestigious Beverly Hills Mountain Top Estate, there is an immaculate view overlooking the valley where only the luxurious and prestigious can call home. It's not easy to get up here, as it's a constant uphill battle with twisting roads and altitudes that will make your ears pop. But no one ever said it would be easy to get to the top. Which is probably why Jordan Brand picked this $30 million estate to host a proverbial who's who of fashion mavens at the unveiling of their new-and-improved Sportswear Collection for Fall/Winter 2017.
Jordan Brand has been synonymous with ill-fitting tops and baggy sweatpants for years, so they decided to listen to the one person that really counts when it comes to what they should do with their sportswear: the customer. And not just any customer -- the evolving, style-savvy customer who is looking for more versatile sportswear. Something they can wear to the gym, to brunch, or out for a quick drink with the homies. Jordan Brand admits that they were too focused with fulfilling one, maybe two of those three. But David Creech, Jordan Brand's VP of Design, who presented the collection while wearing the friends-and-family Kaws x Air Jordan IV, made it very clear that they've shifted their focus to be more conscious of fit, function, and innovation. "Inspired by our past, and designing for our future – it's about creating a new design language for Jordan apparel," he says. 
Paying home to the classic Wings jacket from MJ's inaugural collection, as well as his favorite Ferrari – a 1985 Testarossa – the black and white collection focused on luxury through simplicity, which comes through in some of the staple pieces that were made for a perfect fit off-the-rack, including the layered Pullover, a Flight Hoodie with flat-seam stitching and metal-plated drawstring tips, or the new-and-improved Wings Bomber, which could become a new go-to favorite.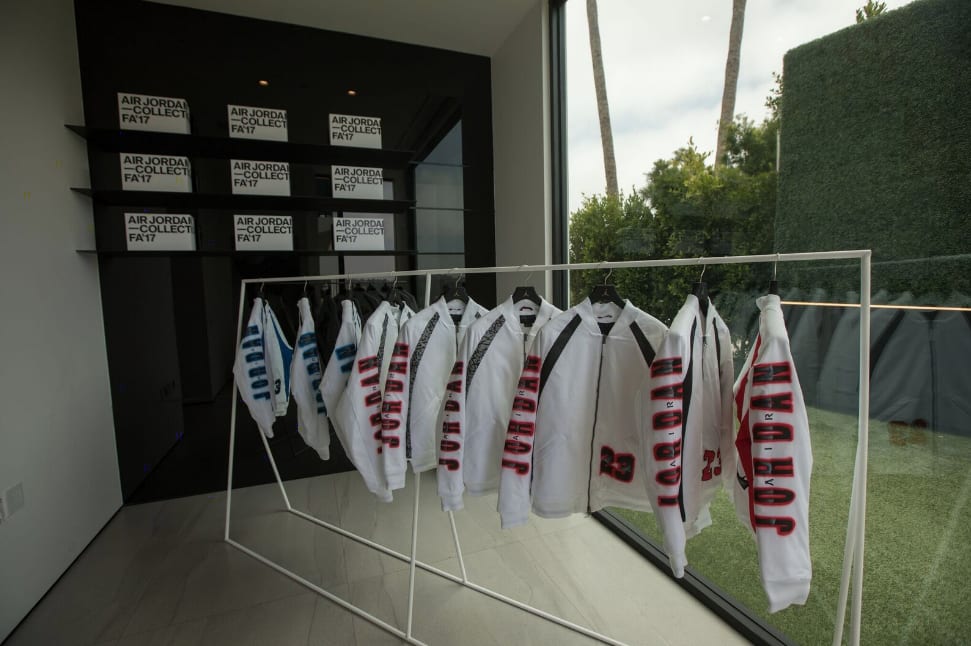 This sleek collection was only matched by the gorgeous surroundings and perfectly crafted ambience, which is why some of fashion's elite came out to see how Jordan Brand was changing their tune. Chris Gibbs of Union Los Angeles, John Elliott, Shane Gonzales of Midnight Studios, and Jerry Lorenzo of Fear of God all knew this wasn't just any old Jordan release, and that this may be the start of something influential, similar to how they've shifted the sneaker game. 
And they are continuing to take their sneakers to new heights, looking for more unique ways to be front and center of fashion's cultural movement, like their continued success in the collaboration space. "Our collabs really give us an opportunity to tap into new spaces like art and high-fashion," Creech explains, as we take in a view overlooking the Hills, while checking out sneakers designed with Kaws, Public School, Supreme, OVO, and, of course, Don C. "[Jordan Brand] is constantly looking for ways to improve upon our work while pushing the culture forward, but it has to be right."
Which is why the brand looked to Don C and his influence to help contribute to the unveiling. You could see the excitement as he showed people the lookbook he directed or his art installation of custom spray-painted bombers, a style heritage in and of itself in his hometown of Chicago; just another way Jordan is trying to show how they interpret the ever-shifting culture around them. Something they've owned for the last decade with their footwear and continue to re-interpret for the next generation of consumers in that space. And this understanding is finally spilling over into their sportswear line.